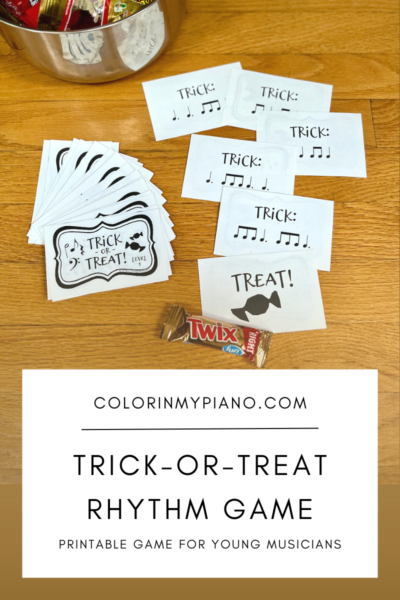 It's that time of year! I have a recurring event in my calendar that reminds me at the end of September each year to get out my Trick-or-Treat Rhythm Game for my piano students. I use this game at the start of almost every lesson I teach throughout the month of October.
This game has been a classic in my studio since I created it back in 2018. I made it available for purchase in my shop a year later in 2019.
Over the past couple of weeks, I've been working on making some revisions to the game and am pleased to announce the new version now available. I've smoothed out the progression of difficulty a bit and created 5 levels of cards instead of 4, but the game is essentially the same. In this post, I'll tell you a bit more about it plus share some insights into how rhythm is taught from a Music Learning Theory perspective.
(PS: If you purchased the game in the past, you are eligible to receive an updated PDF at no cost. In fact, past purchasers of the game will receive an email from me later today containing a download link to the revised version. If you don't see it, please contact me here and let me know!)
Continue reading

"Trick-or-Treat! Rhythm Game – Newly Revised"