Office supplies are always a teacher's joy! I thought it would be fun to put together a post compiling my go-to pens, pencils, and other office items. Below, you'll find a handy list with photos and links of the supplies I like to have near my fingertips while teaching piano lessons. (I'm currently still teaching my lessons online for now due to Covid-19 pandemic, but I keep these items on hand regardless and I bet you might like them, too!)
Please enjoy, and share your own favorite office supplies in the comments at the end of this post!
1. InkJoy Gel Pens
I once saw another teacher using these pens while at a conference, and I had to ask what they were. Now, these are my guilty pleasure. You can get these InkJoy Gel pens singly at OfficeMax, or buy a whole pack. The purple is my favorite.
I don't use pen often while teaching, but I do use them all the time myself for to-do lists or anything else handwritten throughout the day.
Note: Just so you know, the links in the post are Amazon Affiliate links, which means you are supporting this blog if you decide to make a purchase using the links. Thanks!
2. Frixion Erasable Markers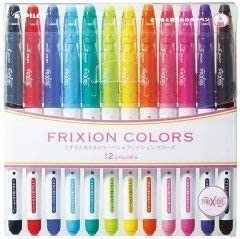 My friend Susan Hong introduced me to these. They are Frixion erasable felt-tipped markers, and my students and I love them for making marks in our sheet music! Students are amazed at the way these erase using the friction of the rubber tips on the pen covers. Having color choices always makes for some extra fun in the lesson. We enjoy color-coding our dynamic markings, tracing slurs, circling notes, etc.
3. Post-it Sticky Notes
My students and I use Post-It sticky notes as bookmarks to mark the pages of pieces they are currently working on. No more guesswork! Even the littlest ones know what to practice each week. I always buy the 1.5"x2" sized ones for this purpose.
I also keep the larger 3"x3" sized sticky notes around for my own personal reminders and to-dos.
4. Bic Mechanical Pencils
I love using Bic mechanical pencils. They're always sharp and ready-to-go, so that's what I keep on my piano. My students love them, especially the young ones. I recommend buying the ones with 0.7mm or even 0.9mm sized lead, instead of 0.5mm, so they are less likely to break if students press hard. I love the smoothness of the thicker leads anyway!
5. Prismacolor Col-Erase Pencils
I've been using these Prismacolor Col-Erase pencils in my teaching for years. Color always makes everything more fun, and these are especially awesome colored pencils because they are erasable!
6. Sticky Page Markers (as an Alternative to Highlighter Tape)
My students and I enjoy using these translucent, colorful page markers to highlight certain areas of our sheet music. I like these as an alternative to highlighter tape, because they are essentially precut and it's easy to keep lots of colors on hand.
These page markers are repositionable, and you can also write on them if desired. You can find them on Amazon or at any office supply store — or sometimes at the dollar store as well.
---
Your turn: Tell me your favorite office supplies in the comments below! I'd love to hear!