This page contains FREE piano/theory worksheets, sheet music, lesson plans, and other resources for music teachers and students. Please enjoy using them for personal and educational uses only. I only ask that you do not redistribute the files on other websites and or alter the files in any way. Thank you!
Use the Printables navigation menu at the top to browse through the other categories of files.
Games
Displaying 1 to 25 of 25 Games files.

BANG! Rhythm game
» 1.1 MiB - 37,085 hits - 18 March 2014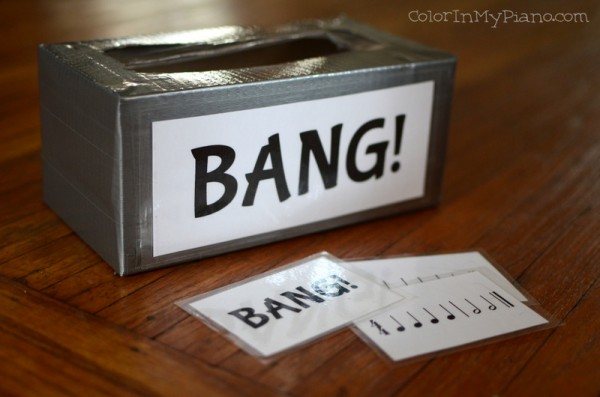 This pdf contains the BANG! cards and container labels for playing the BANG! Rhythm Game. Gameplay: Each student draws a card from the box on their turn. If they answer the card correctly, they get to the keep the card. If they draw a BANG! card, they must return all their cards to the box. The student with the most cards at the end is the winner. (Note: The rhythm cards pictured are available in my shop here. You can also substitute note-naming flashcards instead of rhythm cards.) To view the original blog post about this game, click here.

Board Game: Adventures In Music
» 764.2 KiB - 44,748 hits - 17 February 2010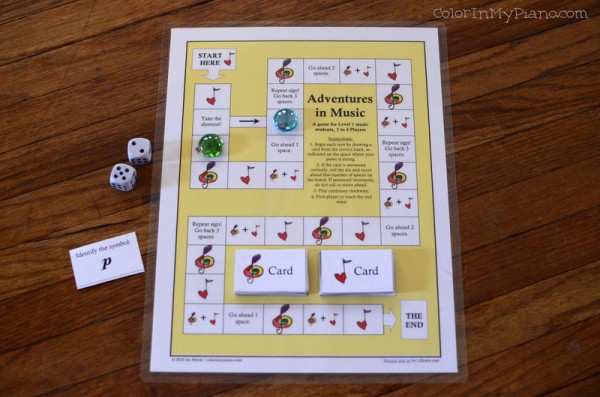 This piano-bench-sized board game is appropriate for elementary music students, such as piano students who are Level 1 or 2 of a piano method. This game works well for two players (teacher and student) during a private lesson, or during a group activity involved 3, 4, or maybe 5 students. Materials needed: 1 or 2 dice (depending on how fast you'd like the game to progress) and several pawns (colored glass baubles from the dollar store work well). To view the original blog post about this game, click here. (Special thanks to Lillyarts.com for giving me permission to use her music illustrations!)

Finger Number Beanbag Game
» 177.7 KiB - 16,223 hits - 21 January 2013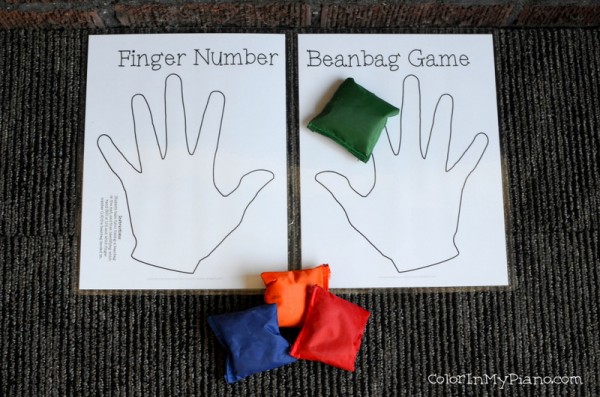 This quick, easy game is a great way to review the piano fingering and RH versus LH with young beginner piano students. Students stand in front of the mat and toss a beanbag, and then name the finger the beanbag landest closest to, and whether it is on the RH or LH. I laminated the pages and taped them together so that the mat folds for easy storage. The game idea is credited to Becki Lewis (view her blog here). To view the original blog post about this game, click here.

Grand Staff Pass
» 2.6 MiB - 33,612 hits - 8 January 2013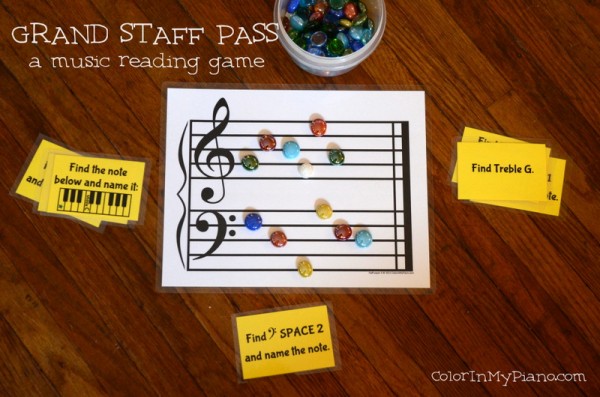 "Grand Staff Pass" is a activity for finding and naming notes on the grand staff. Each student has a printed grand staff in front of them, and must find the notes as indicated on the cards. The cards are passed to the next student, going counterclockwise around the room. The complete instructions for this activity are included in the pdf. To read more about this game, please read the original blog post here.

Heartbeat Charts for Rhythm Dictation
» 297.1 KiB - 11,349 hits - 13 November 2014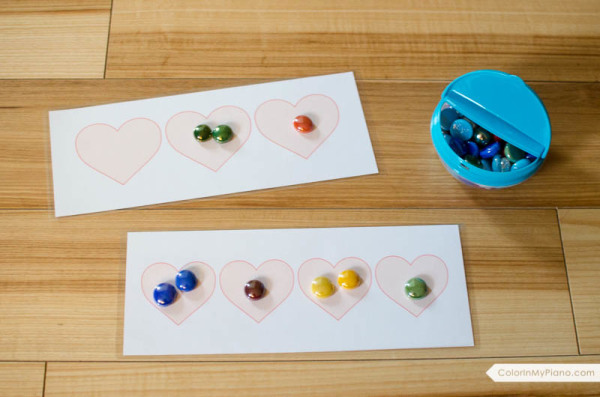 These Heartbeat Charts are perfect for making rhythm dictation easy and fun. Here is how the activity works: Each student is given a heartbeat chart and some game tokens. The teacher claps/chants a prepared rhythm and asks students to notate the rhythm on their heartbeat charts using game tokens. After a certain amount of time, the teacher describes or displays the correct answer and allows students to self-correct their work as necessary. Perfect for both one-on-one or group settings. It is easy to add a holiday theme to this activity. Read more here.

Ice Cream Interval game - SAMPLE
» 2.9 MiB - 17,452 hits - 6 May 2013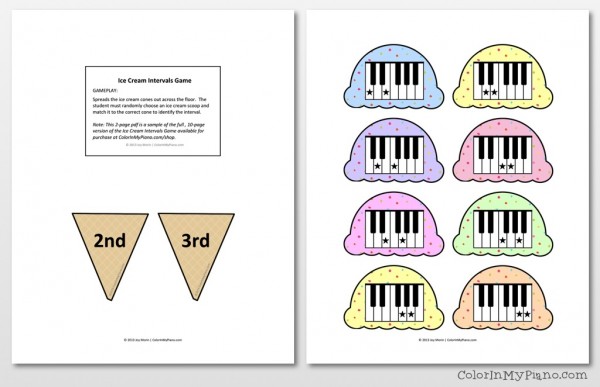 This free printable is a sample of the version available in the Color In My Piano shop for $8. The ice cream scoop cards in this sample are limited to 2nds and 3rds on the keyboard, which makes it perfect for preschoolers or other young beginners. Instructions for two games to play are included in the pdf. Read this post to learn more about the Ice Cream Interval game.

Keyboard Rollin' game
» 882.0 KiB - 14,341 hits - 7 June 2013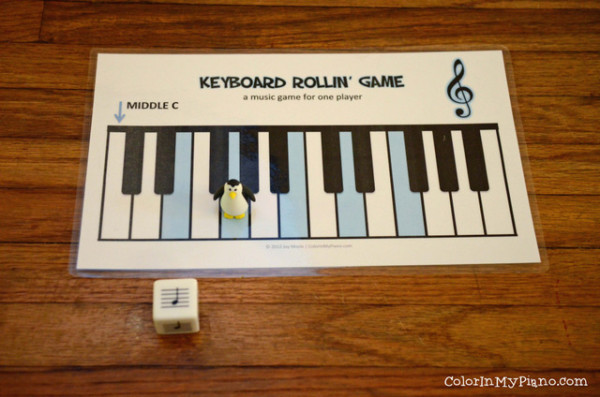 I wanted to create a note-naming game for my waiting room area, and this is what I came up with: the Keyboard Rollin' Game. There are two gameboards to choose from, depending on if you would like to practice treble clef notes or bass clef notes. Students choose between practicing identifying line notes or space notes, and use the corresponding dice. The game directions can be printed on the backside of the gameboards. This non-competitive game is pretty straight-forward: roll the dice, name the note, and move the game marker to the appropriate piano key. Read more about this game here.

Listen & Sign Game Printable
» 26.9 KiB - 11,249 hits - 3 August 2010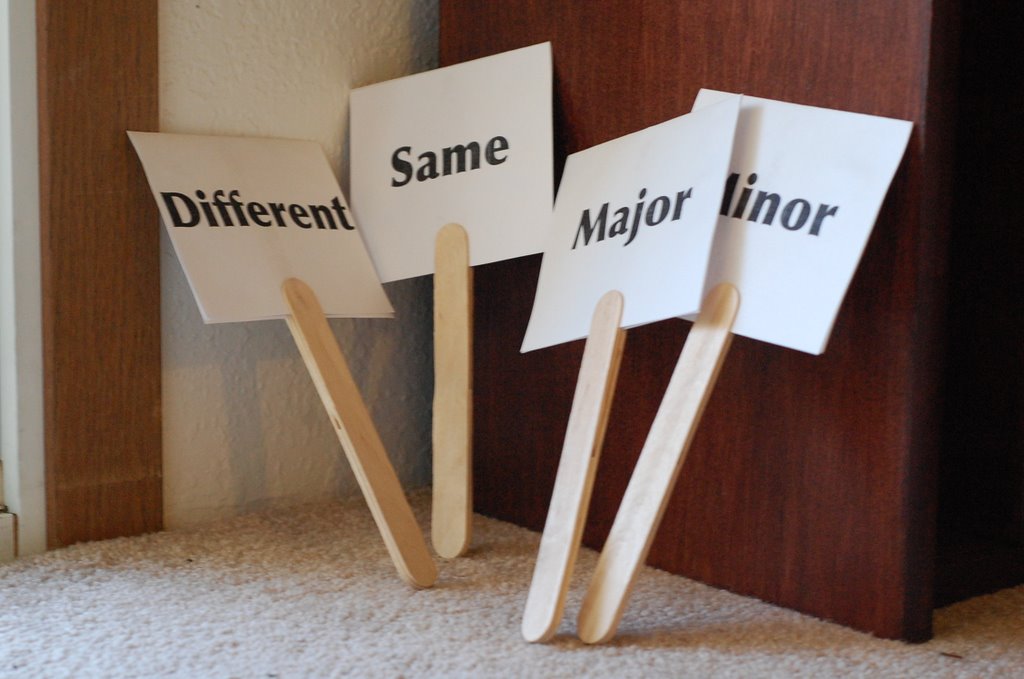 This is the pdf for creating the signs used in the Listen & Sign game. Students learn to listen and identify whether what you play for them on the piano is the same or different, and major or minor. It is a quiet game that gets everybody involved and students really enjoy!
Please refer to the
corresponding blog post
for instructions for assembly and game directions.

Make Me A Rhythm! game
» 1.0 MiB - 10,761 hits - 18 November 2011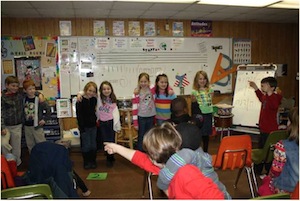 This composing/rhythm game is appropriate for groups of about 8 or more students. All you need are 4 pieces of paper with the numbers 1, 2, 3, and 4 written on them. These sheets serve to mark the beats of the measure, spaced out on the floor. One student is chosen as the Composer, who must select students and make them into quarter notes/half notes/whatever. Once the measure is complete, everyone claps the rhythm and the teacher records the rhythm onto a whiteboard to save it. A new Composer is chosen to compose the next measure. In the end, everyone claps the entire rhythmic composition to see what it sounds like. Click here to read the original blog post about this.

Music Motor Match
» 840.7 KiB - 12,279 hits - 4 May 2012

This short and simple matching game is perfect for your waiting room area or to play at the end of a piano lesson. It is intended for beginner/elementary level students for reinforcing the name and values of basic rhythm values. Click here to view the original blog post about this game.

Musical Alphabet Word Cards
» 2.4 MiB - 19,233 hits - 24 May 2012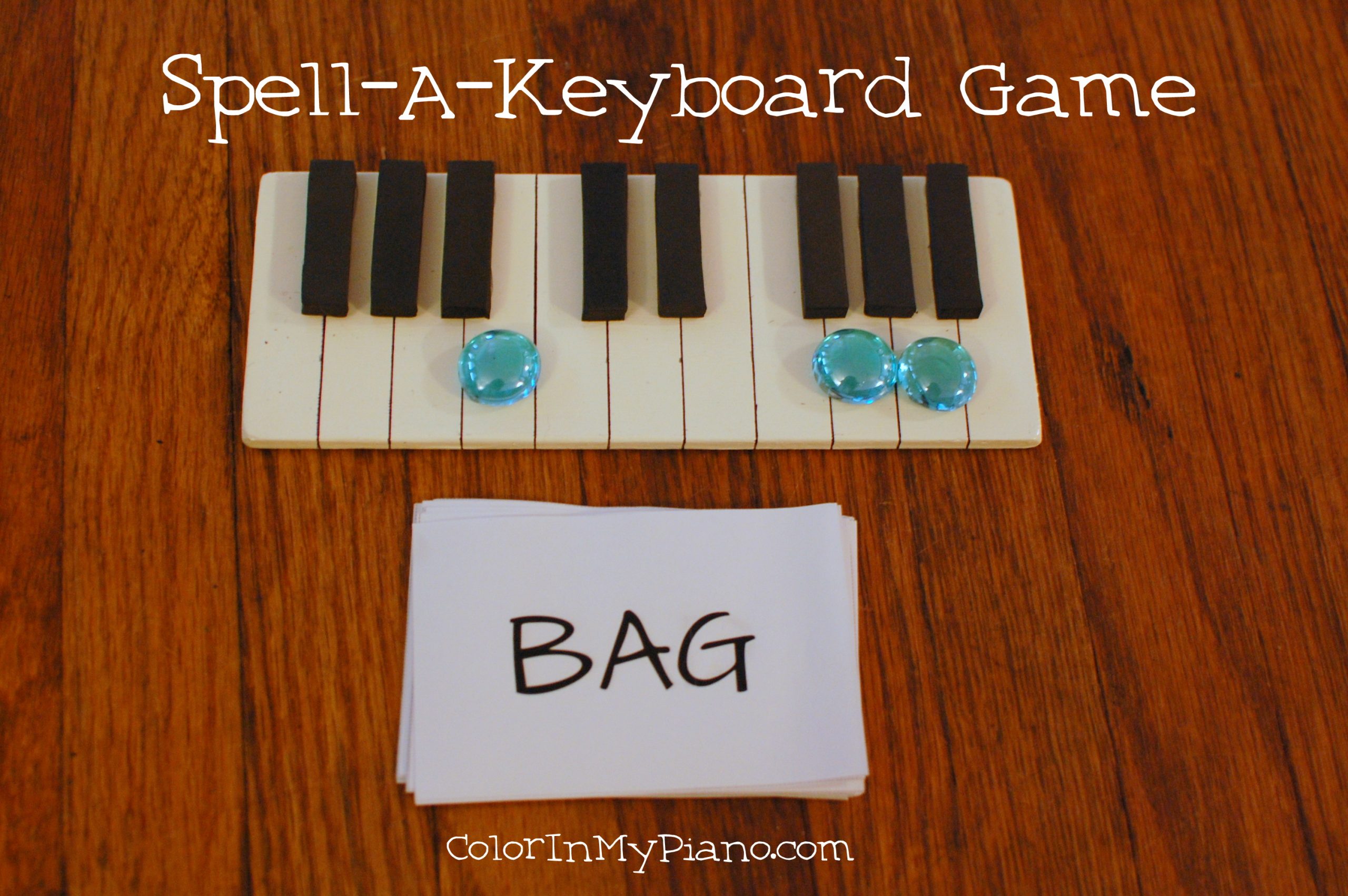 These cards can be used for various games, including what I call the Spell-A-Keyboard game. Each student "spells" the words from each card on the piano (or a silent keyboard) by covering the right keys with glass gems (buttons, pennies, etc.). It's a fun game for practicing the piano keys names without out it feeling like a drill. Another game is to spell the words on the staff -- read more at this post.

Musical Flashcard Sorting game
» 1.2 MiB - 11,755 hits - 16 December 2011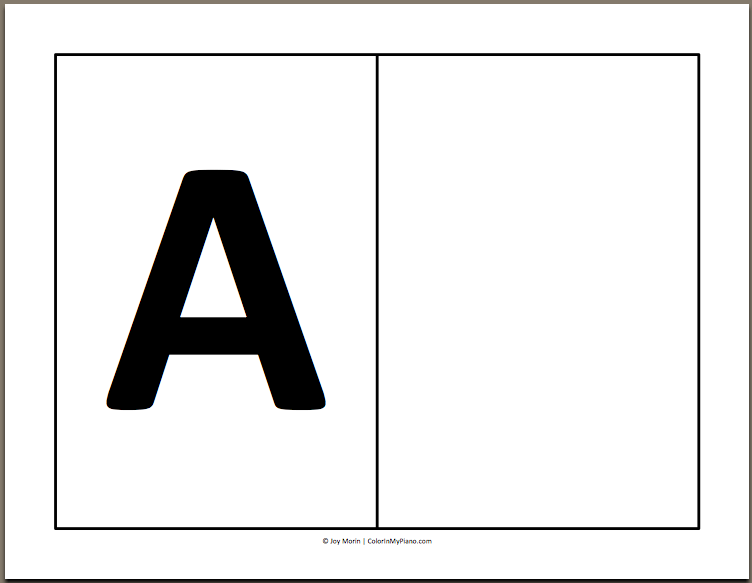 This is a simple game to play with groups of students that makes note-naming flashcards a bit more interesting. It involves sorting the flashcards onto alphabet letter signs on the floor. The game is pretty flexible, because beforehand you can sort out exactly which flashcards you want to focus on with your students. This also allows you to control how long you wish the game to continue. The pdf contains 7 pages, one for each letter of the musical alphabet. Print on colored cardstock to add some color, and laminate to add durability. Check out this post to read more.

Musical Leaves Matchup game
» 143.5 KiB - 11,960 hits - 10 November 2011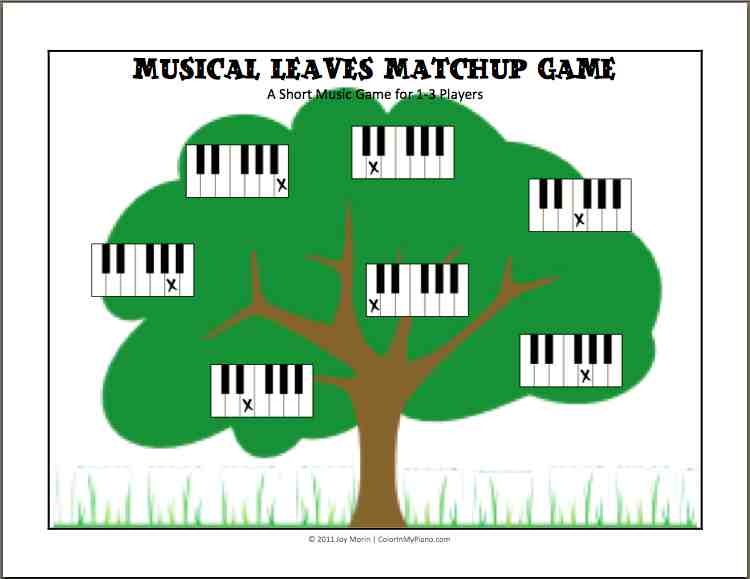 This is a short music game I created as a way to reinforce the names of the piano keys with young beginners. You'll need to buy fabric or foam leaves and mark each with a letter from the musical alphabet using a marker or felt tip pen. The student is instructed to match each leaf to it's spot on the tree, until the whole tree is filled. The game only takes a few minutes, so it's a great game to do on the piano bench at the beginning or end of a piano lesson. See the original blog post about this by clicking here.

Name-That-Tune - Christmas Edition
» 45.6 KiB - 5,630 hits - 9 January 2013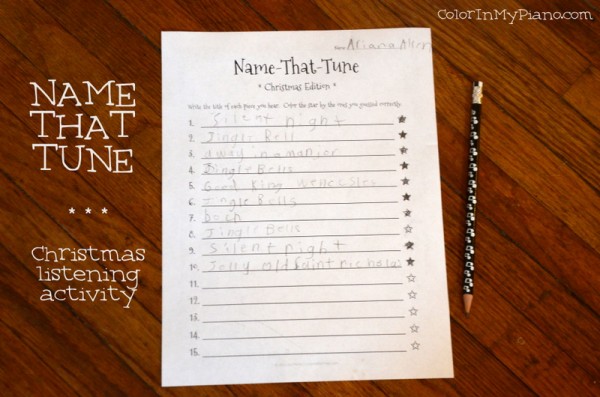 This worksheet is perfect to use at Christmas time during a recital or dress rehearsal, when students will be playing familiar Christmas tunes. As each student plays, the listeners can write down the titles. If they get them correct, they can color in the star on the right in order to keep track of how many they guessed correctly. Read more about this activity here.

Piano Finger Twister Game
» 1.0 MiB - 19,409 hits - 21 February 2012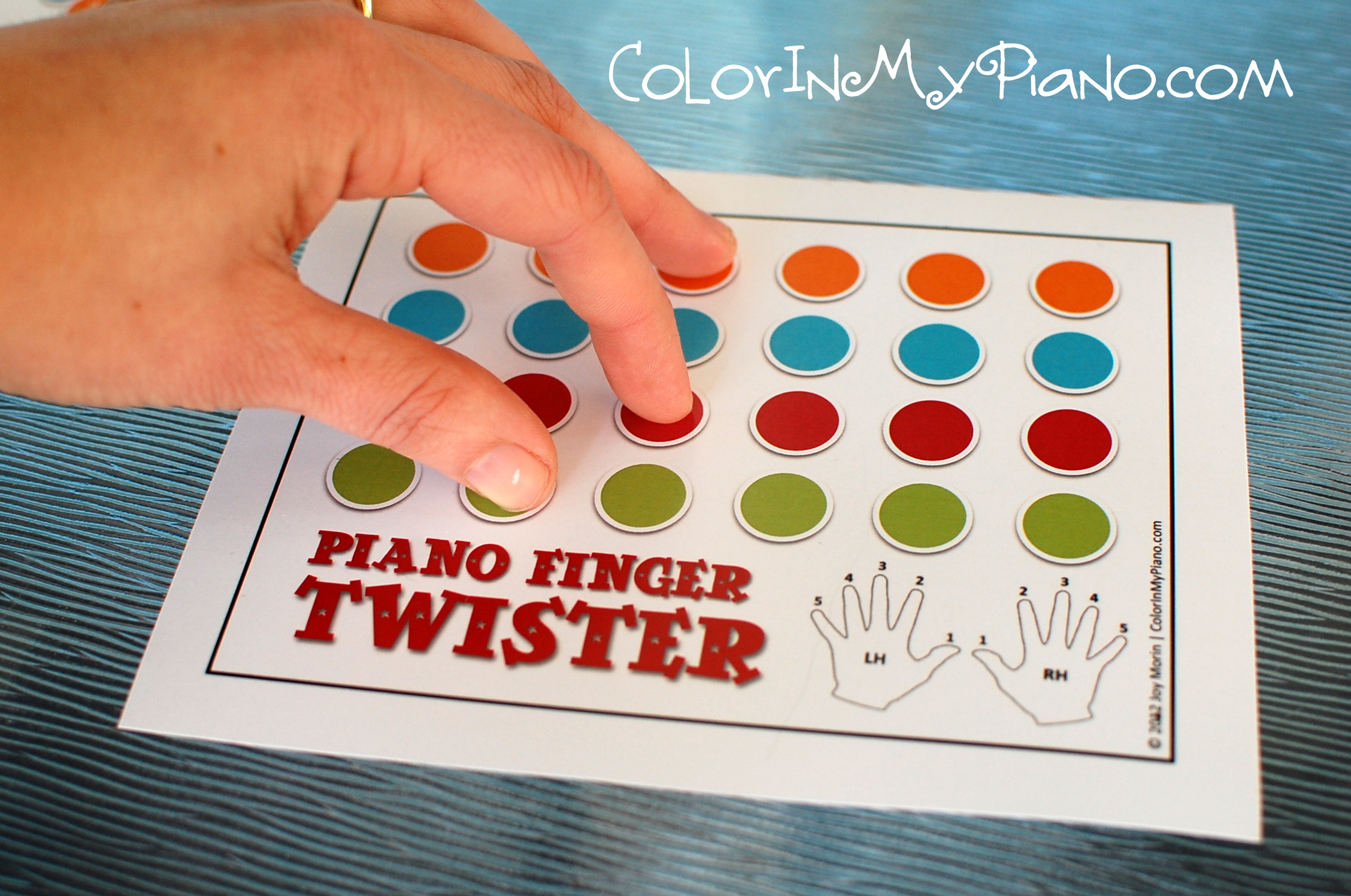 This game is a great way to teach RH versus LH, and the piano fingering 1-5. Here's how it works: The student spins the spinner, which tells the student which hand and finger to put on a colored dot on the playing mat. After a few rounds of this, the students hands and fingers will be pretty busy on the mat...and when it's no longer possible to hang on to all the right dots, it's game over! To view the original blog post about this game, click here.

Piano Hands Hunt game
» 695.6 KiB - 8,630 hits - 7 September 2011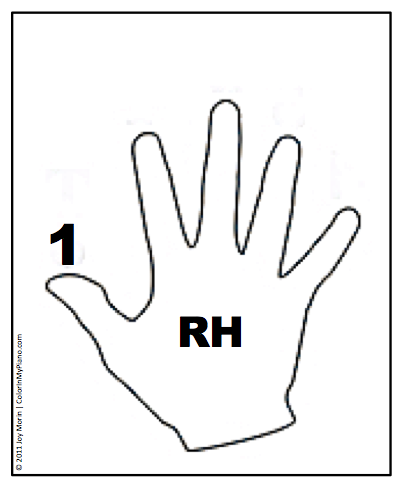 A music game for 2-6 players. This simple game is intended for use with young beginners/elementary level students to help them learn RH versus LH, and the finger numbers for piano. The cards are hidden throughout the room in advance, and students are instructed to find cards and then play any key on the piano using the hand/finger shown on each card. The PDF includes a card with the above instructions for assembly, setup, and gameplay. The cards themselves could be useful as flashcards to use during private lessons too.

Rainy Rhythm Game
» 318.2 KiB - 10,760 hits - 22 September 2011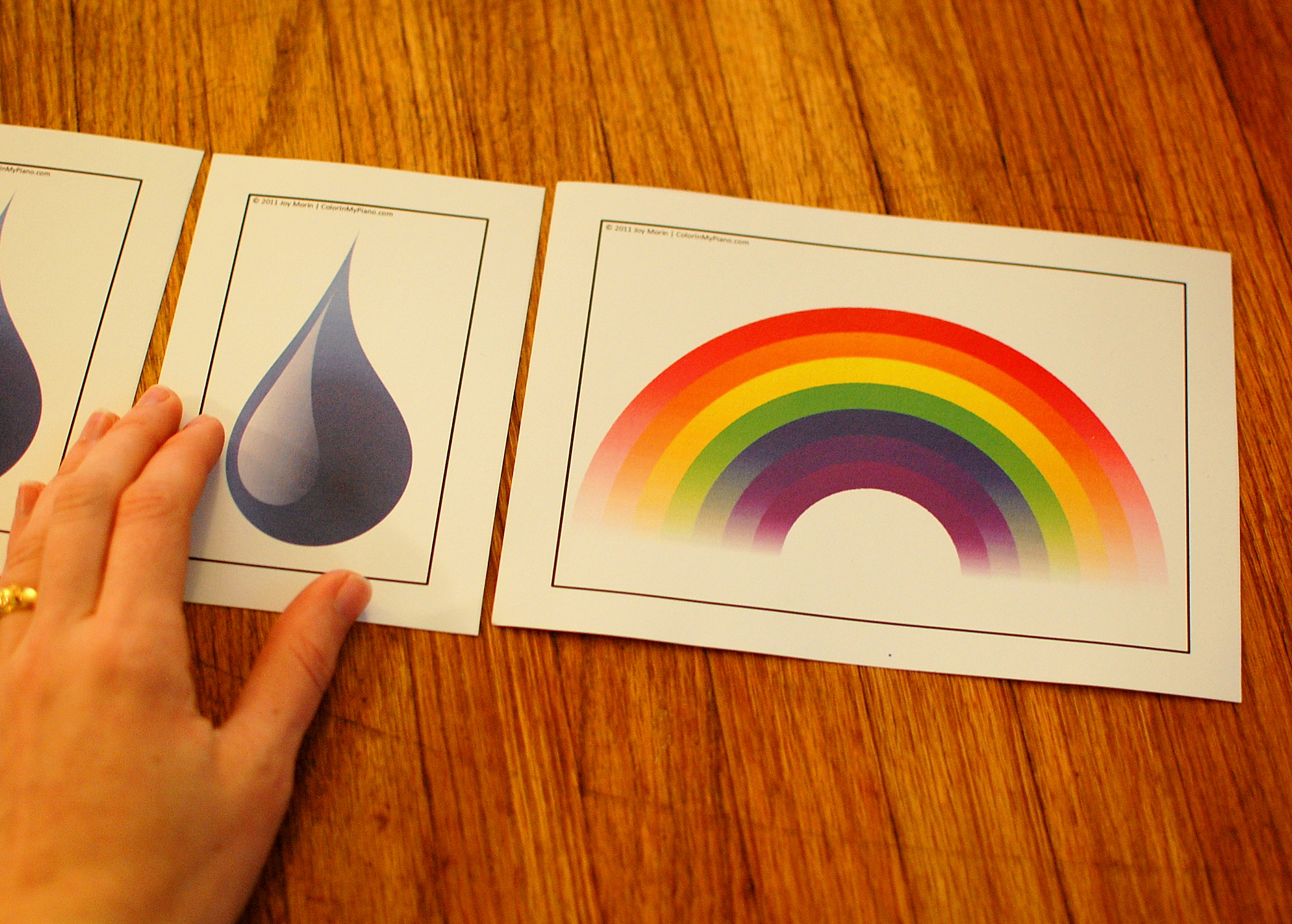 This music game is for 1 or more young beginner students with little or no experience with musical notation. The raindrop and rainbow cards represent short note values and long note values, respectively. After the teacher claps/chants a rhythm, students clap/chant it back and notate the rhythm on the floor using the raindrop and rainbow cards. Students may work alone, or in pairs/groups -- just be sure to print enough cards for everyone! Click here to read the original blog post about this.

Rhythm Magnet Game
» 155.2 KiB - 16,433 hits - 25 February 2011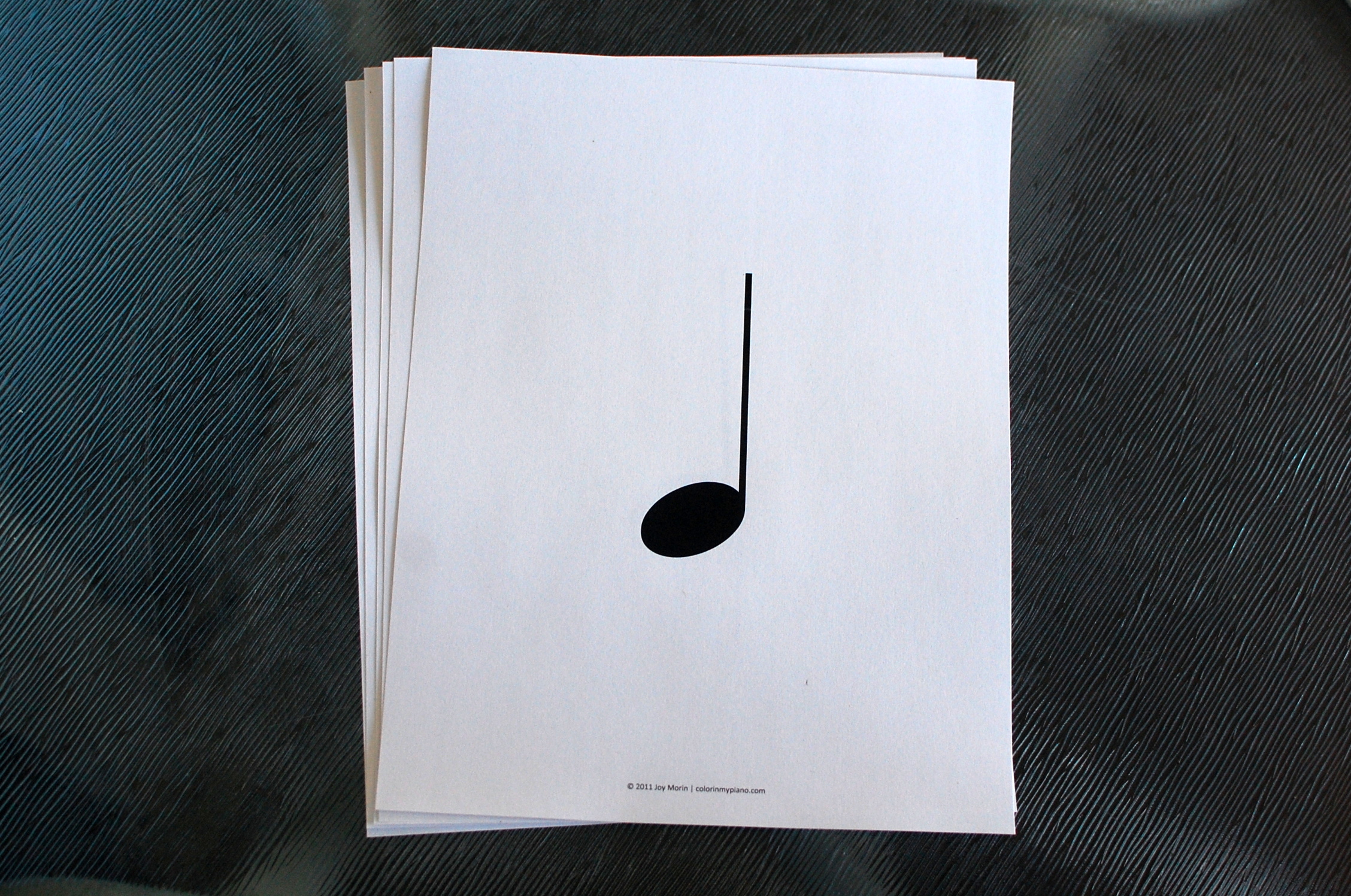 This pdf contains full-page sized posters of rhythm values. They are perfect to use for games or just to hang up in your music studio. Click here to read more about the Rhythm Magnet game. It involves having students gravitate towards the posters which have been spread around the room as they hear the teacher improvise in various rhythmic values. The Rhythm Magnet game covers ear training, movement, and rhythm, all wrapped up in one game!

Rhythm Train game
» 186.2 KiB - 15,391 hits - 16 May 2013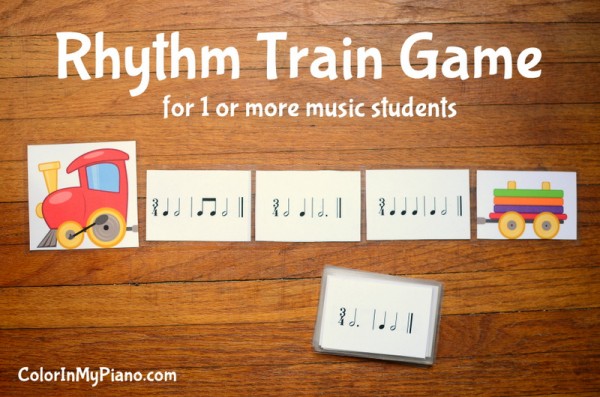 Playing the Rhythm Train game makes clapping rhythms just a little bit more fun. 🙂 It works well both in the private lesson (it can be played at the piano on the music rack, or off-the-bench on the floor) or in group classes. You will need a set of rhythm cards (there are some available in the ColorInMyPiano.com/shop/) and you will need the train cards provided in this printable. Ask the student(s) to randomly choose 2 or 3 rhythm cards with the same time signature. First, make sure that the student(s) are able to accurately clap each rhythm card separately. As they master each card, they may add it to the train behind the engine, with the caboose at the end. When all the cards have been added to the train, ask the student(s) to clap the entire rhythm. Challenge the student to see how many rhythm trains they can make, or assign the student to make a rhythm train every day at home. Read this post to learn more.

Rhythm Value Cards
» 1.9 MiB - 27,696 hits - 17 April 2012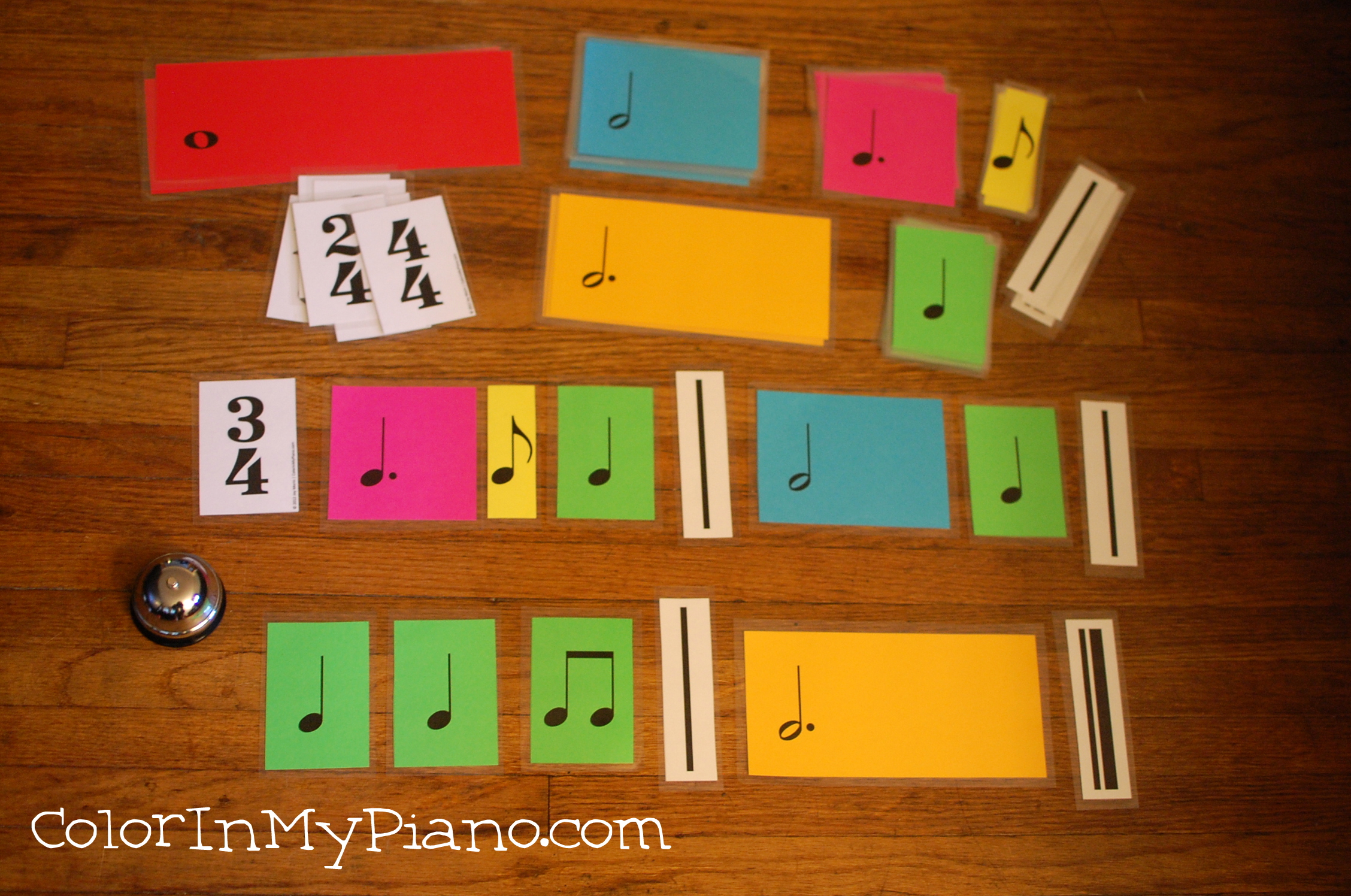 The pdf contains rhythm cards for basic values as well as many advanced rhythms, including sixteenth notes, dotted-eighth sixteenths, eighth note with two sixteenths, etc. There's even eighth note triplets and quarter note triplets. I recommend printing only what you need, or at least giving students only the cards they'll need for the activity you have planned. I also recommend printing the cards on different colors of cardstock paper according to the number of beats they are worth. Read the original blog post about these cards here.

Spinners
» 1.1 MiB - 12,683 hits - 2 July 2012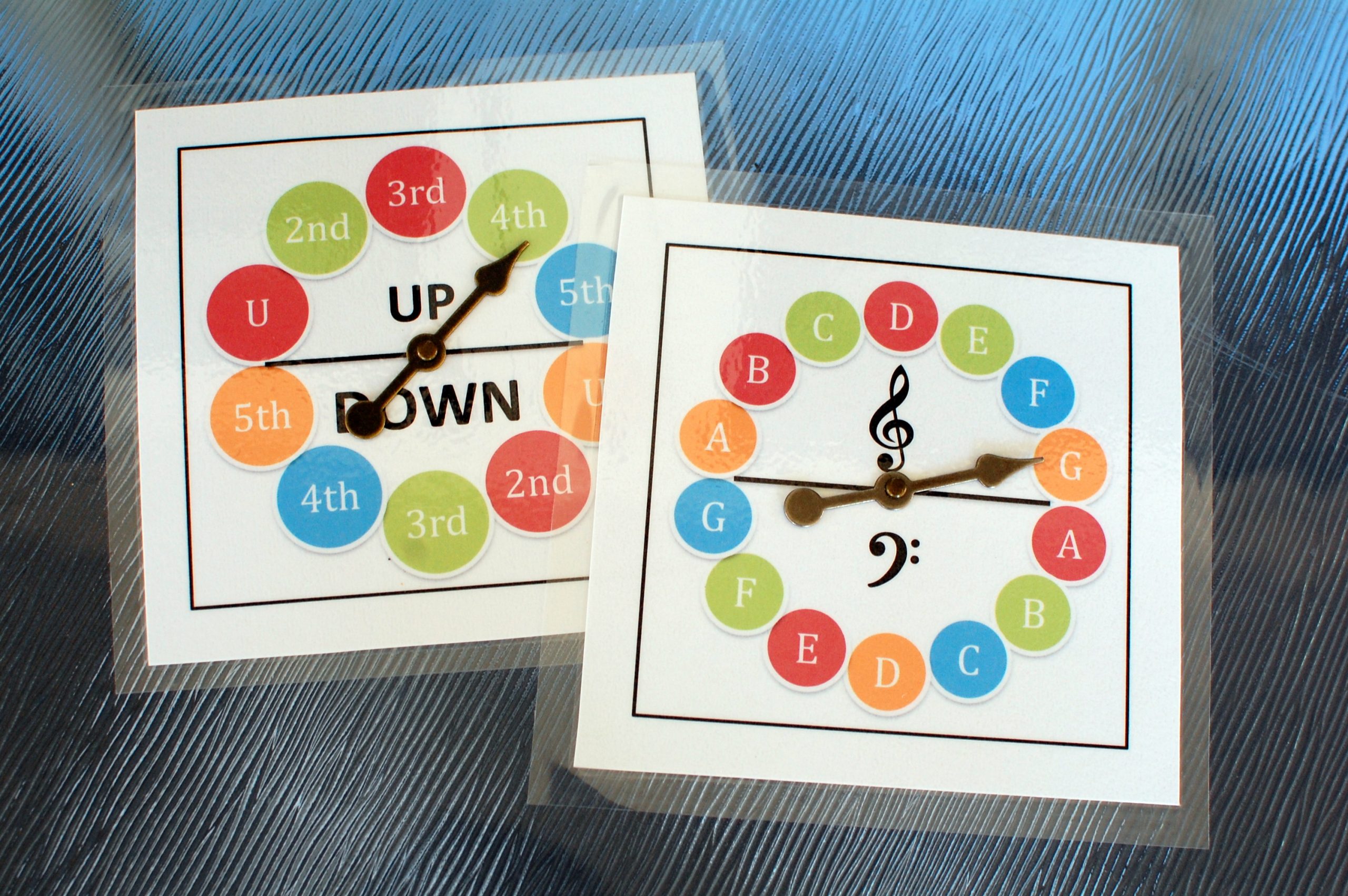 This pdf contains four different spinners that may be useful for a variety of games: (1) The letters of the musical alphabet; (2) notes/rests; (3) Intervals unison through fifth; (4) a simplified version of notes/rests so that there are no eighth notes. All you have to do is print, laminate (optional), and install a spinner (available at teacher supply stores or the scrapbooking section of craft stores). Stay tuned - I will probably be adding more spinners in the future!
Check out
this post
to read how these spinners were used in my Musical Olympic Camp games.

Swat-A-Rhythm game (with variations)
» 161.1 KiB - 11,238 hits - 7 May 2013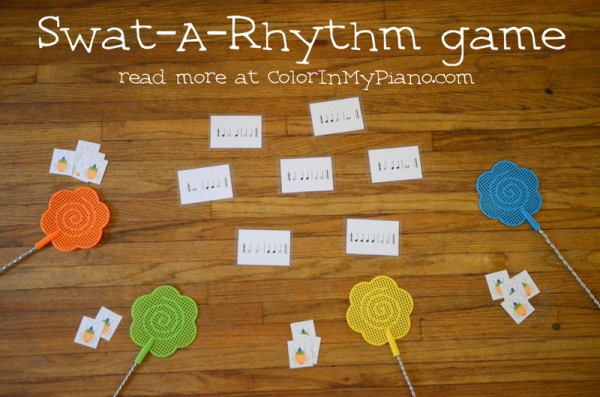 This pdf contains instructions and "bug cards" (for tracking points) for playing the Swat-A-Rhythm game. You will need a fly swatter for each student and a few rhythm cards to put out on the floor. After the teacher claps one of the rhythm cards, the students must race to swat the correct card. The first student to swat the correct card wins a bug card. The student with the most bug cards at the end is the winner. There are many possible variations to this game, including Swat-A-Note, Swat-A-Piano-Key, Swat-An-Interval, Swat-A-Melody, and Swat-A-Term. Read more about this game at this post.

The Amazing Keyboard Race game
» 1.3 MiB - 11,651 hits - 15 March 2012

Here are instructions for playing what I like to call "The Amazing Keyboard Race game." It's a great game for beginners who need more practice remembering the letter names of the piano keys. You just need a piano (or silent keyboard), some game pieces, and a way to randomly select letters of the musical keyboard. You and your student(s) can race across the keyboard to see who reaches the treble side first!
To view the original blog post about this game,
click here
.

What Do YOU Hear? - Rhythm Patterns game set
» 513.0 KiB - 1,503 hits - 1 January 2000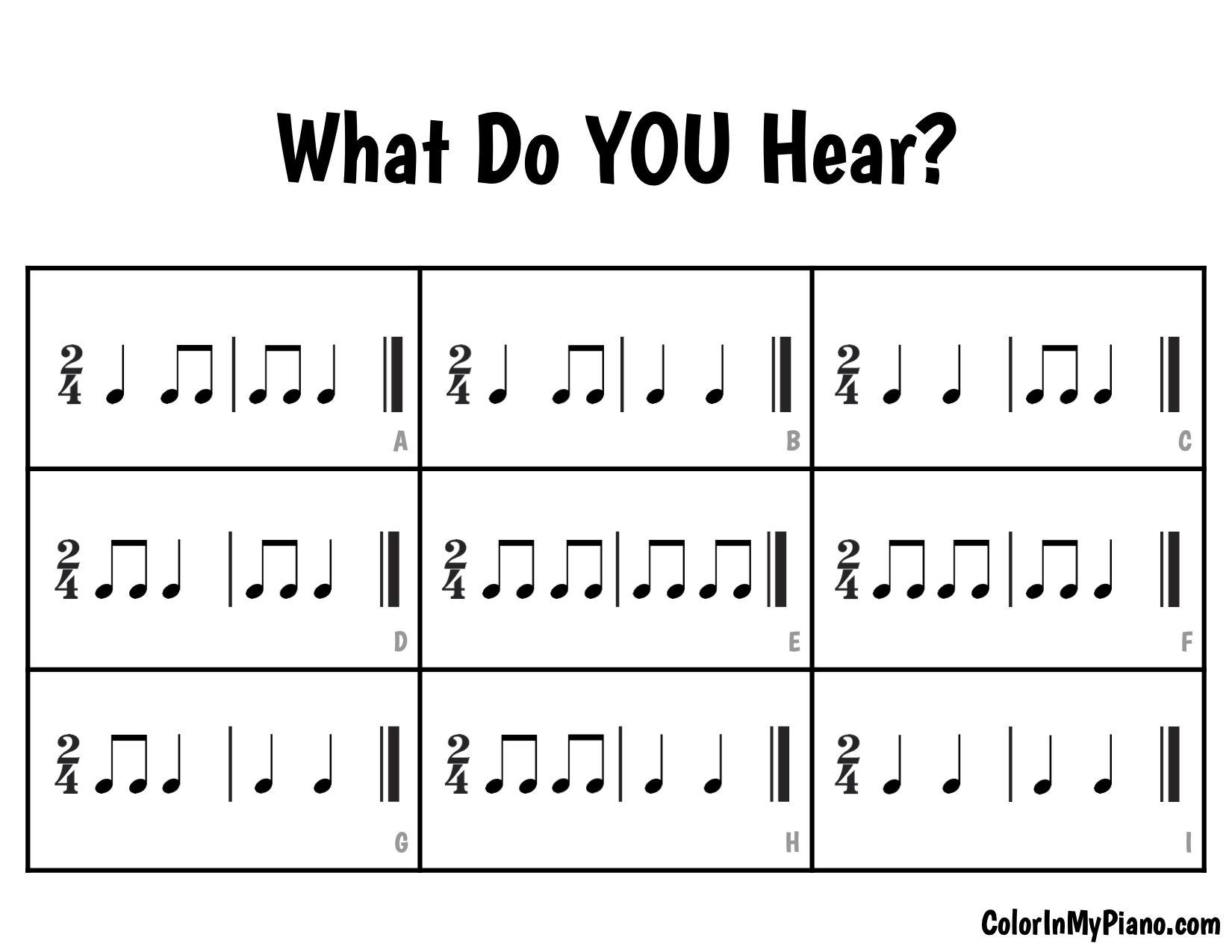 This set contains two pages: rhythm patterns in duple meter and rhythm patterns in triple meter. The teacher chants a rhythm pattern as students listen. Students echo it back and then identify which rhythm pattern they heard from the sheet. If you have a group of students in a Zoom call, you can ask them to each choose a different "stamp" from the stamp tool (stars, hearts, checkmark, etc.) so they can visually mark which rhythm pattern they heard. Or, it also works to ask them to use hand signs (for example, if they heard rhythm pattern C, they will make a "C" shape with their hands). A colorful version of this PDF is also available for iPad. Learn more here.

Whiteboard Music Trivia
» 88.1 KiB - 8,326 hits - 5 March 2013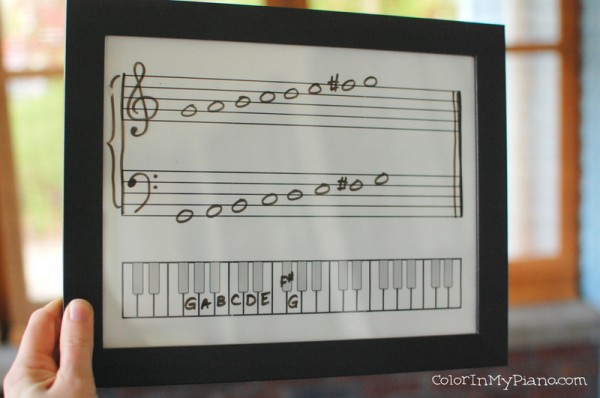 This pdf contains a checklist of beginner-level questions to ask students when playing Whiteboard Music Trivia. To play the game, divide students into teams and give each team a music whiteboard (you can read about making your own whiteboard using a frame here). Each time you ask a question from the checklist, team members should work together to come up with the right answer to write on their whiteboard. The first team to hold up their whiteboard with the correct answer earns a point. Read more about this game here.