After moving from Northwest Ohio to Southeast Michigan in December of 2020, I had promised to give you a tour of my new studio space. Somehow, a year has already passed…but I'm finally delivering on that promise! Below is a photo tour as well as a video tour (scroll down to the end). I think it's always fun to see other teachers' piano studios, so I hope you'll enjoy!
My husband and I waited a long time for the right house to come along. Among the other items on our wishlist, we were looking for a house that had both a living room and a family room so I could claim one of them as my piano studio. 😉
Here's the front door where students enter (at least, eventually when the Covid-19 pandemic is over and I begin teaching in-person lessons once again!).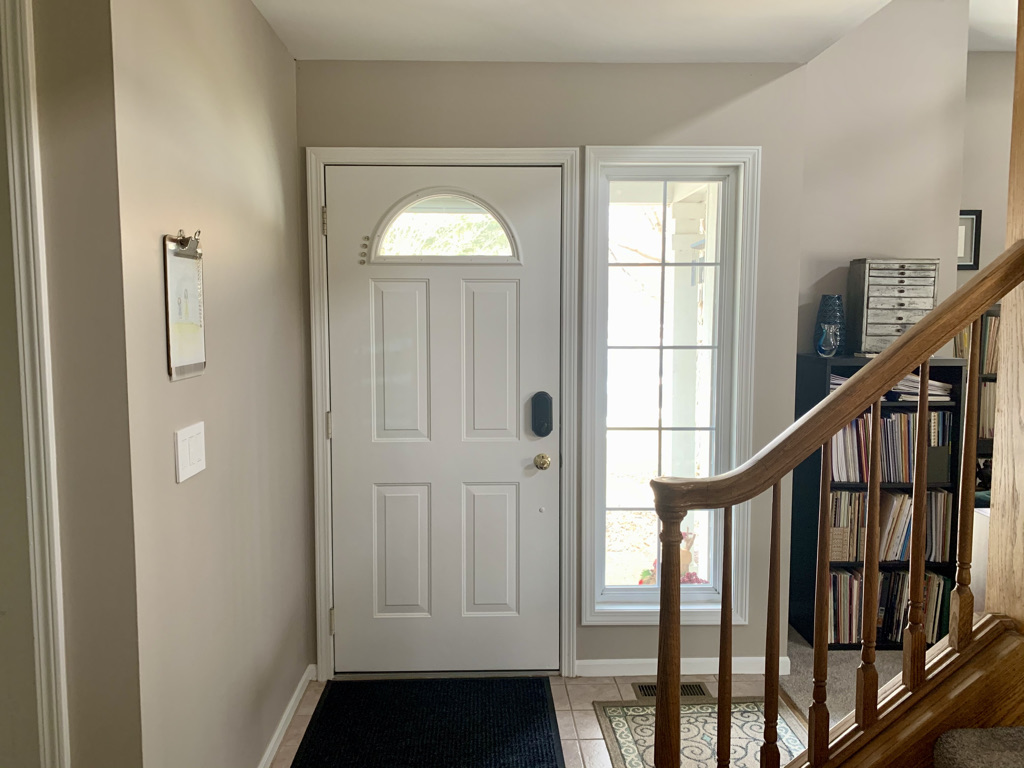 Students are invited to remove their shoes on the mat (read more about that friendly reminder decal sticker here).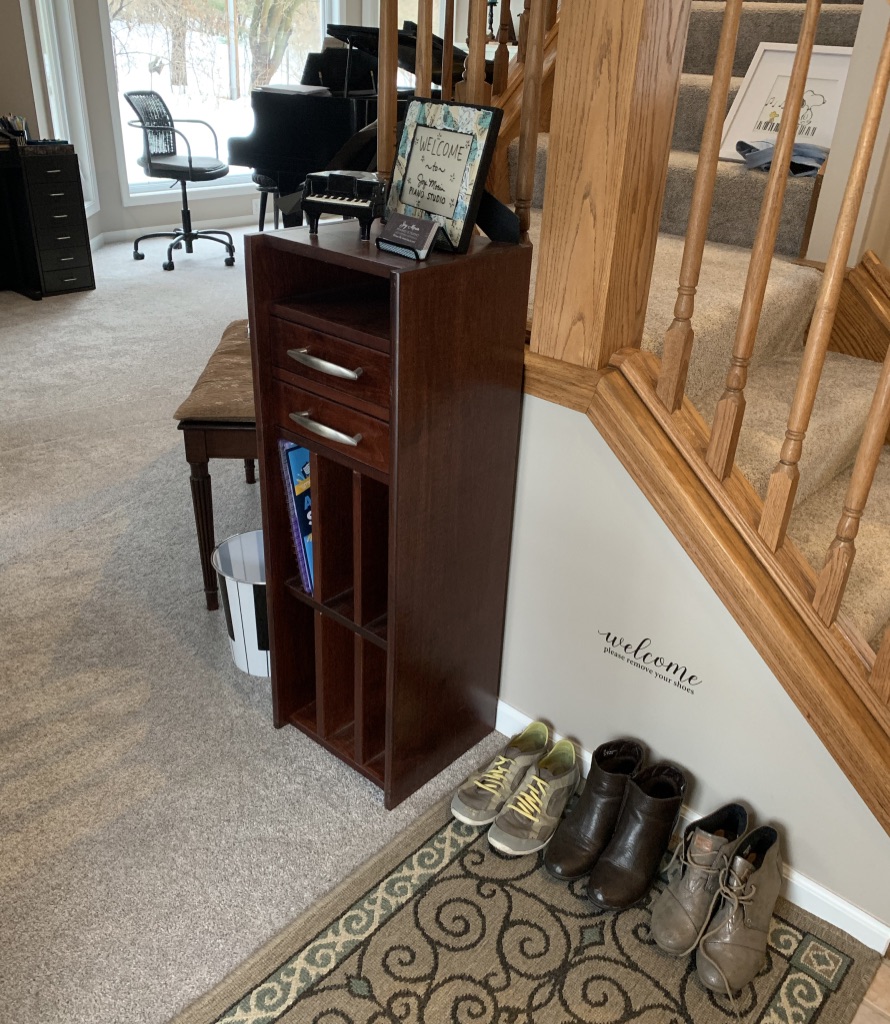 When you look to the left, here's the first look into the piano studio.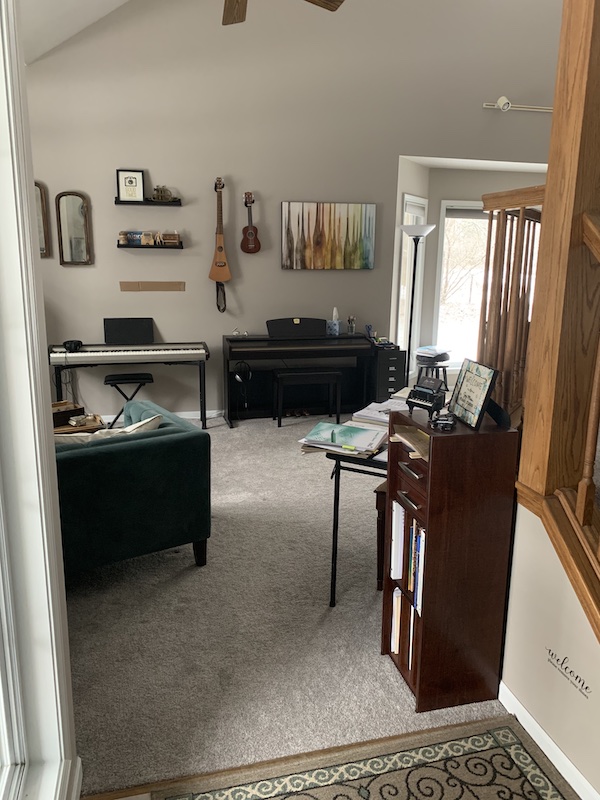 The card table you see in the photo above is not normally there, but these days I'm using it to keep myself organized for my online teaching. Each stack is for a student and marked with a sticky note. The stacks on the left are for Monday students, and as my teaching week goes on I work my way towards the right.
I also a have a special stack of books near the piano, for the books that multiple students are currently using.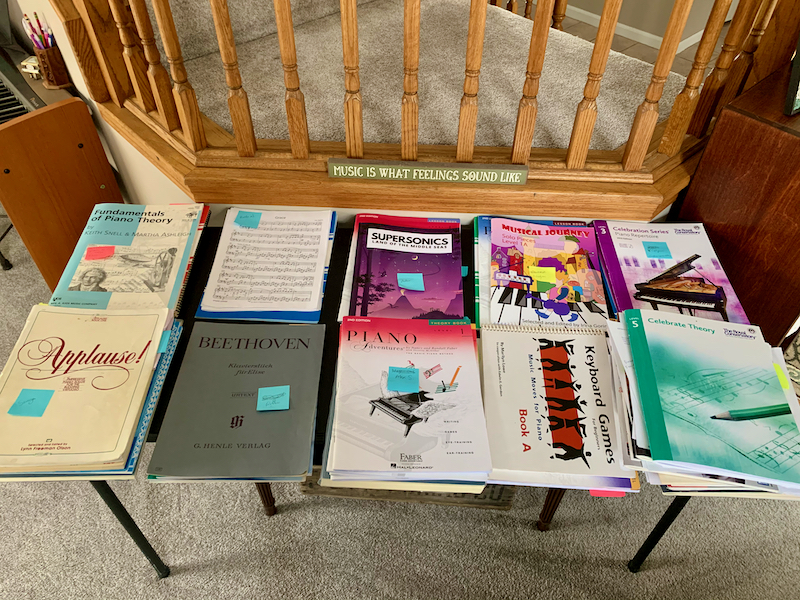 Last weekend, I finally got around to putting artwork up on the wall! That's what partly motivated me to take some photos. I still need to get to IKEA sometime to buy a third ledge shelf for the wall…for now, I taped up a strip of cardboard so you get the visual effect. 🙂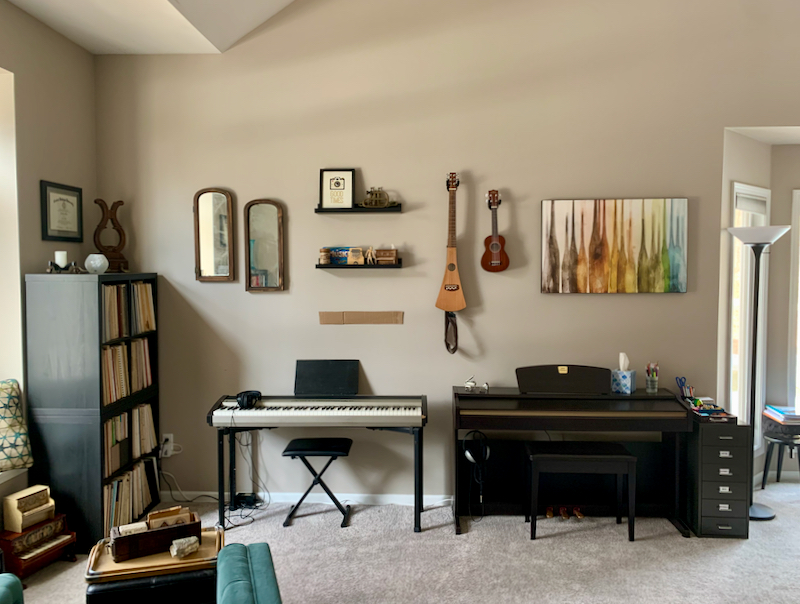 This is the waiting area of the room.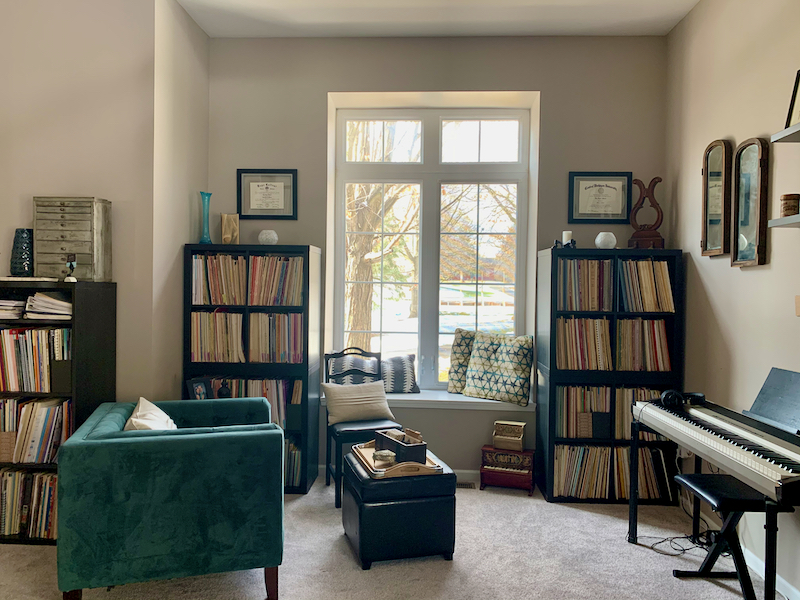 And here's the other end of the room, where the piano is.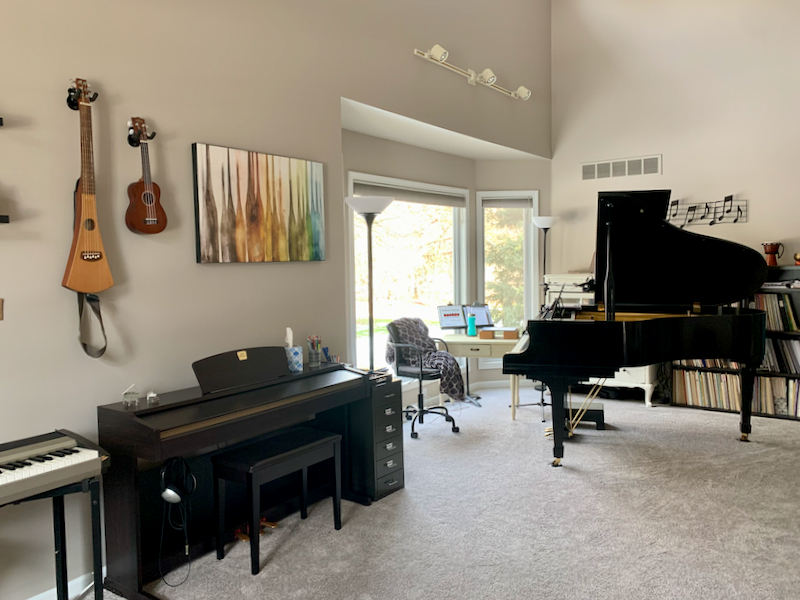 As you can see, I have a few digital instruments as well. My plan had previously been to experiment with teaching some group classes after my move to Michigan. The Covid-19 pandemic has put a delay on those plans for now.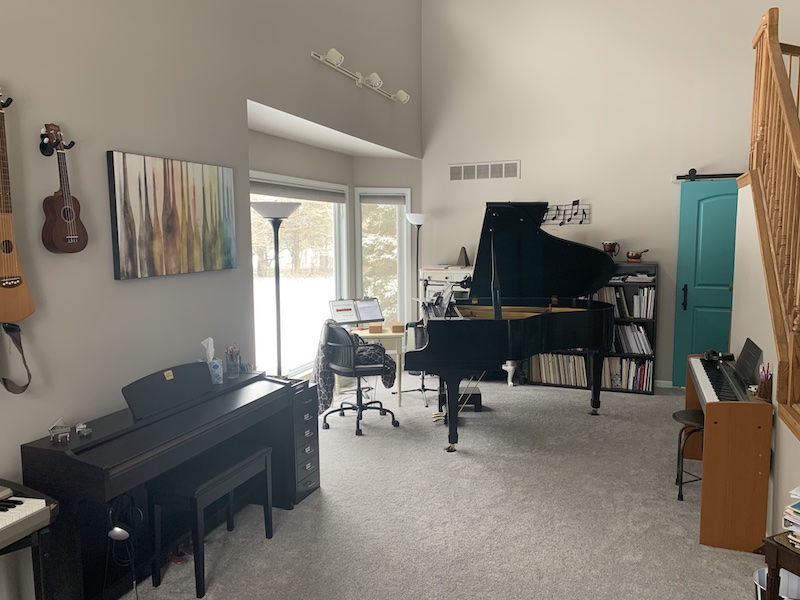 My husband and I installed the turquoise sliding door to create privacy between the piano studio and the kitchen. We found the unfinished door on Facebook Marketplace and bought the hardware from Amazon. We love how it turned out!
Here's the room from a different angle.
It might be tricky to get the sense for a room's layout by looking at photos. So, you might enjoy checking out the video version of my tour!
0:00 The front door, where students enter and remove their shoes.
0:30 The waiting area.
1:00 Wall decor, finally put up after a year of living in this house!
1:30 My fold-up table and system for keeping music books organized for online teaching.
2:10 My set-up near the piano for online teaching: desk, Macbook Pro, electric blanket, overhead camera.
3:00 Drawers for storing games, flashcards, and manipulatives (read more about my organizational system here).
3:25 My bookcases from IKEA. They are the KALLAX and BESTA shelf units (read more on this blog post from 2012).
3:50 Misc decor
5:00 The sliding "farm door" my husband and I put in to separate the piano studio from the kitchen.
6:00 More game storage, etc.
Thanks for taking the penny tour! 🙂
Your turn: Have questions about anything you see? Leave a comment!