Hi! I'm Joy Morin.
I'm a pianist and teacher in Michigan.  I love teaching piano, which I have been doing since 2005. Teaching piano is one of the most rewarding things I have ever done and I plan to continue doing it for the rest of my life. I started this blog in 2009. Join me here at Color In My Piano as I share my journey of learning and growing as a teacher.
Biography
Joy Morin is a teacher, pianist, speaker, and writer of a blog at ColorInMyPiano.com. She teaches students of all ages at her independent piano studio near Ann Arbor, Michigan. A devoted teacher and lifelong learner, Joy is a frequent attendee of conferences and workshops to refine her craft. In recent years, she has twice been the recipient of MTNA Teacher Enrichment Grants, enabling her to further pursue her interest in Edwin Gordon's work in Music Learning Theory (MLT) and complete certifications from the Gordon Institute for Music Learning (GIML.org) in both Piano and Early Childhood Music.
Joy enjoys connecting with fellow piano teachers, through her blog and beyond. As an outgrowth of her blog, she offers online courses for piano teachers and, for the first time last year, organized a first annual Piano Teacher Retreat, hosting fifteen piano teachers to survey the historical evolution of piano method books together. As an active member of Music Teachers National Association (MTNA), Joy has served in numerous capacities: most recently as VP for Affiliated Associations for the Ohio Music Teachers Association (OhioMTA) and Co-President of the Toledo Piano Teachers Association. Joy has given presentations on the topics of music learning theory, piano teaching literature, studio business, and piano method books at local, state, and national association levels — including for the National Conference on Keyboard Pedagogy (NCKP); MTNA conferences; state conferences of Ohio, Indiana, and Kentucky; and local meetings of chapters across Ohio. Two of her articles were published in the American Music Teacher and Clavier Companion magazines.
A native of Michigan, Joy completed graduate studies at Central Michigan University (Mount Pleasant, Michigan) where she received a Master of Music degree in Piano Performance and Pedagogy, studying both subjects under Adrienne Wiley. Her Bachelor of Music degree in Piano Performance is from Hope College (Holland, Michigan), where she studied piano with Andrew Le and pedagogy with Adam Clark. Upon graduating summa cum laude from Hope, she received the MTNA StAR award and was granted membership into the Pi Kappa Lambda music honorary society and the Phi Beta Kappa honorary society. Joy also holds an Associate of Music degree in Piano Performance from Grand Rapids Community College (Grand Rapids, Michigan), where she studied with Mary Scanlan.
About the Name "Color In My Piano"
The name "Color In My Piano" came from a 20-page paper I wrote during my senior year at Hope College in May of 2009.  The assignment was to reflect upon the past experiences of my life and formulate a worldview.  A large portion of my paper, not surprisingly, was focused upon the huge role that music and the piano has played in my life.  I believe music is much more than a bunch of notes strung together — it is a powerful force that can affect our emotions and senses and transport us to other times and places.  It has the power to heal and to mend, to encourage and to energize.  I strive to prevent my music-making/teaching from becoming a job, a task, or a requirement — I strive to keep "color in my piano" for both my students and myself.
Links of interest:
Disclosure: ColorInMyPiano.com is a participant in the Amazon Associates Program, an affiliate advertising program designed to provide a means to earn fees by linking to Amazon and affiliated sites. 
---

Sheet music, games, rhythm cards, camp curriculums, and more to support your piano teaching efforts!

Looking to refresh and re-energize your teaching? Piano Teacher Retreat is the perfect get-away to find relaxation and achieve growth as a piano teacher. This unique three-day retreat takes place at Joy Morin's home in Southeast Michigan in August.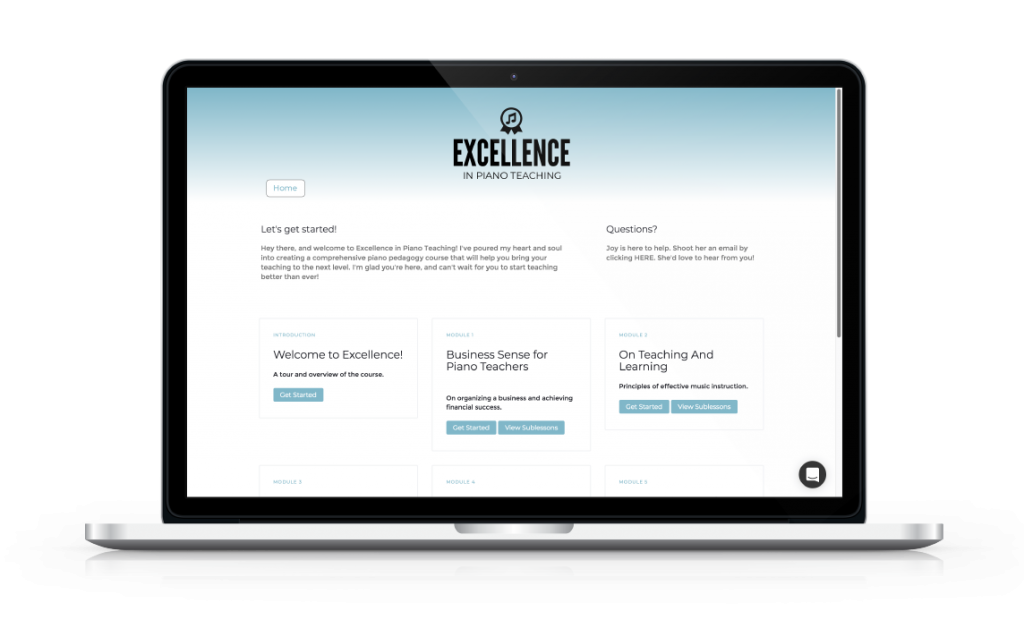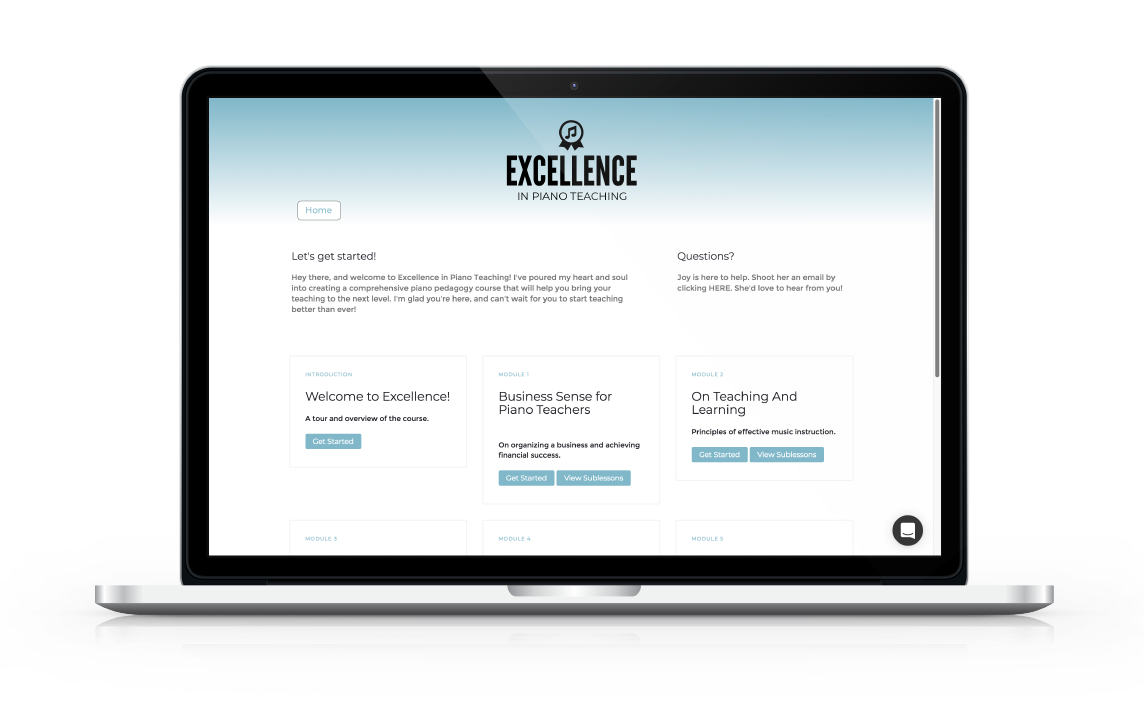 Excellence in Piano Teaching is a six-module training program that teaches piano teachers to run their studios smoothly and produce capable, happy musicians. Whether you're wanting to organize the legal and financial aspects of your studio business or enable your students to make progress with ease, Excellence in Piano Teaching will challenge you to create an enjoyable, success-inducing learning environment for your students and streamline your business operations.
---
The Best from the Blog
New to Color In My Piano?  This page is a great place to start!  Browse these popular posts from the archives.
A Little More About Joy
Piano Pedagogy
Other Teaching Tips
Studio Business
Technology
Recitals
Don't forget to visit the Printables page to see all the free resources you can download and enjoy. 🙂
---
What Readers Are Saying
"Another piano teacher introduced me to your blog and web site when I started teaching 3 1/2 years ago. She was careful to only lead me to people that would be most helpful and you were one of those people! I love the example you are of being a lifelong learner. Thank you for sharing through your blog and resources." –Juli
"Joy, I can't remember how I found your blog … it's been many years now. I always love reading your thoughts on music teaching and have used many printables from your shop You are definitely a bright star in the piano teacher blogging world." –Saundra
"I've been following your blog for about 10 years. I have used a number of your resources, and when I find a need for some type of resource, I tend to check your shop first because I have absolutely loved the style and quality of materials you have put together – it is always so well done!" –Valerie M.
"Your blog has helped me to think outside the box beyond only using traditional books and worksheets to teach kids how to play the piano and understand reading music. I have followed your blog for at least 3 years. Thanks for the inspiration!" –Becky C.
"I've been following colorinmypiano.com for all 13 years. It is so fun to be connected to a dedicated piano teacher who is honest and open about her life. Joy, you are so refreshing! Your direct, simple approach in discussing various aspects of teaching, how you personally grow and how you deal with the ever changing music scene is what appeals to me the most!" –Susan C.
"Joy, I discovered your blog a number of years ago, (8 to 10 years ago), and was impressed with how clearly your intentions were. You wanted to equip teachers to be better at what they do. You have a large library of resources that I have tapped into, used and shared with my students. I enjoy your challenges, and am presently taking your digital course. Your insight, passion and encouragement is appreciated. Keep up the awesome blogging, teaching and inspiring." –Cyndi V.
"I am not sure when I started following your blog, but it was probably because someone from the Grand Rapids Piano Teachers Forum recommended it. And I'm so grateful for all the wonderful ideas, guidance, and resources you have shared. When I attended one of your retreats, I saw firsthand that you are gracious, sincere, and knowledgeable, and your humble curiosity and desire to keep learning is such an inspiration. Even though I also started teaching in college (a mere 40+ years ago!), I continue to grow and enjoy learning about new ways to be more efficient, relevant, and effective as a teacher. Your blog is practical and so helpful! All the best to you, Joy, as you continue to serve not only your students, but a multitude of teachers who learn from you as well through your excellent blog." –Denise V.
"Your resources and blog helped me so much! I have used many of your products and they have never failed to inspire and be an incredible resource for me as a teacher. I love your composer lap books!! I hold two music history parties every semester. I use your lap books and have many comments from parents and students of how much they love them. I am hoping to be able to attend your piano teacher institute and one of your piano teacher retreats one of these days! I've loved reading about your sweet family this past year! I don't usually comment on things but wanted you to know you have made a difference in my teaching and I am thankful for you!" –Brenda P.
"Hi! I've been following you religiously since 2012! I love so many things about you and your work but I think what I find most useful is how practical and REAL your offerings are. You clearly know what teaching and learning are actually like so it's easy to grab a printable and follow your straightforward directions to use it promptly! Thank you!" –Robyn H.
"Dear Joy, Congratulations on 12 years of "Color In My Piano!" As I recall, we met several years before you began your blog. What I first noticed about you as a pianist and educator was your spirit of transparency and thoughtful adventure. It was evident while observing you perform Bach at Calvin University for a masterclass with Angela Hewitt. Your Music History ideas were bright and well planned as we taught at St. Cecilia Piano Camp in Grand Rapids. What a joy to see you gracefully embrace so many opportunities in your life, allow us to learn from your experiences and to share outstanding contributions to a worldwide music community. Your honest and open life continues to be a breath of fresh air and inspiration. Thank you so much, Joy! God bless you and your family!" –Susan C