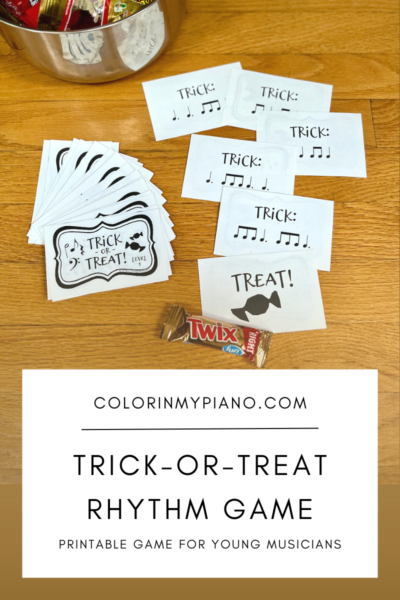 It's that time of year! I have a recurring event in my calendar that reminds me at the end of September each year to get out my Trick-or-Treat Rhythm Game for my piano students. I use this game at the start of almost every lesson I teach throughout the month of October.
This game has been a classic in my studio since I created it back in 2018. I made it available for purchase in my shop a year later in 2019.
Over the past couple of weeks, I've been working on making some revisions to the game and am pleased to announce the new version now available. I've smoothed out the progression of difficulty a bit and created 5 levels of cards instead of 4, but the game is essentially the same. In this post, I'll tell you a bit more about it plus share some insights into how rhythm is taught from a Music Learning Theory perspective.
(PS: If you purchased the game in the past, you are eligible to receive an updated PDF at no cost. In fact, past purchasers of the game will receive an email from me later today containing a download link to the revised version. If you don't see it, please contact me here and let me know!)
Gameplay
How does the game work?
Show students your candy bowl or prize box and let them know they can pick out a treat — but they need to EARN it first. 😉 Then, grab a deck of Trick-or-Treat rhythm cards (there are 5 levels included — more on that later).
Explain to your student: There are TRICK cards and there are TREAT cards. When a TRICK card is drawn, the student performs the rhythm on the card and then draws again. When a TREAT card is eventually drawn, the game is over and it's time to choose a treat. That's all there is to it!
To begin playing, fan out the cards for the student and ask them to randomly choose a card.
If students draw a TRICK card, look at the rhythm together and determine if it is in duple meter or triple meter. Then, we establish meter and perform the rhythm aloud. (I like to have students use their voice on a neutral syllable like BAH or TA, but you can instead have them tap, clap, or play the rhythm on a piano key.) Then, we draw another card.
When students draw a TREAT card, the game is over and they may choose their candy or prize. Students will draw an average 4 or 5 rhythm cards before drawing a TREAT card. That means sometimes the game involves just one or two rhythms (or even zero!), while sometimes it might be nine or ten. You never know, and that's part of the fun! 🙂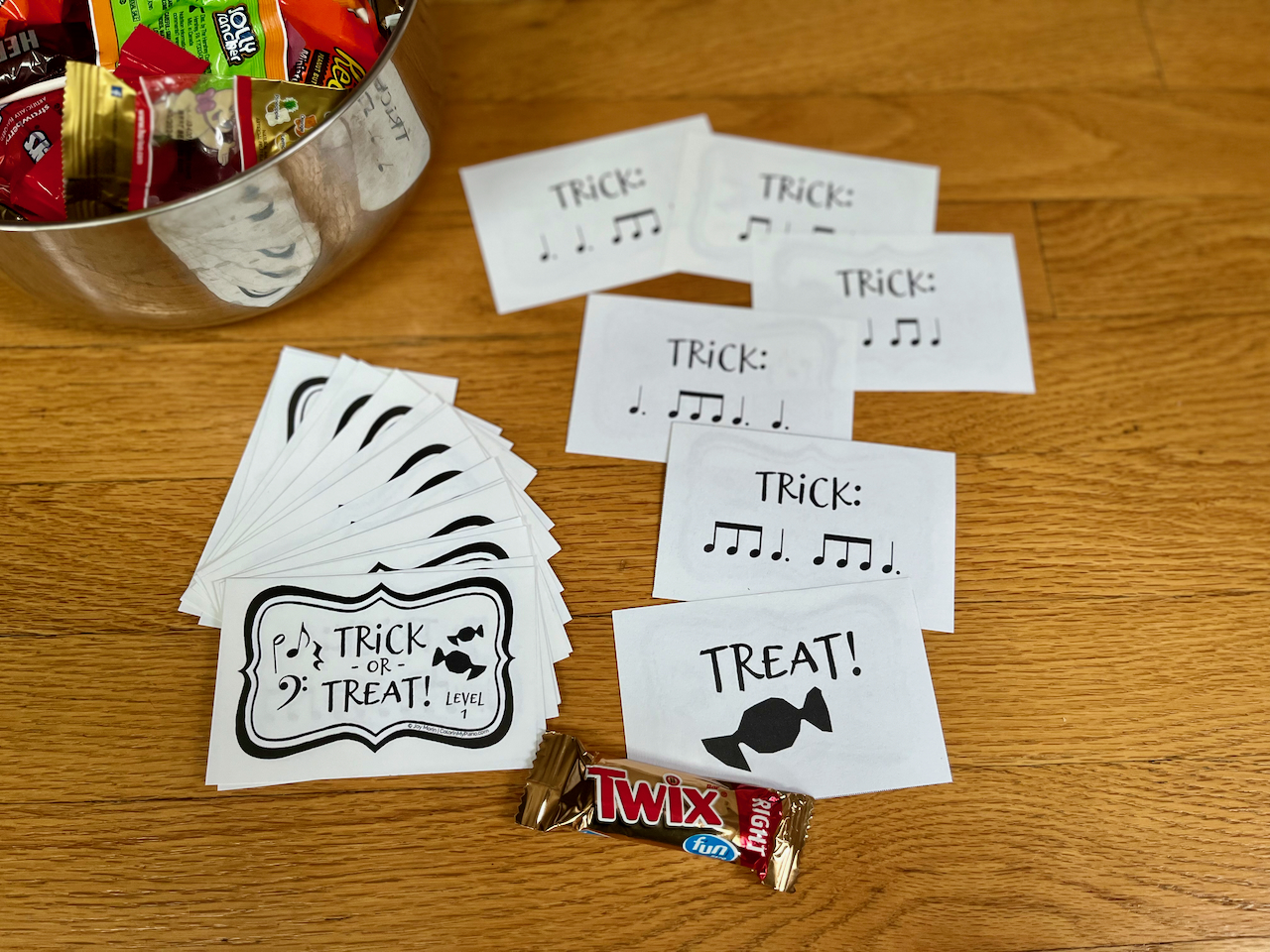 A Variation for Beginner Students and Beyond
Your students who are already reading music notation well can read the rhythm cards independently and perform them for you. However, for beginners I suggest performing the rhythm for them and asking them to echo it back, rather than asking them to try to read the rhythm. This is actually super valuable. You are modeling reading, plus allowing them to see how the rhythm looks in notation. It's similar to reading children's books aloud to kids. And it's a step not to be missed in the reading learning process, and you can't provide too much of it! In my opinion, piano teachers as a whole tend not to do enough aural work and modeling of the reading process in their piano lessons.
I've been playing the Trick-or-Treat rhythm game the echo way with my 3.5-year-old daughter, Aria, every day for the past couple of weeks. It's really fun hearing her echo the patterns and observe her starting to form associations between how rhythm patterns sound and how they look in notation. It's also interesting to observe which rhythms patterns are easy and which ones are more difficult for her to echo. If she echos a pattern back incorrectly, sometimes I'll ask her if her pattern was the same or different (a core MLT teaching strategy) and ask her to try again — but sometimes I'll just accept her answers and go on. I know she'll get it over time! It's age-appropriate to simply encourage responses from young children and give them many opportunities to learn. They will naturally self-improve with appropriate guidance in time. This is true for basic life skills as well as music skills.
(I'll try to share a video of Aria playing the game sometime soon!) Update: Video with notes available here.
The echo version of the game isn't just for beginners. Try it with ANY of your students who are struggling with music reading, and you'll watch them enjoy success while building important aural skills and pre-reading skills. Actually, I revert back to the echo version of the game ANY time a student is moving on to the next level of rhythm cards. I want to make sure my students have a good aural foundation and familiarity with each type of rhythm before I ask them to start reading them.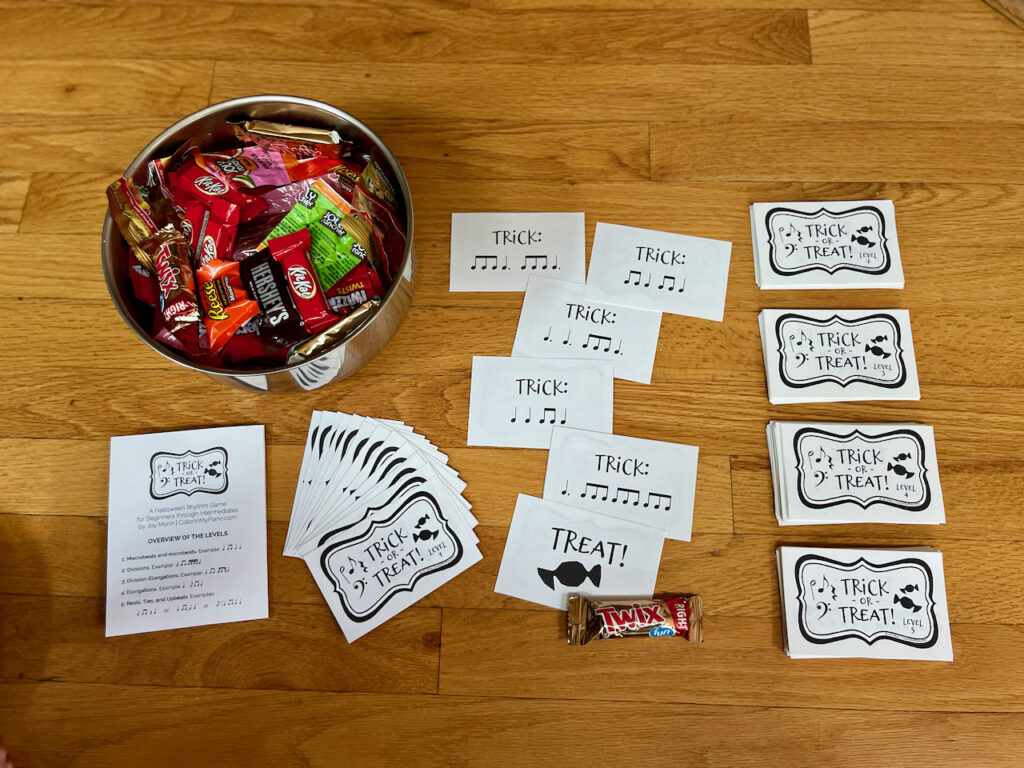 Two other variations to share: If you teach in groups, you can play the game normally, except ask the entire group to help perform the rhythm cards drawn by each individual. And once somebody draw a TREAT card, everyone gets their treat.
If you have students at two different levels, have the older student(s) read and perform the rhythm while the younger student(s) echo it back.
The Rhythm Patterns
The rhythm skills used in my Trick-or-Treat game are based on Edwin E. Gordon's work in Music Learning Theory.
The rhythms presented are in either duple meter or triple meter (although there are no time signatures provided — students must see or hear it based on the context!). And the basic rhythms are notated using quarter notes and eighth notes (rather than half notes and quarter notes, as we often see in early piano study materials). Students are generally used to seeing eighth notes in school music class, so I don't see a benefit in avoiding them. Besides, in my opinion quarter notes and eighth notes are a useful way to notate basic rhythms because students can easily see the groupings of the little beats into either 2s or 3s. This makes it easy for them to tell whether they should be feeling duple meter or triple meter.
There are five decks of rhythm cards included when you purchase my Trick-or-Treat game. The leveling information is detailed for the teacher on a cheat sheet (pictured below).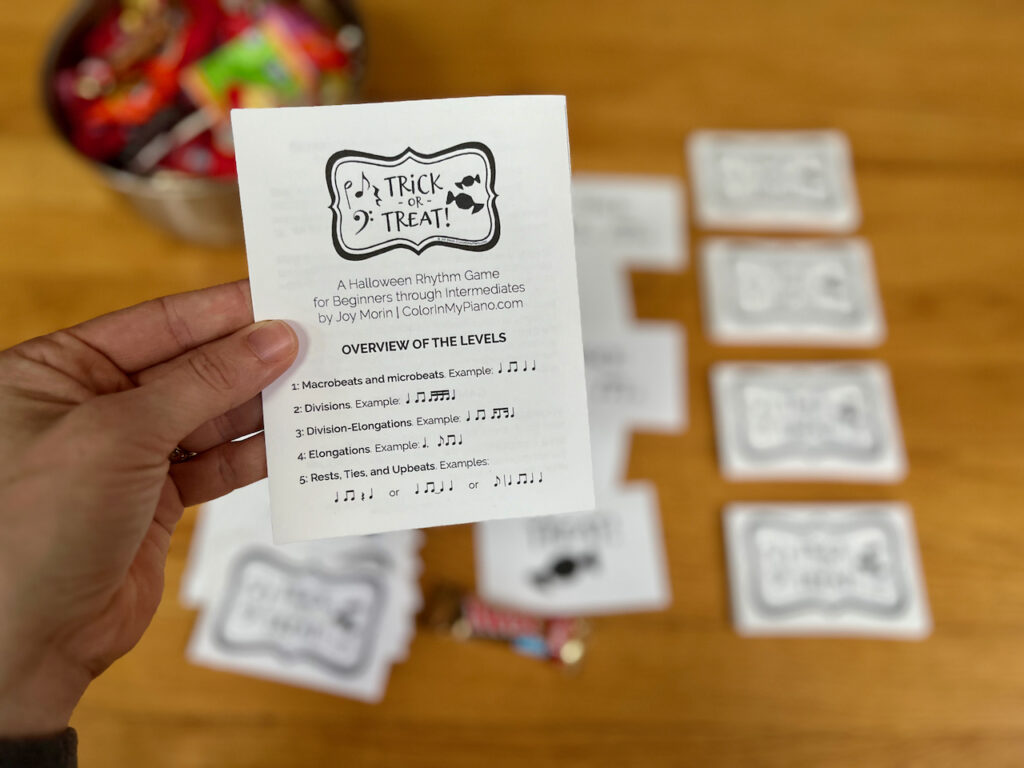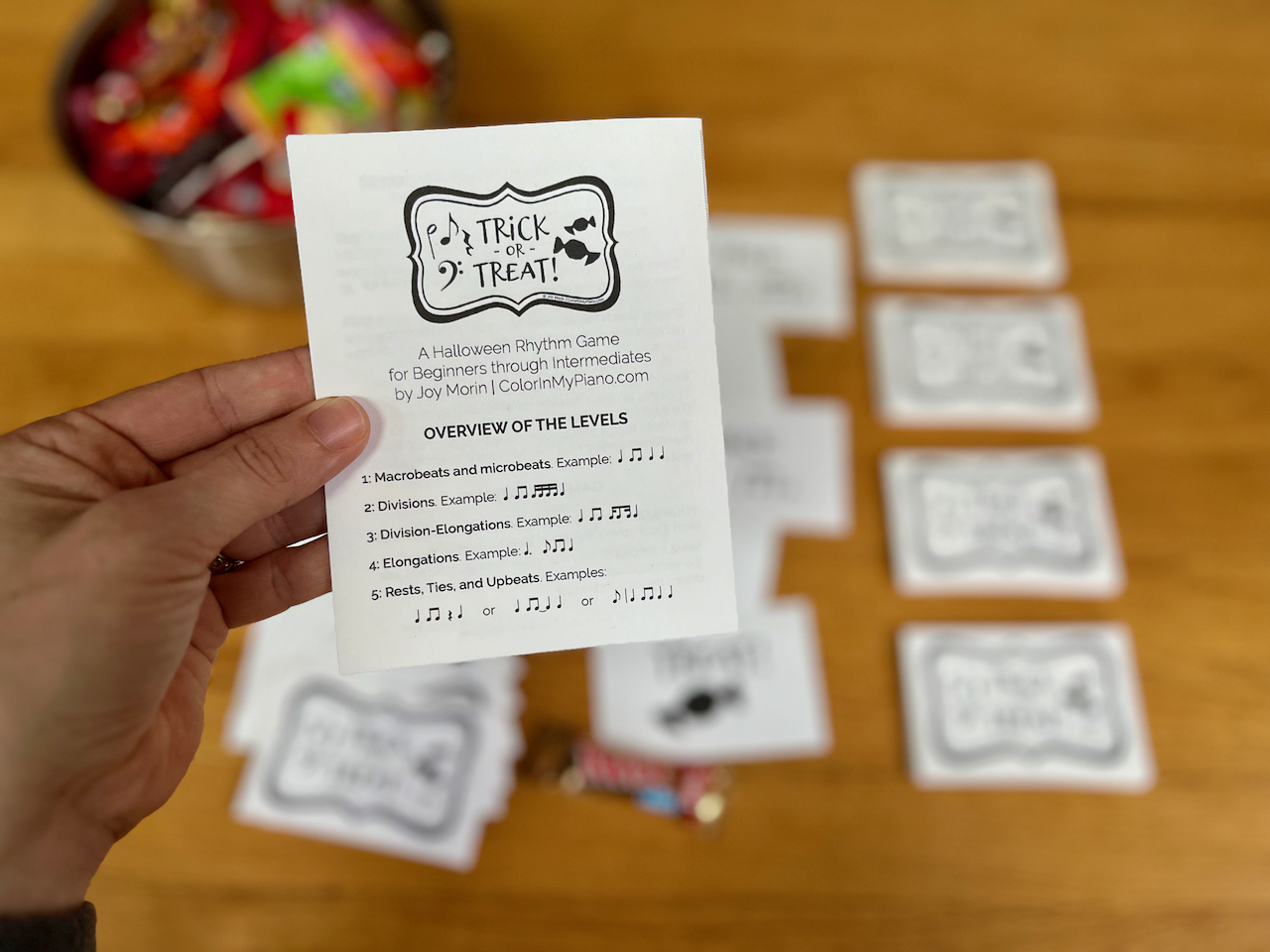 The easiest rhythms contain only two layers of rhythm (or, macrobeats and microbeats, to use MLT-based terminology), notated using quarter notes and eighth notes. The next level has rhythms with three layers of rhythm (macrobeats, microbeats, and divisions), notated using quarter notes, eighth notes, and sixteenth notes. The other three levels of cards offer division-elongations (meaning, various sixteenth note variations), rests, ties, and upbeats. I know this is a little bit different from the rhythm progression you might be used to in a typical piano method book, but this approach really works! I think you'll be impressed with how your students do with it.
I mostly use the Level 1 and Level 2 decks (you can never have too much reinforcement of basic rhythms, IMO!), but I dip into the Level 3-5 decks with students once they've proven successful with the first two levels.
The first week you present the game to your students, I recommend starting with Level 1 (even if they can handle more advanced rhythms). Over following weeks, you can bump up to the next levels or stick with the same level if more practice is needed.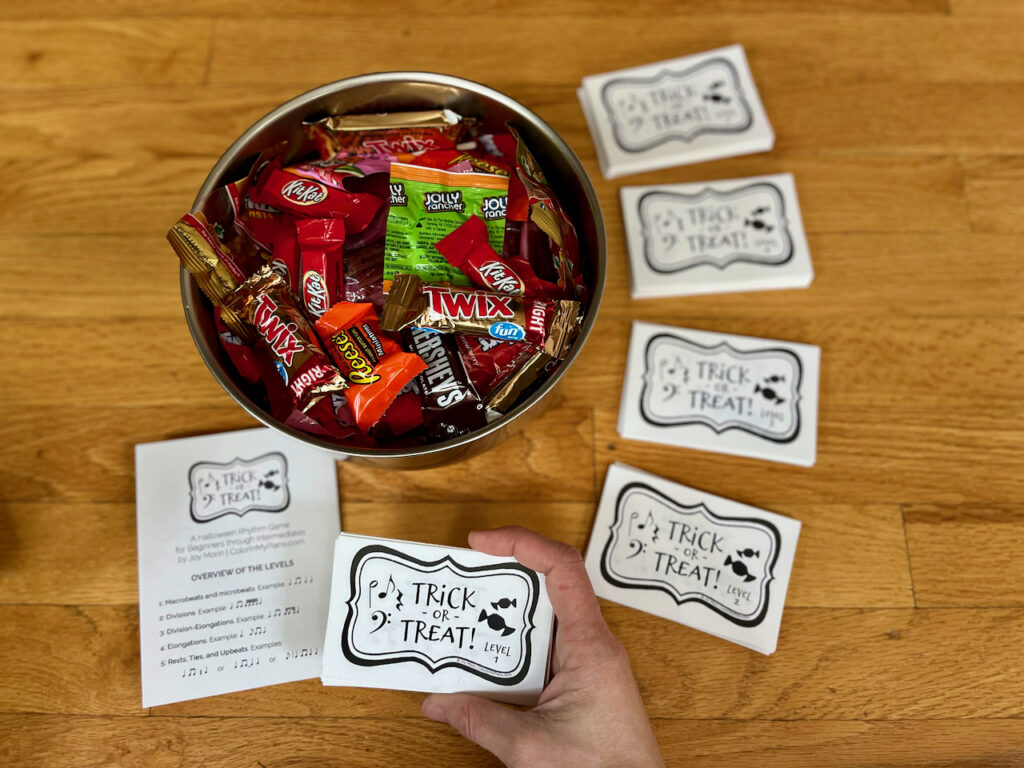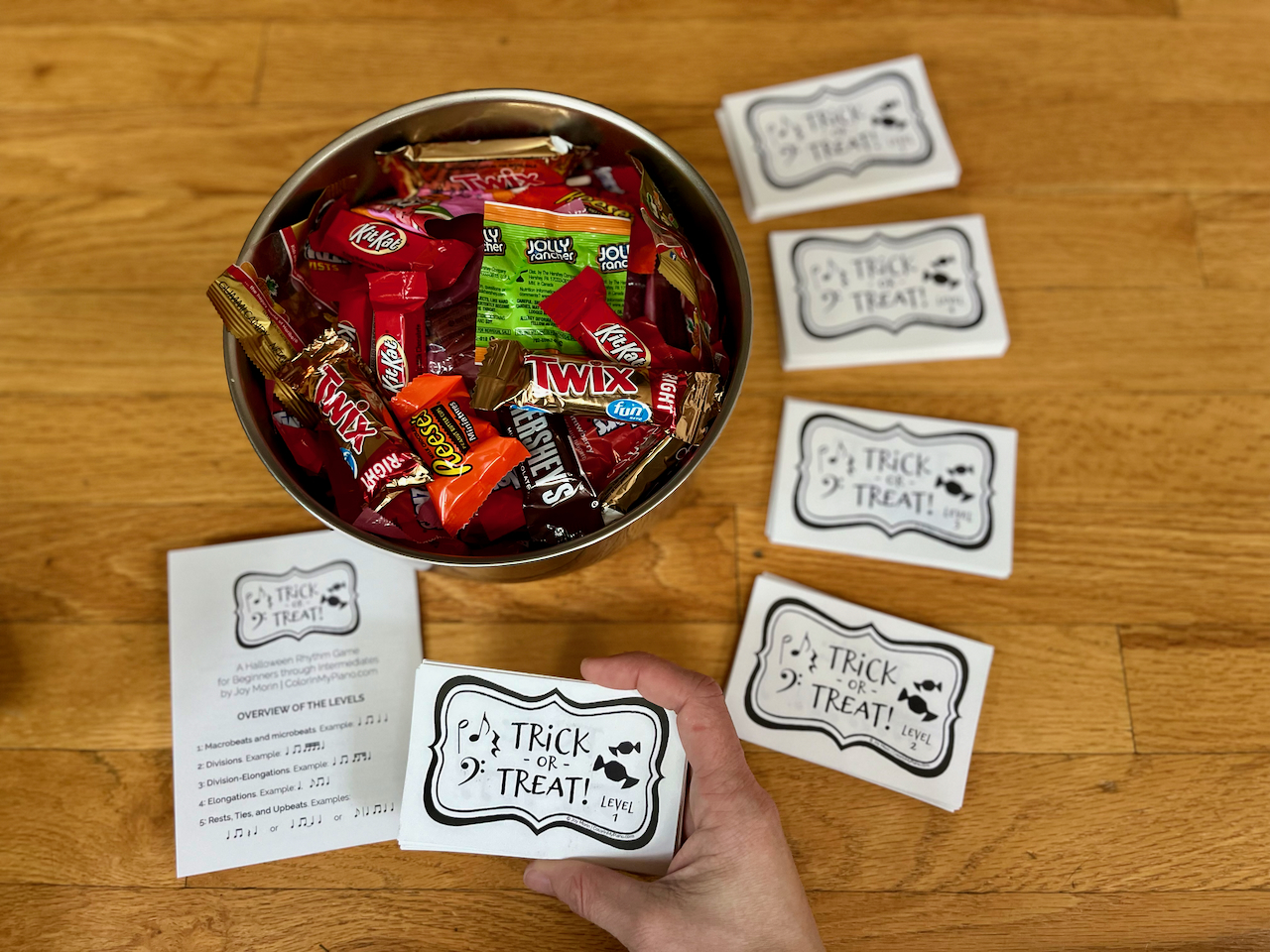 This is a such FUN way to start out your lessons during the 4-6 weeks around Halloween time. It's so easy: just pull out the cards you've assembled, and put some candy or treats in a bowl. Your students will be thrilled to see you present this game every year. They'll have a blast — and you'll see their rhythm skills improve!
In Sum
Buy the 44-page Trick-or-Treat! PDF download now, and here's what you'll get:
Introductory letter to the teacher
Leveling cheatsheet and tips for gameplay
Instructions for assembly (this is a digital product; meaning, you must print and assemble the game yourself)
Card holders for each of the five levels
Five levels of rhythm cards (160 cards total)
Price: $9.00
CLICK HERE to visit my shop and purchase the Trick-or-Treat rhythm game.
---
GIVEAWAY: If you've read this far, please an leave a comment on this blog post for a chance to win a FREE download of the Trick-or-Treat rhythm game! 🙂 In your comment, share about either a favorite rhythm activity or a favorite Halloween piece/activity for students. Entries accepted until Sunday, October 1, 2023 at midnight Eastern time. The randomly-selected winner will be announced and contacted on Monday. Thanks for reading!