In the past, I've shared about my easy, ongoing incentive program for my piano students. You can read a more complete blog post from 2009 about it here.
Basically, the summary is that for every 30 pages of music students learn (or theory pages completed), a prize is earned from the prize box. My goal was to have a simple program that was easy to track and that rewarded the kinds of things my students should be doing anyway. A simple incentive program can make things fun and help reinforce the kinds of things you wish students to be focused on. My students know that a given piece needs to reach a certain level of mastery before they can "pass" it and go on to the next.
I have maintained this simple incentive program consistently for years (although, I'll admit I've taken a little time off from it recently due to pandemic online teaching and relocating to Michigan). However, I recently came up with a slight improvement to this method that I think will make it EVEN EASIER to maintain.
Previously, I would track of the number of pages students mastered using stickers on an index card, like this:
This worked well, but my new idea is to award students a prize whenever they reach the halfway point through their book (the point where you can see the staples!) and again at the end of the book. No more worrying about tracking how many pages students have completed!
Now, you might be thinking: what about spiral bound books? And what about pieces that are individually printed solos? My plan is that students and I can do the math with the page numbers to find the halfway point in any spiral bound books. Individually printed solos don't need to count for anything in the incentive program, unless it's a special, lengthy piece where they've really worked hard.
This is a flexible incentive program. As students become more advanced, many students tend to become less interested in prizes and the incentive program tends to naturally phase out. Other students remain interested for a long time. I can allow students to choose from the prize box at any point it seems logical to celebrate: such as completing an RCM exam, participating in a local ribbon festival or special recital, etc.
I just restocked my prize box with more Iwako Japanese puzzle erasers I ordered from Amazon (see the package I ordered here). These puzzle erasers are always a hit with students! They are also great as game pieces on or away from the keyboard.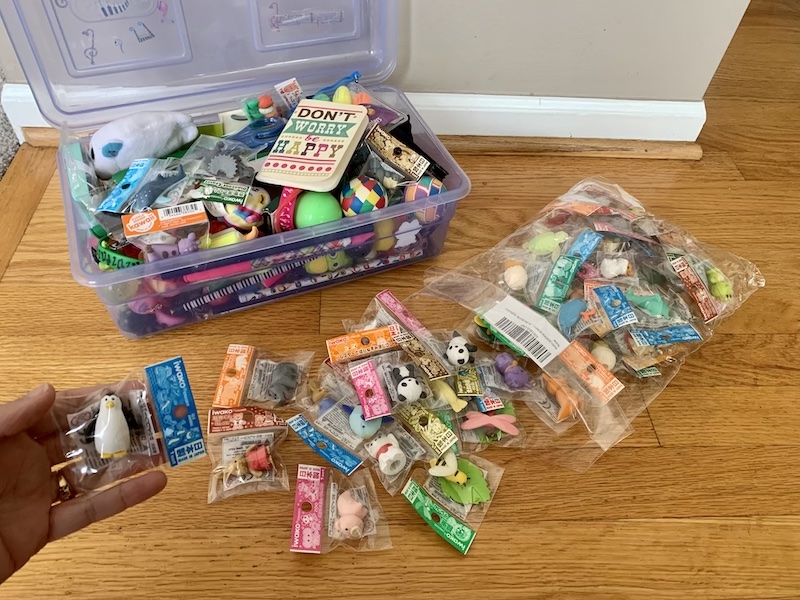 (Please note that this post contains Amazon affiliate links to support my blog. To check out more of my Amazon favs, visit amazon.com/shop/joymorinpiano. Thanks for your support!)
I keep lots of other fun things in my prize box, too, besides the Japanese puzzle erasers. When out shopping, I always keep an eye out for fun pencils, highlighters, small notepads, bouncy balls, plastic bracelets, keychains, etc. (See here or here for more photos of prize box items.)
Anyway, I just thought I'd share about my small tweak I made to my incentive program! It's nothing big, but having this simple incentive program in place helps my students learn to have the same priorities as me: progress and expressive music making.
---
Your turn: I would love to hear from you! What kind of incentive program have you found to work for your studio? Please leave a comment.