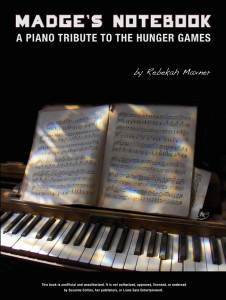 This summer, Canadian composer Rebekah Maxner has released a new book, "Madge's Notebook: A Piano Tribute to The Hunger Games."  When Rebekah emailed me to ask if I'd be willing to review her book, I told her I wasn't sure if she would want me to review it since I have not yet read the popular "Hunger Games" books.  (I know, am I out-of-the-loop or what?)  :)  She replied that she nonetheless would like to me to review the books — after all, the music should be able to stand on its own.  I'm glad Rebekah felt that way, because I enjoyed checking out her music!
"Madge's Notebook" is intended to be a book of music that will appeal to intermediate students — in particular, tweens, teens, and adults.  Rebekah states that the purpose of the book is to meet today's piano students where they are and to use their interest in book literature to foster interest in piano literature.
This book is one that Rebekah imagines the characters from "The Hunger Games" would have on their piano.  The passage in "The Hunger Games" series that inspired Madge's Notebook is found in the second book of the series, "Catching Fire."
"Madge's Notebook" is 28 pages long and contains 11 pieces.  The Table of Contents divides the pieces into three sections: (1) Folk Music of District 12, (2) Classics from a Time before Panem, and (3) Piano Music by Madge for Katniss.
Many of the pieces are original compositions, but there are also some interesting pieces inspired by famous piano pieces.  Although at first I thought they might be "simplified arrangements," I think it is more suitable to think of the pieces as "inspired by" famous piano works.  The pieces seem to evoke the original classical work, rather than exist merely as a simplified version.  Very creative!   Continue reading "Sheet Music Review: Madge's Notebook by Rebekah Maxner" →