Three years and counting…Note Rush is still my favorite app for piano teaching! (Hearing about it for the first time? It's a note recognition app. Check out my original review here!)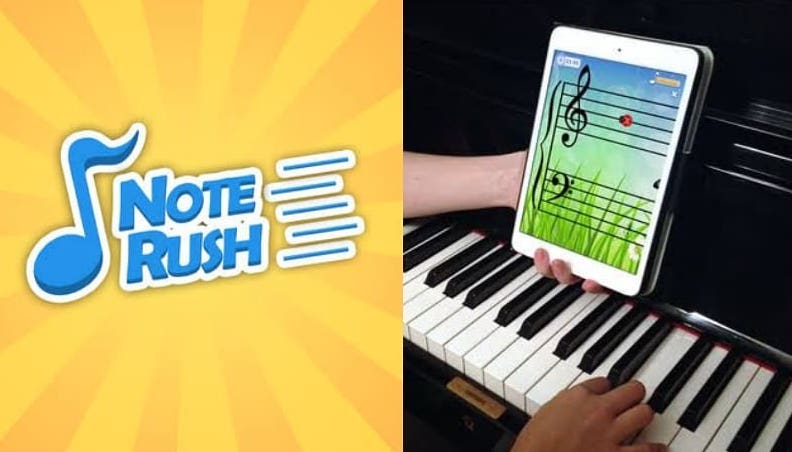 Back in 2016, I shared a free printable of a Note Rush chart I made (pictured below) for tracking students' best times for each of the built-in five levels. (Thanks goes to Note Rush's developer, Thomas Grayston, for providing the images I needed to create these printables.)
To kick off the new 2019 school year, I decided to hold a studio-wide Note Rush challenge for my students for the month of September. To help facilitate this challenge, I created a few new printables. Below, I'm going to share those printables and tell you all about the challenge. Perhaps you'll want to consider holding your own Note Rush challenge for your studio!
The goal of our Note Rush challenge is for students to join the "Three Star Club" (meaning, their time is fast enough that the app awards three stars) for each of the five Note Rush levels. At the beginning of each lesson, we spend 4-6 minutes doing a few rounds of Note Rush. We focus on one or two levels at a time, until we earn three stars, before proceeding to the next levels. We use my clipboard and chart to keep track of each student's personal best times.
Beginning and elementary students might not make it to the later levels — but that's okay! It's perfectly good for them to focus on just the first couple of levels.
To generate excitement about our month-long challenge, I printed a little reminder on sticky notes (more on that, and a free template, here). I also sent out an email to parents informing them of the challenge and encouraging them to purchase Note Rush (at $4.99, it's cheaper than buying a set of flashcards!) for students to use at home.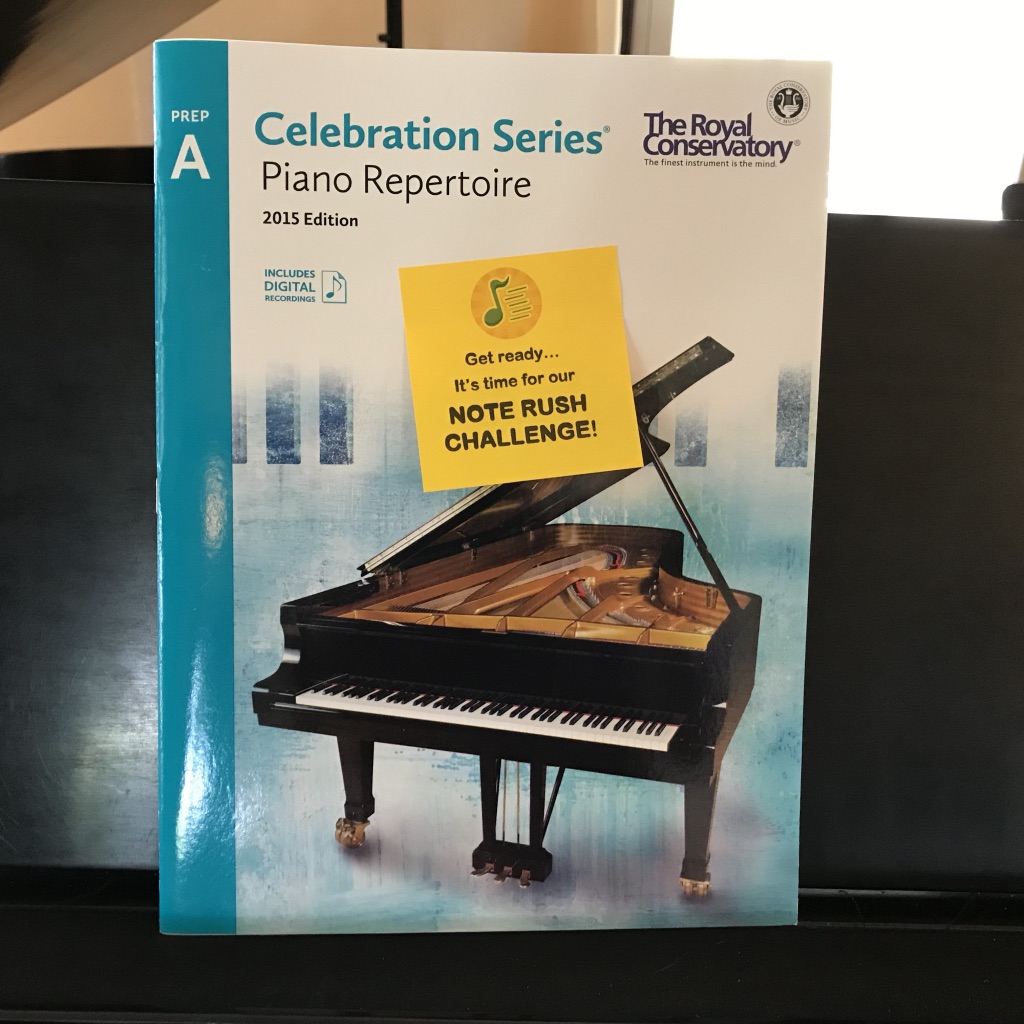 I wanted for those students who do take the initiative to practice with Note Rush at home to have their personal best times in mind to try to beat them. So, I also created this printable: a half-sized sheet for students to take to and from lessons (pictured below). We keep their best times notated here as well as on my clipboard, using pencil so we can erase and update as needed.
This challenge is intended to encourage healthy self-competition. Even after a student has already earned three stars for a given level, we continue playing the easy levels as a "warmup" and strive to improve our personal best times.
I'm not a fan of promoting a spirit of competition or unhealthy comparison amongst my students — especially for a studio-wide challenge that includes students of various abilities — but, I do like for students to feel they are doing this together and be inspired by each other. So, on my studio chalkboard, I drew five boxes. As students join the "3 Star Club" for each level, they get to write their name in the appropriate box — which they find exciting!
In case you don't happen to have a chalkboard or whiteboard in your studio space, I created this set of posters you can hang on your wall instead:
September is nearly over now. How has the challenge been going for my students? I'd call it a smashing success! I'm pleased with the improvements I'm seeing in my students.
This is Emma. I call her the queen of Note Rush. 🙂 She is one of my more advanced students (RCM Level 7) and is a serial heavy practicer. She currently holds the fastest times in my studio for all five levels — and she plans to keep it that way. 🙂 My other students are inspired by her personal best times.
This is Robbie. He probably wins the prize for most dramatic improvement. He plays well at RCM Level 2 or 3 and has a strong ear, but found the upper levels of Note Rush to be challenging at first. He was quite motivated by our studio challenge, and has invested quite a bit of time with Note Rush at home. After only a couple of weeks, he joined the ranks of the "Three Star Club" for those upper levels. Here's a photo from that day:
Even my lower elementary level students are enjoying the challenge — and it's helping them more consistely identify notes accurately.
Of course, the reality is that not every student will purchase Note Rush and use it at home — even during a special studio challenge. However, I am finding our project to be beneficial for ALL of my students — even when it amounts to merely 4-6 minutes during weekly lessons. Putting a focus on a particular skill over a few weeks can go a long way!
September is coming to a close and our chalkboard is looking more full with names than ever. I do plan to extend the challenge for a few more weeks into October for any students who missed a lesson during September, as well any other students it would benefit.
I can see myself doing this again in a year or two! It's been a fun project.
Want to hold your own studio-wide Note Rush challenge? Below are links to the free printables. Or, visit the Printables > Other Resources page. Enjoy! If you decide to do it, let me know how it goes!
Note Rush App Chart (308.1 KiB, 9,497 hits)
Note Rush App Challenge Materials (1.7 MiB, 2,038 hits)