Good morning!  The "So, You Want To Be A Composer?" camp is ready to be listed in the Color In My Piano shop……but I'm just waiting to hear back from one more student to get permission to share their composition in the lesson plan as an example.  I will post it as soon as I hear from them!  UPDATE: The lessons plans are posted now!  
For today though, I thought I would share a peek at a composition by one of my other students, and also share a FREEBIE from the camp lessons plans!  Read on.
During camp, we spent a lot of time discussing how composers make music SOUND like the title or the subject they are describing.  This student appropriately chose a minor key for his dragon piece.  I helped him very little, other than approving his first few measures and then encouraging him to add a B section.  Not bad for a first composition, is it?!  🙂  Once he had it worked out on the piano, we together figured out how to notate the piece.  Later, I transcribed his piece into Finale, printed it out, and then asked him to add an illustration.
As promised, I'd like to share a freebie from "So, You Want To Be A Composer?" camp….. a pdf containing TEN different sizes of staff paper!  I hope you can put it to good use.  🙂  Visit the Printables > Other Resources page and scroll down to the S's for "Sheet Music A-J."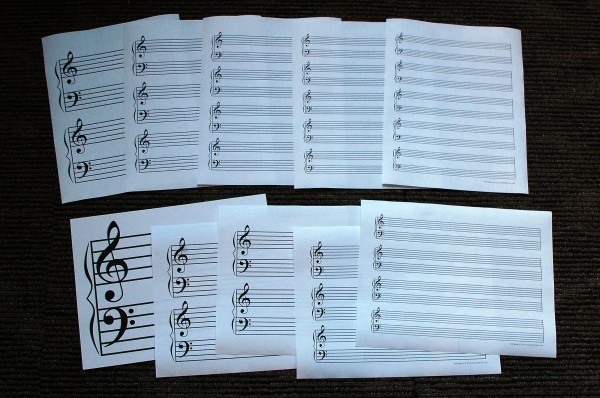 Staff Paper - A-J (180.5 KiB, 21,834 hits)