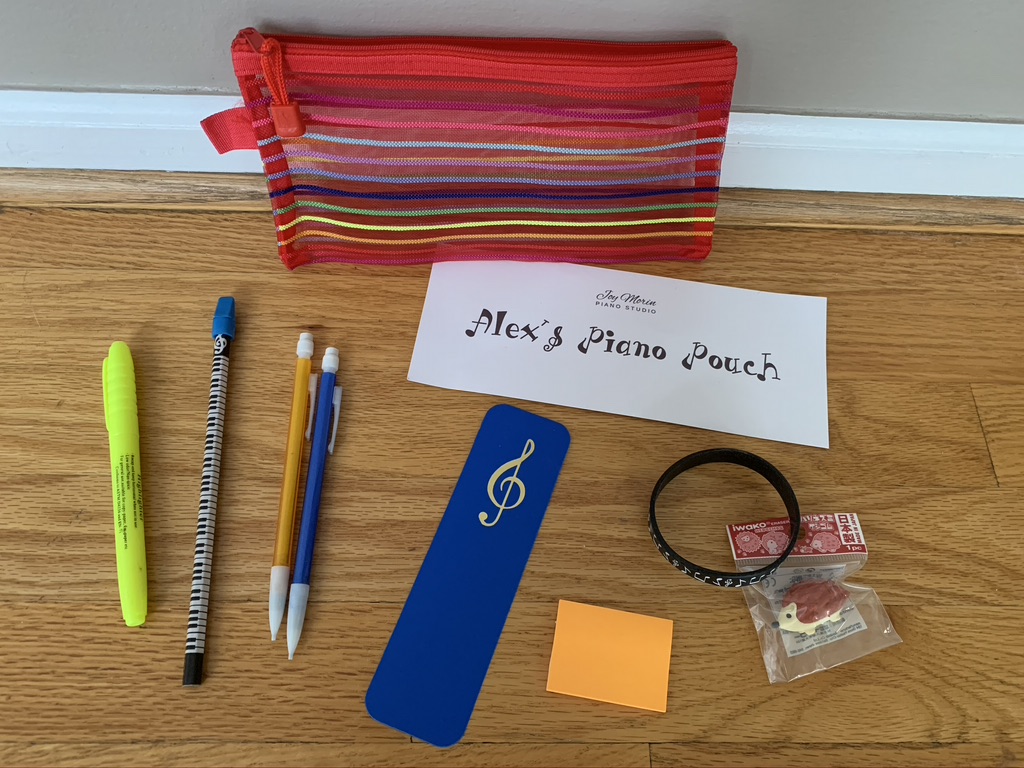 What happens when you are teaching lessons online and your student needs a new music book? My tuition fee includes the cost of books/materials, so I am accustomed to handling the acquisition of books for students as needed. Since we've been online, it's not quite as simple as handing the book to the student!
So, here's what my approach has been. (1) If the student lives nearby, I can do a porch drop-off. (2) I can mail the books to them. Or, (3) I can order the books online and have them shipped directly to the student's address.
When mailing a package or doing a porch drop-off, it's fun to include some kind of surprise for the student along with books! I've been raiding my studio prize box to find some fun, mailable items.
Recently, I signed up a couple of new piano students who live on the other side of the state. As I prepared a package of books to pop in the mail, I thought it would be fun to send a "piano pouch" of items I wanted them to be able to have at the piano for their lessons. In this post, I'll share about what I put together for these new students!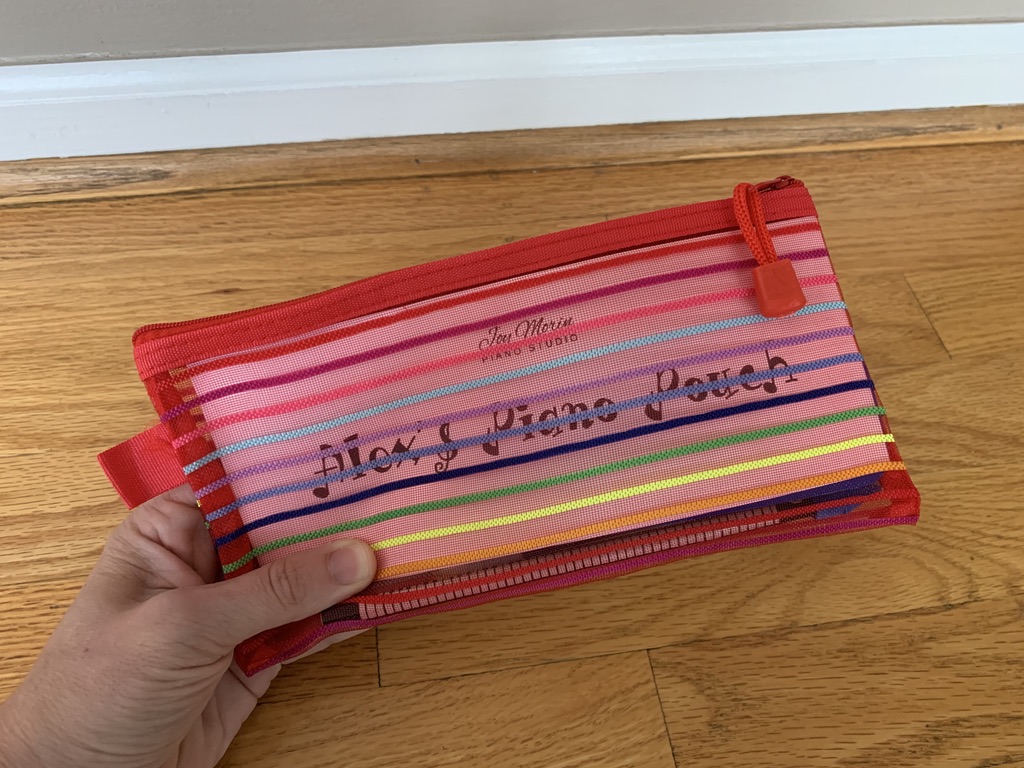 Zipper pencil pouches — First, I shopped around on Amazon and found these colorful mesh pencil pouches.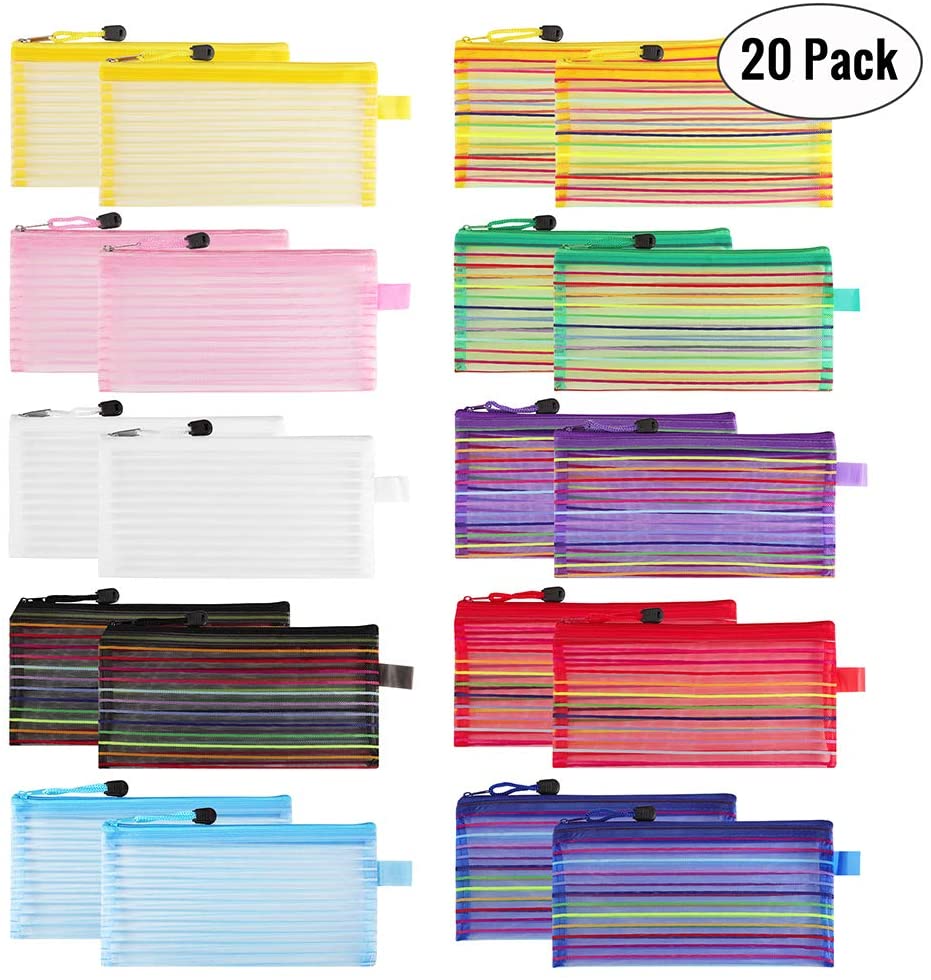 Name card — I whipped up name cards ("Alex's Piano Pouch", e.g.) in Microsoft Word using a fun music font called LD Music. Because the pencil pouch is made of see-through mesh, you can still read the lettering when it's placed inside.
Pencils — Are you finding that some of your students don't keep a pencil at their piano? 🙂 I put a couple of mechanical pencils and a music pencil (similar here) in the pouch. I always use mechanical pencils when I teach and my students tend to enjoy them, too. I love that they always stay sharp. (I needed to stock up, so I ordered this double pack of mechanical pencils from Amazon.)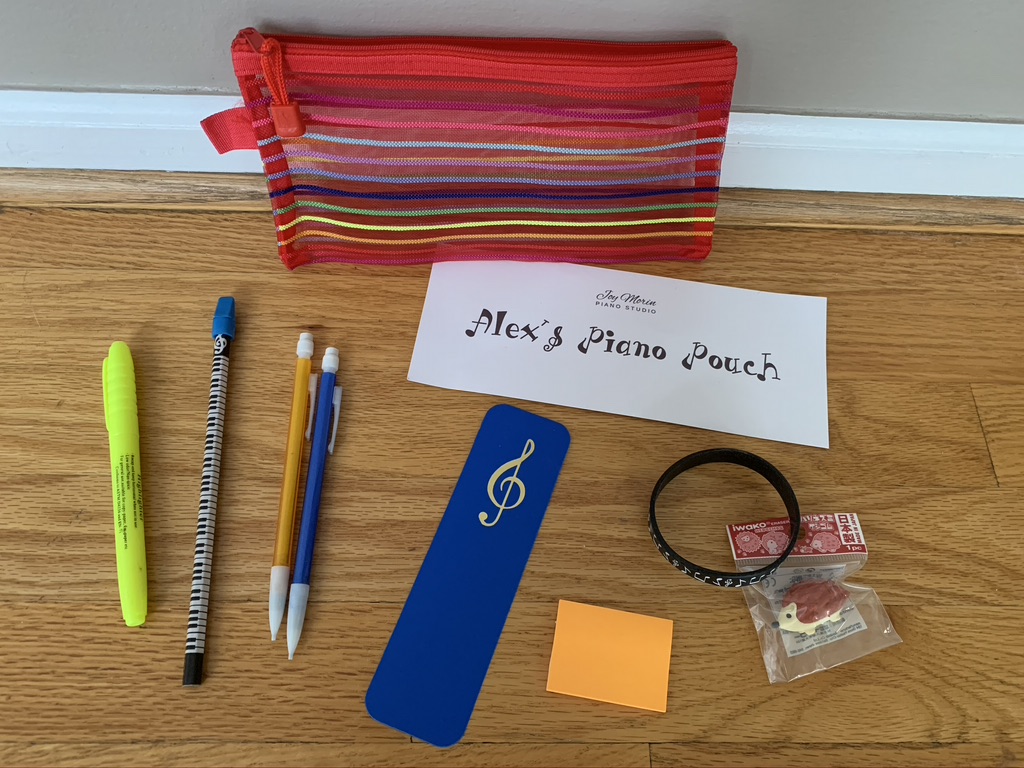 Highlighter — Highlighters are fun to use to mark problem areas using color, or to find and circle certain symbols or notes in the score.
Post-it notes — In my lessons, we always use 1.5"x2" sticky notes as bookmarks to make it easy for students to easily turn to the pages they are working on. I definitely wanted my new students to have these!
Stickers (not shown in photo) — I normally let students mark each page with a sticker when they've completed it. With online lessons, I've been asking students to draw themselves a star on the page instead. Even better, though, is to send students some sticker sheets they can use at home if they'd like! I buy most of my stickers from Dollar Tree.
Other goodies — Here are a few just-for-fun items from my prize box I also included:

Music bookmark (ordered from here)
Silicone music bracelet (similar here)
Japanese puzzle eraser (you can get great variety packs like this or this on Amazon, but the hedgehogs are my favorite!). Students LOVE those puzzle erasers, and they can be useful for beginner games such as the Amazing Keyboard Race.
And that's it! A simple, but fun, piano pouch for my new piano students.
---
Your turn: Have you put together something similar for your students? Do you have ideas for what else to include? We'd all love to hear about it! Please share in the comment section of this blog post.