Hello, friends!
How are your lessons going? I imagine many of you are continuing to teach online, while some of you have returned to in-person lessons — depending upon where you live, among other factors.
Currently, my lessons are still online, using FaceTime/Zoom. I have 15 students who are based in Northwest Ohio (where I lived before moving last December). I am teaching them online until I feel it is safe to resume teaching at the small studio space I was renting.
I also have two Michigan-based students, so far. When the quarantine arrived, my husband and I changed our original plans in terms of marketing my piano studio after our move and childcare for our baby daughter, Aria. When things become more "normal" (whatever that means!), I will at some point begin more actively seeking new students. For now, I'm okay with the change in plans and am content with my current home life and teaching life!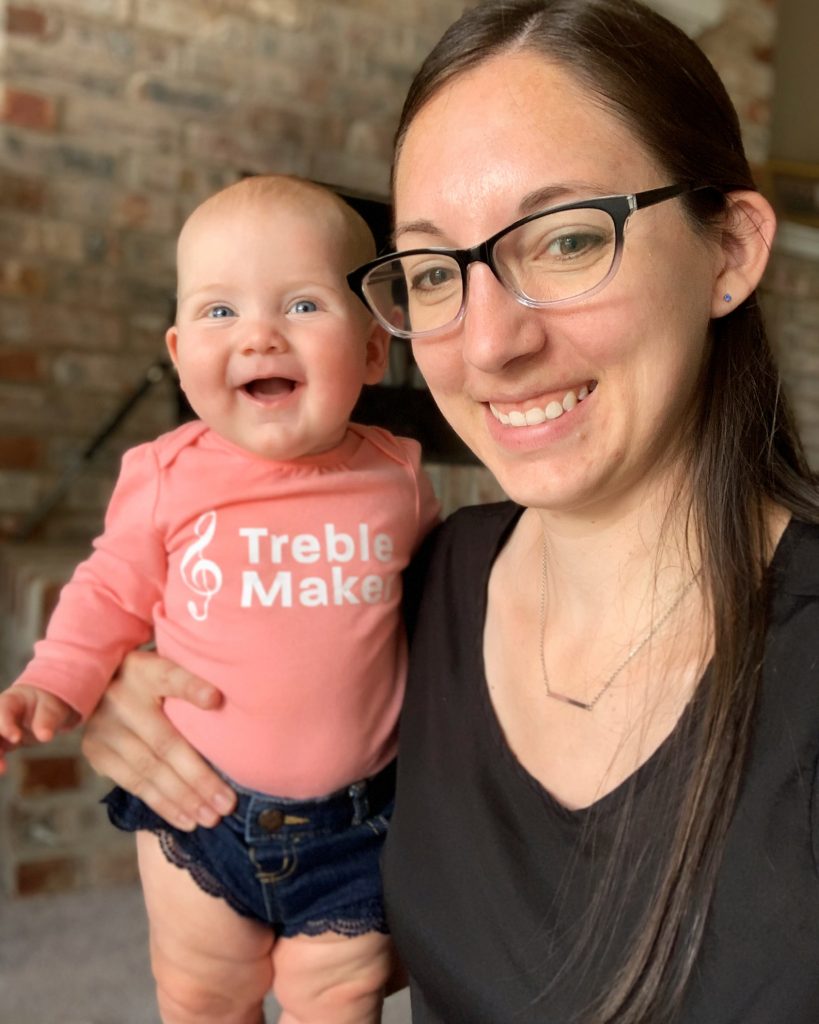 Earlier this summer, I saw a few Instagram posts from piano teachers who thought to offer "porch recitals" or "patio lessons." Inspired by this out-of-the-box thinking, I decided I'd like teach lessons for my two Michigan students outside on my back patio for a time or two, just for fun. So, I started closely watching the weather forecasts.
It's been a hot summer, but last week I finally saw an opportunity. The weekend weather was supposed comfortably in the 70s. So, I emailed my two Michigan students. They loved the idea!
And so, last Saturday, we had in-person outdoor lessons on my back patio. And it was wonderful! It was nice to be face-to-face and enjoy the beautiful weather as well. I hope to do this again a time or two before the winter weather hits.
Do you have a portable instrument and an outdoor space for something like this? In this blog post, I'll share some ideas and a to-do list in case you'd like to try something similar yourself!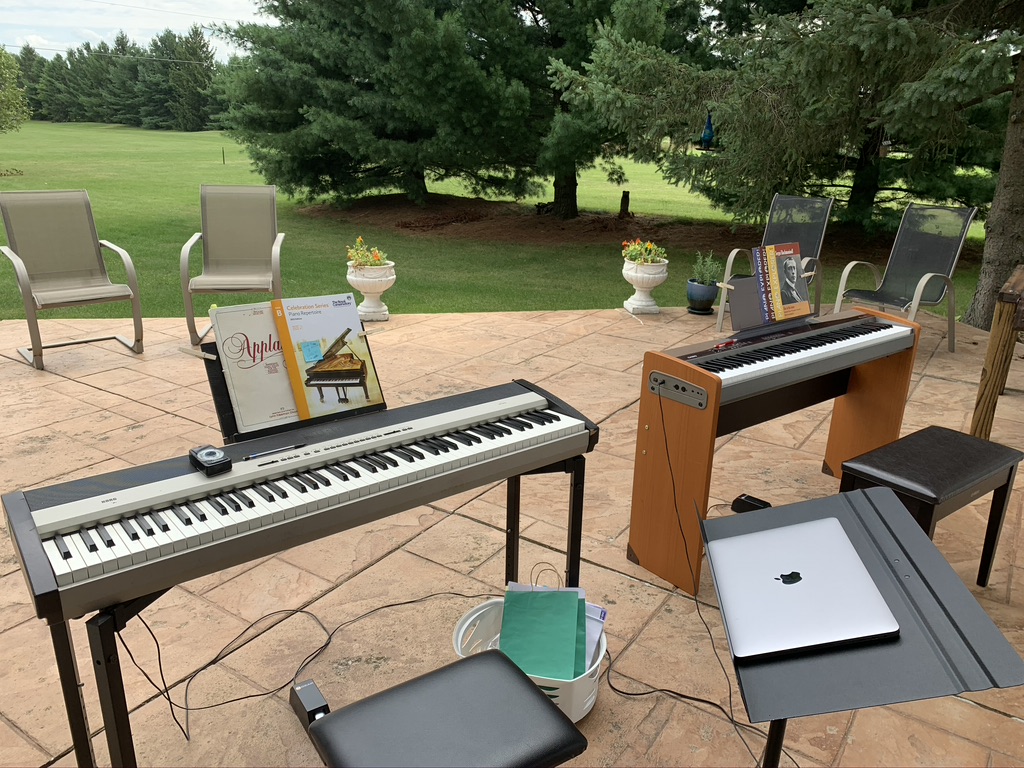 As with most things, clear communication is key for setting expectations and ensuring success. Parents will appreciate knowing upfront what measures you will take to keep everyone safe. With that information, they can decide for themselves if they'd like to take advantage of the outdoor lesson option that week or if they'd like to stay online.
Here's a few suggestions and things to consider if you'd like to arrange your own "piano lessons on the patio"!
Scheduling: Decide if this is a one-time "just for fun" or if this is something you'll do on some kind of regular basis. I framed it as a one-time "just for fun" option in place of their usual lesson time. I figured my students would appreciate the goodwill gesture (and I sure enjoyed it, too)! You'll also need to decide if you'll offer the outdoor lessons either during or outside of your normal teaching hours. For me, it was more practical to reschedule my two Michigan students onto a Saturday, so that I had time to set-up and tear down.
A digital piano, or two! Both of the instruments in the photo are ones I already owned. (I've had that old Korg since my grad school days!) They were both acquired affordably via Craigslist or Facebook marketplace. If you don't have a digital piano, perhaps you could ask around to see about borrowing or purchasing one used. I let parents know the pianos/seats would be placed six feet apart.
Extension cord and/or power strip: You'll want to make sure you have reach to an electrical outlet to power your digital pianos.
Sanitation: Let parents know you'll be wiping down the keyboard (keys, bench, etc.) between each student. I used Clorox disinfecting wipes. It only takes a minute or two to do a thorough cleaning while making the usual small talk with the next student. Have a bottle of hand sanitizer out and encourage students to use it before and after their lesson. I think it's vital to take sanitation seriously, but there's no need to add to any potential anxiety your students/parents might be experiencing. Be pleasant and light about it: "Lemme wipe down the piano for you first. Time to wash your hands! It doesn't hurt to be cautious, to keep everybody healthy!"
(Optional) Use a pointer: If you'd like to be able to point to a particular place in the student's sheet music (while wearing your mask, of course), consider getting yourself a pointer of some kind so you don't have to reach as far. There are various types of pointers out there for teachers (here are a few ideas from Amazon). A fun music teacher option is to use a conducting baton! I know a teacher who uses a baton as a pointer regularly during lessons, even pre-Covid. The bonus is that you can use it to teach students about conducting and meter. I have a Mollard baton that I've kept since my college days!
Masks: Decide if you will require masks or make them optional. IF we are outdoors AND staying apart, I personally feel comfortable without a mask. But I think it's a good idea to offer to wear a mask for any students who request it. If you decide you'd like to be able to approach your student, you'll want to plan to both have masks on. Whatever you decide, be sure to communicate your expectations to your students ahead of time so there are no surprises or misunderstandings.
Use of your patio furniture, bathroom, etc: Let families know what to do when they arrive. Should they come to the front door first, or walk straight around to the back patio? If you don't want to sanitize your patio furniture between parents, ask them to either wait in their vehicle or bring their own lawn chairs along. Remove your patio furniture from the area or place masking tape across the seats to discourage anyone from accidentally sitting there. If you'd like to keep your bathroom off limits, ask families to use the restroom at home before coming. (In case of event of an emergency, perhaps keep your bathroom sanitized anyway if possible.)
Music scores: If you plan to stay apart and/or use two separate pianos, be sure to have your teacher copies of your students' music handy. I used a plastic bin to keep my books organized and on hand.
Clothespins: When the breeze starts to blow around your pages, you'll be glad you have a pair of clothespins for each piano!
Setup time: Be sure to plan for setup time. You'll need to gather your materials together and get everything in place outdoors. My keyboards are heavy enough that I cannot carry them alone, so I needed to plan for when my husband was available to help me move them.
Backup plan: In case of inclement weather, let your families know to plan on virtual lessons as a backup plan.
Looking for more advice regarding in-person lessons? Check out MTNA's helpful "Legal FAQs for Reopening Music Studios."
My patio piano lessons definitely required some planning and setup, but it was well worth it to be able to enjoy some outdoor, in-person time with my Michigan students! I think my students appreciated the special opportunity.
Your turn: What out-of-box thinking have you done recently for your teaching? Please share in the comments section on this blog post!
---
ALSO: Call for photos! Have you offered any outdoor lessons or recitals? I would love to round up some photos and feature them on my blog, to share the inspiration! Please send me your photos (admin[AT]colorinmypiano.com).