I enjoy using a butterfly band prop — credit to Irina Gorin — to help my beginner students develop a physical approach to the instrument that is comfortable and effective for ideal sound production. In Irina's words, the butterfly exercise helps students experience "relaxation of the hand/wrist, a floating arm, and a gentle touch".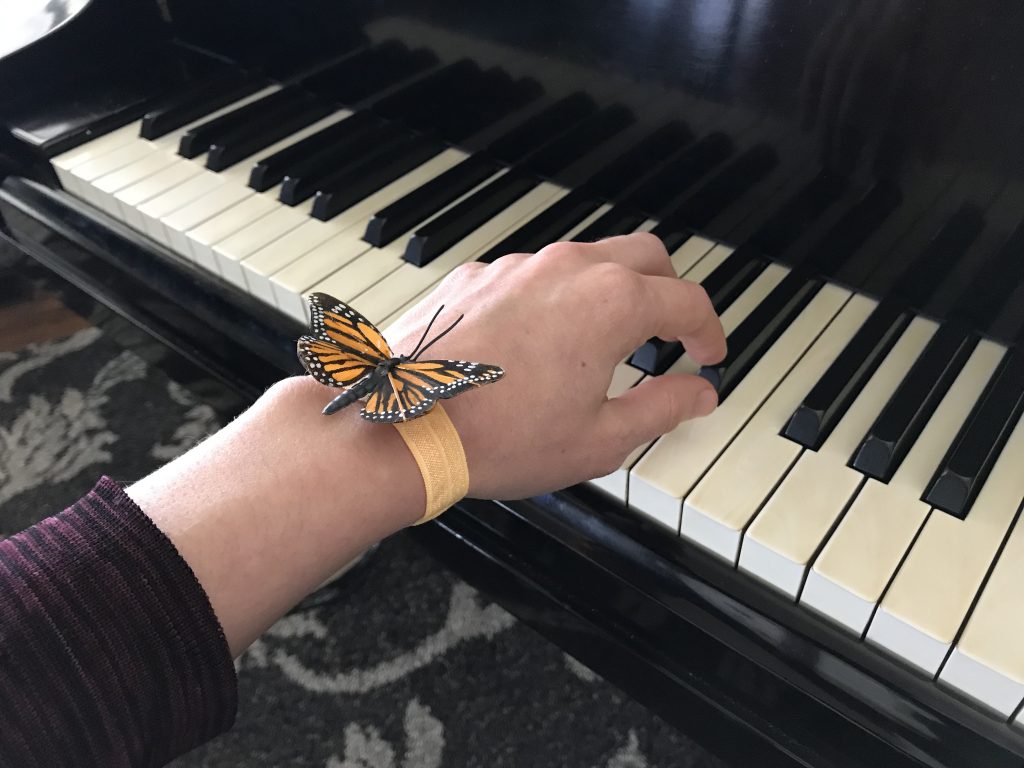 Today, I thought I'd share how I make these bands for my students — including an improvement I came up with during the most recent round of butterfly-band-making. 🙂
Here's a picture of the first batch of butterfly bands I created. I found packages of the butterflies in the floral aisle at the craft store (these from Amazon look similar), trimmed off the wires with scissors, and used a hot glue gun to attach them to hair elastics. As you can see, I had to use quite a bit of glue to ensure that the butterfly was attached securely to the hair elastic.
I gave out these butterfly bands to the teachers who attended my Piano Teacher Retreat last summer, too! (Our theme last year was piano technique. Stay tuned for the announcement of this year's theme!) 🙂
When I needed to make another batch of butterfly bands, I decided to see if I could improve the design.
I discovered this alternative style of hair tie (pictured below) on Amazon. I figured this would not only be easier for students to slip onto their wrists, but the hair tie would provide more surface area for attaching the butterfly with the hot glue gun.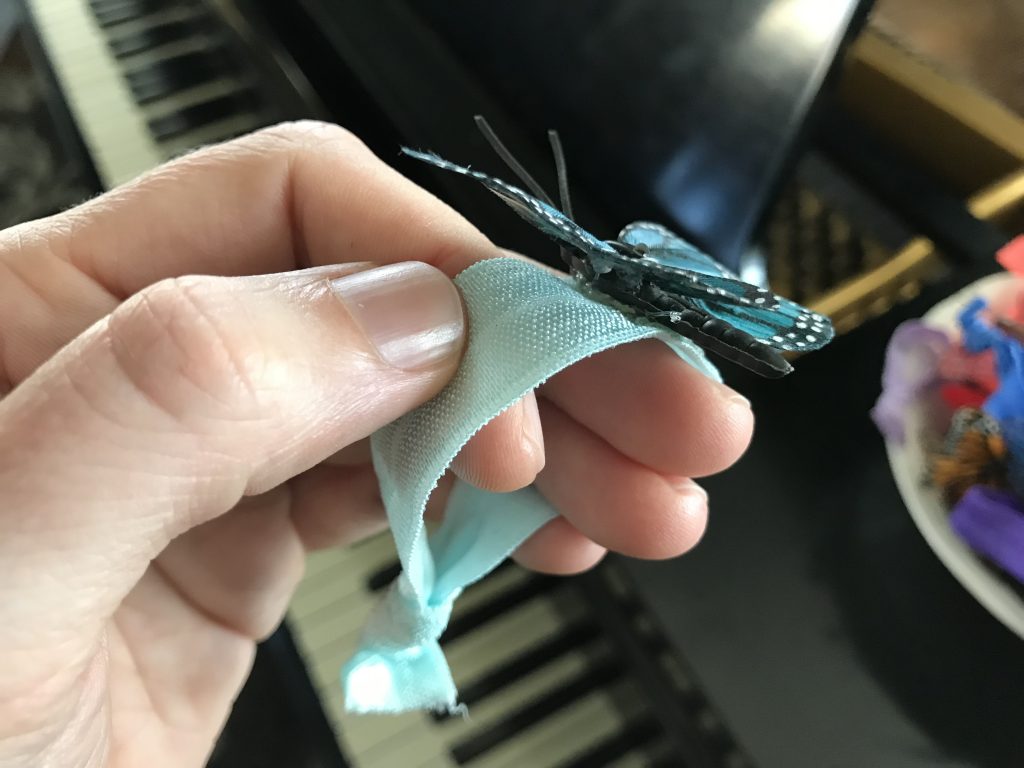 It worked perfectly. I'm pretty happy with how this batch turned out!
I love being able to let students pick out their own butterfly band to take home with them to keep for practicing.
Here's a video example of how Irina uses the butterfly during her early lessons. (Note: in this video, Irina is using an earlier "ring-style" design of the butterfly.)
Here's another video example showing an adorable 5-year-old (wearing new socks!) working on the relaxed arm/hand.
Other teachers have posted their own butterfly exercise videos in Irina's Facebook group (click here to request to join).
I hope this post inspired you to create your own butterfly bands, or to consider other ways how you can help your beginners develop a healthy technique from the first lessons!
---
GIVEAWAY:
Just for fun, let's have a giveaway! To enter, leave a comment on this post below sharing a way you help your beginners develop ease at the piano from the first lessons. On Friday, March 1, 2019, I will randomly select a winner who will receive THREE of my handmade butterfly bands in the mail!