Our 10-year blogiversary celebration sale continues this month! Don't forget to take advantage of the promo code (10YEARS) for 20% off, if you're planning to, before the end of February 2019!
Today, I want to highlight an item from my shop you might be interested in: my "Notes To Self" printable. A couple of teachers sent me great photos and notes about how these sticky notes are impacting their students…be sure to see those at end of this post!
The "Notes To Self" Inspirational Wall Art Kit (PDF) contains the digital materials you need to create interactive wall art to inspire those within your social sphere. It's a great way to promote positivity and camaraderie!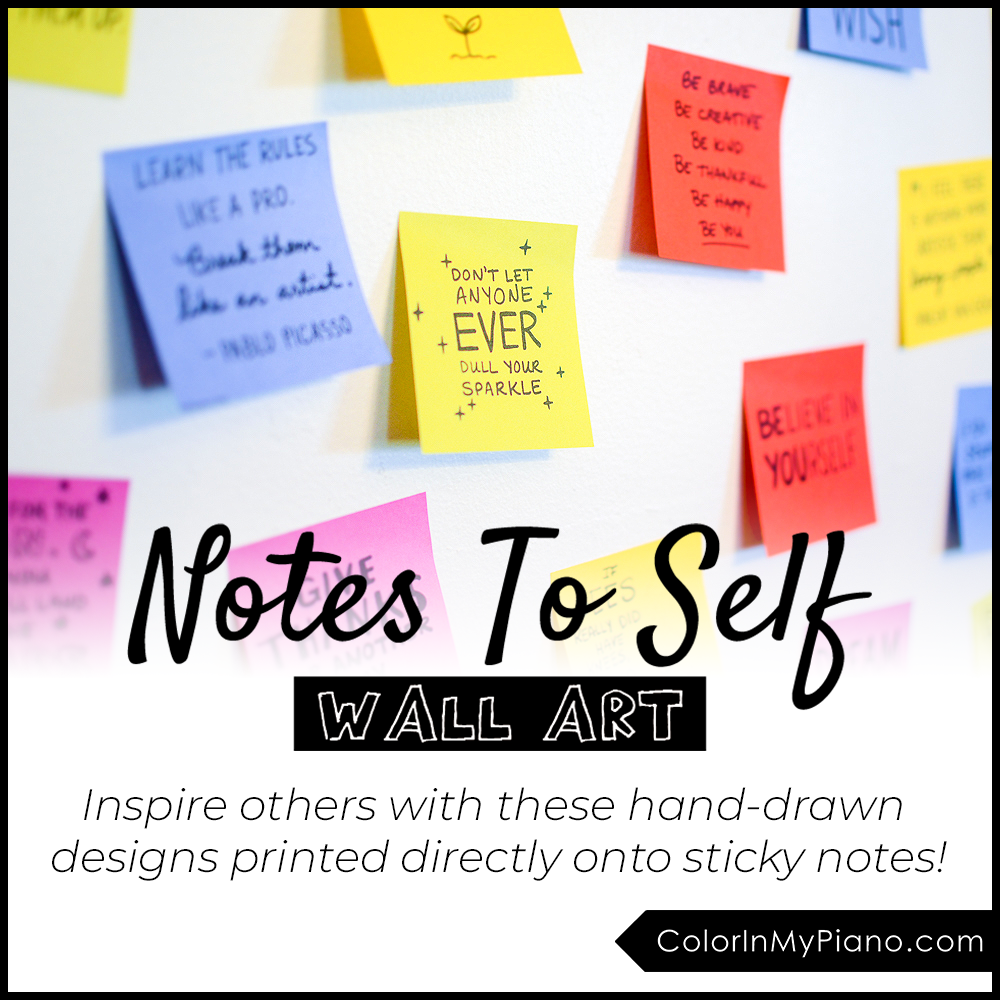 I created the "Notes To Self" wall kit with my piano students in mind, but they are perfect for any setting where people gather for a common purpose. Here's how it looks in my piano studio:
When you approach the wall art, the sign encourages you to "Take one to-go, for you or somebody else!"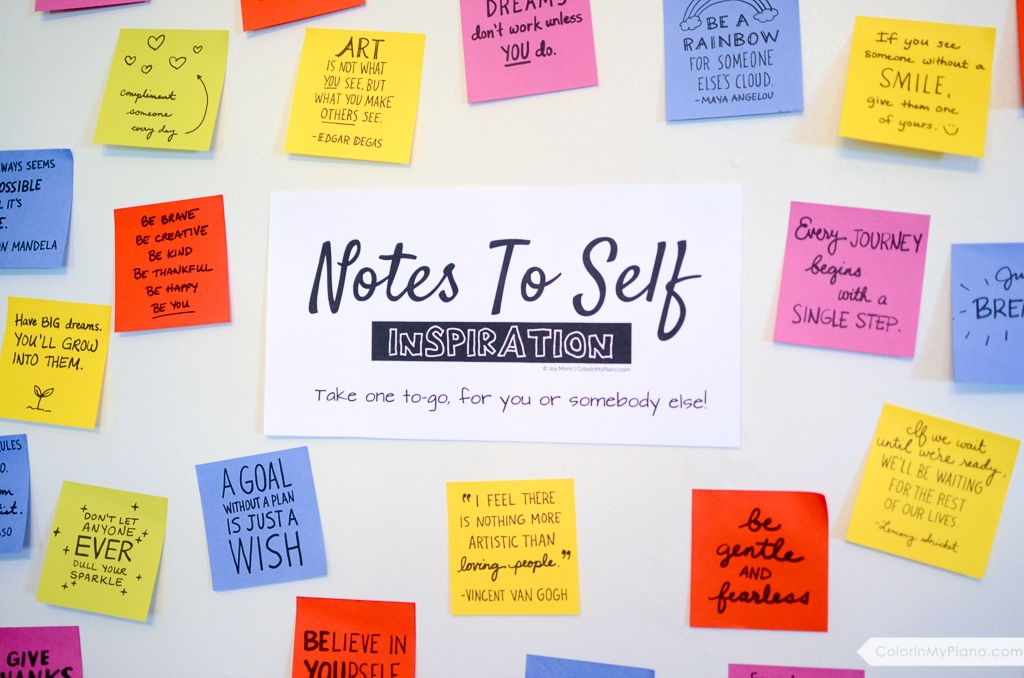 The sticky notes are printed with fun and inspirational quotes and sayings. My students love picking out one to take with them when they leave after lessons.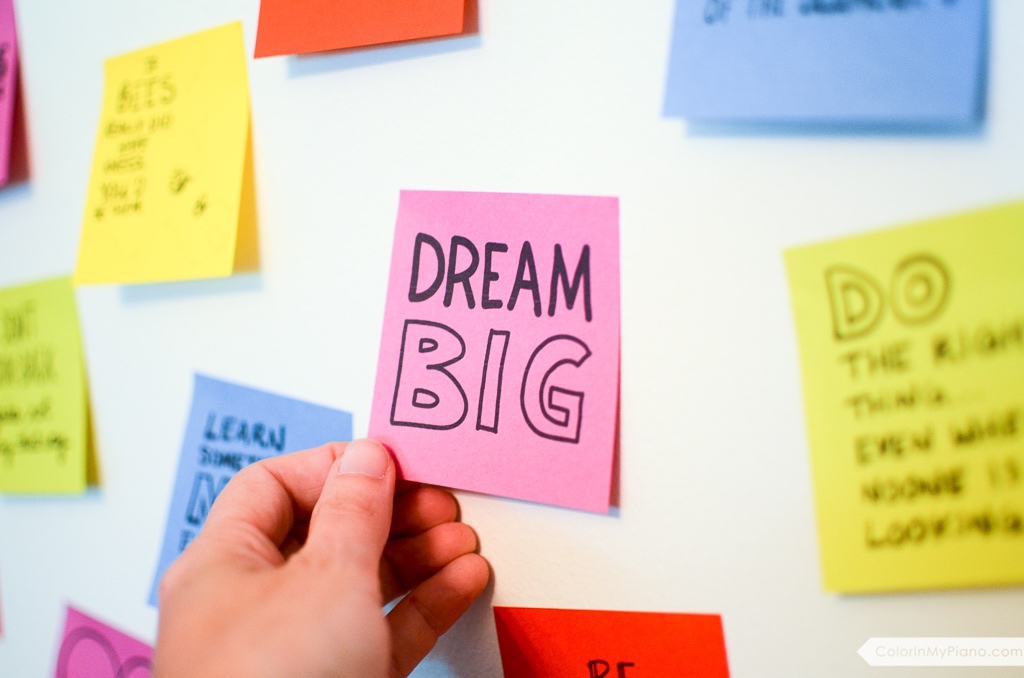 I drew all the designs myself, by hand using my iPad and Apple Pencil. Using your printer, some sticky notes, and my PDF kit, you can create your own "Notes to Self" wall art! The special template page included in my PDF kit allows you to send the sticky notes through your printer, so that the hand-drawn sayings and inspirations will be printed upon them.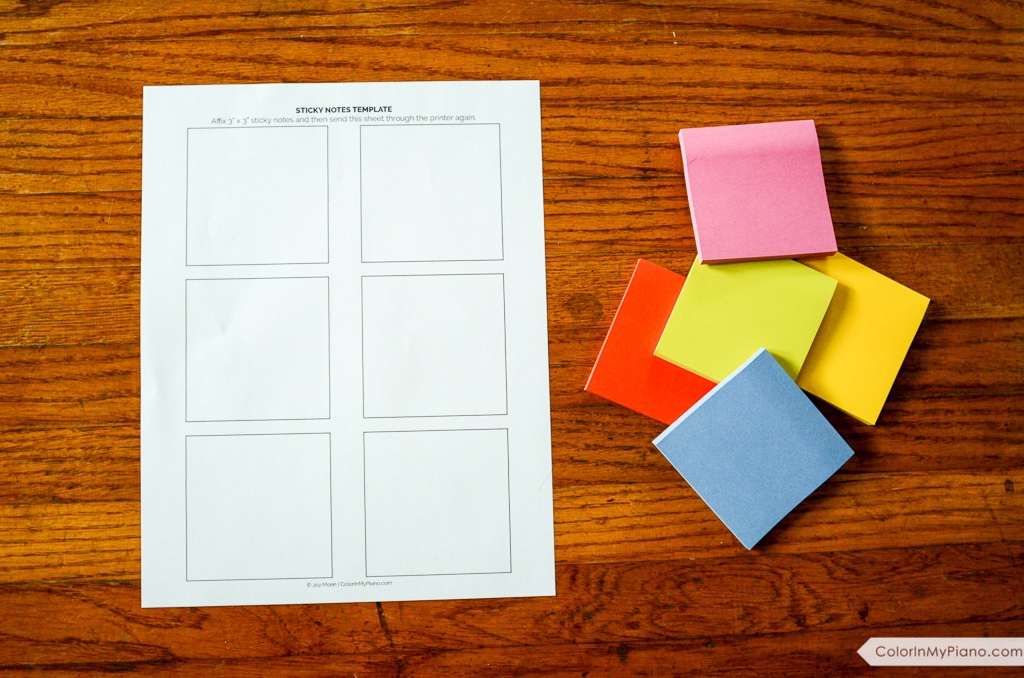 There are currently two different sets of "Notes To Self" designs available — the "Inspiration Set" (96 designs) and the "Bible Verses Set" (42 designs) — and I am considering releasing another set in the future. Stay tuned! 🙂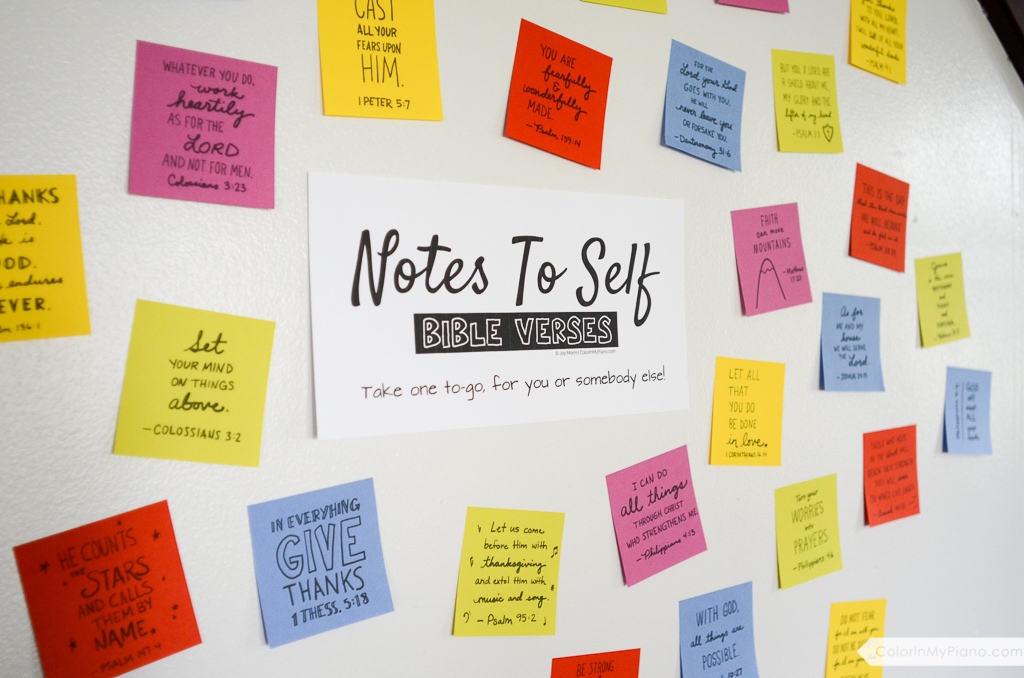 Once you buy the PDF, you can print from this PDF as much as desired, forever, as long as you are using them for your own personal projects. The amount of sticky notes you could generate for special people in your life over the years is innumerable! These sticky notes are a fun way to inspire and brighten the days of those within your circle of influence.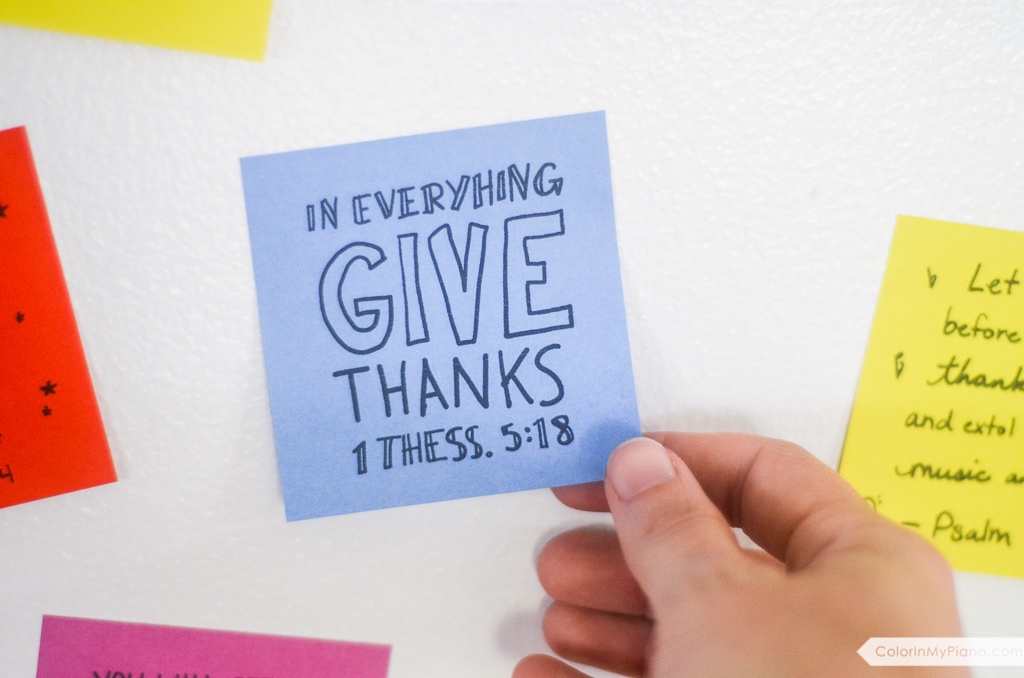 These aren't just for piano teachers. They're perfect for the workplaces, schools, gyms, churches, music/dance/art studios, etc.
Here are a couple of photos I received from piano teachers who are using my "Notes to Self" wall art kit in their studios.
"The post-its are a big hit in my studio!" –Elanna Foster, Ontario, CA
"My students and I love your "Notes to Self". Parents take them too and we are all inspired. I have a student who has built her own "Notes to Self" bulletin board. See attached photo. I can see a change in her since she started collecting them. I love her color-coding!" –Diane Lindsay, Illinois
Check out my "Notes to Self" wall art kit in my shop here.
Thanks for reading!
P.S.: A few readers have let me know they are having trouble with my site recently. If this has happened to you, please try using a different browser to see if that makes a difference. And, if you're willing, please let me know what works or doesn't work! I'm still trying to troubleshoot this problem.