Just thought I'd share a couple of Valentine's Day related resources from my blog!
Heartbeat Charts activity
This activity is a staple for my monthly "Piano Parties" with my students. It's such a good activity for working on rhythm and ear training.
Here is how the activity works: Each student is given a heartbeat chart and some game tokens (I use glass baubles from the floral aisle). The teacher claps or chants a prepared rhythm and asks the students to repeat it back together. Once they have internalized the rhythm, students notate the rhythm on their heartbeat charts using game tokens. 
From a traditional teaching standpoint, a single token placed in a heart represents a quarter note. Two tokens within a heart represents beamed eighth notes.  A blank heart represents a quarter rest. However, if you wish to teach from a Music Learning Theory (MLT) perspective, here's how it works: 
I always deliver rhythm patterns that are four macrobeats ("big beats) long, so we only ever use the side of the printable that has four (instead of three) heartbeats. I decide whether to give rhythm patterns in duple meter or triple meter, and then let the students know. I deliver simple patterns that contain macrobeats ("big beats"), microbeats ("little beats"), and/or macrobeat rests. After students echo back the rhythm, they use the game tokens to notate what they heard. A single token placed on a heart represents a maceobeat. Two tokens in duple meter represents two microbeats in that macrobeat. Three tokens in triple meter represents three microbeats. For a macrobeat rest, we leave the heart blank. I keep the rhythms simple because it's not really possible to notate what MLT practictioners call "divisions", elongations", etc. using the heartbeat charts and tokens. 
I allow students time to work and eventually notate it myself on my own heartbeat chart. I allow students to self-correct their own work. If they do know how to do it well, they will learn how to do it by watching other students.  
 Sometimes students will say something like: "I get it! It's like a quarter note with two eighth notes and then two more quarter notes." I always answer: "Yes, that's one way this rhythm pattern could be notated. But couldn't it also be a half note, two quarter notes, followed by two more half notes?" From an MLT perspective, we want students to realize early on the enrhythmic nature of rhythm: any given rhythm pattern can be notated in two or more possible ways. So, instead of focusing on rhythm values, we instead use MLT terms (such as duple meter, triple meter, macrobeats, and microbeats) to intelligently talk about what we hear. This is really the whole point of the activity: giving students the vocabulary to be able to intelligently describe what they hear in music. 
For game tokens, I like to use glass gems available in the floral section at the craft stores.  Anything goes, though — maybe some holiday-themed erasers would be fun!
Here's the PDF download:
Heartbeat Charts for Rhythm Dictation (297.1 KiB, 12,311 hits)
Two Piano Valentine Options
I have two free piano Valentine printables available here on my blog. I like to give these out to piano students during Valentine's Day week. Here is the first one I designed: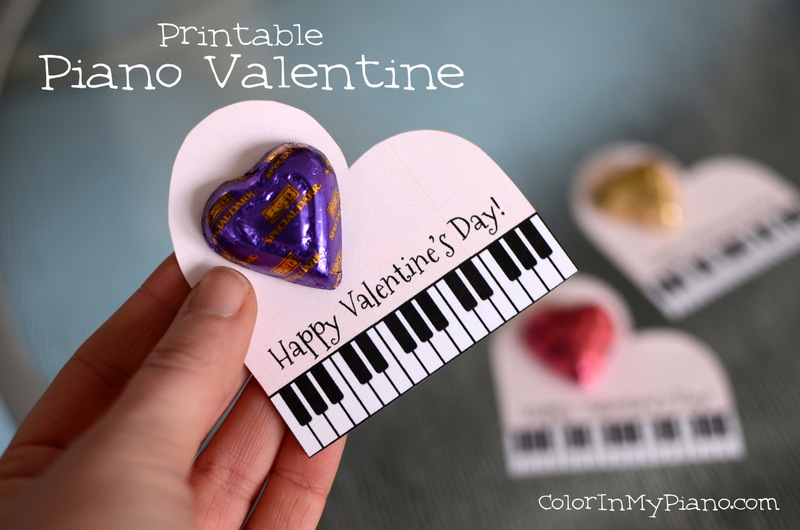 Just cut out each valentine and then use a circle of tape to attach a piece of candy to the top.
Over the years, I've received wonderful pictures from teachers who have used this valentine design!
Here's the PDF download: 
Piano Valentine Printable (589.0 KiB, 12,988 hits)
The second piano valentine option is a bit more time intensive. After cutting out the pieces, you'll need to glue them onto a box of Sweetheart candies.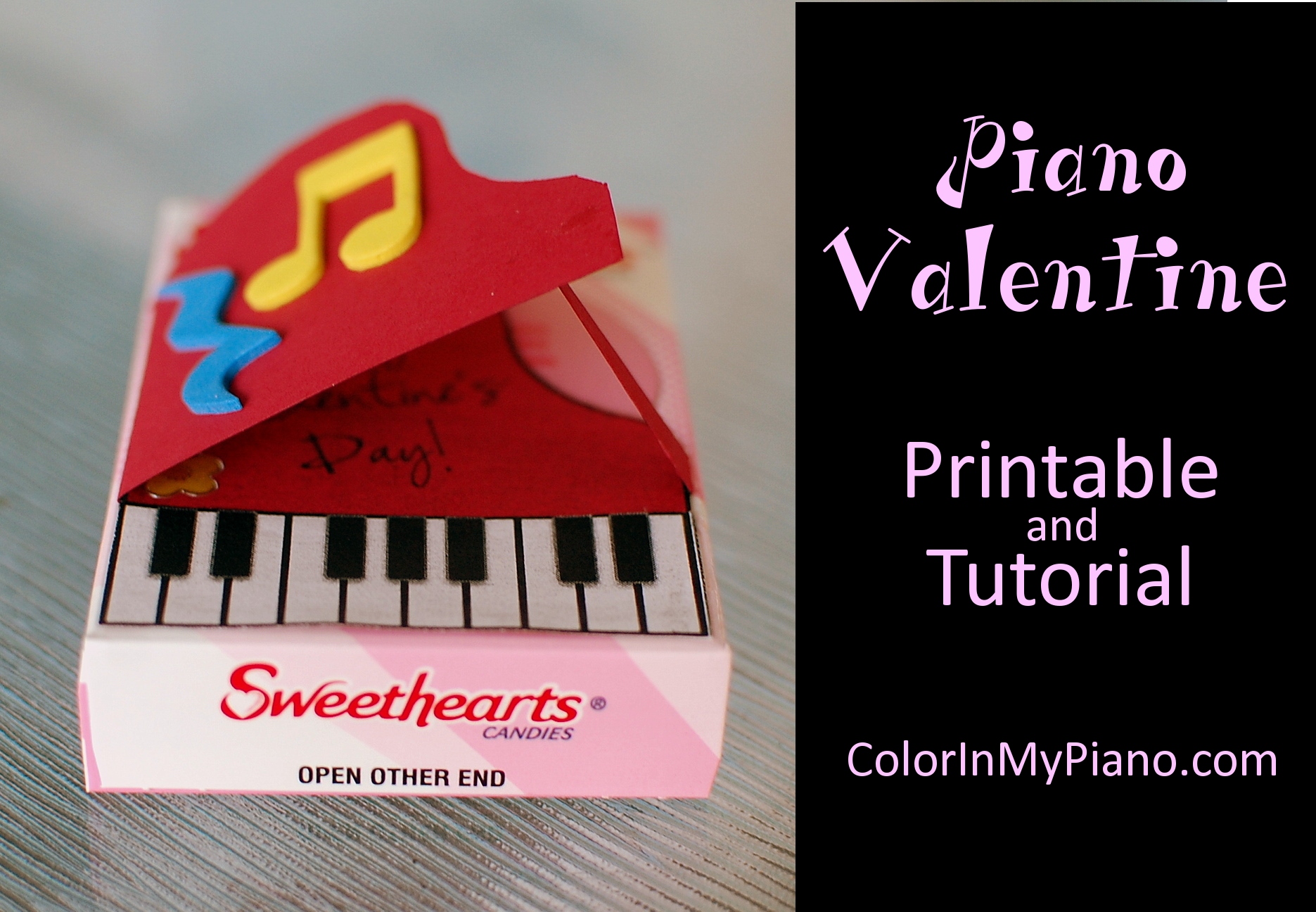 I decorated the outside with heart stickers or music stickers. They look pretty cute when they're finished!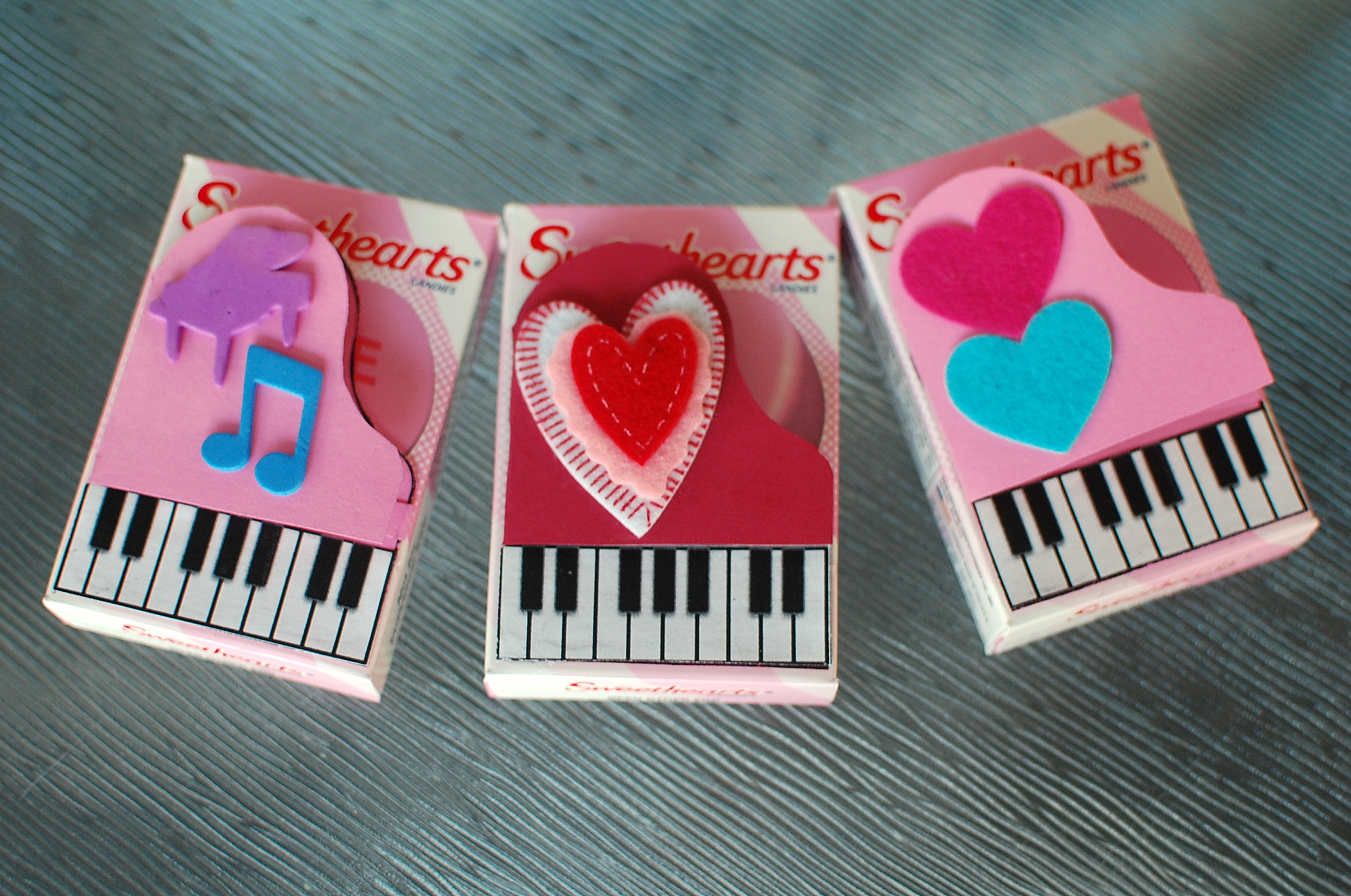 And here's a variation a reader came up with. You don't have to use the Sweetheart candy boxes if you don't want to! 
Here's the PDF download:
Piano Valentine Printable 2 (146.6 KiB, 14,259 hits)
Happy February, my friends!