In this article, I want to share the story behind my Great Composers & Their Music music history curriculum, which you might be interested in for your group classes or summer music camps. There's also some freebies linked to below…keep reading!
The Great Composers & Their Music series is designed to be an easy and effective way for teachers to incorporate music history in their students' musical education. Here's the story of how this curriculum came to be.
In the summer of 2012, I decided I wanted to offer a music history camp for my students. It's not easy to cover music history thoroughly during the private lesson setting, but I wanted my students to know the major composers and the style periods. Knowing these things helps students understand the pieces they are learning, appreciate music more, and make better decisions regarding interpretation and artistry. Music camps are a perfect opportunity for getting submerged in music history and learning a lot in just a few days!
When I took music history classes during college, my professor told us that one of her main goals was for us, by the end of the course, to be able to give a reasonable guess as to which time period a piece of music was composed — even when hearing a piece for the first time. I decided to adopt this very same goal for my students.
As I was planning for this camp, my goal was to find a way to teach the information I wanted to cover in a way that would NOT be dry and boring…with me just lecturing or spouting off a bunch of facts to remember. 🙂 I wanted it to be fun and creative for my students, and most of all, memorable.
In my search for a suitable curriculum format, I stumbled across something called "lapbooking." Lapbooking is something homeschoolers often use as a creative way to study a particular topic. Basically, you take a file folder and glue in "minibooks" of different shapes and sizes that explain different facts within the topic. If you make a quick Google image search for "lapbooking", you'll see a variety of examples. When I saw what lapbooking was, I decided it was perfect for my music history camp.
I decided to offer a 4-day camp, each day studying a historical period from Western classical music (Baroque, Classical, Romantic, and then Modern) as well as a major composer from that period. I wrote a student-friendly biography for each composer and designed the components for the lapbook on my computer.
Students assembled the lapbooks as we talked about the composer and listened to music selections. We also spent time get to know each style periods, using the Eras of Music History kit and the Music History Periods Lapbook freebie.
At the end of each day, we had a listening quiz. I played pieces from a playlist I compiled on YouTube, and students guessed which period the piece originated from, of those we had studied so far. This really helped reinforce the concepts we were learning. And by the end of the week, we met our goal: my students became pretty reliable at being able to identify the style periods they are hearing. Yay!
Since that summer, I've offered a music history camp nearly every year. I choose four different composers each year, but we keep the format otherwise the same.
To date, there are over TWENTY composers lapbooks available in my shop. Here's the complete list of available composers, along with short descriptions of each lapbook.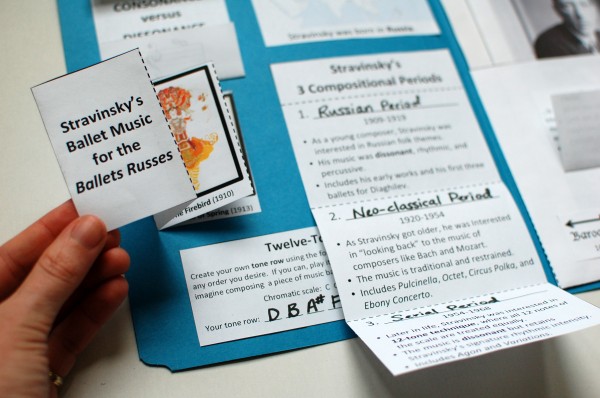 Would you like to read more about offering a summer music camp using this curriculum? Check out this post for more on that.
Allow me to leave you with a freebie: a FREE download of the biography booklet from the Mozart lapbook set. Visit the Printables > Lesson Plans page and scroll down to "Mozart" — or, use the link below:
Mozart Biography Booklet (365.8 KiB, 11,771 hits)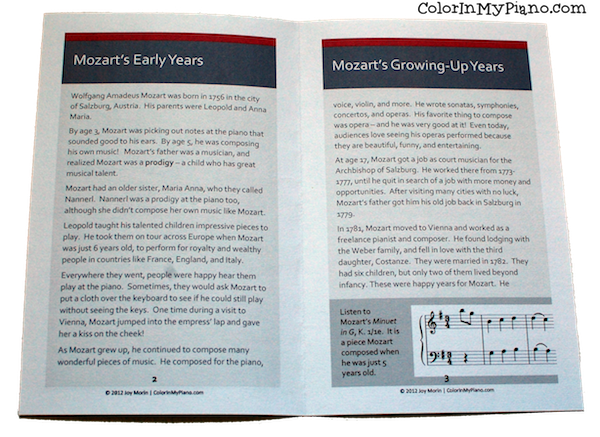 Thanks for reading! You can visit the Great Composers & Their Music curriculum page in my shop here and the Eras of Music History kit here.
Testimonials:
"I just want to thank you so much for the Blast from the Past History Camp resources. I start my camp next week, and I am so excited to have an easy to use, information-packed curriculum. The copies I made today are absolutely beautiful! I am so impressed. For several years I have wanted to provide a summer camp, but my busy schedule has kept me from devoting time to developing one, and I have been unable to find a curriculum I like . . . until now! Thank you so much!" — Cheryl Marshall, NCTM from Katy, TX
"Thanks so much for coming up with the composer lap book idea! My students learnt about Bach and became acquainted with some of his works. The instruction given from the downloads are clear and precise, and my students had fun "designing" and putting together their own lap book. It is a fabulous resources and a great way to study the life of Bach." – Jo Tee H., piano teacher from Singapore
"Just wanted to thank you for your terrific materials. I teach piano lessons part time in my Massachusetts home studio. I purchased your Beethoven lapbook and used it this past week with 15 students, ages 7 to 12, in one-hour group lessons (4-6 students per lesson). I love the engaging format (fold-outs and pockets)- very fun for kids to construct and they were excited to share with their families. The concrete "artifacts" (Heiligenstadt testimony, autograph manuscripts) bring the history to life for kids, the concepts become much more memorable, and they look great as color copies!" — Julie, piano teacher from Massachusetts