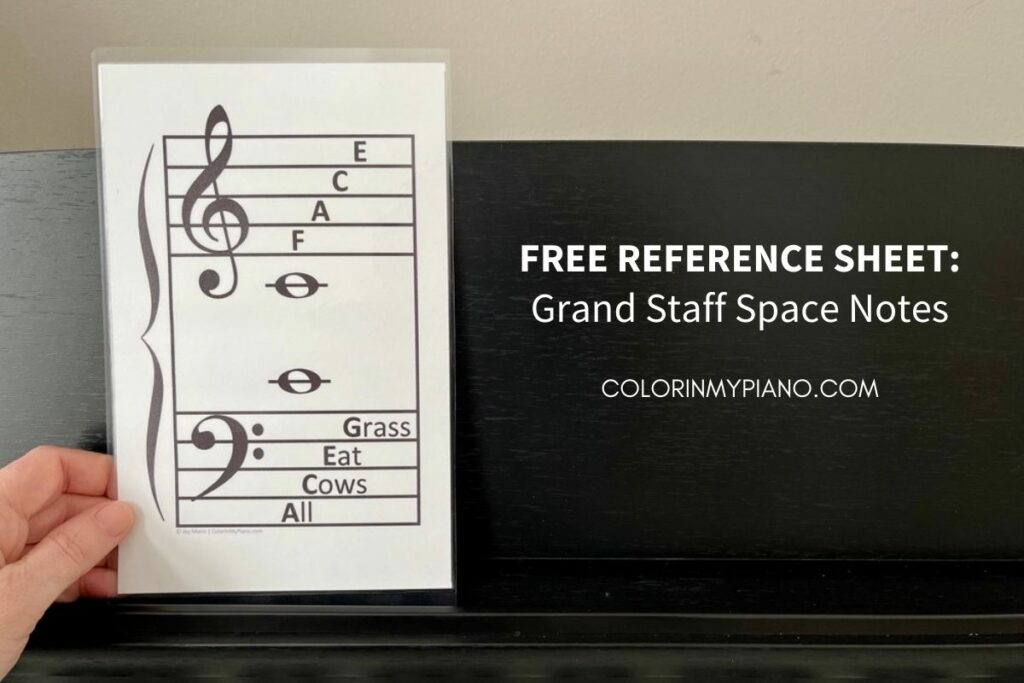 Hi there! In this blog post, I'll briefly discuss both the usefulness and shortcomings of mnemonic devices (such as "FACE" and "All Cows Eat Grass") when it comes to music reading and then share with you a new FREE printable, pictured above.
Mnemonic Devices for Music Reading
In most cases, I tend to avoid having students use mnemonic devices as a tool to identifying notes on the grand staff. How about you? If I DO use mnemonic devices with a student, it's in only certain circumstances and we use them only lightly.
If I can help it, I'd rather use almost any other way to build students' understanding of how our musical notation system represents the music we hear. My approach is a bit eclectic according to what I think each student needs, but I try to put a heavy focus on building students' ears first. Understanding notation becomes easy when it's approached as a way of representing something we are already familiar with, versus approaching it as something that must be decoded as a pre-requisite to experiencing music in the first place.
A few of my current students came to me already reading music, but showing signs of not having a very clear understanding of how the grand staff is used to represent pitches. Here's a few examples of such signs, which I'm sure you've sometimes seen students exhibit.
When students often go to the wrong octave on the keyboard for a note they've "identified." This is a clear indication that students aren't getting the big picture.
When students get stuck on the same notes they saw earlier, even just a measure or two prior.
More generally: When you get the sense that students seem to view notes as single identities, rather than as part of a whole. These students often mis-identify notes, because they don't have an easy way to confirm what they read or see how the notes fit into a context.
It takes time to help students un-learn their previous processes and re-learn something new. But of course, it's always worthwhile! We work on the ear, and we work on recognizing familiar patterns, intervals, direction, contour, etc.
Anyway, coming back now to mnemonic devices… In those rare cases where I allow students to use mnemonic devices, we use them lightly. It's almost more of a way to help them see how their current methods may not be serving them well, and start them on a path towards something more effective.
When we DO use mnemonic devices, we only use two: "FACE" for treble clef spaces and "All Cows Eat Grass" for bass clef spaces. This is enough for figuring out any note on the grand staff, and is far less confusing than trying to keep four different mnemonic devices straight (you know…for the treble clef lines, treble clef spaces, bass clef lines, and bass clef spaces). Even if it's what they might have learned at school, from a previous teacher, or from a parent, I always discourage students from using four different mnemonic devices. (Have you known many students who can manage to keep all four straight?) 🙂
In all best case scenarios with mnemonic devices, we don't rely on them for long. Ideally, students quickly move on from this and become fluent in recognizing what they see in notation as something familiar for their ears and bodies at the piano!
Free Printable: Grand Staff Reference Sheet – Naming Space Notes
Recently, I kept finding myself wishing for a simple reference sheet to help a couple of my newest transfer students. A music whiteboard works great while students are with me during their lessons (read about the whiteboard I got from MusicEscapades.com here), but I wanted something for them to use at home. I think this is going to help one of my students in particular break out of her current note reading processes and get on a better path to understanding how the grand staff relates to sound and the piano keyboard.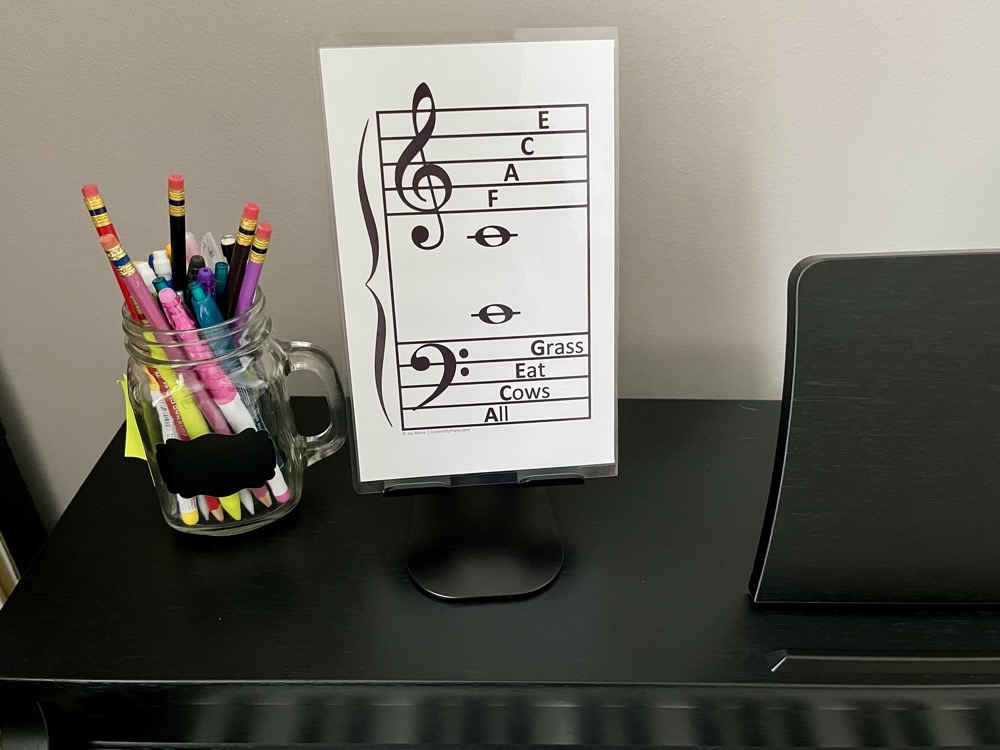 I designed this printable so there are two half-sized reference sheets printed on each sheet of paper. After cutting them apart, I laminated mine and have one sitting on my iPad stand ready for my student's next lesson. (This iPad stand is seriously the best, by the way! If you need one, look no further!). I've also got one ready for my student to take home with her.
Have any students in mind who could benefit from this printable? To download this free reference sheet, visit the Printables > Other Resources page and scroll down to the G's for Grand Staff Reference Sheet – Naming Space Notes. Hope you enjoy!
Grand Staff Reference Sheet - Naming Space Notes (190.2 KiB, 2,110 hits)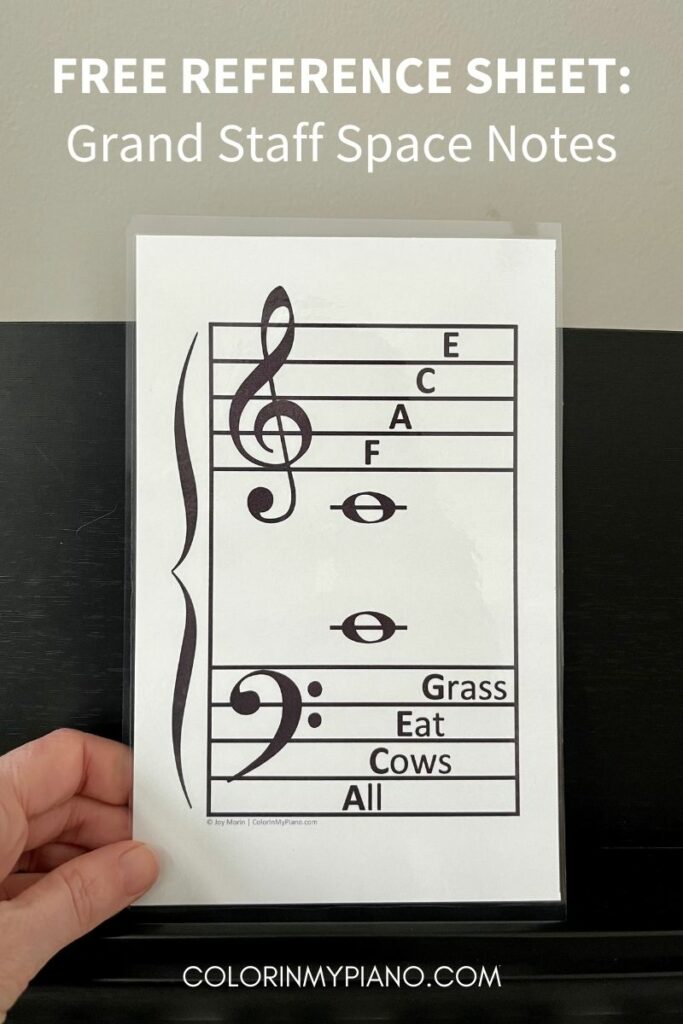 Your turn: What techniques do YOU use to teach your students to read music fluently? Share your tips and favorite resources in the comments below.