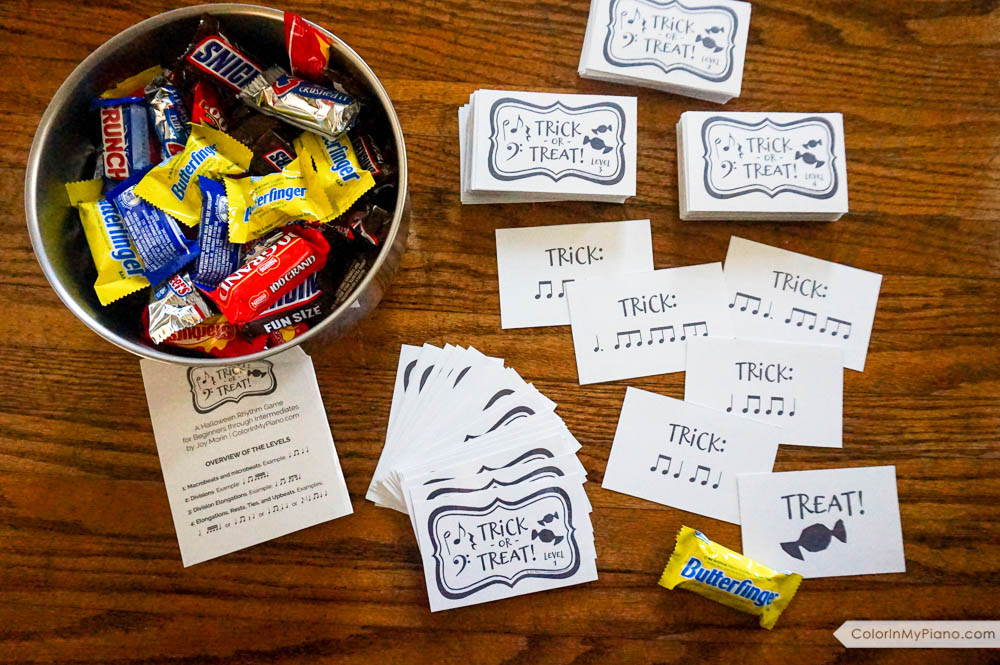 It's that time of year — time to pull out my Trick-or-Treat! rhythm game! During the weeks leading up to Halloween, I like to use my Trick-or-Treat rhythm game at pretty much every student's lesson. It's a fun way to make students "earn" their treat, and it's such a great game for building their rhythm skills. Best of all, they LOVE this game!
In case you haven't seen me talk about this game before, allow me to tell you more about it. In my opinion, this game is one of the best creations from my shop! Keep scrolling down the end to check a video demo of the game as well.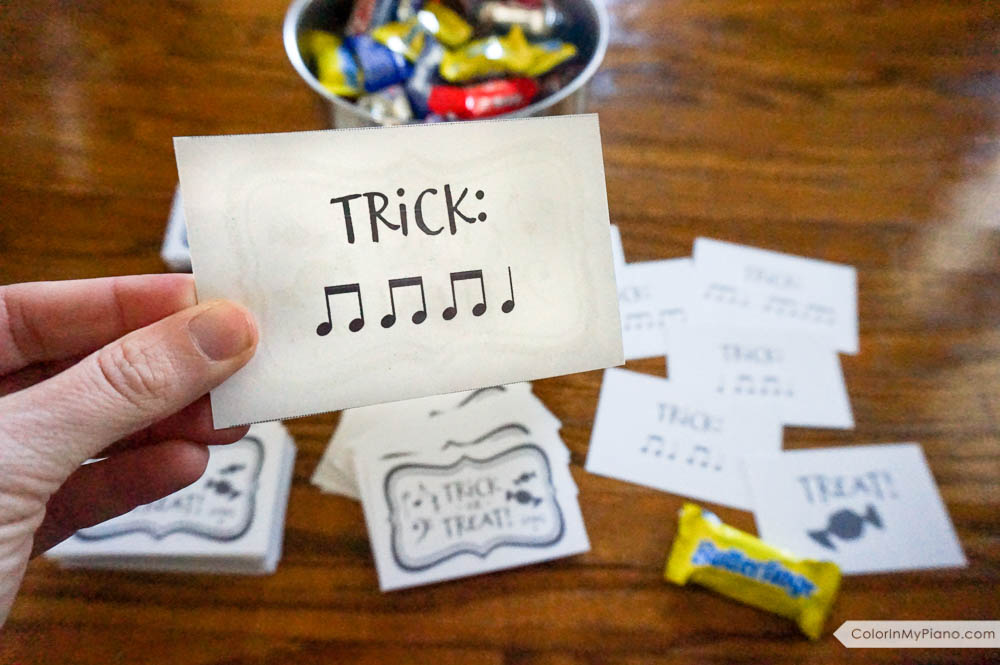 Here's what it's like to play this game:
I playfully inform the student that I have a bowl of treats — but that they must EARN their treat by playing a rhythm game. ? I choose the appropriate deck for my student (Levels 1-4) and then explain the gameplay. There are TRICK cards and there are TREAT cards. When a TRICK card is drawn, the student must perform the rhythm on the card and draw another card. When a TREAT card is drawn, it's game over and the student gets to choose a piece of candy.
Sometimes, gameplay is very quick and students only have to perform one or two rhythm patterns. Other times, gameplay lasts awhile and the student might have to perform eight or nine rhythm patterns before they happen to draw a TREAT card. It's fun to see how the game goes each time we play!
The sequencing of the rhythm skills in this game is loosely based on Music Learning Theory (MLT). Each of the four levels contain rhythms in duple meter and triple meter. The rhythms get progressively more advanced with each level. The easiest rhythms contain only quarter notes and eighth notes (or, macrobeats and microbeats, to use MLT-based terminology). The more advanced levels contain sixteenth-note combinations, ties, rests, and upbeats. The leveling information is detailed clearly for the teacher on a cheat sheet.
I have to say, even if you aren't familiar in the slightest with MLT, chances are this game will nevertheless work extremely well for you and your students. The sequencing, in my opinion, is more natural to how we learn music compared to the sequencing typically encountered in most major piano methods of today.
I like to have my students "speak" the rhythms with their voice, but if they aren't comfortable with that I allow them to perform the rhythms on a single piano key. I sometimes ask them speak the rhythm on a neutral syllable (like "BAH") and other times have them use rhythm solfege (I use Gordon-Froseth rhythm syllables — DU DE in duple meter and DU DA DI in triple meter). Any counting method you prefer will work fine for this game!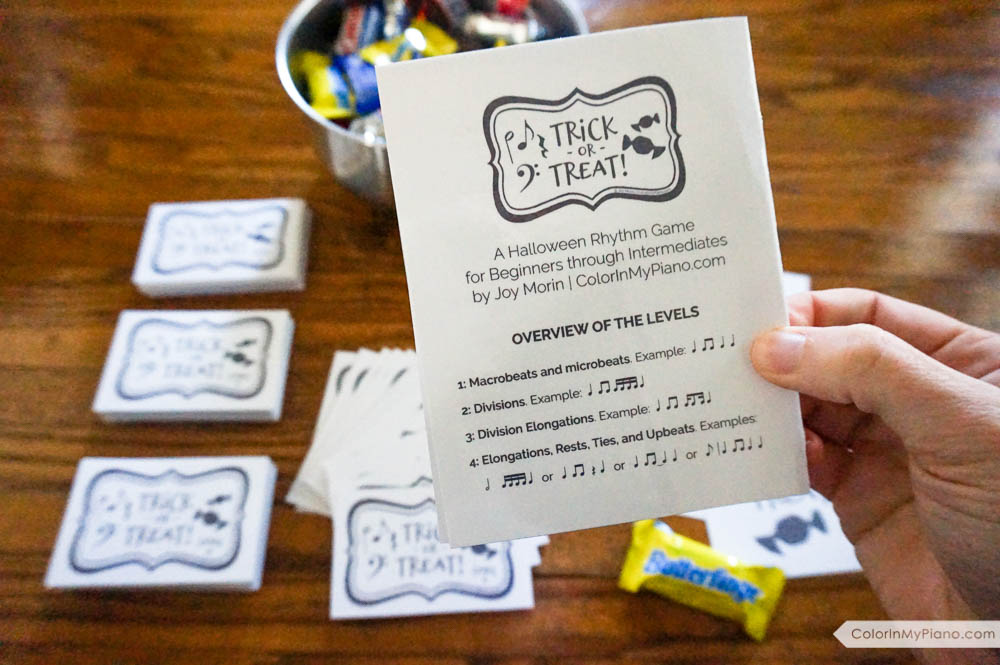 The first week you present the game to your students, I recommend starting with Level 1 (even if they can handle more advanced rhythms) just so they get the hang of the game. Over following weeks, you can stick with the same level if more practice is needed or bump up to the higher levels.
Do you teach preschoolers or young beginners? Here's how I adapt the game for those ages. Instead of asking students to read the rhythms, I perform the rhythm first and ask them to echo what they hear. This is SO good for their ears.
Do you teach in groups? With groups, gameplay is basically the same except I ask the entire group to help perform the rhythms together.
Here's some feedback I received from a piano teacher friend about the Trick-or-Treat rhythm game:

I've had other teachers tell me that they play this game all year round; it doesn't have to be limited to Halloween time! Students love both treats and games any time of year! 😉
Thanks for reading more about my game. You can read more and purchase the digital download (PDF) of my Trick-or-Treat game in my shop for $9 HERE.
Happy Halloween!
---
PS – Prefer watching a video? Check out this video of me (and my daughter) demonstrating the game!