Hello readers,
Guess what! This Saturday, February 28, 2021, marks the twelve-year anniversary of Color In My Piano! Can you believe this blog has been around for TWELVE years now?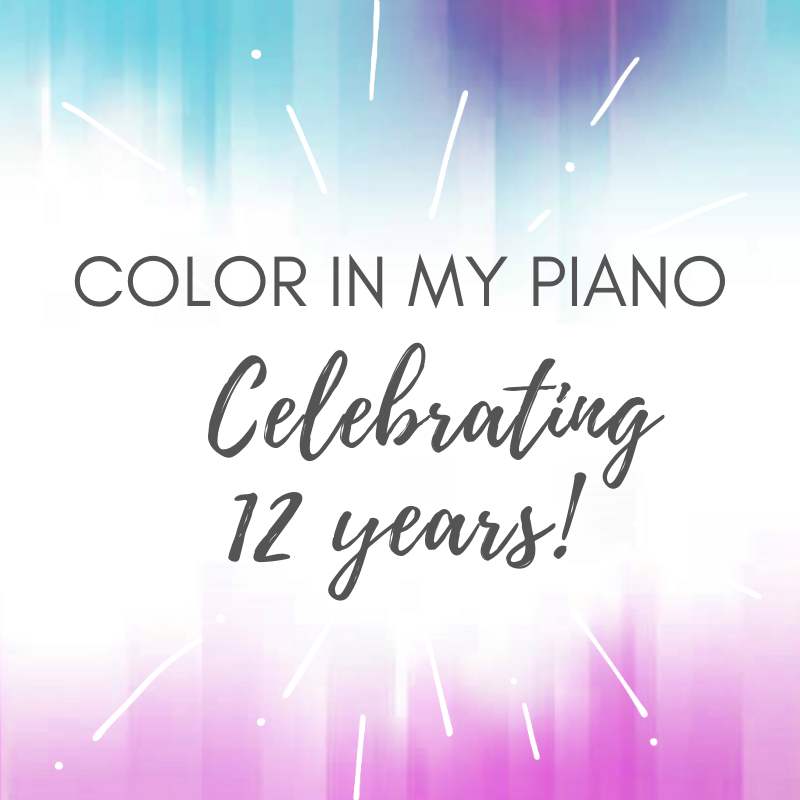 In this post, I will share a bit about ColorInMyPiano's history, my own story, a celebratory sale, and finally a giveaway. (Have you ever wondered how ColorInMyPiano got its name? You'll find out if you keep reading!)
The Beginnings
It was back in 2009 when I first considered writing my own blog. At that time, I was running a successful piano studio of about 20 students out of my parents' home and finishing up my Bachelor's degree in piano performance at Hope College. I was finding helpful resources and much inspiration for my teaching from other blogs, including Natalie Wickham's Music Matters Blog and Susan Paradis's Piano Teacher Resources, and had even begun creating some of my own worksheets and other printables. I felt I wanted to give back and share in the same way, and so on February 28, 2009, I wrote my first blog post: a welcome and brief statement of purpose. 
On July 9, 2009, I decided that I was enjoying blogging enough to go full swing: I came up with the name "Color In My Piano," purchased the ColorInMyPiano.com domain name and a year's worth of web hosting, and gave the site a new look.
The name "Color In My Piano" was coined thanks to an essay I wrote during my senior year at Hope College. The class assignment required that I reflect upon my life and summarize my worldview. Not surprisingly, much of my essay centered around my beliefs regarding music and the role of the piano and teaching in my life. One of the themes that arose as I wrote the essay was my commitment to never allow music-making and teaching from ever feeling like merely a job or a requirement. I strive to keep "color in my piano" for both my students and myself.
This is still an important life goal for me and helps provide a framework for what I share about on this blog. Personally, I find that I am able to keep myself invigorated in my work when I am open to learning new things, improving as a teacher, and striving towards excellent piano teaching for my students.
That summer, I moved with my husband (whom I married between our junior and senior years) to attend graduate school at Central Michigan University. Despite my responsibilities as a Graduate Assistant accompanying fellow music majors and teaching Class Piano, I made it a priority to teach between 5-10 private students each week. Teaching has always my primary motivation! I kept the blog going during those two years, too.
Years of Growth
After graduating with my Masters in Piano Pedagogy in May of 2011, my husband and I moved to Northwest Ohio (so he could begin another Master's program in English), where I started my studio again from scratch. We rented a charming little house with a dining room that worked perfectly for my studio and I bought a piano. Sometimes, I missed being in the academic environment of college, but most of the time I felt thrilled to be "living the dream" and running my own piano studio!
Because it took a couple of years to build up my student roster, I found I had plenty of time for blogging. I continued sharing ideas and free printables — usually publishing new blog posts five days per week. Color In My Piano grew a lot during these years. I even added a shop to sell digital resources, such as my new-at-the-time music history lapbooking curriculum.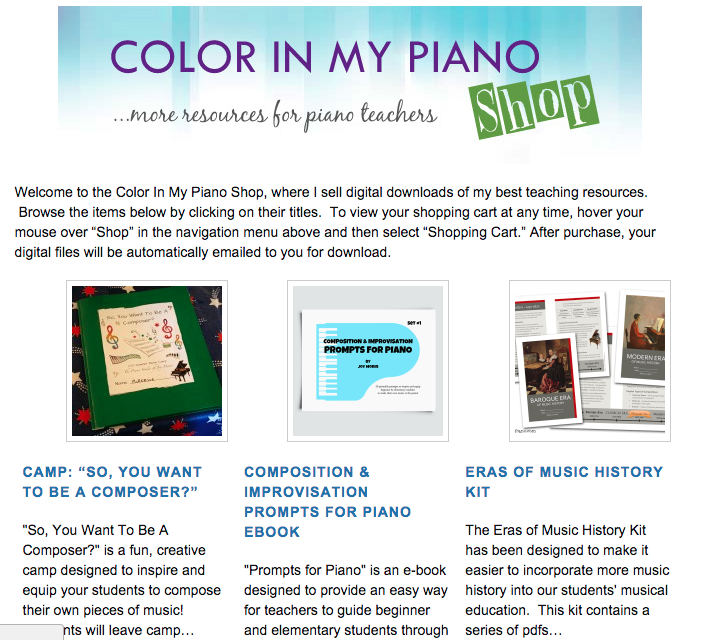 My studio eventually grew to 35 students, which I considered "full"! My husband finished his Master's degree and was hired as the Public Relations & Communications Coordinator at a science museum for kids in Toledo, Ohio.
Gradually, I started giving presentations for local music teachers associations. I never expected to pursue public speaking, but I discovered it's an incredibly fun way to share ideas and research with others. Now, I give at least a handful of presentations for local, state, or national-level events each year. (Curious to see my calendar and session topics? Learn more here.)
In 2014, I started a new endeavor: offering online courses for piano teachers under the name Piano Teacher Institute with Joy Morin. Creating the curriculum for my flagship piano pedagogy course, "Excellence in Piano Teaching", was a tremendous investment of time and energy. My goal was to combine the best of what I learned during my pedagogy classes in college while also including many practical aspects of piano teaching not typically covered. To date, my six-week course has been offered over ten times to small cohorts of teachers (over a hundred teachers total). I find it so rewarding to interact with and mentor other piano teachers in this way. (Learn more about my course and join the email list here.)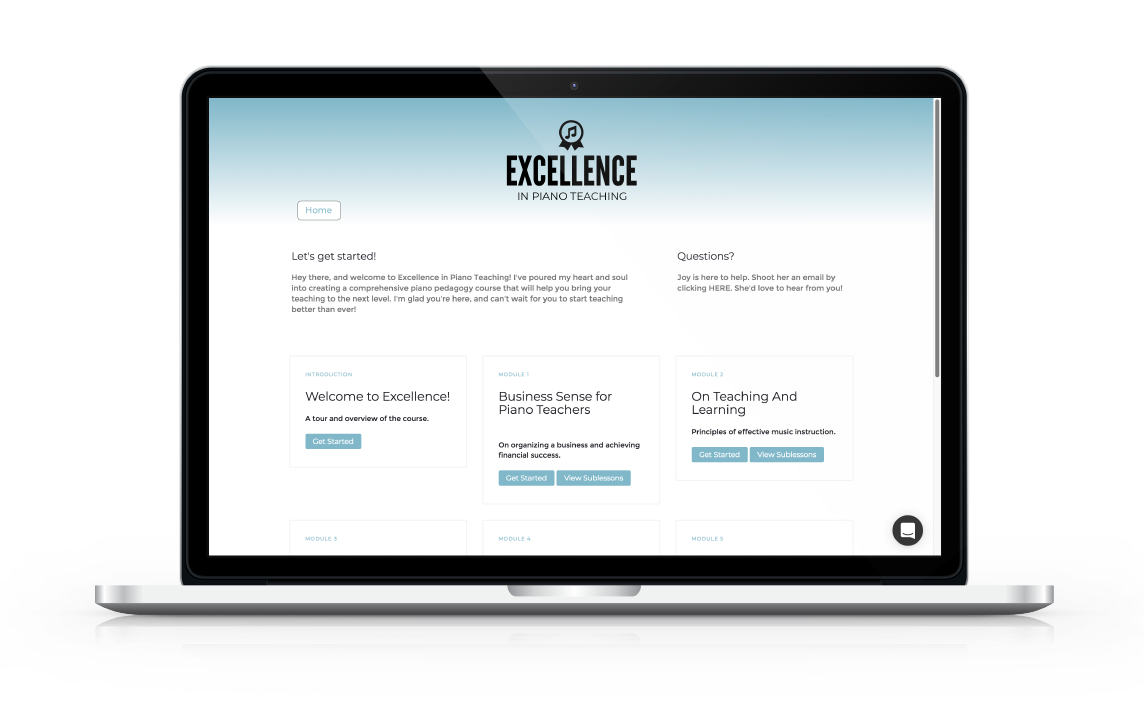 In 2017, I came up with the idea to host a summer Piano Teacher Retreat at my home. Thirteen teachers attended — I was thrilled! The theme we explored was "piano method books". In the summers that followed I held two more retreats, each centered around a different theme. My retreats are currently on hiatus due to the Covid-19 pandemic, but I plan to offer them again when it becomes feasible. (Join the email list if you'd like to receive information when the time comes.)
Recent Years
In December of 2019, my husband and I moved from Bowling Green, Ohio to Saline, Michigan, just outside Ann Arbor (see a tour of my piano studio here). We always wanted to move back closer to our families in Michigan, and my husband was already commuting to Ann Arbor for his job in marketing at University of Michigan. Part of the impetus for this move was also the expectation of our first baby's birth in February, 2020!
After my daughter's birth and a six-week maternity leave, the Covid-19 pandemic lockdowns hit in March 2020. I started up my students' lessons all online, and remain so at the present! It's been an interesting ride so far, and I'm doing my best to see this time as a learning experience. I've definitely had to get creative in certain respects during lessons, which has made my teaching stronger in ways.
Being a new mom has been a highlight of my days over the past year. I'm finding that my teaching is informing my parenting, and my parenting is informing my teaching. It's fun being a parent, and my daughter brings so much joy to our household.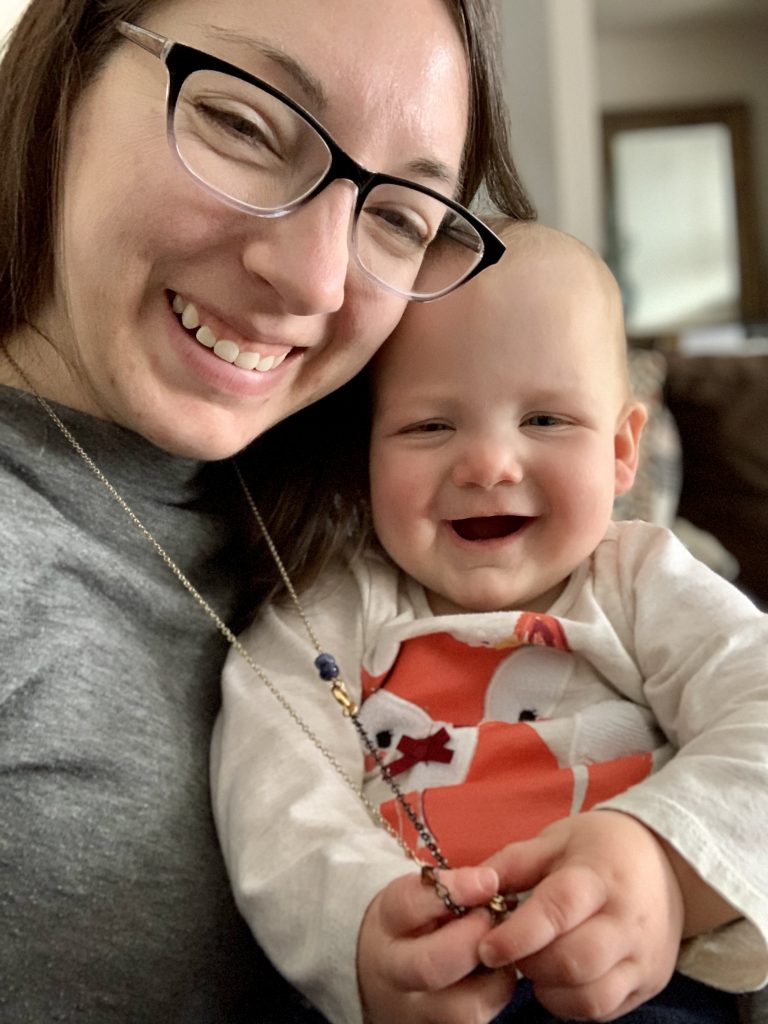 Since moving to Michigan, I became a dual member of OhioMTA and MichiganMTA and joined the Ann Arbor Area Piano Teachers Guild. I've been helping with their website redesign project, and also recently accepted a position with MichiganMTA as the Teacher Education Chair. We are currently working on the possibility of launching a new webinar series as part of our ongoing offerings for our members in Michigan. (If anyone has any experience or advice to share, please reach out to me! I'd love to hear about it.)
Today, I am still as dedicated as ever to Color In My Piano. I am never at a shortage of ideas to write about, and try to find time to put up 1-3 posts per week. True to its original intent back in 2009, I still think of my blog as a way to journal my piano teaching adventures, writing for myself to clarify my thoughts and to document things I was learning and doing. Twelve years later, I find that my blog has also become a platform for helping other piano teachers like me teach effectively, organize their businesses, and have fun in the process. I never could have imagined the outgrowth of projects and opportunities that resulted, thanks to writing a blog and gaining a wonderful readership base.
So, many thanks to you, my dear readers! I appreciate you coming along for the ride, and for your kind attention and interactions. I am deeply grateful for the things I've learned over the past twelve years of blogging and for the wonderful lessons and friendships that have resulted.
Here's to a wonderful twelve years, and to many more to come. Thanks for celebrating with me!
–Joy
---
Giveaway & 20% Off Sale
To celebrate our twelve years, I'm running a giveaway and a sale! Use the promo code 12YEARS to receive 20% off any item in the shop. If you've been eyeing my favorite Ice Cream Intervals game, rhythm cards, composer lapbooks, or are thinking ahead to music camp curriculums for this summer, now's a great time to buy! The sale runs between now and through March 31, 2021. Browse the shop now here.
Here's the details about the giveaway: TWELVE randomly-chosen winners will receive ANY single item of your choosing from my shop! To enter, leave a comment below on this blog post telling us how long you've been following my blog and something you appreciate about ColorInMyPiano (a favorite printable, things you've learned, etc.). On Monday, March 1, 2021, the twelve lucky winners will be randomly selected and notified.
Good luck, and I look forward to reading your comments!