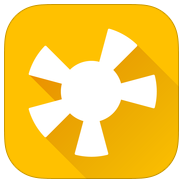 I'm excited to write this app review, because it is one of the most well-designed and useful apps I've come across lately!
Musiclock is a $2.99 app for iPad and iPhone that provides a variety of backing tracks intended to be used while practicing scales or improvising.
The first step is to select a scale. The scale choices are: major, major pentatonic, minor pentatonic, natural minor, melodic minor, harmonic minor, blues, and dominant bebop.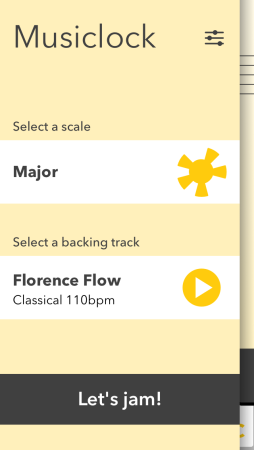 The second step is to choose a backing track. Depending on the scale choice you made, there are a variety of backing tracks to choose from with varying styles and tempos. You can touch the play button to hear a preview.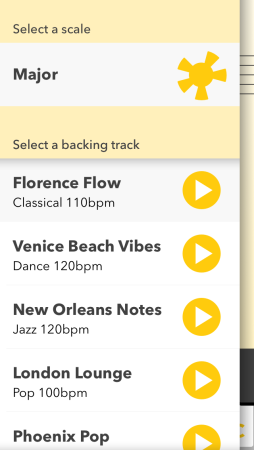 Once you've selected a backing track, touch the "Let's Jam" button to begin! The app defaults to the key of C. By touching and turning the spinner, you can select any key. Clicking the play icon will start the backing track. Now, you can jam along on your instrument or using the on-screen keyboard!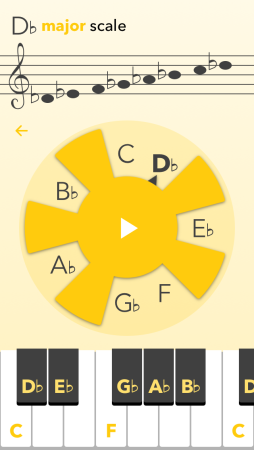 Below is a short improvisation I created through interacting the on-screen keyboard while on my iPhone. What could be better than improving your ear and practicing scales on-the-go!
[In the video below, you will notice a little bit of delay between the sound of on-screen keyboard and the backing track. This is due to the screen-recording program I used to create the video. When using the app normally, it is very responsive.]
In the video below, a student and I tried out Musiclock briefly during a lesson as he played through a C major scale. It's a little more fun than playing along to a regular metronome!
By the way, Musiclock isn't just for pianists. In the Settings section, you can select the guitar setting so the app will show guitar fret charts instead of the piano keyboard. This will help you with your guitar lessons as well as earning an Online high school guitar credit.
Guitarists are constantly on the move with their instruments. To help you become a better guitarist on the go, we've handpicked 5 smartphone apps that will help you channel your inner Jimi Hendrix, learn the pros and cons of analog vs digital delay.
Guitar Toolkit
Agile Partners
iOS (US$ 2.99)
For iOS users, we argue that Guitar Toolkit is compulsory, for its myriad of relevant functions. First of all, it possesses an excellent guitar tuner. We've found its interface very clean and simple to use, while its accuracy is on point. When you pluck on a guitar string, the app displays which note is the closest, the frequency of the sound played, and the number of cents to the closest note. WIth this app, we've found that we no longer need to use a traditional guitar tuner anymore.
What sets this app apart from other guitar tuners, is that it can do so much more than guitar tuning. It has a basic metronome with tap functionality (ie. you can tap the tempo you want onto your screen, and the metronome will continue beating to that speed) and can run in the background while you use other apps. The app also offers a chord finder which tells users what chord is being played, a chord library which plays chords and displays their fingerings, and a scales and arpeggios database with similar functions as the chord library.
Although this isn't the cheapest app in the App Store, we believe that it offers very high value for money, with its diverse functions. Guitar Toolkit offers further in-app purchases that grants chord sheet creation and drum pattern creation capabilities, but most of us probably won't need that.
Guitar Tuna
Yousician Ltd.
Android and iOS (Free)
For those who are on Android, or do not require the various functions of Guitar Toolkit, Guitar Tuna offers strong competition as a guitar tuner. Guitar Tuna is not only available on both Android and iOS (and Windows), but also free to download!
Ranked as the number 1 app in Education on Apple's App Store in 119 countries, Guitar Tuna is a powerhouse in what it does- guitar tuning. It is extremely simple to use. It detects your guitar's sounds through the phone microphone, and displays which note is being played and to what accuracy. You can select from a range of standard and alternative guitar tunings, making the app relevant to guitarists of all competencies and genres. Another useful feature is that the app works even in noisy environments, with its background noise cancelling technology.
With the Pro add-on, Guitar Tuna becomes similar to Guitar Toolkit, offering chord and scale libraries, and even games to train users to recognise chords on sight and sound. However, this comes at a steep price tag, at (price). Unless you value the games, Guitar Toolkit might offer better value. Nevertheless, Guitar Tuna is a very capable guitar tuner, and is used by many guitarists for its accuracy and accessibility.
Songtree
n-Track Software
Android and iOS (Free)
Essential for any guitarist who wants to create and share music, and collaborate with others, Songtree offers not only a capable recording function, but also a social platform to connect with other musicians.
While the quality of the recording also depends on your smartphone's microphone, Songtree's two-track sound recorder is intuitive and an absolute joy to use. There's even a built in metronome to keep you playing in time. After recording, you can cut, copy, and paste tracks, loop parts, and add effects including fades, echoes and reverbs.
Once you upload a track, other musicians can play their respective instruments, to build on your recording. You can communicate with and follow other musicians whom you like to work with. Best of all, this app and its associated social platform is completely free!
Rated as the "best app for new musicians" by MusicRadar and Fact Magazine, Songtree is a must-have for any guitarist who wishes to start collaborating with other musicians.
Although I've only just begun to use Musiclock, I highly recommend it! Check it out in the iTunes app store here or visit the Musiclock website here.