Noteworks – Cost: $4.99.  (For iPad only.)  Click here to view in iTunes.
This app is designed for students to practice identifying notes on the staff and finding the corresponding piano keys.  Noteworks features an adorable little "Munchy" who eats the notes when the student identifies the notes correctly!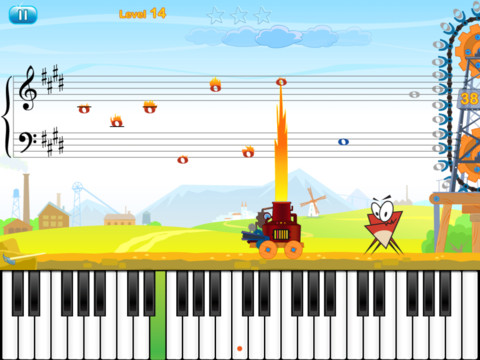 The developer of this app (DoReMi World) truly understands the needs of music educators!  This game is designed to help students drill the notes names on the staff in a fun and exciting way.  This app allows for various students to login under their name, so that the game can track their progress.
There are various modes for play, including a "Practice" mode (which helps the student learn the notes) and a "Challenge" mode (which tests their abilities).  In all modes/levels, notes appear on the staff.  Depending on the setting, students can identify the note by its alphabet name, corresponding piano key, or its solfege name.  Levels 1-5 are for students who are just learning how to read.  Levels 6 and above are for advanced students.  As the levels get more difficult, the range of notes tested increases, and then accidentals are added, and finally, the student must identify the notes within a key signature (a great feature!).  The game can be set to quiz notes of the treble, bass, alto, or tenor clefs, as well as the whole grand staff at once.  Play mode for any level can be set to slow, medium, or fast.
When the student identifies a note incorrectly, it goes to the left and gets put on fire (see photo above).  The notes stay there until the end of the round, when the game gives the student another try at identifying those notes.
I recommend showing your students this video on YouTube as a way to introduce the character Munchy and the game itself (it can be accessed within the app):
As I was testing this app out with my students, I discovered that I would like this app to have the capability to work with an acoustic piano (rather than pressing the piano keys on the pictured keyboard).  I've seen other apps that can "hear" the frequency of the sounds and can tell whether the right key has been played or not.  This is a small detail, but could possibly help build a stronger association between the notes on the staff and the piano keys.
Regardless, that is the only possible shortcoming of this app I could perceive!  The game's design and the app's layout is well thought-out.  My students really enjoyed playing this game.  I think it is perfect especially for a music lab or to recommend to students to use at home.
Disclosure: I was sent a free copy of this app to try out, but was not required to write a positive review.  As always, my reviews contain my honest opinions! 
GIVEAWAY: Noteworks has generously offered ONE lucky winner to win this app for free!  To enter the giveaway, leave a comment below before midnight EST on Thursday, September 20 about your favorite way to drill note names with your students.  (Note: this app is for iPad ONLY.)
Related Posts: