Introducing the addition of a new series of resources to the Color In My Piano shop…

Remember the lapbooks that I blogged about from my recent music history camp?  I finally have Bach and Mozart listed in the shop!  I've been using these composer studies with my weekly homeschool music history class too.
Each composer study costs $10 and includes teacher pages, the biography booklet (picture above on the right), and the pages for assembling the lapbook.  Here's what the inside of the Mozart lapbook looks like: 
You can read the full details about each composer study on this page.  More composers will be added in upcoming months.
As usual, I am so thankful for the kind support you have shown for Color In My Piano through comments/emails, and also for those of you who have shown support through the Color In My Piano shop.  THANK YOU so much!  I am always amazed at the kindness of others within our piano teaching community!  As a token of thanks to you all, please enjoy downloading the biography booklet from the Mozart study for FREE: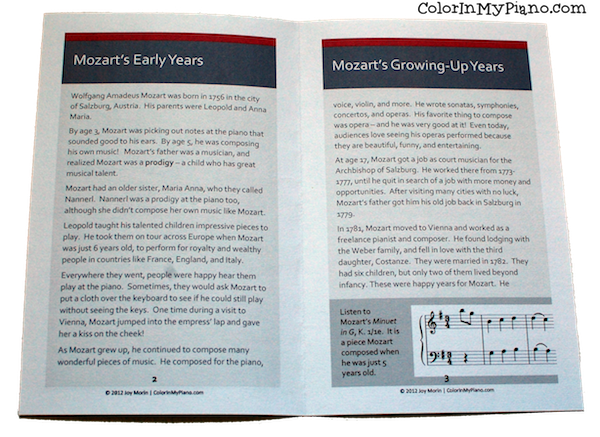 This biography has been carefully researched to include all the important facts you would expect, yet is written in a way that is relevant and relatable for even your youngest students.  To download, please visit the Printables > Lesson Plans page to download the Mozart biography (scroll down to the M's).  I hope you can find a way to use it with your students!
Mozart Biography Booklet (365.8 KiB, 11,612 hits)
GIVEAWAY: 3 winners will receive the rest of the Mozart composer study for free!  To enter, just leave a comment below by midnight (EST) on Wednesday, September 26, 2012 with a tip or idea about incorporating music history into your students' education.
PS:  Special thanks goes to my sister, Susan, for drawing the composer coloring pages for me!