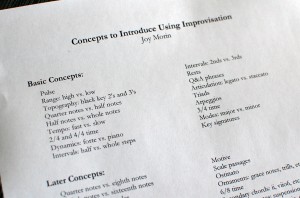 This is a continuation of the series on the topic: incorporating improvisation into private piano teaching.  I had originally planned to post all 4 steps into one post, but the post would be too lengthy.  So the topic "Incorporating Improvisation" is being divided into 4 separate posts:
Develop Related Skills
Create an atmosphere conducive to improvisation
Use improvisation as a way to introduce new concepts
Improvise using a combination of learned concepts
Today, we are discussing step 3: Use improvisation as a way to introduce new concepts.
3. Use improvisation as a creative way to introduce new concepts.
The point is, improvisation is not a separate identify from repertoire learning, theory, ear training, or technique.   Connections should be made between what is being learned in the method books to what they are improvising.  Improvisation then becomes a useful tool in the lesson for learning and reinforcing concepts being taught, and thus building the connection between theory and practice.
For example, let's say that I have a student in the Alfred method book, and we just finished learning about the difference between 2nds and 3rds.  We taught about the difference between the two, and even sight-read through a few pieces that utilize 2nds and 3rds.  Now it is time to improvise using 2nds and 3rds!  We could create two short improvisations based on only 2nds and only 3rds (this would be the goal of the session), and then we could try making an improvisation that uses both.  If the student is able to improvise using 2nds and 3rds as instructed, then I know that the student truly understands what 2nds and 3rds are and what the difference between them is.
With a more advanced student, we could improvise ABA form or even sonata-allegro form, if they are working on repertoire in those forms.  Other concepts for more advanced students could include ostinato, motive, sequence, sixteenth notes, etc.  For a listing of more ideas, see the Concepts to Introduce Using Improvisation pdf available on the Printables > Other Resources page.
Coming up next: part 5d of Incorporating Improvisation into the piano lesson.
Be sure to check out the rest of the posts in the series:
Series: Incorporating Improvisation into the Piano Lesson
Creativity in the Piano Lesson – Introductory musings.
3 Benefits of Incorporating Improvisation (coming soon)