Yes, you read that title correctly! Recitals, plural. 🙂 My piano studio is currently comprised of about half-and-half Michigan and Ohio students — the former being longtime students I began teaching online since relocating to Ann Arbor at the end of 2019. So, I held two Spring Recitals this month — one in my backyard, and one at a park in Ohio (an hour's drive away for me).
Until last year, I had never held a studio recital outdoors. Now that I've done it, I want to keep doing more!
Our Program
I called our recital "Keys in the Breeze." Most of the piece titles on the program were centered around a nature theme. It's the first time I've attempted a themed recital, so I wanted to choose an easy theme. My students and I discovered that most method books or repertoire collections tend to have at least one piece that fits a nature theme, whether it be a piece related to weather, an animal, a flower, the seasons, or the outdoors.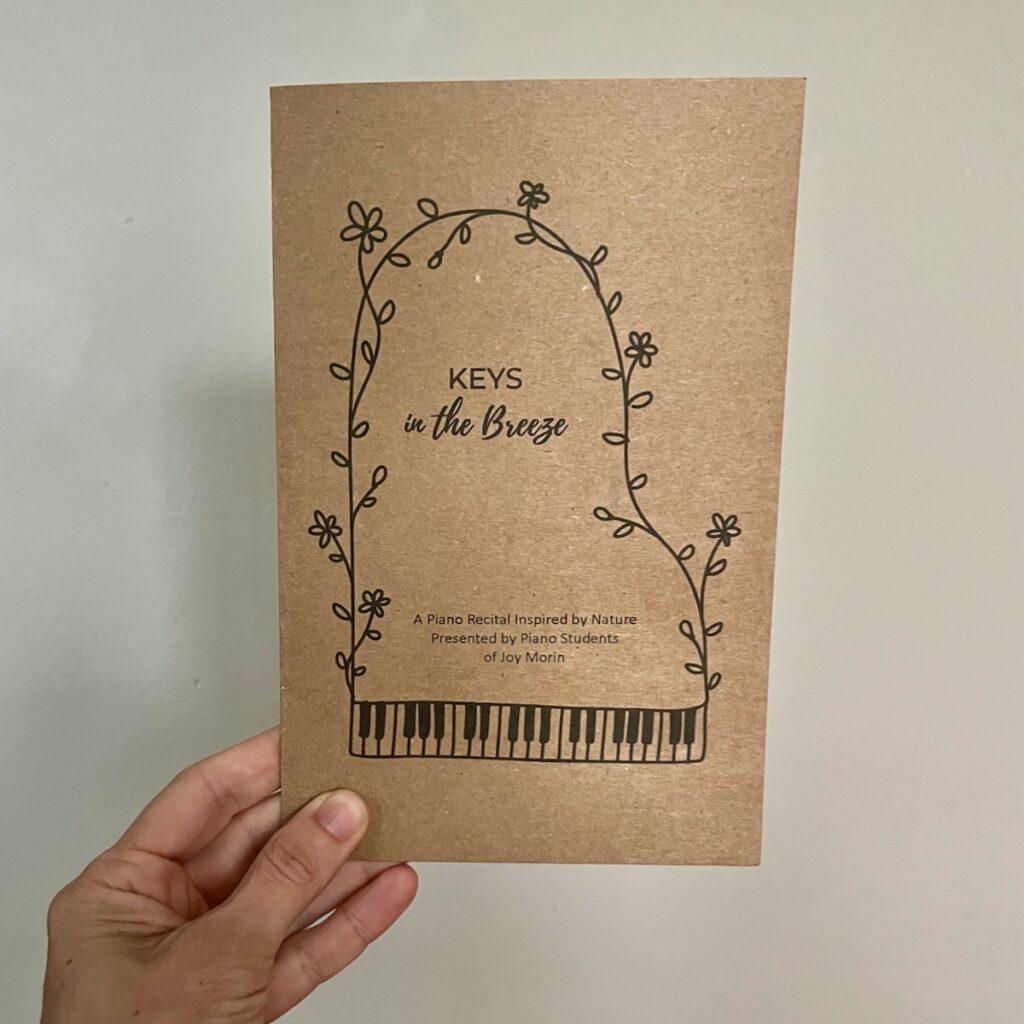 I designed just one program with information for both recitals, printed on Kraft paper. I drew the artwork pictured above/below with my iPad and Apple Pencil, and then designed the rest of the program in Microsoft Word. [Stay tuned — I plan to share a free downloadable template for this recital program booklet soon!] [Update: Here's the link to where you can download this recital program template!]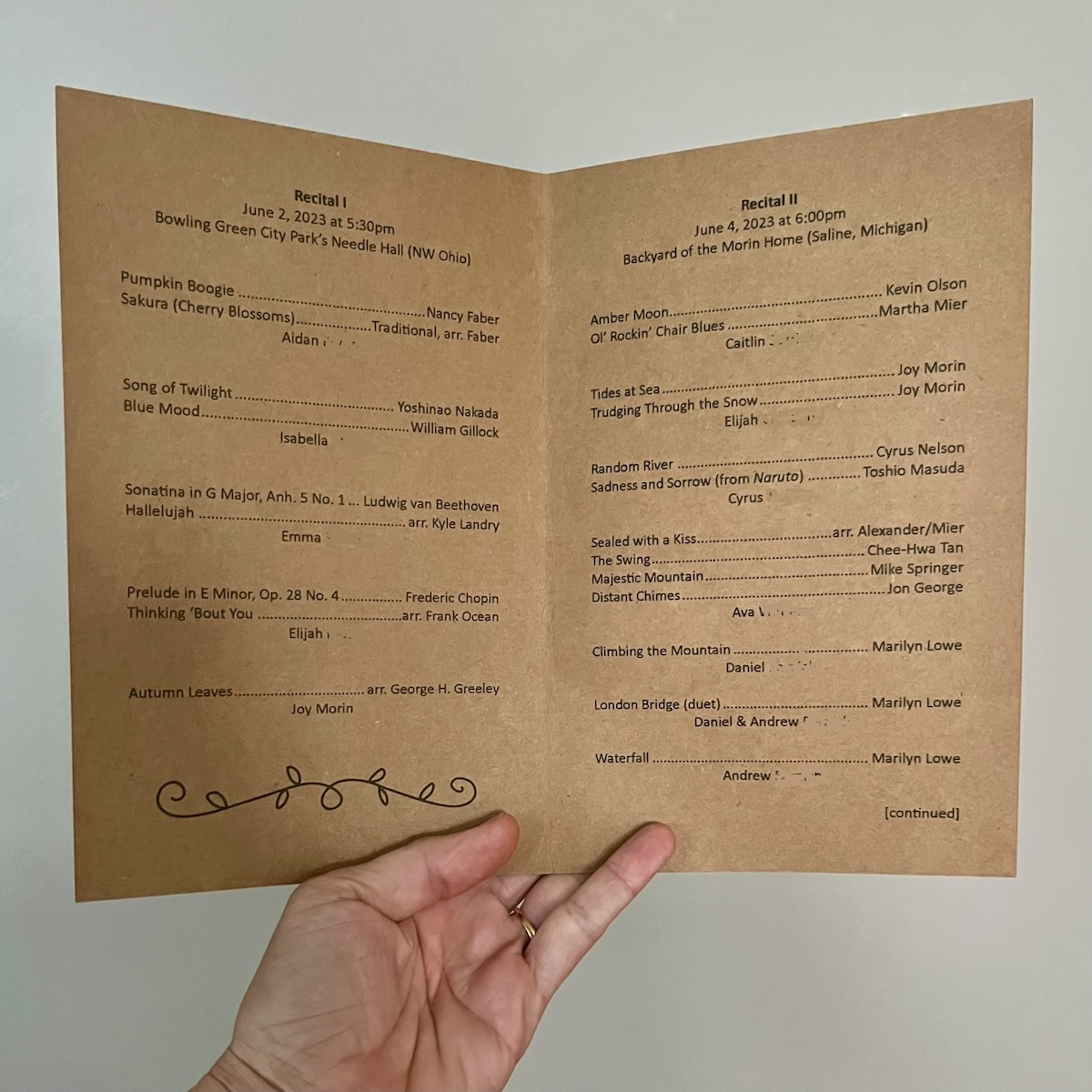 Note: This article contains Amazon affiliate links. Thanks for supporting my work!
Below are a few photo highlights from each recital.
Recital #1 in the Park
For my park recital in Ohio, I rented a hall with an attached outdoor stage. I chose this venue because in the event of rain, we could move inside the hall. Fortunately, the sky was clear. And despite the heat, we were able to stay comfortable thanks to the shade from the large trees.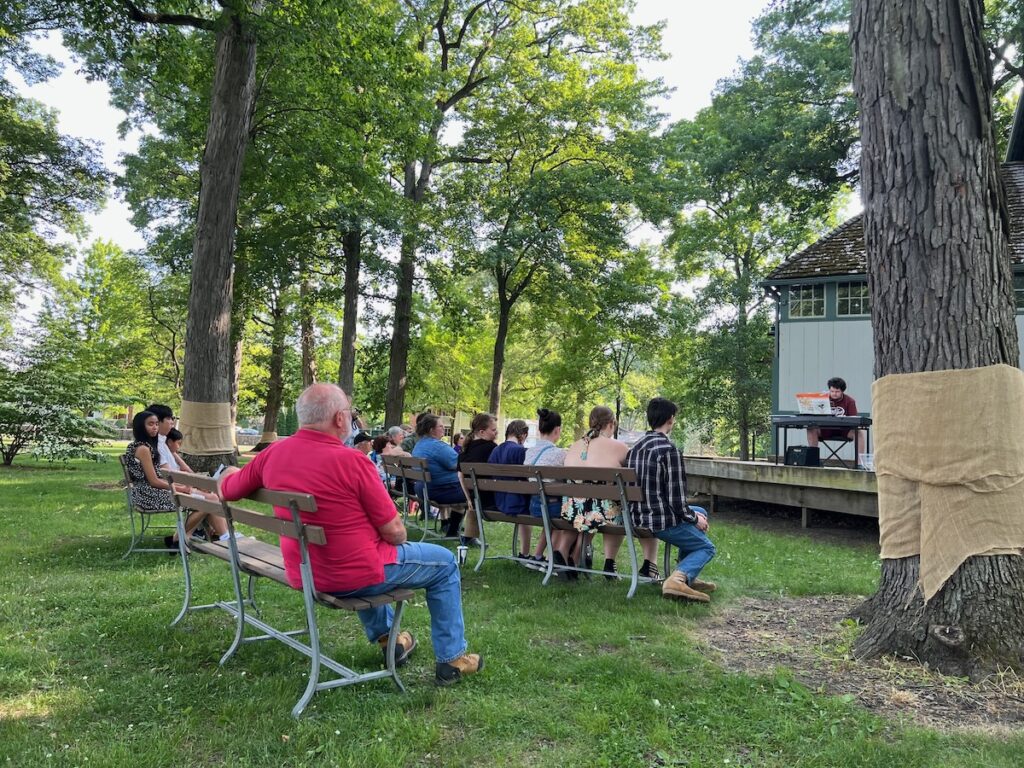 I set up my digital piano on the stage and borrowed an amp from a friend. I used a microphone to announce each student and their piece.
In case you are interested in the tech specs, the microphone I have is the Audio-Technica ATR2100x-USB. What I like about this mic is the fact that it can output both to USB (for use with your computer) or XLR (to go straight into an amp or sound system). Very versatile for different sorts of projects!
My digital piano is a Kawai ES920 — a high-end portable model with top-notch sound samples and a decent action (as far as digitals go). When my previous portable digital — a super-heavy Korg from the 80s — started petering out, I did quite a bit of online research and selected this model. Then, I waited and kept watching Facebook Marketplace until someone listed a used one for sale at a great price.
My keyboard stand is a bit unique, so maybe it's worth a mention. It's designed for holding keyboards or heavy equipment such as sound mixers. I prefer this style over X-style keyboard stands, because the straight legs look minimalist and you won't find yourself knocking your knees or shins against any crossbars. The legs swing out to any angle, and the whole thing folds up into a compact "T" shape. I've had this stand for years, and still love it.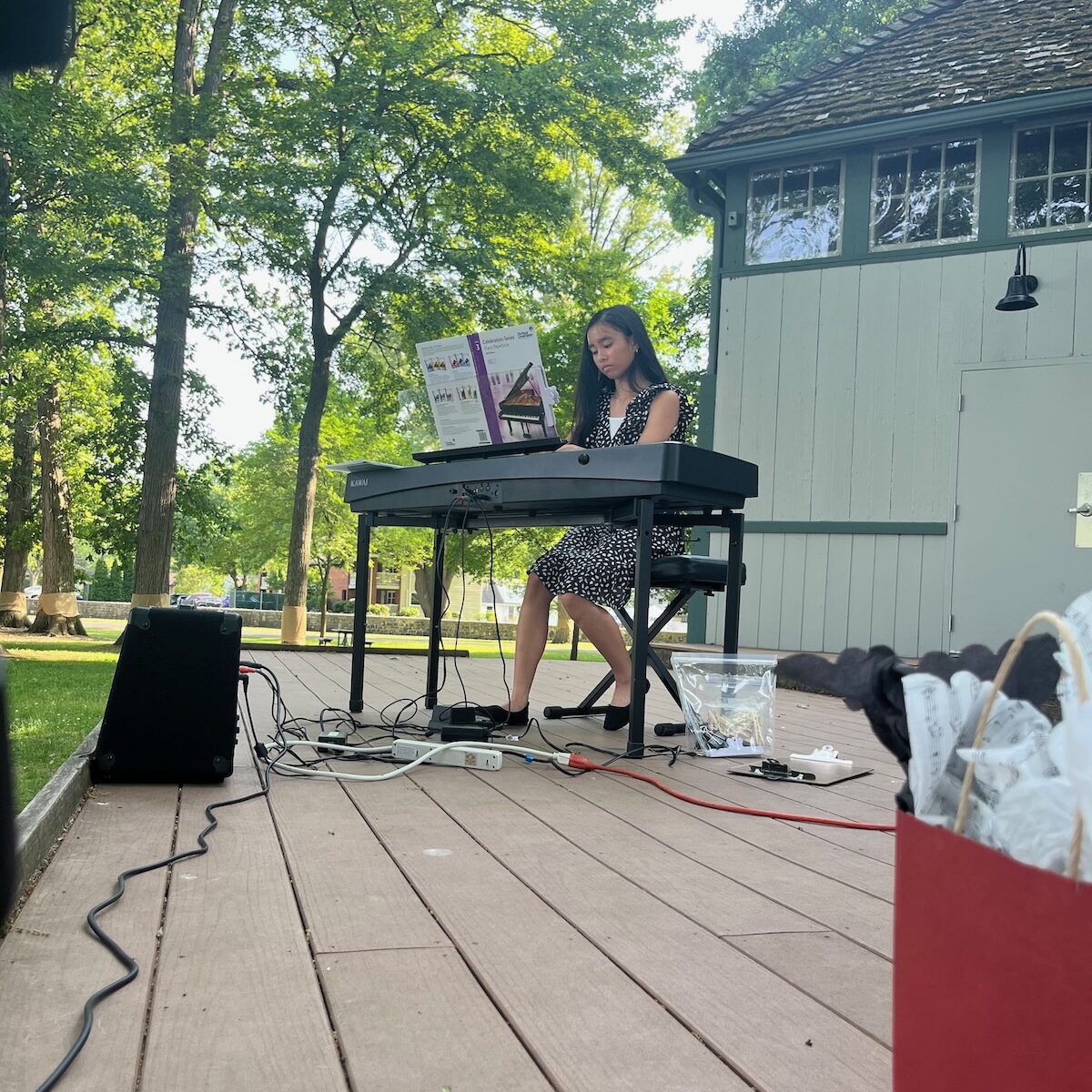 Each student played two pieces, and then I closed out with an arrangement of "Autumn Leaves."
Inspired by my pals Christina Whitlock and Amy Chaplin, I instituted a new Legacy Award in my studio this year. When a students reaches eight years of lessons with me, their name is added to the new plaque pictured below, which hangs on my wall. I have four students on the plaque so far! My husband and I have relocated a number of times, which means I've had to restart my studio each time…so it's super exciting to me to have some students who have been with me for this long.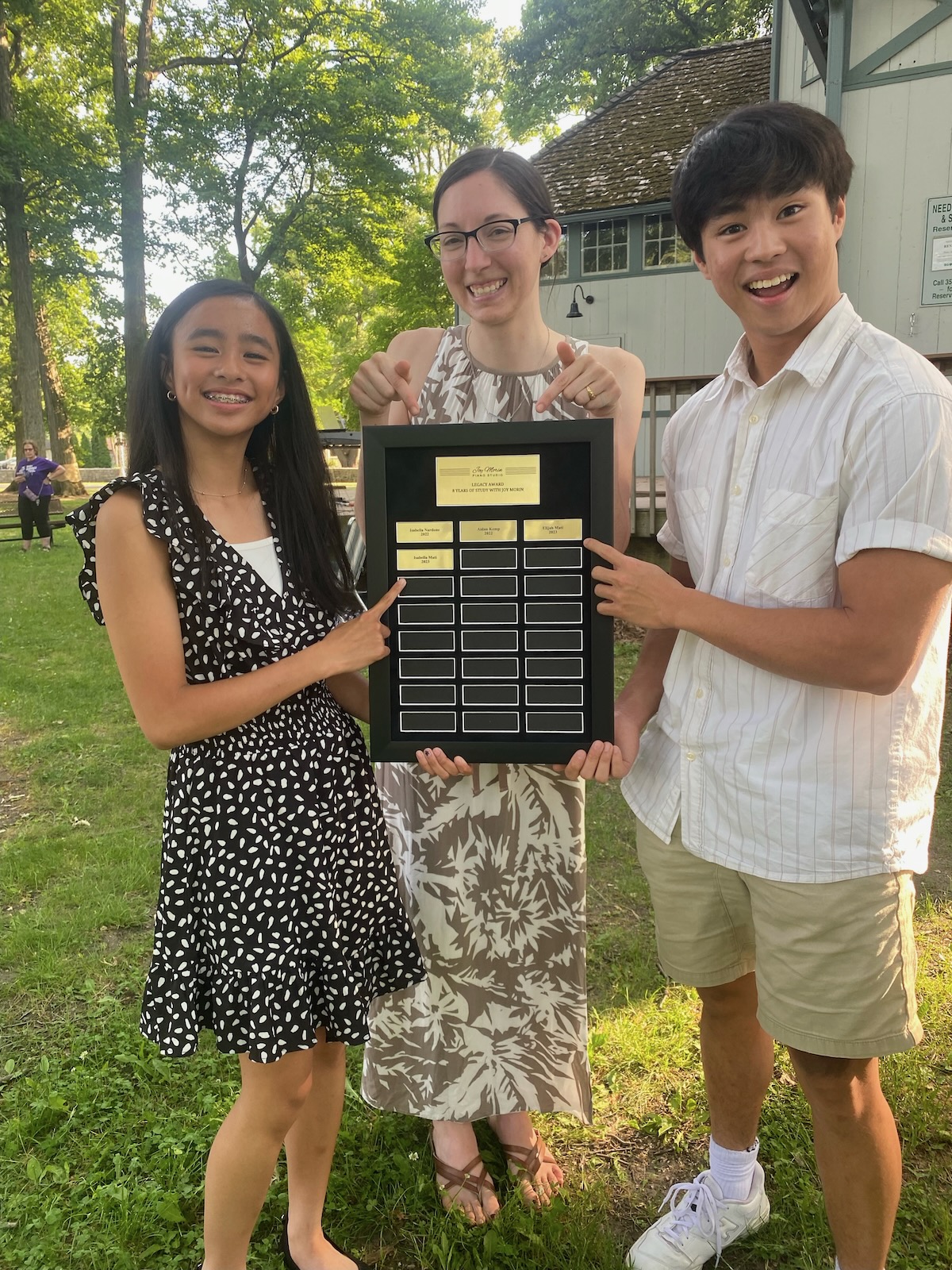 Read more about the Legacy Award on Amy's blog HERE, where you'll find an entire guest post by Christina Whitlock full of ideas for building community and teamwork in your studio.
I don't always do this, but this year I also put together a simple goodie bag for each student containing stickers, flower seed packet, music pencil, and bubbles. It was fun to surprise my students with this.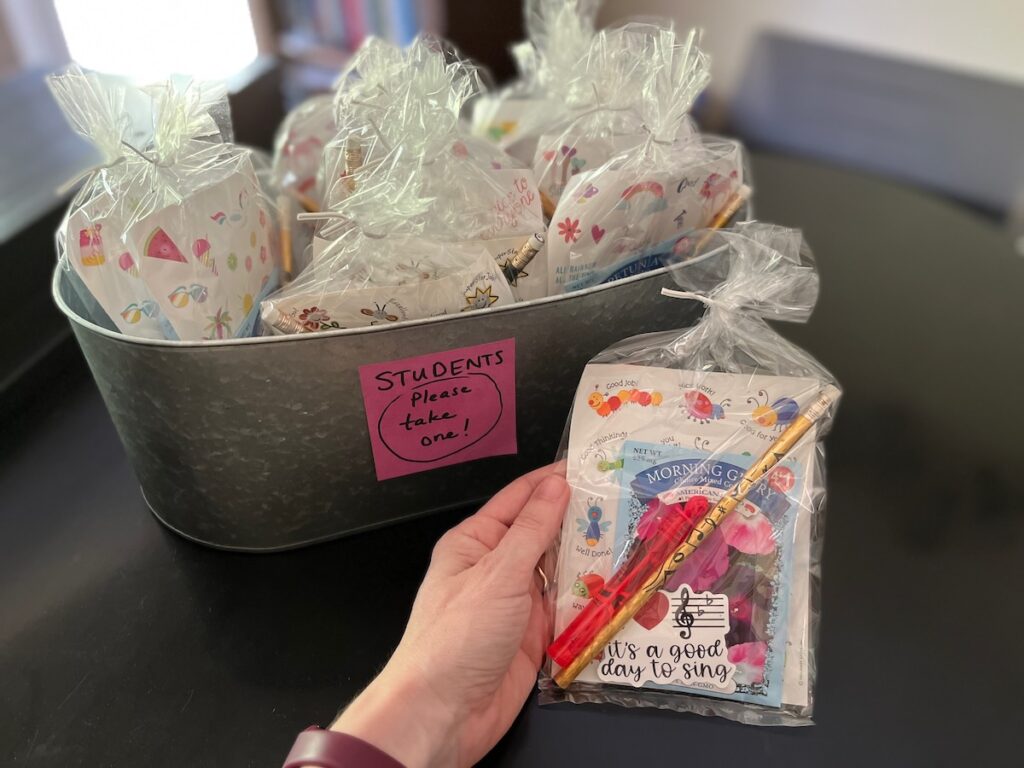 After the recital we enjoyed a reception with some goodies. It was nice catching up with my students and their families in-person.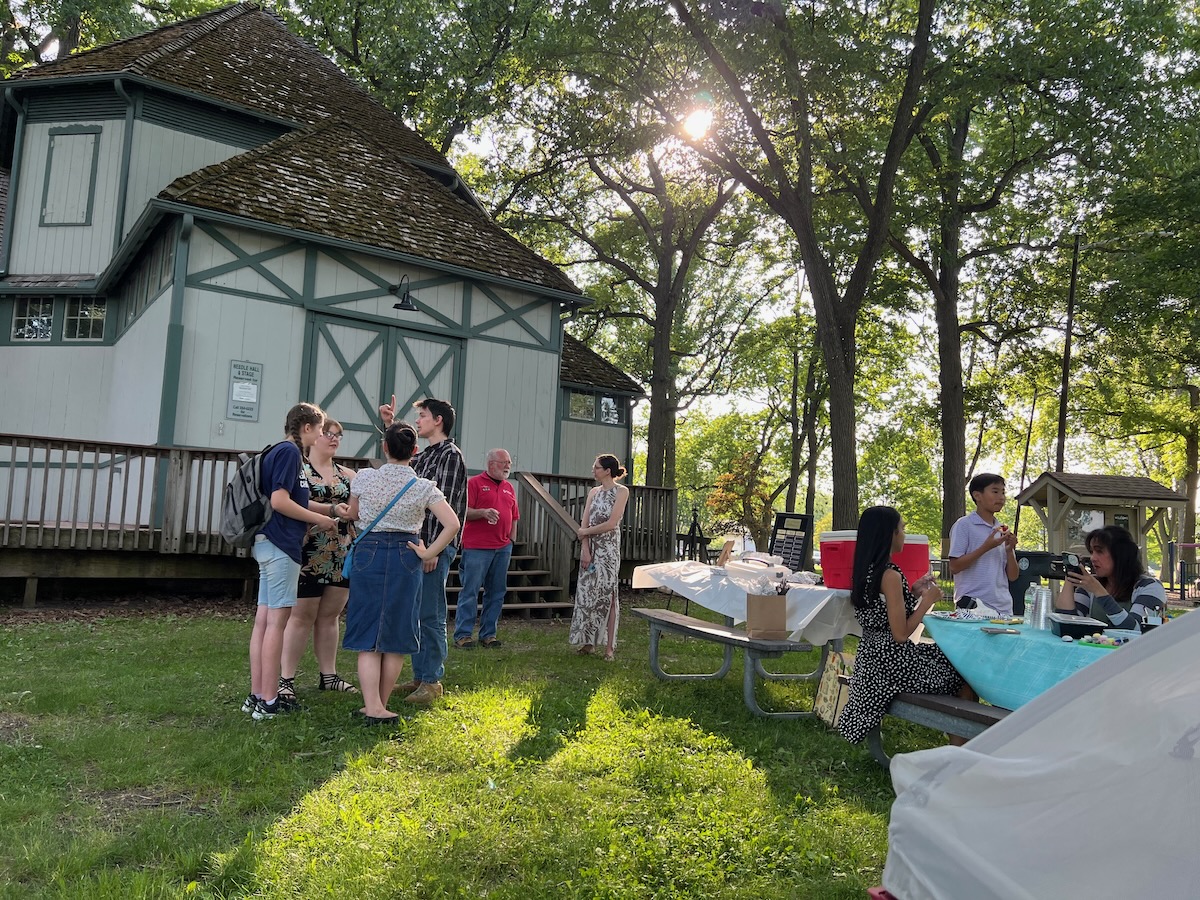 A few students volunteered to bring goodies for the reception, and I also brought a couple of easy nature-themed food items inspired by Pinterest. The pretzels are meant to be "twigs" and the Babybel cheese wheels are drawn on with paint pen to look like ladybugs. 🙂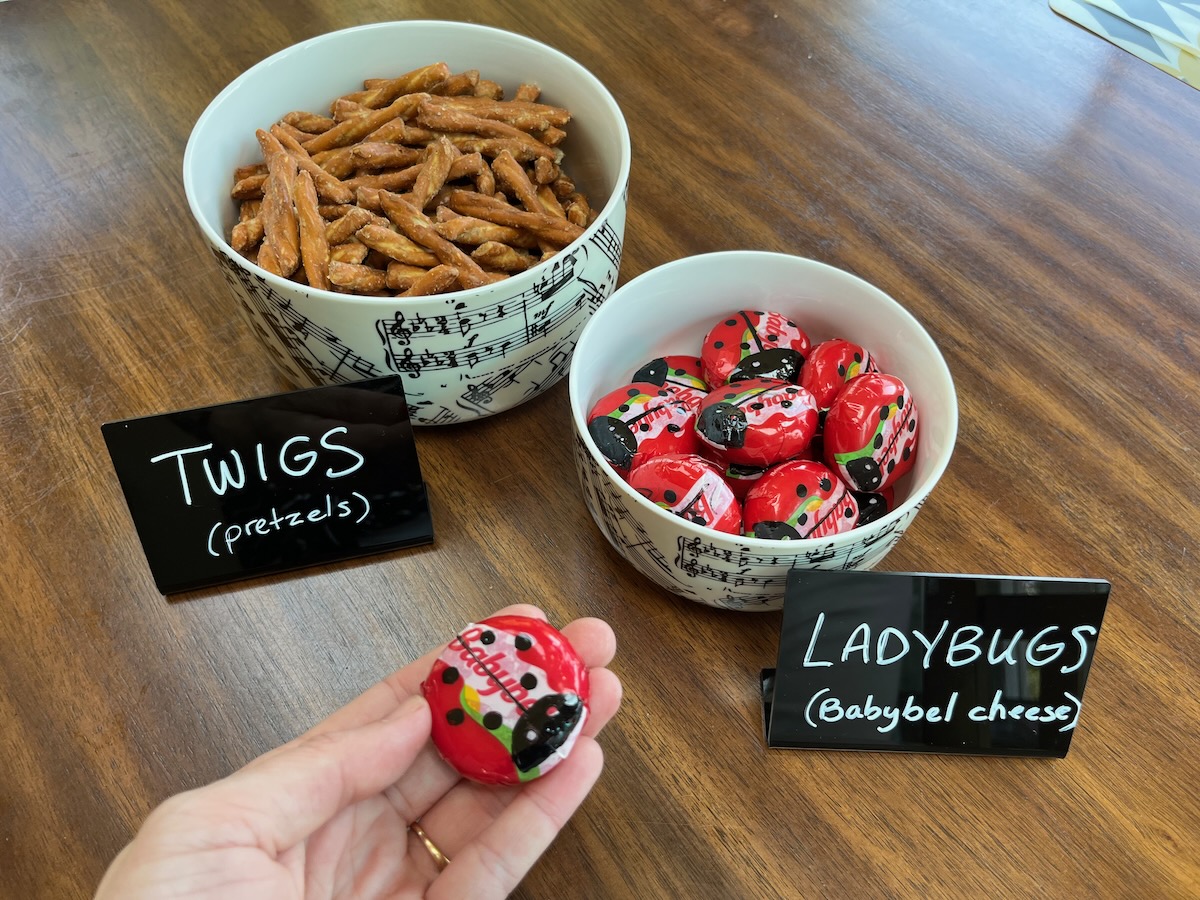 The little signs pictured above, by the way, are made of black acrylic and written on with liquid chalk pens. I ordered these from Amazon for times such as this (my husband loves to cook, and we love to host people at our home). They wash off easily with water, and are so handy to have around!
Recital #2 in My Backyard
A couple of days later, I hosted my Michigan students in my backyard for recital #2. Our back patio functioned well as a "stage." Families were asked to bring their own lawn chairs and blankets.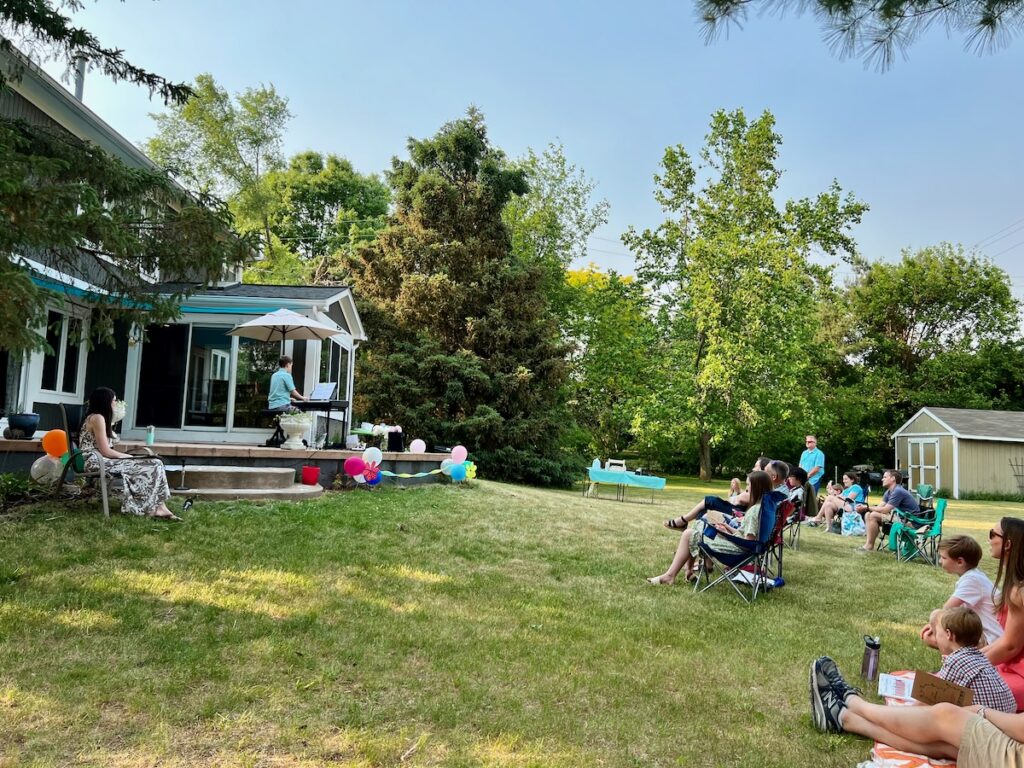 Again, students played at least two pieces — with at least one of them being related to our "nature" theme.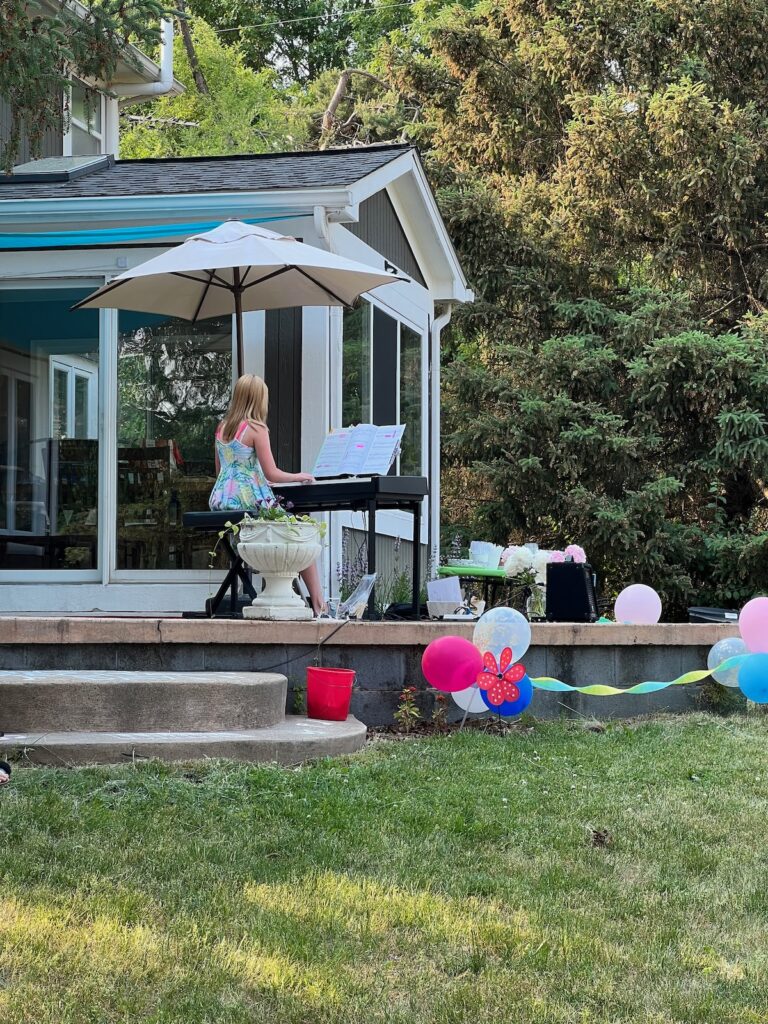 A local piano teacher friend helped me do some decorating with balloons. I wish I had better pictures of what we did, but I can tell you it looked great. And my daughter Aria loved helping. 🙂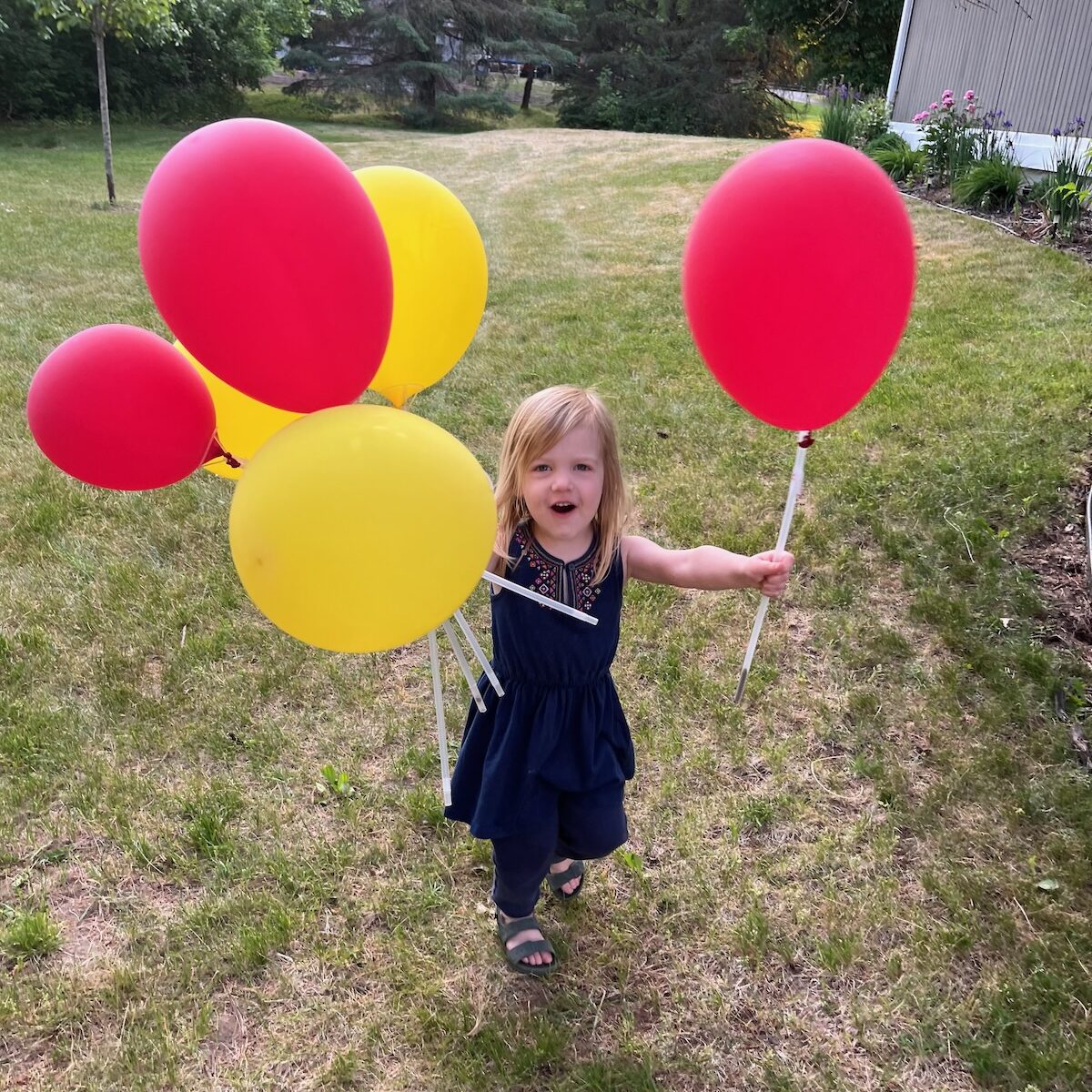 As students walked up the stairs to the patio, they were greeted by the chalk message "Happy Recital Day!" as pictured below.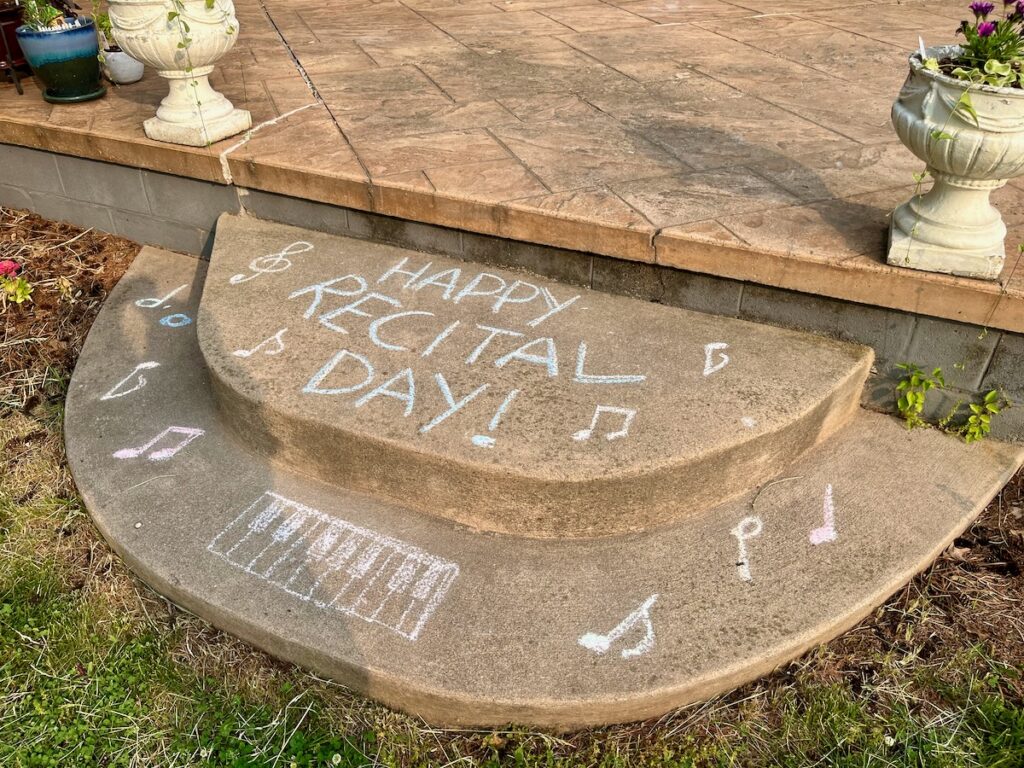 Everyone played well. I was pleased!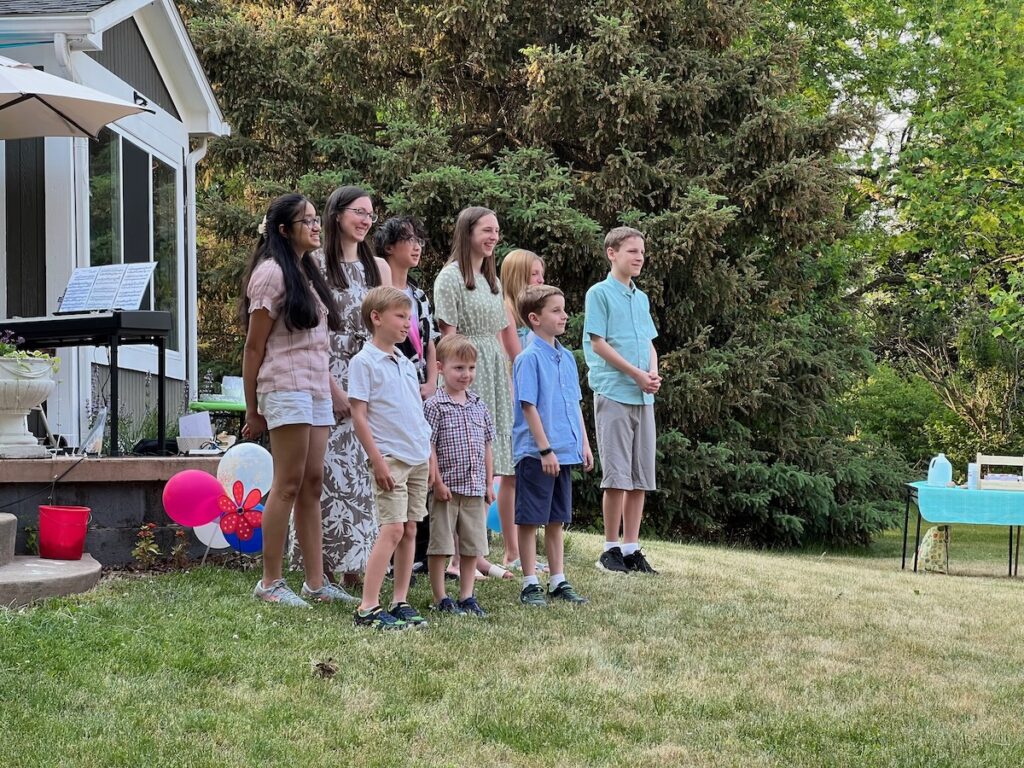 We enjoyed a reception afterwards. I made a batch of my usual recital punch (my super easy recipe: just lemon-lime pop with lime frozen sherbet), while 3-4 volunteer families brought things like cookies or cupcakes.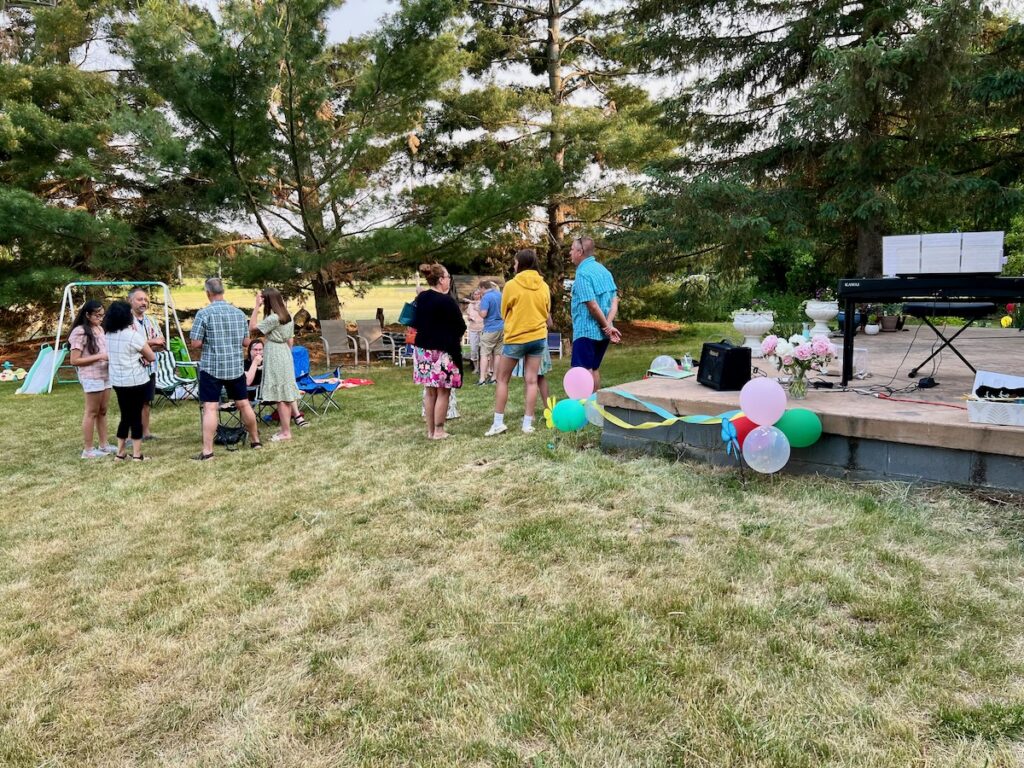 Families seemed to really enjoy the outdoor venue. I received great feedback, with one family even suggesting we make this an annual event. I just might do that! I still also want to provide a formal recital opportunity at some point in the year, but I do like the thought of continuing these informal mini-recitals, too.
Thanks for tuning in to read about my June recitals!
---
Your turn: Did you hold a year-end studio recital with your students? How did it go? Would love to hear all about yours in the comment section below!
PS: My 2023 summer Piano Teacher Retreat is coming up soon! The August 10-12 dates are full, but I have a few openings left for my August 3-5 retreat. Interested? Visit pianoteacherretreat.com to learn more. I'm so excited for our theme this year: Exploring Note + Rote in Piano Teaching!