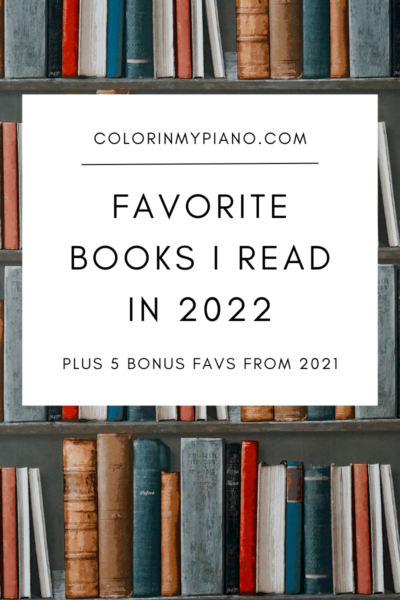 Happy 2023! The new year is here, which is often a time we use to think back over the past year and reflect upon the upcoming year.
While here on the blog I've often shared reviews of books on an individual basis, I thought I'd try a year-end post sharing a variety of favorite books from the past year.
In 2022, I made an effort to expand beyond my usual type of reading and try some books outside of what I'd normally choose. For me, this meant more memoirs and even a science fiction novel. I'm glad I explored, because I found some books I really, really enjoyed.
Something else different for me this year was reading almost exclusively in an e-book format. While in the past, I've been really into audiobooks and, of course, hardcopy books, this year I found the convenience of being able to read on my device using night-friendly settings to be a lifesaver. Being able to read without turning on the lights is nice when you are up late at night dealing with insomnia thanks to pregnancy or a newborn!
I purchased some of these books from Amazon as Kindle e-books. For others, I was able to take advantage of my local library's apps for e-reading — Libby and Hoopla. I highly recommend checking out what your local library has to offer. Or, you can find these books at your favorite local bookstore or online shop.
Without further ado, here's my list of favorite books from 2022…plus a few bonus favorites from 2021.
Note: This post contains Amazon affiliate links that help support my work here on the blog. I appreciate your support!
---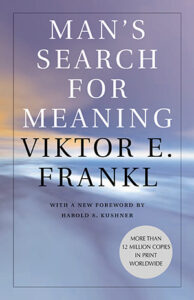 Man's Search for Meaning, by Viktor E. Frankl
I've seen this book recommended by various sources in recent years and decided it was finally time to read it. In the first part of the book, psychotherapist Victor E. Frankl tells the story of his five-year imprisonment in Auschwitz and other concentration camps during WWII. The second part of the book, titled "Logotherapy in a Nutshell," describes the psychotherapeutic method Frankl created based on his belief that man's deepest desire is to find meaning and purpose. This book is said to be one of most influential works of psychiatric literature since Freud. It's a short book, and not overly academic.
I found this to be a fascinating read. Frankl's book offers a useful philosophy we can use to help keep a healthy perspective and cope with struggles both small and large in our own lives. And even though it is not easy to hear the details of the horrible experiences of those who were imprisoned in concentration camps, I also think it's important for us to know this history so we can learn from the past and avoid such atrocities in the future.
---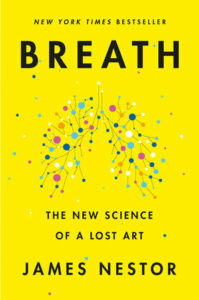 Breath, by James Nestor
In this book, the author describes his journey uncovering what past and current research says about breath. The story-telling manner of the writing made the topic fascinating! Breath is universal — important to us all — and also connected to our work as pianists and expressive musicians. The topic appealed to me as a past student of the Alexander Technique. I think athletes and anyone generally interested in health and well-being would probably enjoy this book and gain some useful takeaways. (For example: Did you know the harms of mouth-breathing? Time to train yourself to stick to nasal breathing, even when feeling out-of-breath!)
---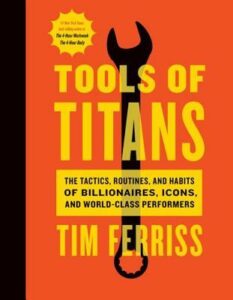 Tools of Titans, by Tim Ferriss
Tim Ferriss's book "The 4-Hour Work Week" is considered classic reading among entrepreneurs today. This book, Tools of Titans, is a compilation of written highlights, quotes, tips, and recommended books from some of the top performers Ferriss has interviewed on his popular podcast, The Tim Ferriss Show. I appreciated the book's bite-sized sections as late-night reading while up with my newborn baby after she was born at the end of August. I was inspired by many of the quotes and stories, and I gained many ideas for books I want to read in the future.
---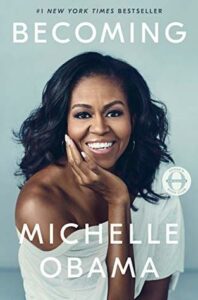 Becoming, by Michelle Obama
I saw this book pop up as a suggestion in my library app and thought it would be interesting. I enjoyed learning more about Michelle Obama's background and what it was like before and after becoming the First Lady, raising a family in the White House. Overall, it was a good book and one I enjoyed while traveling on vacation with my husband in early 2022.
---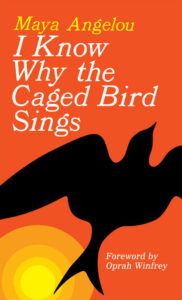 I Know Why the Caged Bird Sings, by Maya Angelou
When I asked my sister which books she had been reading lately, she mentioned this book. One of Maya Angelou's many memoirs, this book tells of her early life as a young girl growing up in the South. Angelou's storytelling and writing style is wonderful. There are parts of her story that aren't easy to read about, but I think learning about life experiences different from our own keeps us empathetic and human.
---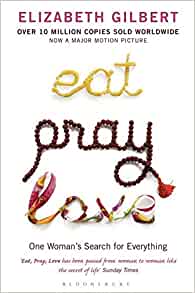 Eat, Pray, Love, by Elizabeth Gilbert
I remember hearing about this popular book after it first came out in 2007, but this was my first time reading it. Writer Elizabeth Gilbert tells of her experience after a difficult divorce, trying to find her bearings through spending a year abroad visiting three destinations (Italy, India, and Bali) while writing this book. Part-memoir and part-travelogue, this book tells of Gilbert's experiences and lessons learned in each culture and place.
---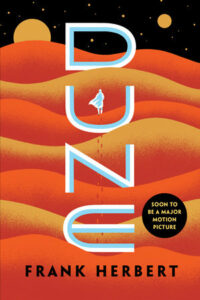 Dune, by Frank Herbert
After seeing the new Dune movie with my husband when it came out in September 2021, I thought I'd read the book it was based on. This classic book, first published in 1965, is considered to be the best-selling science fiction novel in the world. Although science fiction isn't normally my genre of choice, it was a welcome change-of-pace and I did really enjoy the story. It's a long read, but riveting enough that I finished it in only a few days!
---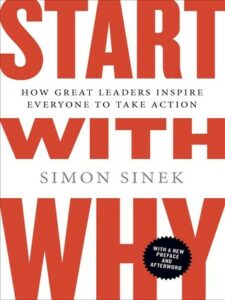 Start With Why, by Simon Sinek
This book was a re-read for me. I first read it a handful of years ago after having seen the author's TED talk (which is among the most-viewed TED talks of all time, by the way). Sinek offers a simple framework for leaders to inspire action, which certainly can apply to us as piano teachers and business owners. In a nutshell, the message of the book is: "People don't buy WHAT you do; they buy WHY you do it," therefore we ought to be sure to start with WHY instead of WHAT. It's a fairly quick read, and a good one!
---
Bonus: A Few Favorite Books from 2021
Since this is the first time I've written an article like this, I thought I'd add a few favorites from two years ago, too. Here's a few favorite reads from 2021.
---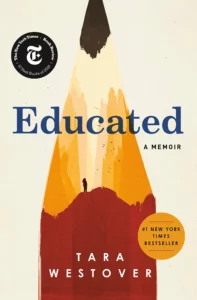 Educated: A Memoir, by Tara Westover
In Educated, the author recounts her experience being raised by survivalist Mormon parents in Idaho. Her story involves an unusual upbringing, a certain amount of family dysfunction, and some pretty traumatic experiences. Despite not being in a classroom until age 17, she overcame various obstacles to attend college and eventually graduated with a PhD in history. It's really well-written and a pretty gripping story. I could hardly put the book down, and couldn't stop thinking about it after I finished it.
---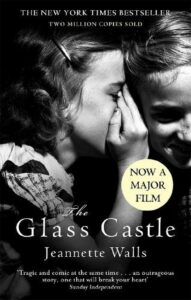 The Glass Castle: A Memoir, by Jeannette Walls
After reading Educated, a contact of mine recommended this book. Author Jeannette Walls tells her story born to deepful dysfunctional yet vibrant parents. In many ways, her siblings and she raised themselves, eventually finding their way to New York as adults to establish better lives for themselves. I found the book interesting, sad, and thought-provoking all at the same time.
---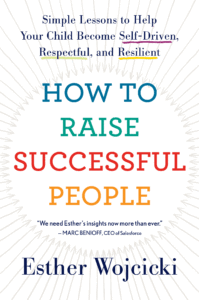 How to Raise Successful People, by Esther Wojcicki
Written by a high school teacher and parent of three daughters with highly successful careers, this book shares the author's secret to raising happy, healthy, successful kids: Trust, Respect, Independence, Collaboration, and Kindness (T.R.I.C.K.). Wojcicki's methods, in many ways the opposite of helicopter parenting, encourage parents to relax and help kids figure things out themselves in a way to help them reach their highest potential. A great read for any parent or teacher.
---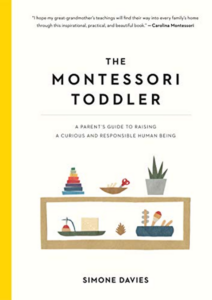 The Montessori Toddler, by Simone Davies
I've done a small amount of reading into the Montessori philosophy and love everything I've learned. This book is probably the best easy introduction and practical guide to incorporating Montessori philosophy into the parenting of toddlers. I love the clear, friendly language and the illustrations and tables throughout to support the information. Davies has a website and podcast called The Montessori Notebook, for anyone interested in following her further. Thanks to this book and other resources, I was able to incorporate certain practical life activities into home life with my first daughter (now almost age 3). Note: As with any parenting book, you will certainly find things that conflict with other parenting philosophies so one must always read with a grain of salt. Pick and choose what works for you!
---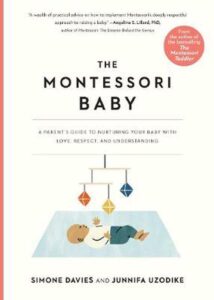 The Montessori Baby, by Simone Davies and Junnifa Uzodike
I pre-ordered this book when it was first announced, since I was expecting baby #2 and I enjoyed the book above so much. It was every bit as good as the toddler book…or maybe even better. I devoured this book within a few days.
---
It was a great year of reading, and I'm looking forward to more books in 2023. I hope you found a few recommendations you'd like to check out!
Your turn: What favorite books have you read recently? I'd love to hear your recommendations!