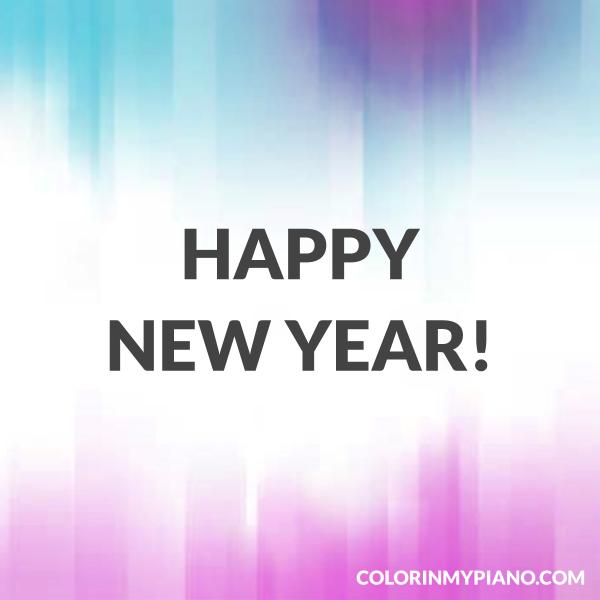 2021 is here! Happy New Year!!
Over the past few weeks, my students and I have been working on a "Countdown to the New Year" video project. I don't normally organize a Christmas recital, but some of my students were asking if we were going to do something this year. And so, I came up with a project for us.
Inspired by an Instagram post by Amber Kao, director of the Faber Piano Institute, I decided we would do a virtual recital (YouTube videos) that was spread out day-by-day leading up to the new year. Because we started somewhat last-minute, we chose pieces that were well within reach for students to videorecord in only 3-4 weeks. We kept it simple!
Normally, I loan out Christmas books to my students this time of year, but that wasn't feasible due to my lessons being online right now due to the Covid-19 pandemic and many of my students being located an hour away. I did send new books to some of my more advanced students, but the majority of my students received studio licensed PDFs to print out — thanks to Carol Matz's awesome PDF bundle of studio licensed Christmas arrangements. Just what I needed this year! The bundle even comes with backing tracks for students to play along with. This was an absolute LIFESAVER!
I edited each student video in a fashion similar to our past two virtual recitals: I trimmed the beginning and end, and added an applause track at the end.
But this time, I also added an opening and an ending screen. The opening screen states: "Merry Christmas" or "Happy Holidays" from [student name]. The ending screen states our "Countdown to the New Year project" and has our studio logo. I encouraged students to share their "virtual Christmas card" with friends and family.
Here is an example of one of my student's videos, in case you'd like to see how it turned out. I love how Sonya decorated her piano with string lights!
If there is enough interest, perhaps I'll create a video tutorial sharing how I created the opening and ending screens, and how to do the video editing in Adobe Premiere Rush. Does that sound interesting? If so, please let me know in the comments!
Update: Here is the video tutorial about editing your student videos!
Stay tuned — tomorrow I'll share the special collaboration video my students and I created as the "grand finale" for our project! Update: Here's our collaborative 12 Days of Christmas video!