Do you have a chalkboard or whiteboard in your piano studio space?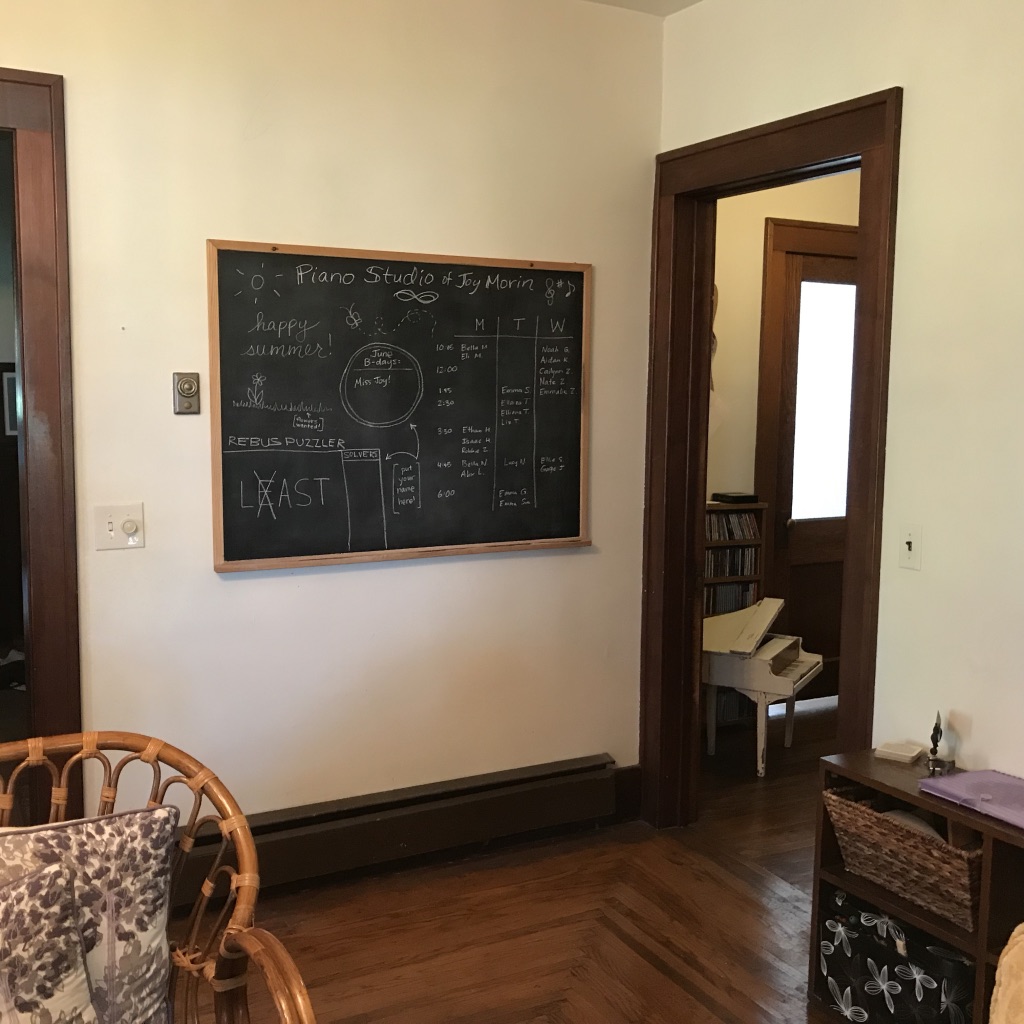 I found this chalkboard at a thrift store a couple of years ago for something like $12. I've been experimenting with different things to put on it for my students, and thought I'd share a few ideas today!
1. Studio Name
I always put the studio name somewhere near the top. I'm no professional artist, but I like to experiment with different styles of lettering.
2. Upcoming Dates
Remind your students of upcoming dates and deadlines. This can help parents and students stay in touch with what's going on!
3. Student Birthdays
To make this super easy on yourself, invite your students to write their own name on the board when their birthday is that month!
4. Student Highlights
Your chalkboard or whiteboard is the perfect place to congratulate students for both musical and non-musical accomplishments, or highlight a "Student of the Month".
Or, you could share the latest results from a studio wide challenge — such as a Note Rush App Studio Challenge or a Music Key Challenge!
5. Music Quotes
There are SO many great music quotes your students will enjoy, and they're easily accessible thanks to the internet. Check out my Wednesday "Words of Wisdom" series of posts to get started!
6. Jokes
Put up a music joke! Your students will love it. Print off my printable of kid-friendly music jokes, and put up a new one every week or two.
7. Riddles or Puzzlers
When I was in 8th grade, my math teacher used to draw a Rebus puzzle on her whiteboard every day. We students always rushed to get to her classroom so they could try to solve the puzzle. Whoever came up with the solution first for that class period got to write their name on the whiteboard. What a brilliant way to get students to be eager to come to your classroom, and to get to class on time before the bell rings!
Inspired by this idea, I decided to start putting up a new Rebus Puzzle on my studio chalkboard every two weeks or so. This gives my piano students at least two chances to solve the puzzle when they come for their lessons, so they can use the piano or a digital keyboards and Digital piano headphones so they can work next to each other . I'm pretty generous with giving hints, especially for my younger students. I let any student who solves the puzzle add their name to the board, which they love. 🙂
Is it your first time hearing of a "Rebus puzzle"? It's a visual kind of puzzle that loosely represents a common phrase or saying. Here's an example of a website where you can find Rebus puzzles: http://www.fun-with-words.com/rebus_puzzles_01.html
(Did you figure out the solution to the Rebus puzzle pictured above?) 🙂
8. Invitation to Draw
Start a drawing on your board, and invite your students to add on! Here, I invited students to draw flowers to the scene.
Other ideas: butterflies, stars and planets, music symbols, farm animals.
9. Take A Poll
Ever faced with a decision impacting your students, and wish you could find out what all your students think? Take a poll! Find out their preferences regarding things like which day of the week to hold your next studio event, what kind of treats to have at the recital reception, etc.
Or, just for fun, get to know your students by asking for their favorite colors, animals, foods, etc.. Students will love this!
---
Having a studio chalkboard or whiteboard in your studio can be a fun way to build community among your students! I hope you enjoyed reading these ideas.
Your turn: What ideas do YOU have for a studio whiteboard/chalkboard? I'd love to hear! Post a comment below.
---
Looking for more ideas to building a sense of community and comraderie among your piano students? Check out my "Notes To Self" Wall Art kit! This PDF contains everything you need to print out inspiring quotes onto sticky notes. Your students will love browsing these and choosing one to take home every time they visit your studio. <3