This week, I held the second of two summer music camps for my students. I always hold a music history camp each year, and we call it "Music History Blast From The Past."
Here is the description for the camp:
Music History Blast From The Past
July 11-14, M-Th from 10am-noon
Back by popular demand! This camp gives students a glimpse into the lives of four great classical composers. As we study each composer's childhood and career, students will learn about the music, fashion, art, and architecture of the time. Every year, students are fascinated to find that they can relate to the life stories of composers who lived hundreds of years ago. In the long run, having this broader context of music history enriches later years of piano study, especially when playing classical piano literature. Each day, students will take home a crafted scrapbook page about that day's composer. For students ages 5-14. Previous musical background preferable, but not necessary.
Seven of my students registered for this camp this year, plus I had a high school student volunteer as my helper.
For this camp, I always use my Great Composers and Their Music lapbooking curriculum. Each day of camp, we study a music style period (Baroque, Classical, Romantic, and Modern) as well as a particular composer from that time period. This year, we learned about Bach, Beethoven, Chopin, and Prokofiev.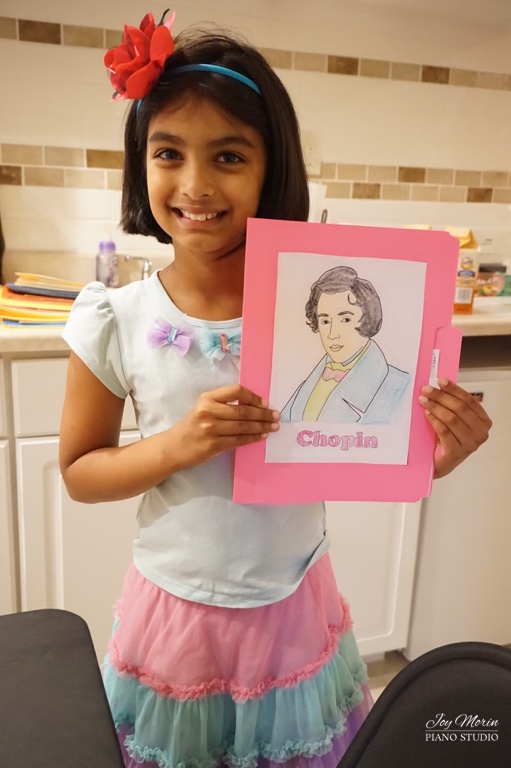 As I informed my students on the first day of our camp, the goal of the week is to be able to listen to an unfamiliar piece of classical music and identify the style period (or, at least, take a good guess). This is the same goal that my college professor had for us during the first semester of music history class. Younger students can do it too!
Here, my students are cutting and assembling their lapbook about Bach. Meanwhile, they are listening as I tell the story of Bach's life and music.
We also discussed the general characteristics of the music from each style period. I used material from my Eras of Music History Kit for this. 
Each day, we had a listening quiz game where we listen to pieces from a YouTube playlist with the goal of identifying the style period we hear. My students got pretty good at this by the end of the week. 
We had a great week!
To read more about the general lesson plan I use for this camp, click here.