Last week, I wrote a blog post here describing how I help my students compose their own pieces.  Today, I am officially announcing the release of a new e-book resource called: Composition & Improvisation Prompts for Piano!
One of the first challenges of starting a composition is getting inspired.  Simply telling a student to compose a piece is too broad of an assignment that often causes the student to become overwhelmed.
The other challenge to helping students with composition is helping them learn how to make music that sounds like the topic they have chosen.
"Prompts for Piano" is designed to provide solutions for those two challenges.  Each prompt provides a topic idea accompanied by a brief written description and an image, intended to help inspire the student and generate enthusiasm for the project.
The "goals" listed on the prompt are intended to help the student successfully create a piece that will sound like the topic they have chosen.  For example, for a piece about rain, students might be encouraged to use staccato sounds.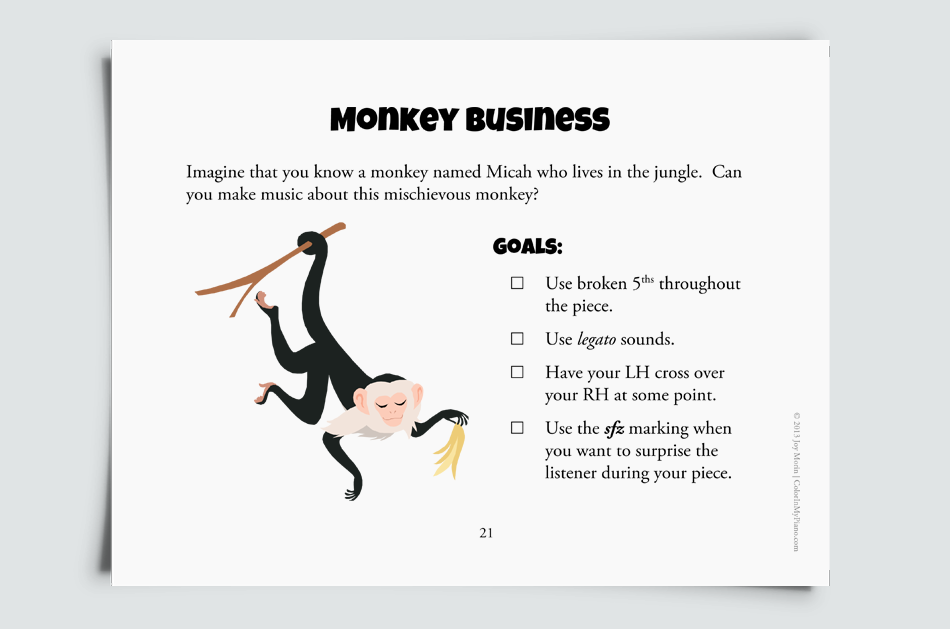 I find that most of my students enjoy following the goals exactly, while others choose to reject some of the goals as they work on their composition in favor of other options.  In my mind, both results are a success — the prompt has served its purpose either way!
The purchase of the "Prompts for Piano" e-book includes a license allowing the purchaser to print from the PDF as much as desired, forever — as long as the printouts are being used with your own students.
I allow my students to browse through the prompts and choose the topic they are interested in.  I uploaded the PDF e-book to the GoodNotes app on my iPad so that I can print directly from there.  For a student who turns out to LOVE composition, you can print out the entire pdf and staple it as a booklet.
Please feel free to download a FREE sample from "Prompts for Piano" called "Monkey Business."  This free PDF is available on the Printables > Other Resources page (scroll down to the C's for "Composition & Improvisation Prompt – Free Sample").
Composition/Improv Prompt - Free Sample (102.8 KiB, 16,854 hits)
The "Prompts for Piano" e-book is available here in the Shop as an immediate download for $16.  However, you may want to take advantage of this special introductory discount!  During checkout, enter the Promo Code "2OFFprompts" to receive $2 off your purchase of "Prompts for Piano."  This promo code expires at Midnight EST on Sunday, October 27, 2013.