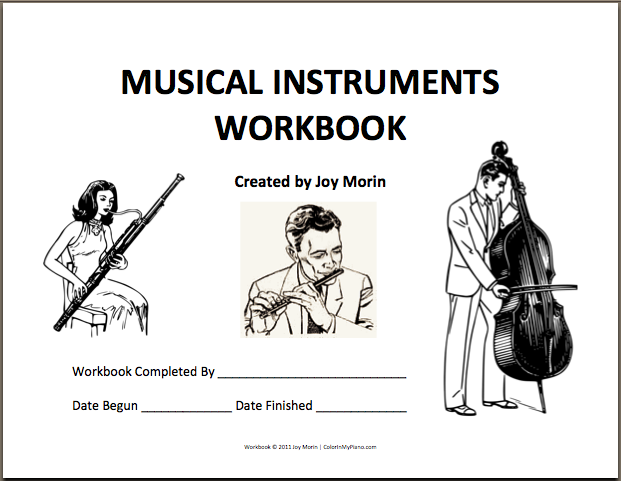 With my Piano Readiness Class, we've been learning about the instruments and the instrument families.  To do this, I decided to create a workbook for my students to be able to take notes about the instruments and color a picture of each one.
Description: This 29-page workbook contains coloring pages and blank lines for taking notes when learning about the musical instruments and the instrument families. It is ideal for a regularly-meeting group setting, where the teacher can introduce an instrument or two each week. 
My students are pretty young, so we don't take many notes.  We just jot down a few things to remember, like the material the instrument is made of, how many strings it has, whether it makes a high or a low sounds, etc.  They love coloring the pictures, though, while we listen to musical examples of each instrument!
Some students color the pictures accurately to the way the instrument actually looks, while others like being creative and using a variety of colors.  I don't really mind how they color the instruments, as long as they can recognize and identify the instrument when they see it!
The pictures used in this workbook were found online at sites containing clip art in the public domain.
If you have any use for this workbook with your own students, feel free to use it.  The Musical Instruments Workbook can be downloaded by visiting the Printables > Worksheets page and scrolling down to the M's.
Musical Instruments Workbook (1.8 MiB, 23,885 hits)