The Great Composers & Their Music series is designed to be an easy and effective way for teachers to incorporate music history in their students' musical education. You can read about how this curriculum came to be here.
Each PDF download contains complete lesson plans and materials for studying the life and music of a famous composer. The lapbook is a creative and memorable way for students to learn and remember the facts from in the biography — and students will treasure it for years to come. The biography booklet contains a carefully-researched biography, written to include all the important facts you would expect while being relevant to and relatable for even your youngest students.
Everything the teacher will need is included in the PDF — other than the paper, folders, scissors, and other office supplies. 🙂 To teach the lesson plan, the teacher reads the biography booklet aloud to students, stopping to answer questions and to play musical excerpts of the pieces mentioned (playlist provided). As they are listening to the biography, students can color the picture of the composer and start cutting out the items for the lapbook. As students finish assembling the lapbook, they can listen to more musical excerpts by the composer.
Download a FREE sample of a biography booklet for "Mozart" below. Enjoy!
Mozart Biography Booklet (365.8 KiB, 10,117 hits)
Ways to Use The Great Composers & Their Music: Great Composers & Their Music is not only thorough and complete, but it is very flexible — so there are many ways to use this curriculum. I have used these this curriculum to offer weekly 50-minute music appreciation classes for homeschoolers, spending 3 weeks on each composer (we spend about 30 minutes of the class time on the composer, and 20 minutes on other music topics). I also use the lapbooks during monthly groups classes with my private students. The biography booklets are also great to print for private students who are learning pieces by a particular composer. Best of all, I have had great success using this curriculum to offer an annual Music History Camp during the summer (read this post to learn how).
Materials needed: Each student will need the printed lapbook pages (black-and-white is fine if you do not have a color printer), a file folder, scissors, glue stick, and crayons. I recommend that the teacher assemble a lapbook in advance to show as an example.
Time Required: The minimum time required to complete a composer study greatly depends on the age of the students, as well as how much time you choose to devote to listening to musical excerpts. Junior high/high school students will be much faster at assembling the lapbook than 5- or 6-year-olds. However, I would estimate the absolute minimum time needed is 45 minutes, if you allow the students to color/cut as you read the biography aloud and play musical excerpts. It would be better to have 60-90 minutes, or to spread out the composer study over a period of a few lessons. If you would like the composer study to take more time than that, you can no doubt find a way to expand on the information provided in the biography booklet!
Instructions: After purchase, you will receive an email with links to download the file(s). Your computer will likely put the file into a folder called "Downloads," but you will want to save the file to another location on your computer's hard drive where you can easily find it again — so you can print from it for years to come. The pdf contains everything you need, beginning with a few pages for the teacher, followed by the biography booklet, and then finally the lapbook pages.
Studio License: The license included in purchase allow the purchaser to use the digital file(s) or printouts from the files for personal and educational uses. This means: The purchaser may save the files on your computer or other devices and print/reproduce as desired for as long as you live, assuming you are using the materials with only your own students. Read the complete Terms of Use here.
*Click here to read brief descriptions of the concepts learned in each composer lapbook. Please check back for new composers!*
| | |
| --- | --- |
| Ages: | Best for ages 6-15 |
| Pages: | ~20 pages |
| Format: | PDF (email delivery) |
| Terms of Use: | Studio License |
STUDIO LICENSE
Permission is granted for the purchasing teacher to make unlimited printouts and use the digital files for the purpose of teaching their own students. Sharing printouts or the digital files beyond that purpose is not permitted. The purchaser is not permitted to resell the item(s), or alter, modify, or create derivative works.
"I just want to thank you so much for the Blast from the Past History Camp resources.  I start my camp next week, and I am so excited to have an easy to use, information-packed curriculum.  The copies I made today are absolutely beautiful!  I am so impressed.  For several years I have wanted to provide a summer camp, but my busy schedule has kept me from devoting time to developing one, and I have been unable to find a curriculum I like . . . until now!  Thank you so much!"
"Thanks so much for coming up with the composer lap book idea! My students learnt about Bach and became acquainted with some of his works. The instruction given from the downloads are clear and precise, and my students had fun "designing" and putting together their own lap book. It is a fabulous resources and a great way to study the life of Bach."
"Just wanted to thank you for your terrific materials. I teach piano lessons part time in my Massachusetts home studio. I purchased your Beethoven lapbook and used it this past week with 15 students, ages 7 to 12, in one-hour group lessons (4-6 students per lesson). I love the engaging format (fold-outs and pockets)- very fun for kids to construct and they were excited to share with their families. The concrete "artifacts" (Heiligenstadt testimony, autograph manuscripts) bring the history to life for kids, the concepts become much more memorable, and they look great as color copies!"
"Hello Joy, Thanks for your reply and thanks, again, for your lapbooks. They are perfect in every way for a typical one-to-one piano lesson. They are filled with accurate and interesting facts (and fun facts) for all age groups. They are a fun project to do with the student during the lesson. They are a meaningful way to introduce your students to the composer's music they are studying. They offer the teacher an opportunity to interact with the student on a personal level. And I had fun too…colouring and engaging in chit-chat at my desk with my students was awesome.

I've had a few parents call and thank me for sparking a new fire in their child about music and history. So it's been a win-win for everyone!"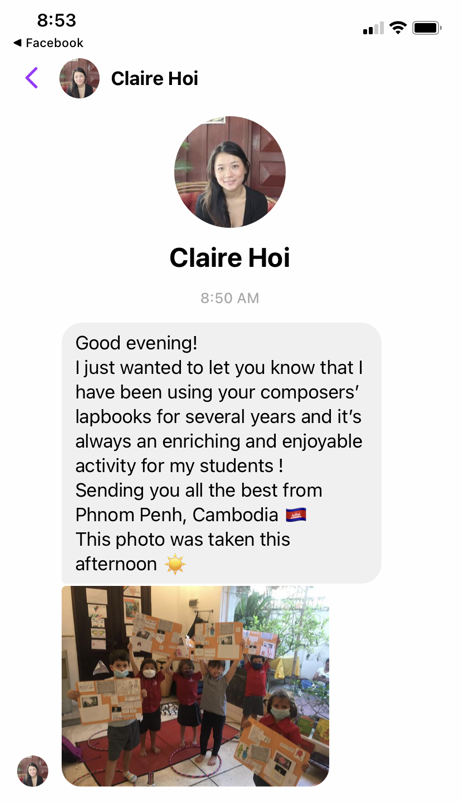 Discount Code: Enter TAKE10 during checkout to receive $10 off your order containing of at least ten composers. Use the code TAKE20 to receive $20 off your order of twenty composers.