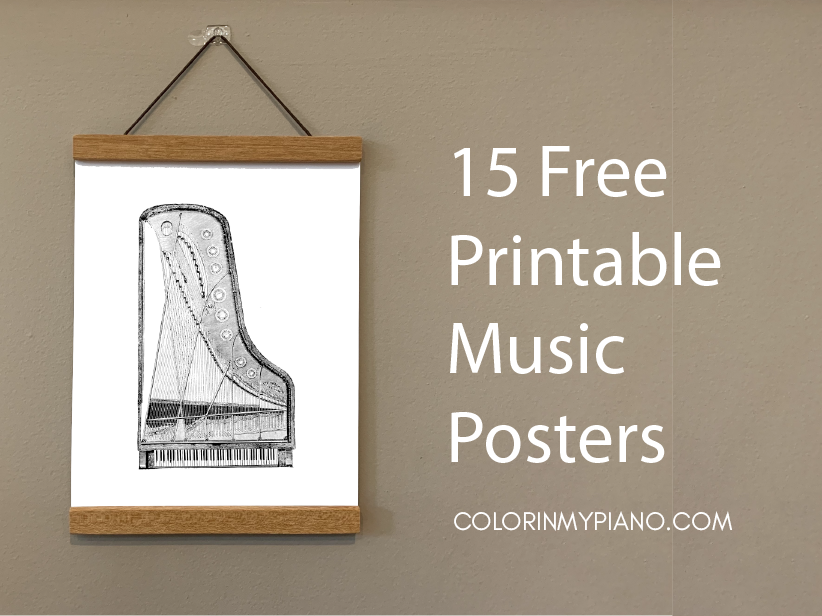 Hello, everyone! Today, I have a fun freebie to share with you: 15 FREE printable music posters. If you are looking for a simple and affordable way to add some music-themed artwork to YOUR space, look no further!
How did this project come about? Recently inspired by some images I saw in Pinterest, I started looking around online for some printable artwork for my daughter's play space. On a couple of public domain image websites (such as commons.wikimedia.org), I found some lovely nature-themed images that were exactly what I was looking for.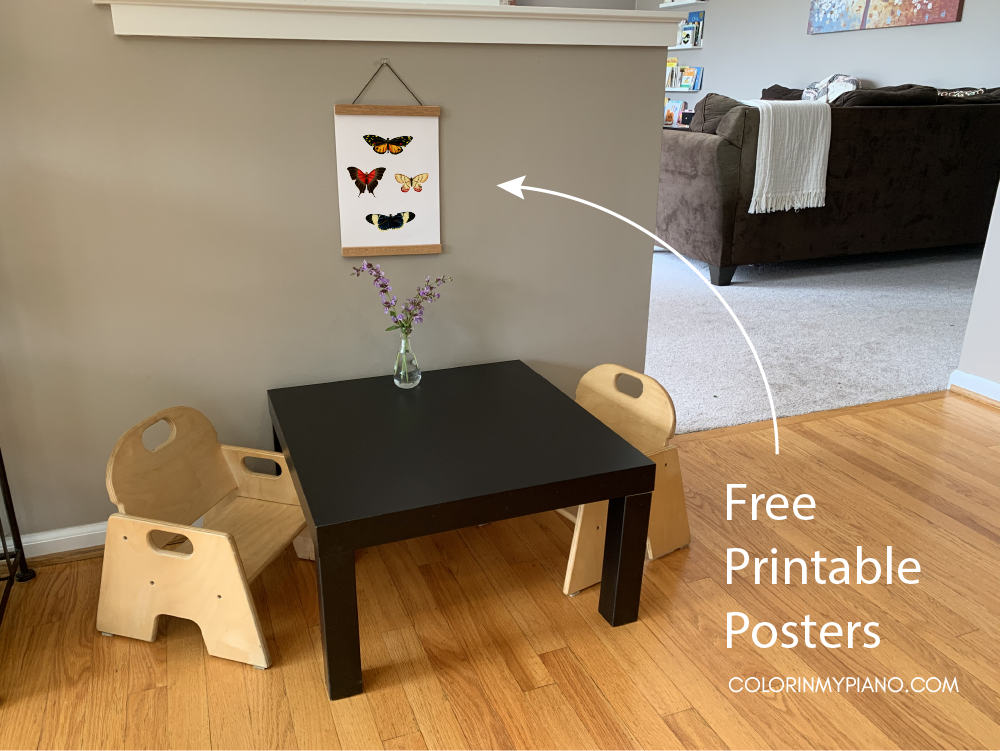 Soon, I started to wonder what music- or piano-themed options I might find. Thus began a trip down a rabbit hole as I searched the internet and began compiling some of the nicer options I found!
In the free PDF download at the end of this post, you'll find 15 music-themed printable posters as well as 4 BONUS nature-themed posters.
Here is a peek at a few of the vintage piano images I found.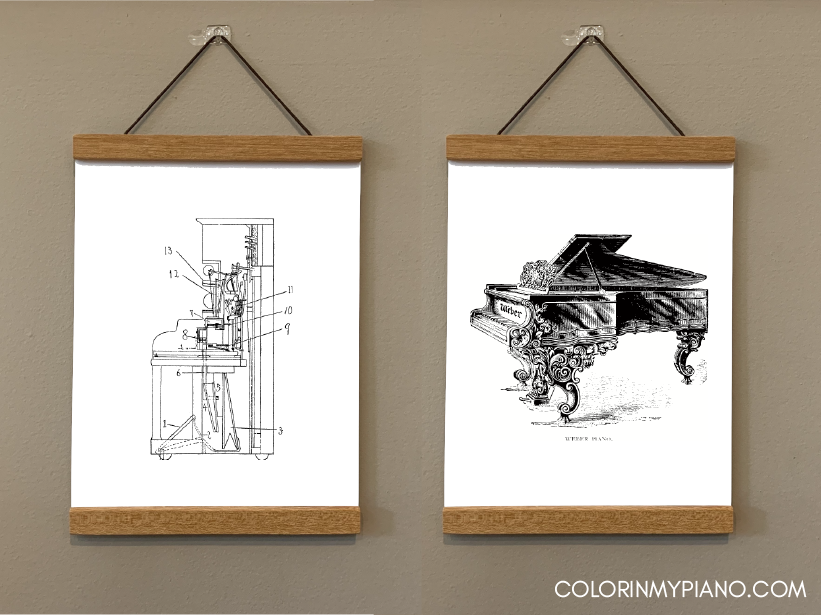 Aren't they charming?!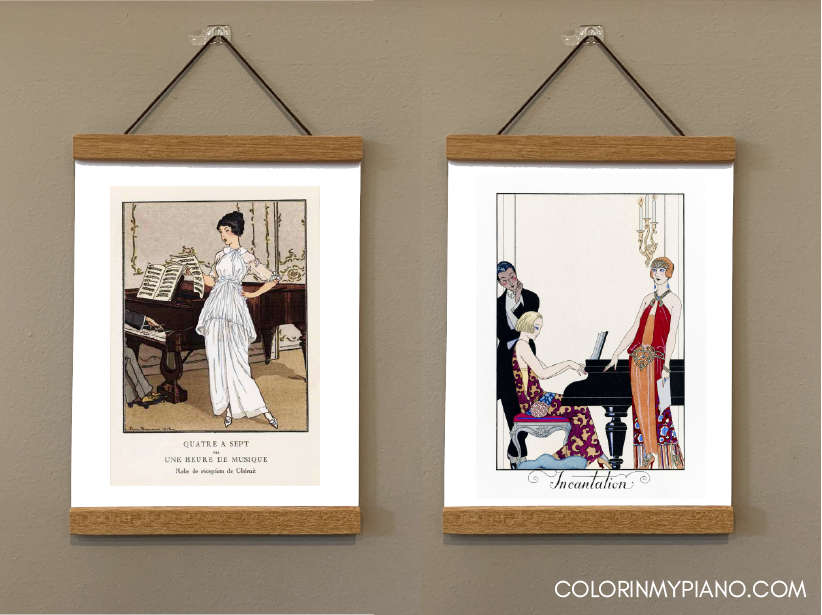 I also found some vintage piano advertisements.
This pair of colorful cassette tapes posters are also perfect as artwork on the wall.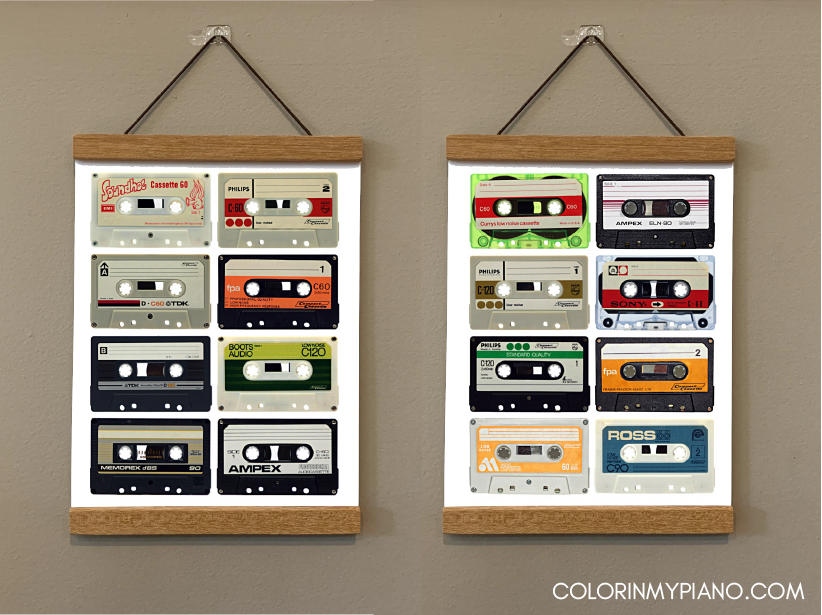 There are more music posters not shown here (15 total), but you get the idea.
BONUS: Here's a peek at couple of the nature prints included as a bonus at the end of the PDF. These are the images for my daughter's play area that sparked the idea for this entire project!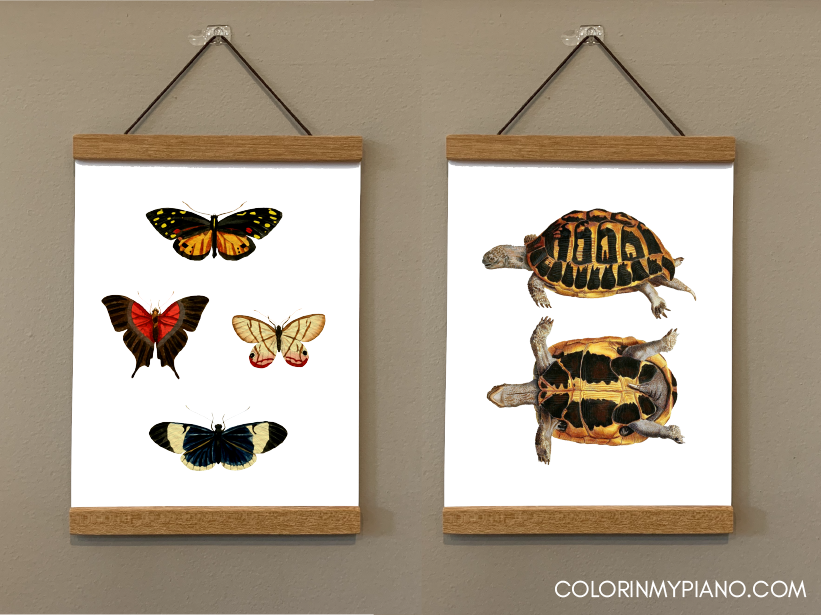 A Few Printing and Assembly Tips
For the best quality print, I recommend printing the posters out using a laser printer instead of an inkjet printer — especially if the artwork you've selected is in full color. If you don't own a laser printer, you can always have the printing done at a print shop. (If you are a member of MTNA, you can use your Office Max/Office Depot discount card!)
I also suggest printing on slightly heavy paper, such as cardstock. You could also consider laminating the page, as long as you don't mind a glossy look!
As far as framing options go, you've got two main options. A regular picture frame is the first option. You can use size 8.5''x11'' or 8''x10'', but you'll need to trim the paper slightly to fit the latter.
But personally, I love the look of the 8-inch Magnetic Poster Frame Hanger (which is what you see pictured in all the images above), so that's what I chose. Magnets embedded in the wood pieces are used to clamp to the top and bottom of the poster, and then the artwork is hung using the string (I used these clear plastic hooks). It's an affordable and attractive way to hang your artwork, plus it's easy to trade out the artwork whenever desired. I trimmed a quarter inch off the left and right edges of the paper to make the width exactly eight inches to match the frame.
Disclosure: Please note that the Amazon links in this blog post are affiliate links, which means I will earn a small percentage when you make a purchase using my links. Thanks for supporting my blog! 
To download the PDF of my FREE Printable Music Posters (plus the 4 bonus nature posters), visit the Printable > Other Resources page and click on "15 FREE Printable Music Posters." I hope you enjoy!