Hi there! Christmas Day is nearly upon us. Today, I thought I would make an update this flashback post to share what I gave my students this year. (You can skip down to the bottom of this post to see!)
Things to keep in mind: I don't think it's necessary to give your piano students gifts at Christmastime, but it's a nice gesture if you feel so inspired! Some years, I've kept it pretty simple while other years I have felt inspired to take on a more time-intensive project. I hope you'll enjoy browsing this post and perhaps gaining an idea or two to tuck away for the future!
2011: Personalized Glass Sheet Music Ornaments
Back in 2011, I created personalized glass sheet music ornaments for each student, with their name and the year written with a gold paint pen. They turned out so pretty! I love how they turned out, and would like to use this idea again in the future. Each student also received a chocolate Symphony bar. Read more here.
That year, I gave my adult students something else: a copy of the book "The A to Z of Foreign Musical Terms" by Christine Ammer. I learned about this book during grad school upon recommendation from a professor. Have you ever looked up a word in your music dictionary, only to find it wasn't included?! Unlike others, this dictionary hasn't let me down. It's a nice slim volume, and a great price — I'd recommend it to any piano teacher or student! I use during lessons to have students look up the terms they encounter in their pieces.
The following year, I baked sugar cut-out cookies using my music cookie cutters. I topped them with icing, and I think they turned out pretty cute!
The music cookie cutter set I own is no longer available on Amazon, but this set looks pretty similar!
I bagged them using treat sacks and a topper I designed in Microsoft Word. Read more here.
2013: A home-recorded CD of favorite student classical repertoire
The next year, I home-recorded a CD of a few favorite classical teaching pieces. This was quite a big project, but it turned out pretty neat! Read more here.
2014: A Printed Composition (or two)
This year, I composed two pieces (one mid-elementary level and one late intermediate level) and give them to my students for Christmas. This was a fun project! Learn more about the details of this project and download the elementary level piece for free here.
2015: Sheet Music Ornaments
This is one of my favorite gifts I've done! If you like doing crafty things, this idea might be for you. I recycled old, tattered sheet music to create these lovely sheet music ornaments. Learn more here.
2016: Iced Sugar Cookies (again)
In 2016, I made sugar cut-out cookies again! Making cut-out cookies is one of those things that I love doing around the holidays! I have good memories of making holiday cookies with my siblings growing up.
2017: Rice Crispy Treats in a Cookie Cutter
The next year, I tried something based on a picture I had seen (probably on Pinterest?) — with my own twist. I made Rice Crispy Treats, inserted music-shaped cookie cutters, and then decorated using red and green M&Ms.
I found out it was kinda tricky to remove the Rice Crispy Treats from the pan while keeping them inside the cookie cutters, but I think it turned out alright overall!
2018: Snowman Sheet Music Resin Ornament
Last year, I bought these adorable resin snowman ornaments on Amazon and added a ribbon scarf to each one (thanks goes to Sara Campbell for the recommendation!). I personalized them by writing each student name, the year, and a few music notes on the back using a permanent marker.
I paired each ornament with a bag of homemade cinnamon popcorn, made on the stovetop — a healthy snack I was really into that year!
2019: Pianist Gloves
Last year, I ordered black gloves from eBay (here) and used white 3D fabric paint to add a treble clef and bass clef on the RH and LH of each pair. I also made brownies. I think they turned out pretty cute! Read more about it here.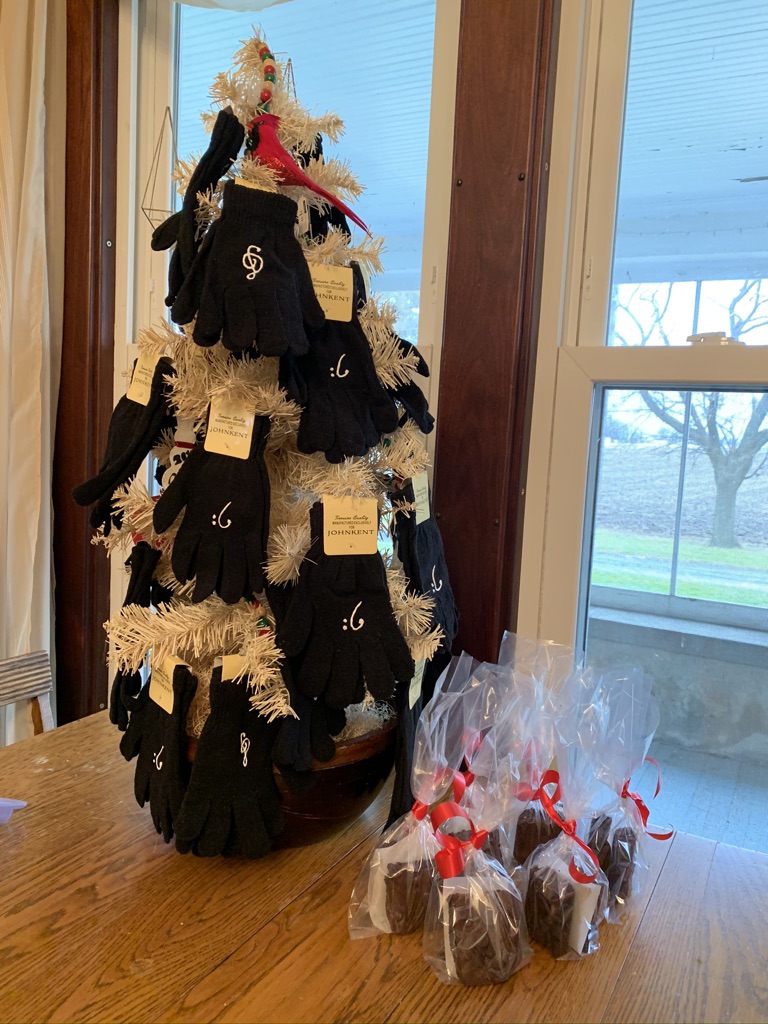 2020: Treble Clef Necklaces & Piano Ties
This year was a little different than usual (probably the understatement of the year…). Due to the Covid-19 pandemic, I am currently teaching all of my students online. Although I have a few local students here in Michigan, the majority of my students are longtime Ohio students from before my move. So, going about Christmas gifts the usual way wasn't going to work!
I really enjoy gifting something to my students. I strongly considered making a trip to deliver gifts via porch drop-off. However, I decided against when I realized how much time that would require due to the commute and the scattered locations of my students.
So, next I considered sending gifts via mail. Taking into considering the fact that shipping would likely cost between $3-5/family, I decided I'd rather have that $3-5 expense go towards being able to give a slightly nicer gift to each student. And so, instead I selected gifts from Amazon.com and took advantage of Amazon Prime free shipping by having the items shipped directly to each student's address.
To let students know to watch for a package to arrive, I mailed them Christmas cards a few days before making the Amazon order.
Here's what I picked out: a treble clef necklace for the girls and a piano tie for the guys. I've gotten a few appreciative text messages so far, so hopefully they are all enjoying their gifts!
I enjoy doing something different each year, and this year was no exception!
Your turn: Let's share more ideas! What have you given for Christmas gifts for your students in the past? Leave a comment below this post!