Hello, friends! I'm excited to share with you today about a recent project that has just reached completion.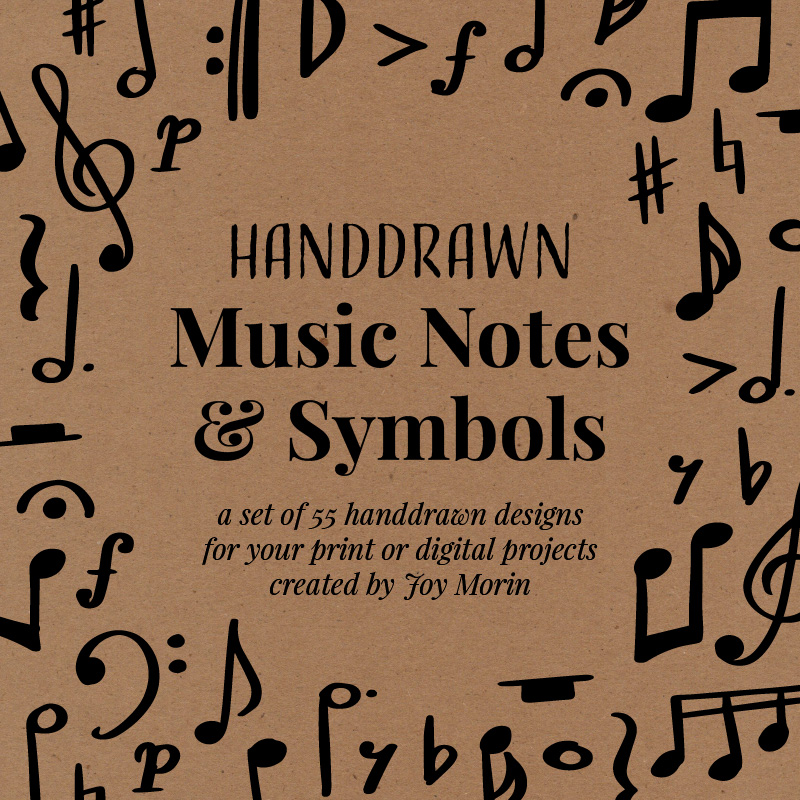 If you're like me, you probably find yourself creating various digital/print projects such as flyers, worksheets, recital programs, and social media graphics throughout the year for your music studio. Perhaps you, like me, enjoy using music notes or symbols to spice up your projects visually.
But if you've ever done an internet search for "music note clipart" or "music symbol graphics", you may have noticed there isn't such a good selection of options available. This is especially true if you, like me, care about the music symbols being correct (e.g., no backwards treble clefs or eighth notes!). The choices become even slimmer if you are careful to observe copyright terms (as we all should!) and use only images that explicitly allow for what's known as "commercial use".
This is an issue I've run into more times than I can count, but I only recently decided to do something about it. So, I got out my iPad and Apple Pencil, and started drawing my own set of music notes and symbols. Here is the result: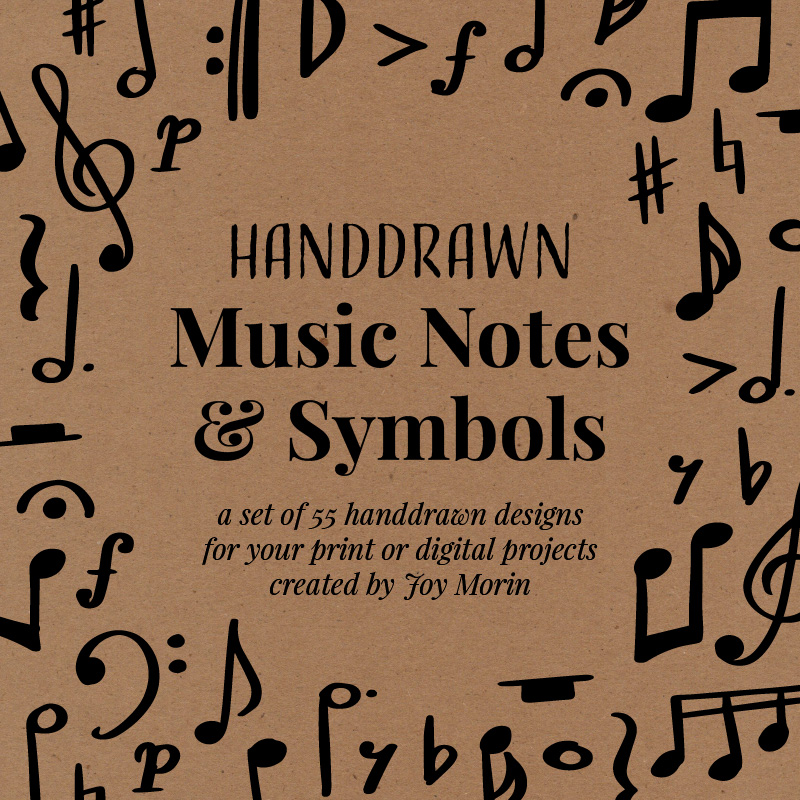 The project was so much fun that one set soon turned into four. The "regular" handdrawn set was followed by sets of curly notes, hearted notes, and smiley notes. 🙂
Thanks to my Adobe Illustrator skills, I was able work some magic and transform my handdrawn designs into a folder of high quality images that can be used in Microsoft Word, Powerpoint, Apple Pages, Google Docs, Canva.com, or whatever program I might choose to use for my projects.
I had such a blast creating these, and I'm proud to offer them to you as well. The four sets have just been added to my shop so you can purchase them yourself and start using them in your projects!
Let me tell you more about what makes my clipart sets unique. What's cool is that when you purchase a set, you'll receive TWO versions of each design: PNG files and SVG files. If you aren't familiar with these two file types, let me explain. PNG is a file format that supports having a transparent background — which means you won't see an ugly white square surrounding the music symbol should you place it over a colored background.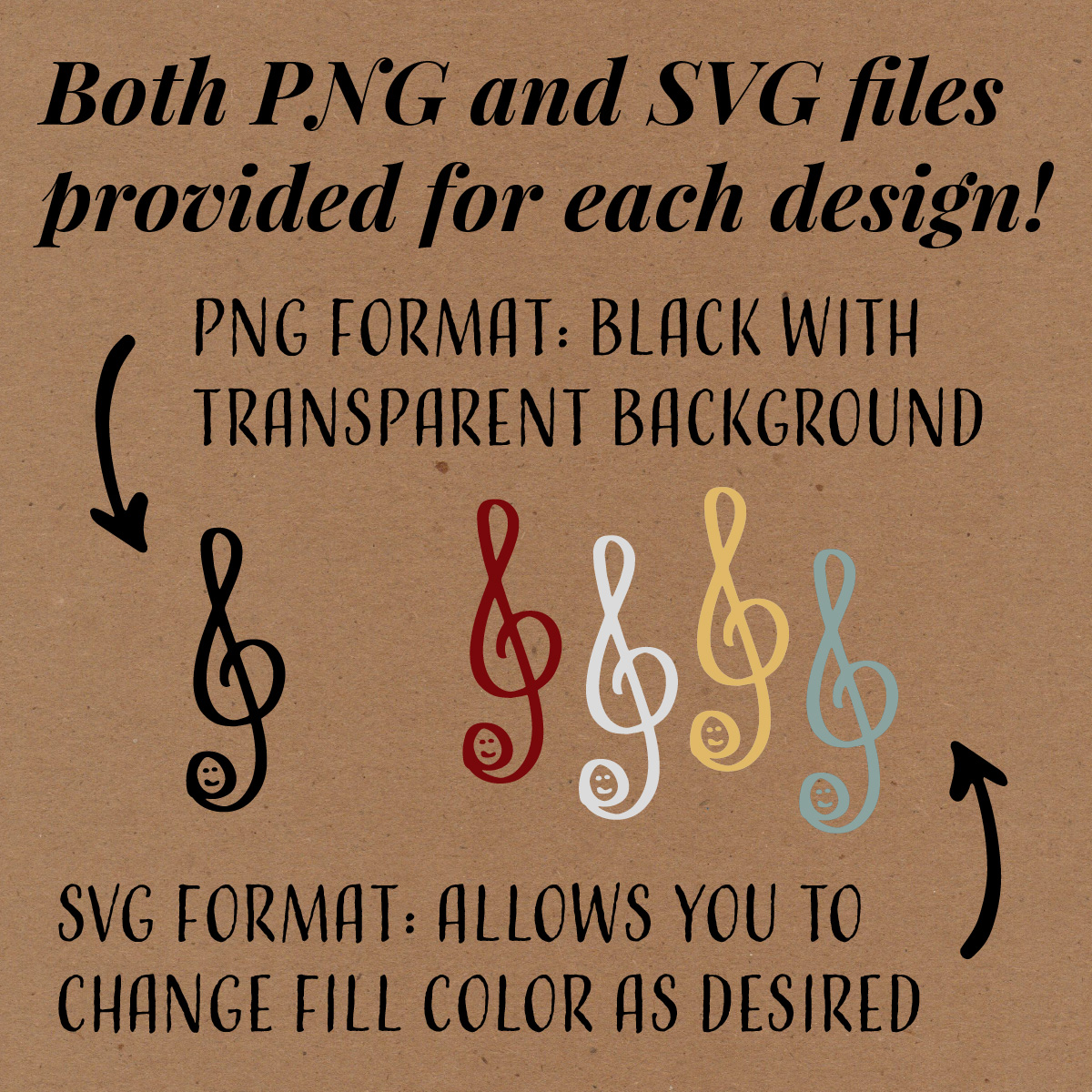 SVG is a vector file format — which means two things. It means that the image can be resized indefinitely without losing quality (in other words, the image will not appear fuzzy and pixelated even if you blow it up large within your project). The second thing about SVGs is that, under the right circumstances, you can recolor the image. If you insert one of my SVG images into your project, you'll be able to change the fill color from black to anything you like! Amazing!!
Check out my two example projects below. You'll notice in one example I used the music notes and symbols in their original black color, but in the other example I decided to use a pretty turquoise color. Don't those notes and symbols look fun and friendly?!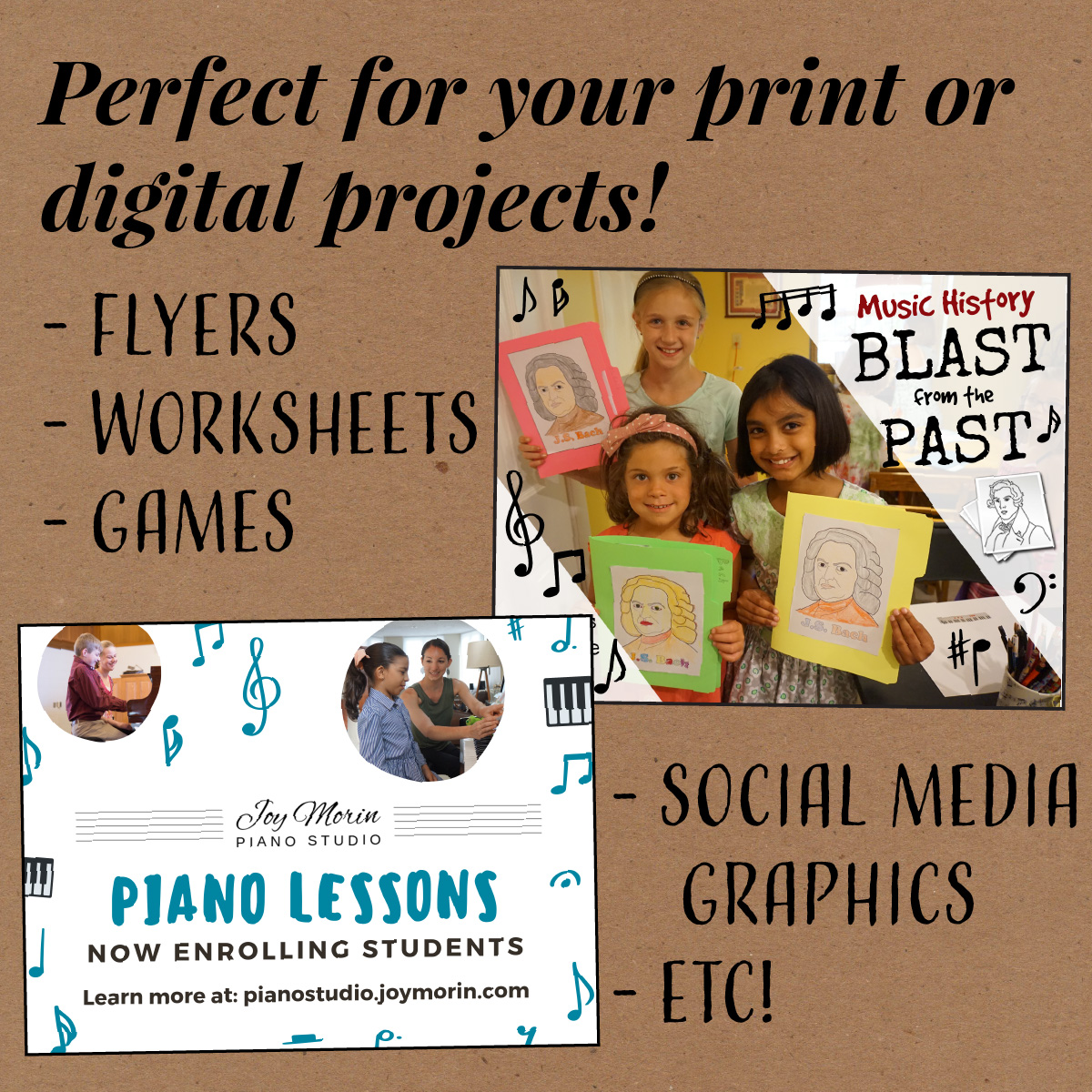 Here's a quick tutorial video that shows you exactly how to change the fill color of my SVGs when using Microsoft Word or Canva.com (a great free resource for creating graphics and printables). I think you'll agree it's pretty easy to do!
These clipart collections can be used for making your own social media graphics, recital programs, flyers, invitations, worksheets, games, T-shirt designs, etc.. When you buy one of my clipart sets, your purchase includes not only a Personal Use license, but a Limited Commercial Use License. That means the sky's pretty much the limit! (You can read the full terms of use on the shop page under the "Licensing" tab.)
I'm pretty excited to have these new clipart sets at my fingertips for my future projects. I hope these will prove as useful to you, for years and years to come, as they will for me! Please visit my shop page HERE to learn more and to purchase my handdrawn clipart sets.
Thanks for reading about my latest project! Now it's your turn: Which clipart set is your favorite? And what digital or printable project will YOU design next for your music studio? I'd love to hear about it. Leave a comment below this post!