Years ago, I remember meeting Wendy Chan and her Music Escapades Shoppe. Well, recently I reconnected with her and learned about the relaunch of her online shop! I was pleased to chat with Wendy again and check out her resources.
When we chatted, Wendy asked if I'd be interested in reviewing any of her teaching resources. I replied that I'd definitely be interested in her Grand Staff Magnetic Dry-Erase Board. She, in turn, sent me not only that, but three of her other teaching resources as well. How generous! Pictured below are the four items she sent.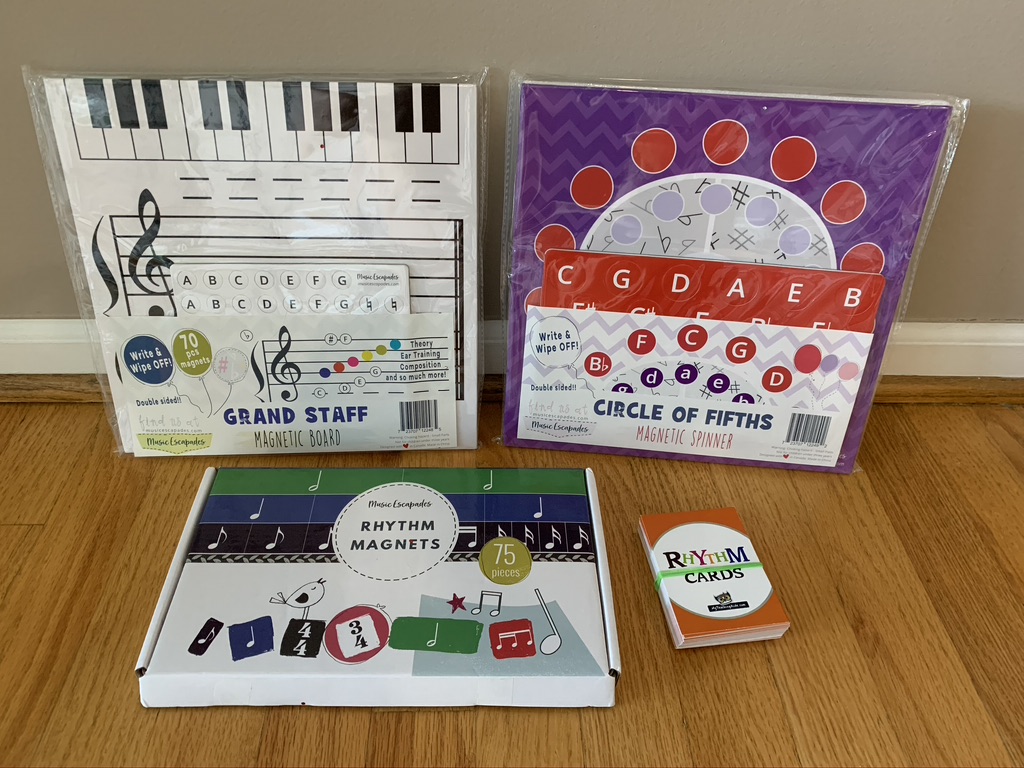 In this blog post, I will share my personal thoughts and photos about each item. Please continue reading, and be sure to learn how to get a discount code and enter the giveaway at the end of this post.
1. Grand Staff Magnetic Dry-Erase Board
Wendy's Grand Staff Magnetic Dry-Erase Board has been quite useful during my recent teaching, especially while teaching online right now due to Covid-19.
The board is well made and incredibly sturdy. It comes with a dry erase marker and a set of magnets with letters, accidentals, and colors.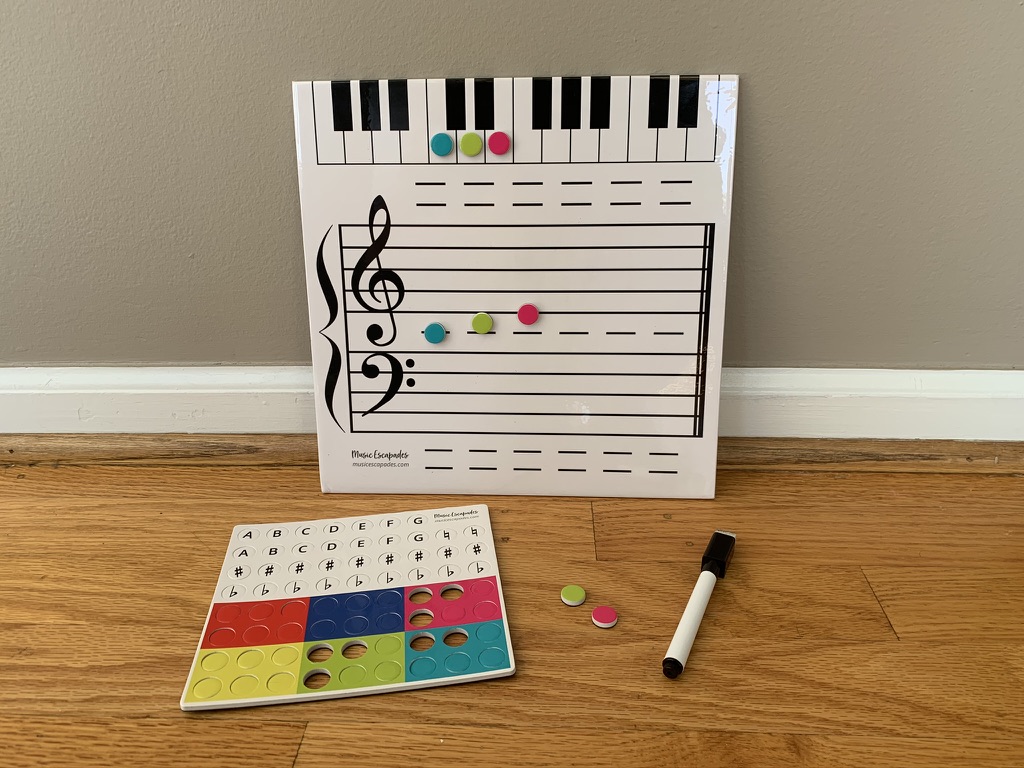 There are many ways to use this board. You can show notes, chords, key signatures, and more on the staff or keyboard.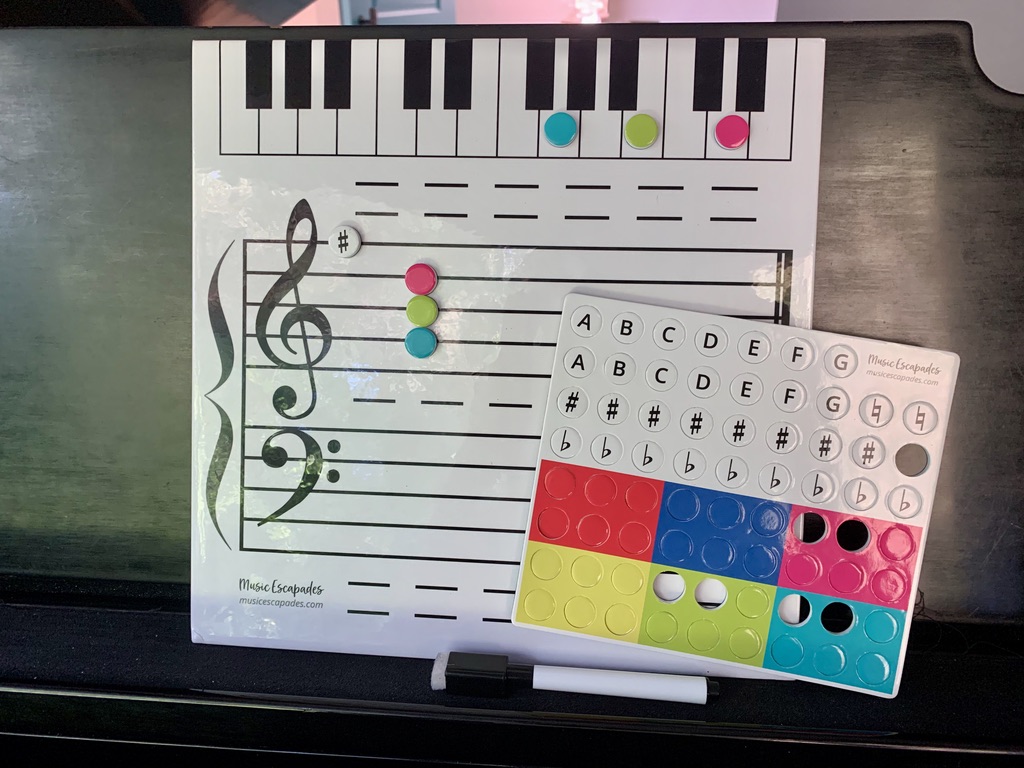 You can also draw notes and symbols using the dry erase marker. You can even draw on the back of the board. I LOVE how easily and cleanly the marker wipes off!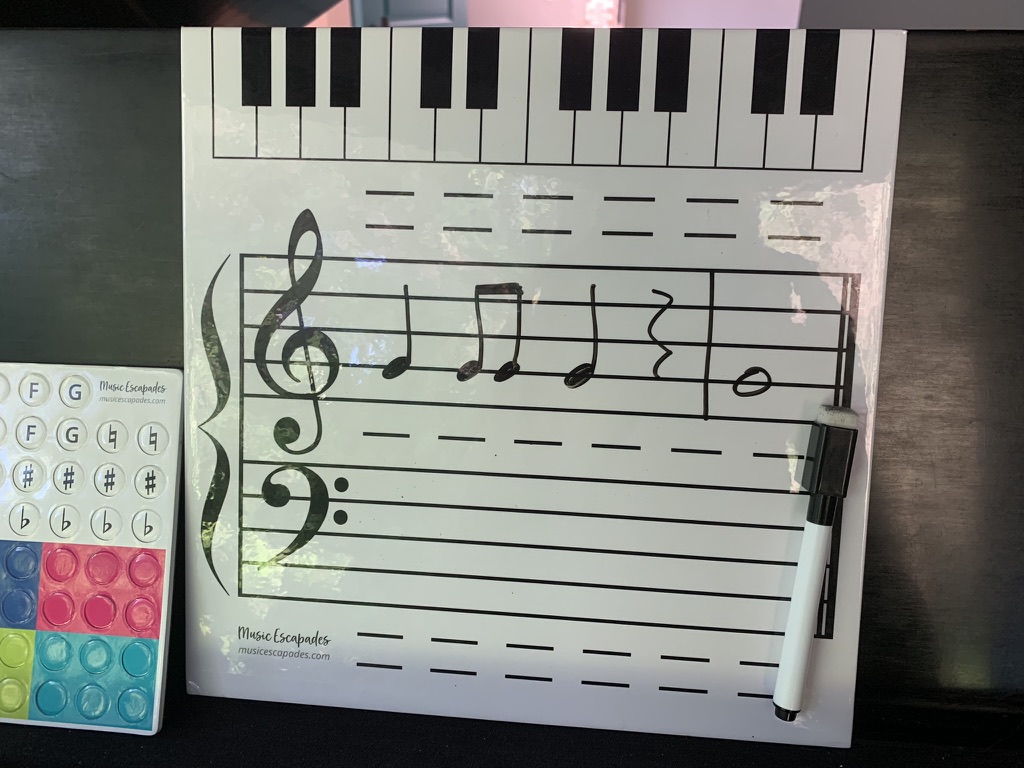 There are many ways to use this teaching resource. Wendy created quite a nice video demonstrating more examples of how it can be used.
I only TINY complaint is that I wish the magnets were slightly stronger. But they do work just fine, plus Wendy plans to make the magnets stronger for the next batch.
I am finding myself using this board quite a bit during my lessons right now! It's an effective and useful visual for all ages of students.
2. Circle of Fifths Magnetic Spinner Board
This is Wendy's Circle of Fifths Magnetic Spinner Board. As with the grand staff board, this is not only magnetic, but also a dry erase board. The magnets for each key can be popped out of the foam sheet and placed onto the board in their respective places on the circle of fifths. The major keys are in red, and the minor keys are in blue.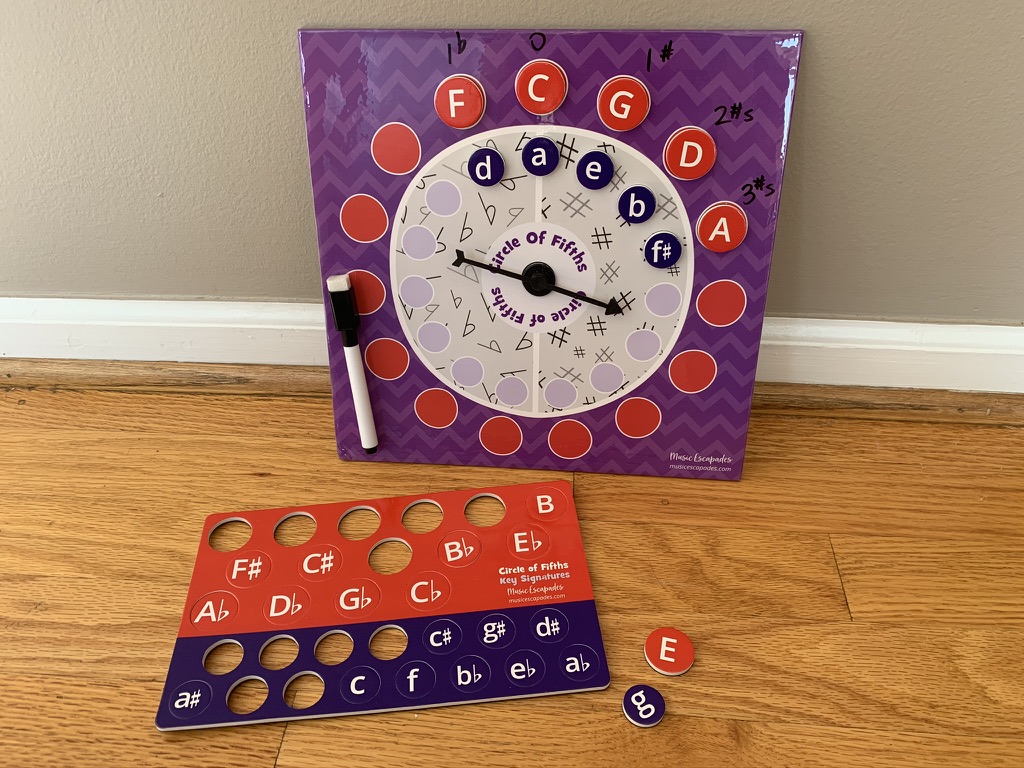 A magnetic spinner is also included, in case you'd like to randomly choose a key for a game or your student's scale warmup that day!
Here's another video from Wendy showing it works.
3. Rhythm Magnet Tiles
The Rhythm Magnet Tiles come in such a pretty box.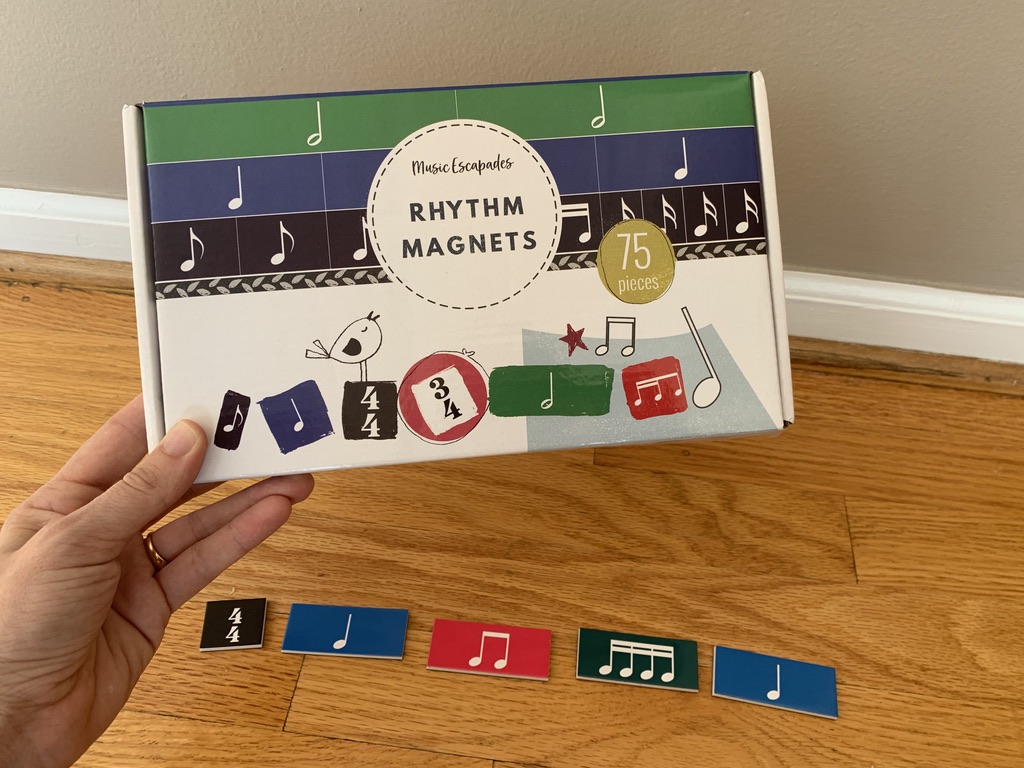 The tiles are sized in accordance with their note values, making it a useful visual tool for students. (For example, the half note tiles are twice the size of the quarter note tiles.) The colors are vibrant and fun.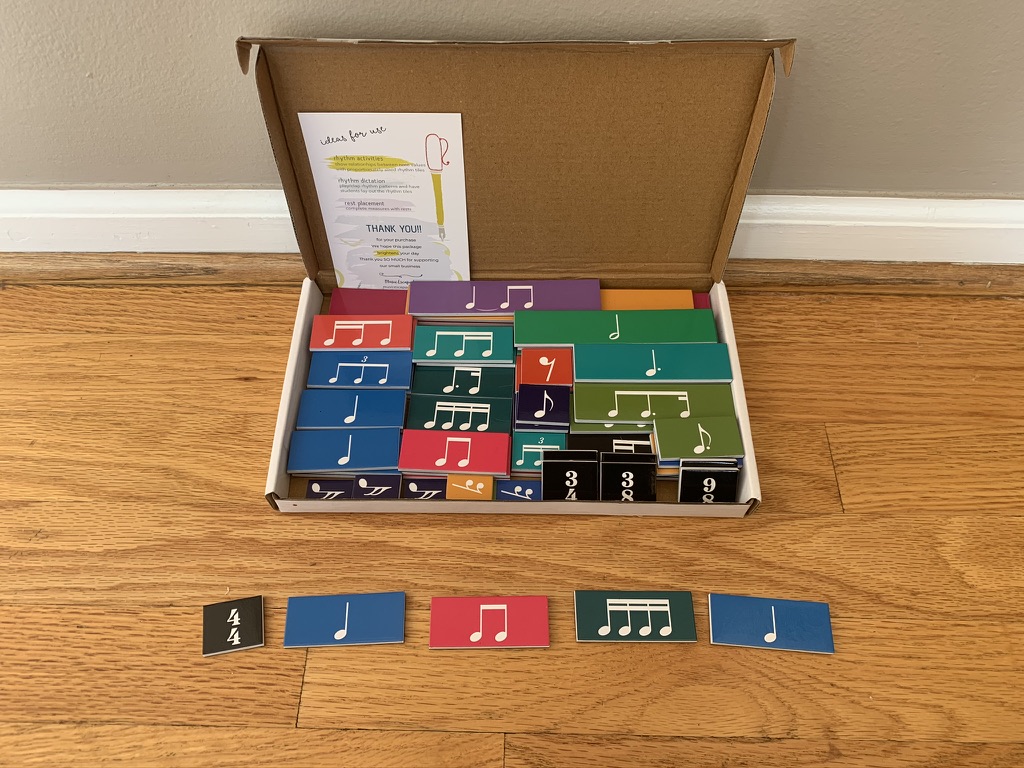 I'm looking forward to giving this manipulative a try with my students in-person eventually!
4. Rhythm Flashcards
Wendy also offers a few different types of flashcards in her shop. Here are the Rhythm Flashcards. The cards can be used for rhythm dictation, composing rhythm patterns, etc.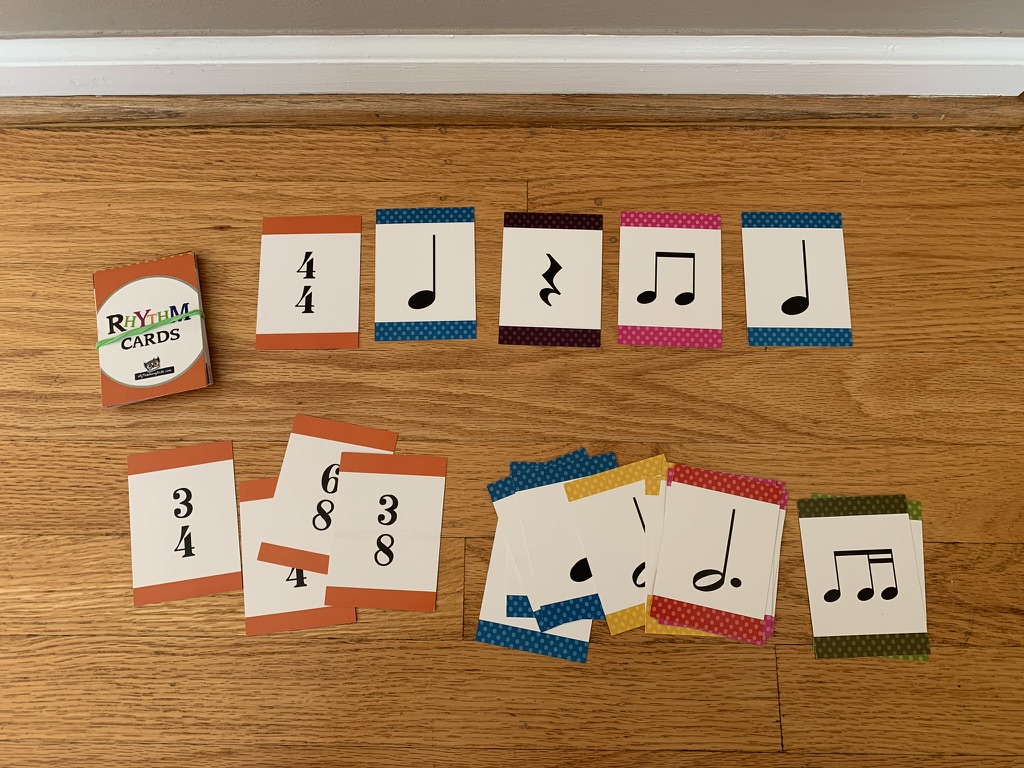 Here's another video from Wendy.
---
There are more teaching resources to explore in Wendy's Music Escapades Shoppe! And she is running a special Back To School sale for my readers. If you'd like to order any items from her shoppe, use the promo code CIMP15 for 15% off all orders. Or, use CIMP20 for 20% off for orders of $75 or more. All orders above $49 will ship free within US and Canada. This sale ends September 30th, 2020. Be sure to visit Wendy's shoppe here to see what's available.
You can also follow Wendy on Instagram or Facebook to keep up with what's new.
Giveaway
And now it's time for the giveaway! Wendy has generously offered to give away any THREE products from the Music Escapades Shoppe! To enter the giveaway, leave a comment on this blog post before Sunday, August 30, 2020 at midnight (Eastern time), sharing either (1) a teaching tip or resource which has been a go-to for you recently, or (2) which resource you'd love to have from Wendy's shoppe and why.
Three winners will be randomly chosen and notified by email the day following the giveaway. Good luck, and I look forward to reading your comments!