Hi there!
How are you all? I've been quiet here on the blog, but keeping myself busy as usual! Baby Aria keeps me busy, and I also have a couple of projects coming down the pipeline that you'll hear about sooner or later. 🙂
I'm still teaching my piano lessons online during these Covid times and practicing physical distancing as appropriate. Here in Michigan, our quarantine measures have loosened somewhat compared to be before, but there are guidelines still in place to keep us safe. I know the specific guidelines vary greatly state-by-state and country-by-country according to the current risk in each area. I hope we can agree it's important to be smart and cautious during these times.
I'd really love to hear from you all about how you are faring and what life during Covid-19 is like currently in your neck of the woods. You'll have a chance to do so — more on that in just a moment!
But first, let me back up and introduce you to my sister, Heather. We are teaming up to offer you a giveaway.
Heather operates her own business sewing a variety of products and selling them on her website, at craft shows, and local gift shops across Michigan.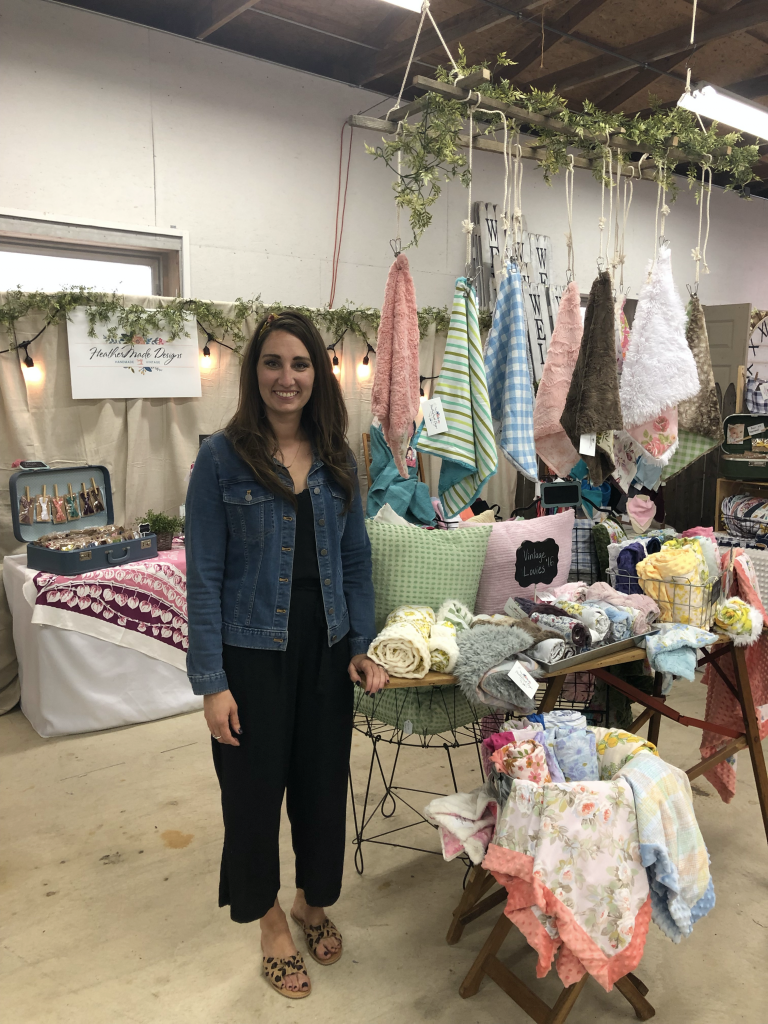 Heather makes beautiful baby blankets, bibs, burp cloths, hair bows, infinity scarves, and more…and more recently, masks! During these Covid times, she started selling cotton face masks and using some of the proceeds to donate masks to some local elderly care facilities. She's awesome, isn't she?!
Recently, I mailed Heather some music-themed fabric I had found at a thrift store for $1 and asked her to make me a few masks. I not only wanted to have music-themed face masks for myself, but also wanted to have child-sized masks on hand for whenever I decide I'm ready to resume in-person lessons. Heather happily obliged.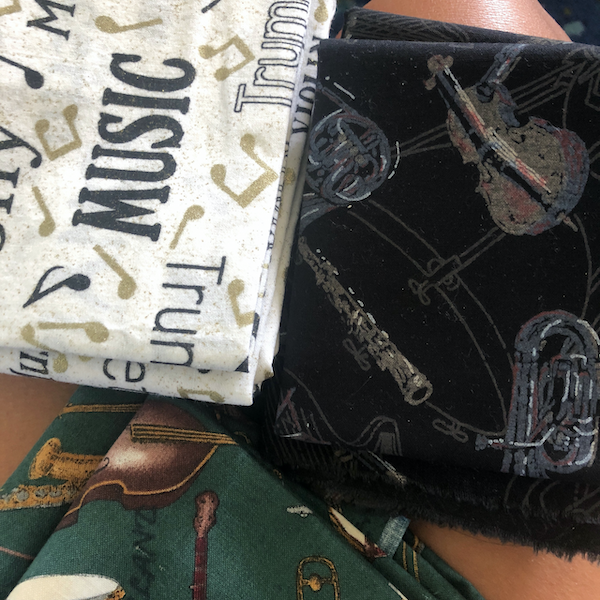 They turned out beautifully, didn't they? I was pleased! I'm happy to have those cheery music notes on my mask when I need to run out to the grocery store or wherever.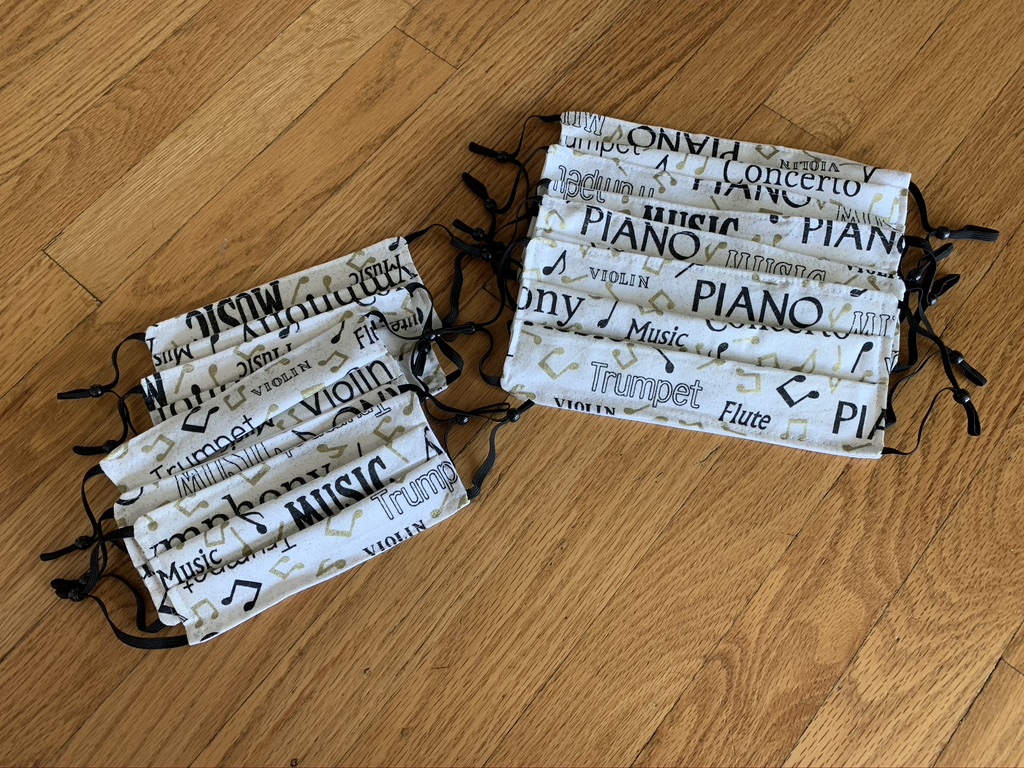 I saw a tip online about adding beads to make the straps more precisely adjustable. I happened to have some beads in my craft bin (this kind), so I went ahead and tried it out. They work great. You could knot the elastic instead, but I find that the beads allow you to make smaller adjustments to make the fit just right.
I suggested to Heather that she might like to offer music note masks on her website alongside her other beautiful prints. I told her I might know some music teachers interested in having music-themed masks around. 😉 So, she searched around to get her hands on more music fabric, and this is what she found:
Beautiful, right?! She does nice work.
If you are interested in having a music-themed mask, you're in luck — Heather has a promo code just for my readers PLUS we're offering a giveaway!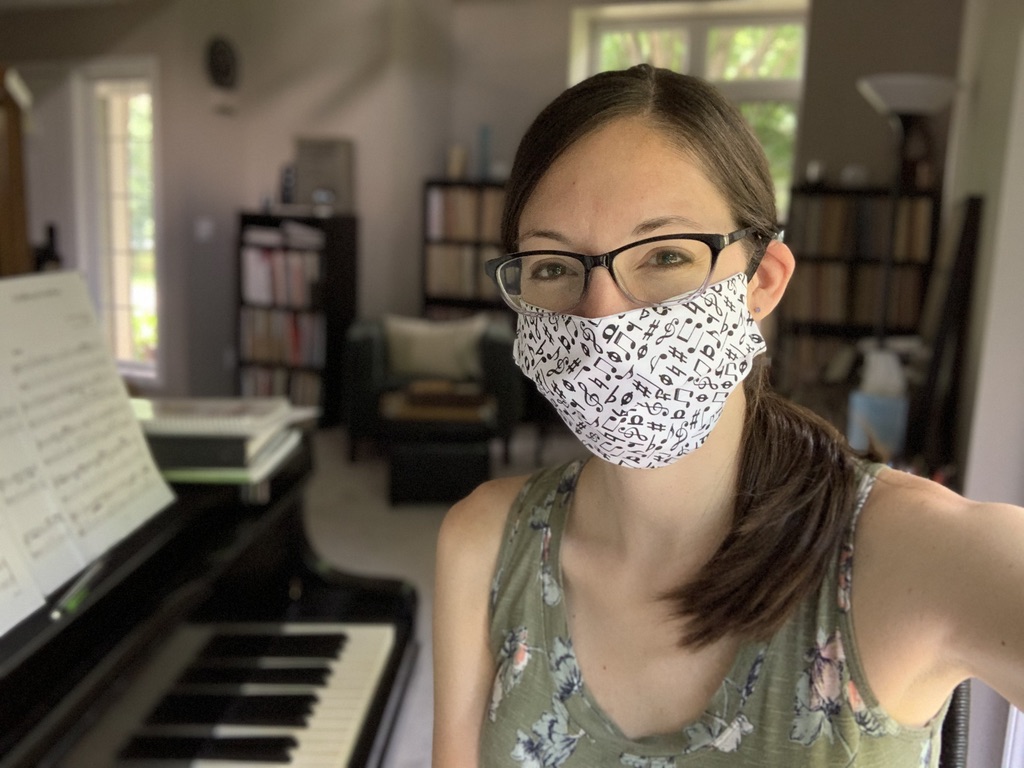 Here are the details:
We are giving away the three masks pictured below: a child-sized mask and two adult-sized masks. THREE winners will be chosen.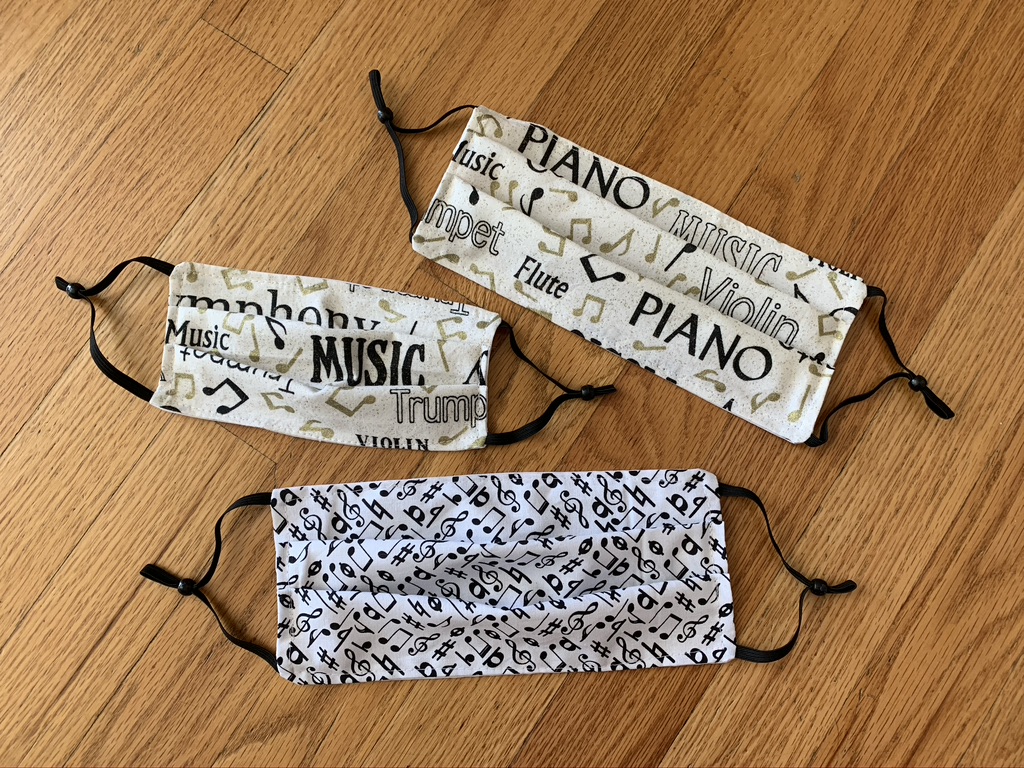 To enter the giveaway, leave a comment below here on my blog by Sunday, July 19 at midnight (Eastern time) sharing with us a bit about what life is currently like in your corner of the world during these Covid times. For example: share with us a story or tip about online teaching. Or, tell us something interesting about how you are doing and what you're up to while living in quarantine. It will be fun to read everyone's comments!
The three winners will be chosen on July 20 and notified by email. The masks will be shipped shortly after.
If you would like to make an order from Heather's website, here's the discount she's offering my readers: Enter the promo code COLORINMYPIANO during checkout at Heather's HeatherMadeDesigns.com website to get 10% off your purchase of $25 or more. This offer is good until Monday, July 27th, 2020. Check out all the beautiful sewn items on her website here.
I look forward to reading your comments!