Do you use Gmail for email? Today, I'm sharing a few tips that might prove useful for your studio emails. We'll talk about how to maintain email lists, use BCC, add an email signature (or two!), and create a simple-but-awesome template for your studio emails. Let's streamline our emails and make our studio communication look great!
Some of these tips might still apply even if you don't use Gmail, but you'll have to search out the how-to instructions yourself. A quick Google search will hopefully help you out.
Without further ado…here's my four tips for using Gmail for your studio emails!
1. Maintain a Student Email List in Google Contacts
In your Google Contacts, you can maintain a email list for your current students, which makes it easy to quickly send out announcements or reminders.
How to set this up? Visit contacts.google.com and click on "Create label." Call it "Piano Students – Active" and then, if you like, make another for "Piano Students – Inactive." Then, start adding your students' email addresses to the list.
When students begin or stop lessons, be sure to return to contacts.google.com to update your lists to keep things current.
2. Remember to Use "BCC"
Do you use BCC? Ever wonder what it stands for? It's "blind carbon copy." When an email is sent using BCC, the recipients will not see who else the email was sent to. This protects everyone's email addresses, and also prevents anyone from accidentally "replying all." Very useful!
To use BCC in Gmail, click "BCC" in the top right hand corner. Then, enter your recipients' email addresses. If you wish to use one of the email lists you created (as described above), click on "BCC" again. Then, click on "My Contacts", select from the list, click "select all", and finally "Insert."
It's probably easier to watch rather than read written instructions, so I've created the GIF animation below for you!
3. Add an Email Signature (or Two!)
Did you know you can create and save an email signature, to automatically appear at the end of every email you send?
In fact, did you know that in Gmail you can create MULTIPLE email signatures — one of each of the many hats you might happen to wear? 🙂
Click on the gray cog button, and click "Settings." Scroll down, and you'll see the signature creation area. Full instructions are shown in the animation below.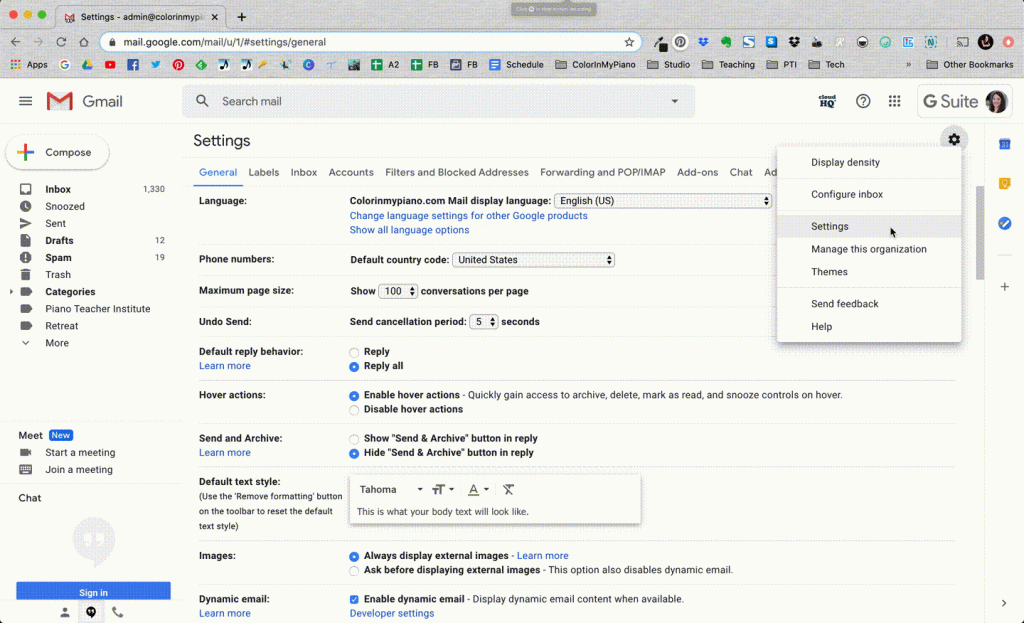 Email signatures are a great way to give a professional look to your studio communication.
4. Create an Email Template for Your Studio
This is a time-saving tip, while allowing you to send attractive, professional-looking emails for your studio. In Gmail, you can turn on a setting that allows you to create email templates that you can easily call up any time.
As shown in the screenshot below, the template I created for my studio emails contains an image file at the top. This is the studio logo I use at the top of my studio documents. I placed the month and year beneath that. After calling up the template, all I have to do is edit the date and compose the rest of the email.
First, click the gray cog and navigate to Settings > Advanced. Where it says "Templates", select "Enable" and click "Save Changes." Now, click "Compose" to open a blank email and put together your template. Once you're happy with your template, click the "More options" three dots button in the lower right hand corner. Select Templates > Save Draft as Template > Save as New Template.
To use your template, open a new blank email. Click the "Most options" three dots button in the lower right hand corner. Select "Templates" and then select your saved template from the list. Voila!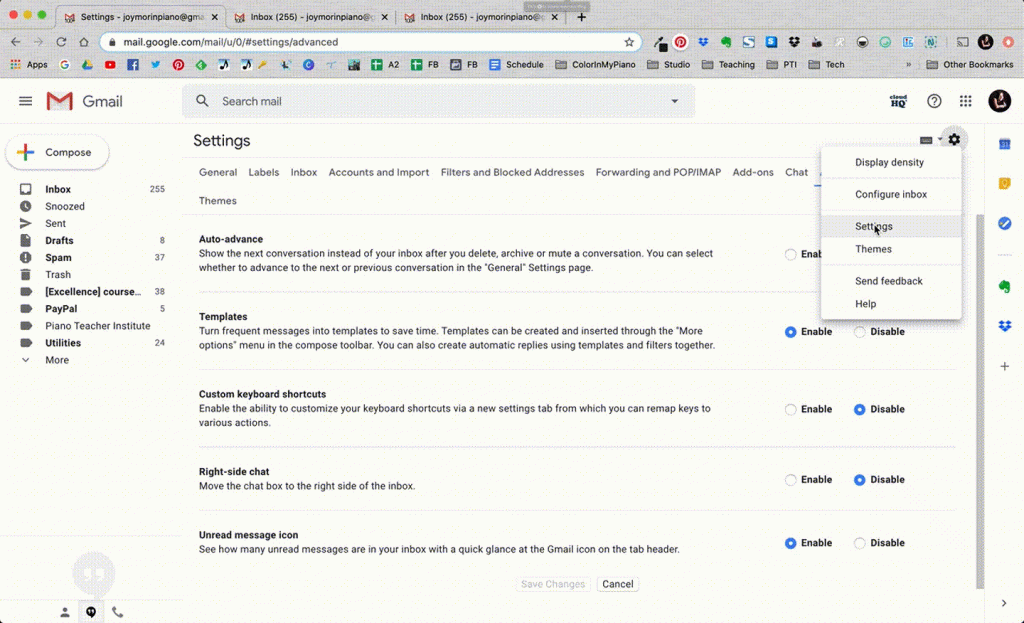 Using Gmail's templates is a great alternative to using email marketing platforms such as MailChimp when you just want to send a quick email out!
Related: Check out this post about studio communication: Studio Communication: Printouts, Newsletters, Emails, Oh my!
---
So there you have it! Those are four quick tips for using Gmail for your studio emails.
Your Turn: Do you use Gmail for your studio emails? Do you have other email tips to share? I'd love to hear from you! Please leave a comment on this blog post.