A few readers have recently asked me:
"What are your plans, music-wise, for your new baby girl as she grows up?"
This blog post will answer that question!
Right off the bat, let me say it is not my intention to try to create a "prodigy" or to assume my little daughter, Aria, (born in February 2020) will choose music as a career someday. I prefer that she make her own choices, whatever they may be.
Yet, music is important to me, and I know how greatly music can enrich life. And so, I certainly want my daughter to enjoy music as she grows up.
Music is something any parent — music teacher or not — can enjoy with their child. However, as music teachers, we are perhaps extra-equipped to give and share music with our children. Just as we are passionate about nurturing musical understanding and skills in our students, we tend to want to do the same for our own children.
I have three main considerations/goals in mind as a piano teacher embarking on this new parenthood adventure. If you are a parent or parent-to-be, perhaps these will resonate with you!
Here's the first goal:
1. Providing a rich musical environment
Providing a rich musical environment means a couple of things. First of all, it means growing up surrounded by music. Baby will hear music playing in the home and on-the-go. My daughter will hear piano lessons being conducted in the next room. And she'll hear me playing piano, too.
The other day, I was saw a video clip on Instagram of a pianist playing piano with her baby in a carrier. Check this out:
Don't you just love that?! After seeing that video, I was inspired to get out our baby carrier and do the same with my own baby. I hope to do this much more often. 🙂
Providing a rich musical environment begins from the beginning…even before birth.
Before my daughter was born, I played music for her in utero. Yes, you read that correctly! I bought a pair of "pregnancy belly headphones" from Amazon (browse them here) so my baby and I could together listen to music. 🙂
Providing a rich musical environment also means being aware of the quality of music Baby is hearing. Questions to consider include: What genres of music do I want Baby to hear? What tonalities, meters, and styles do I wish to expose Baby to? Which composers and artists?
Stay tuned for a future post containing album recommendations that are perfect for a growing baby/child. Some of these recommendations might also be useful your piano teaching!
2. Interacting musically
In terms of gaining music skills, hearing music recordings is certainly a good thing — but interacting musically is far more valuable.
As an analogy, consider the fact we would never assume a child will learn a language through listening to recordings of human conversation. To best learn, we need actual interaction and opportunities for using the language. The same is true with music: to grow musical skills, we need opportunities for musical interactions — not only listening to recordings.
(To illustrate the point, check out this awesome viral video of a father and young son having a "conversation". A must-see!)
What do musical interactions look like?
It means musicking both for the child and with the child. It could be singing and moving together. Or having spontaneous musical conversations or improvisations using our voices or instruments. It means allowing space for and encouraging the child's musical responses. It means having fun!
And, at this early age, it means offering no judgement or correction of the child's musical responses. Just as we intuitively know not to correct a baby's early attempts at language, we for the same reasons would not want to correct a baby's musical "babble". At this age, they aren't ready for correction; only when they are older will they develop self-awareness and begin to self-correct their own babble.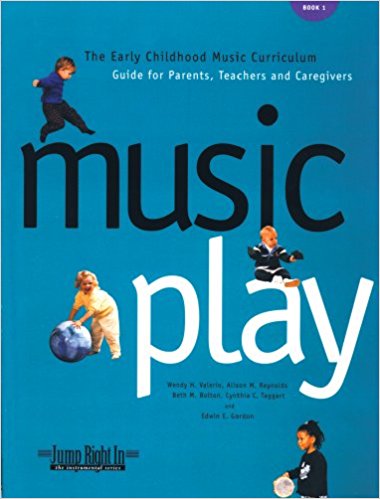 With my baby daughter, I've been singing some of my favorite songs from the MLT-based curriculum "Music Play" from GIA Publications. (I also use some of these songs and activities with my piano students, especially during group classes.) Between repetitions of the song, we interact musically (per the Early Childhood Music certification training I took through the Gordon Institute for Music Learning back in 2017). When I pause and wait, she will sometimes move or coo. I respond to her, and then offer my own musical response. We will grow these musical interactions over time!
I also signed up my daughter for Early Childhood Music classes held at Eastern Michigan University each week. EMU's program is MLT-based, which is the reason I choose it. 🙂 Aria's class is taught by a colleague who took the Early Childhood Music certification at the same time I did. Aria's teacher does such a wonderful job, and it's nice to be able to spend the class being Aria's parent without thinking about teaching. 🙂
There are many options out there of Early Childhood Music programs for babies, toddlers, or preschoolers. Check out Musikgarten, Music Together, and Kindermusik, for starters. These kinds of classes are perfect for learning ways to interact musically with your child!
3. Waiting on formal piano instruction
…until she's ready. What does that mean? It means I prefer not to start formal instruction at the piano until Aria demonstrates interest in the piano (i.e., asking for lessons) and exhibits certain musical readinesses.
That readiness for formal instruction, according to MLT practitioners, is when the child moves beyond a recognition of their own lack of coordination and begins successfully coordinating their singing with their breathing and their rhythm chanting with their muscular movement (see https://giml.org/mlt/earlychildhood/).
Even then, our early lessons may not look typical. We'll start with lots of ear playing, and learning rote pieces on the piano using resources such as Marilyn Lowe's Keyboard Games books and Paula Dreyer's Little Gems For Piano. We'll create, improvise, play games, and move. The focus will be on ear training and music understanding — audiation — before focusing on music notation.
I'd like to teach my daughter myself for at least a time, but at a certain point/stage I can envision myself transitioning to having her take lessons with another teacher. And perhaps at some point she will choose to discontinue piano lessons in favor of studying a different instrument.
While my hope is for my daughter to take music lessons for much of her growing up years, I am also determined to "be okay" if/when the time comes that she chooses not to take music lessons at all anymore. I would like to support my daughter in whatever pursuits she decides to pour her heart into. It will be fun to see what direction Aria decides to go with her life! Hopefully, music will always remain a love of hers and she'll remember fondly the memories we made involving music.
---
Your turn: Are you a parent, or plan to be one someday? What considerations did/do you have in terms of music for your children as they are growing up? Any advice or memories to share? Join the conversation by sharing a comment here on my blog!
P.S.: Don't forget — our 20% off Blogiversary Sale is going on all month! Browse here my digital shop and use the promo code 11YEARS to receive the discount.