Guess what!  Tomorrow is Color In My Piano's THREE YEAR anniversary!  Woohoo!  I've got a few fun posts and giveaways planned for later this week in honor of our anniversary.  But today, I thought I'd share this new printable: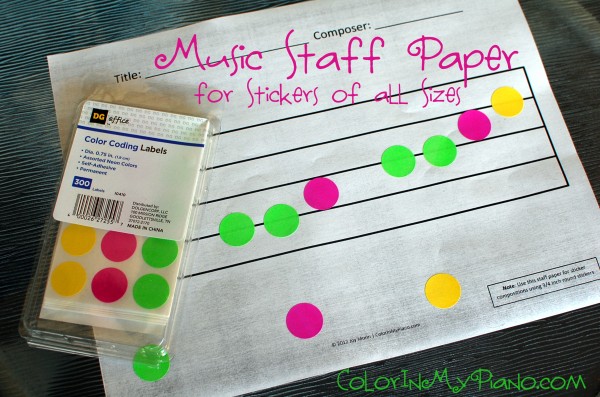 I love having my piano students compose their own music, even when they are young beginners.  I try to make it easy and fun for them.  That's why I created this pdf: music staff paper for composing with stickers!  I must give credit to my friend Michelle from Michigan for the idea of using stickers for composing with students (Thanks, Michelle!).
This pdf contains a variety of various sizes of staff paper for use with any stickers you might find.  You can find plain, round stickers at most office supply stores or even the dollar store.  Other stickers like star- or heart-shaped ones will probably work fine too, and might be a fun way to reflect whatever holiday is coming up.  I would recommend using large stickers with young students, and smaller stickers with older students.  On the bottom of each page in the pdf, it indicates what size stickers you'll need with each sheet of staff paper.  The various colors of the stickers can represent certain rhythm values or sections of the composition.  Be creative!
(Please forgive the gray markings on the paper you can see in the photos — my printer's toner is low!)
Here's a couple of quick ideas for using this printable:
Send students home with a sheet of stickers and a few pieces of staff paper, and assign them to create a short composition using whatever concepts you are currently learning about.  E.g., steps, skips, forte and piano, eighth notes, etc.
Composing with stickers could be a fun activity during group lessons too!  It helps speed up the composing process too, because writing out notation can be a laborious activity for young beginners.  Students could later be assigned to transcribe their piece into tradition notation.  I plan to use this staff paper to compose with stickers during one of my summer camps: "So, You Want To Be A Composer?".
Try doing melodic dictation with stickers!
You can download this pdf by visiting the Printables > Other Resources page and scrolling down to the S's for Staff Paper for Composing with Stickers.
Staff Paper for Composing with Stickers (93.0 KiB, 14,895 hits)
Let me know if you have requests for other staff sizes to fit whatever stickers you have.  Enjoy!