I recently have made what I have decided to call "Musical AlphaGems."  These fun little gems have many uses: they fit well on my DIY Silent Mini Keyboards and also work well on paper printed of the staff (such as this one by Susan Paradis, which is pictured in the second photo below).
I got the inspiration for these Musical AlphaGems from those little magnets that have been so popular over the last couple of years (see this blog article).   
The Musical AlphaGems in the pictures here do not have magnets; although I suppose if you have a magnetic staff board of some kind, it would make sense to make magnetic Musical AlphaGems.
Here's how you can make your own: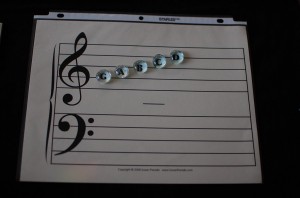 Materials
Clear glass gems (each approx. 1/2 inch in diameter)
cardstock paper (color is optional)
acrylic spray
clear silicone adhesive (sticks well to glass and is less smelly than other strong glues – I strongly recommend it)
small workspace covered with some newspaper
scissors
Instructions
Print the printable onto a sheet of cardstock paper.
Before cutting out the circles from the printable, spray the backside of the cardstock paper with a few coats of acrylic spray.  This will help seal the paper and make your gems last longer.
Using a pair of scissors, cut out the circles from the printable.  Depending on the gems you buy, you may need to cut out the circles more tightly than the dotted lines indicate.  Too small is better than too big.
Examine each glass gem before using to check for imperfections.  Toss any that are chipped or have odd designs that might affect how easily you can read the alphabet letter through the glass.
Put a dab of silicone glue on the bottom of a glass gem and then gently press the gem onto a cut-out circle so that the printed alphabet letter shows through the glass.  Gently wipe the gem's edges on the newspaper workspace to remove any excess glue.  Allow the gems to dry upside down.
Repeat with the rest of the gems.
Click here to download the Musical AlphaGems pdf printable, which includes the instructions for making your own Musical AlphaGems.
Also see: