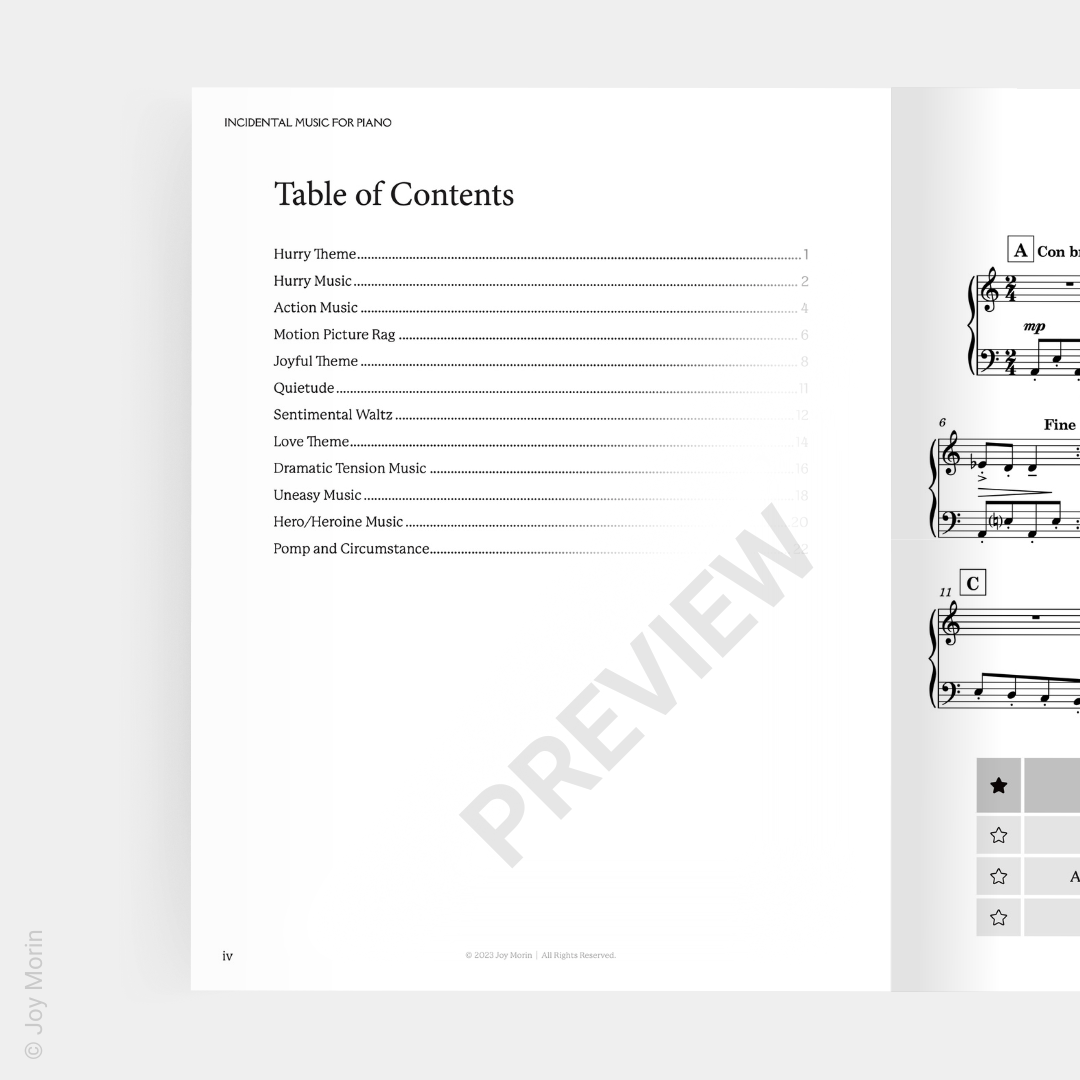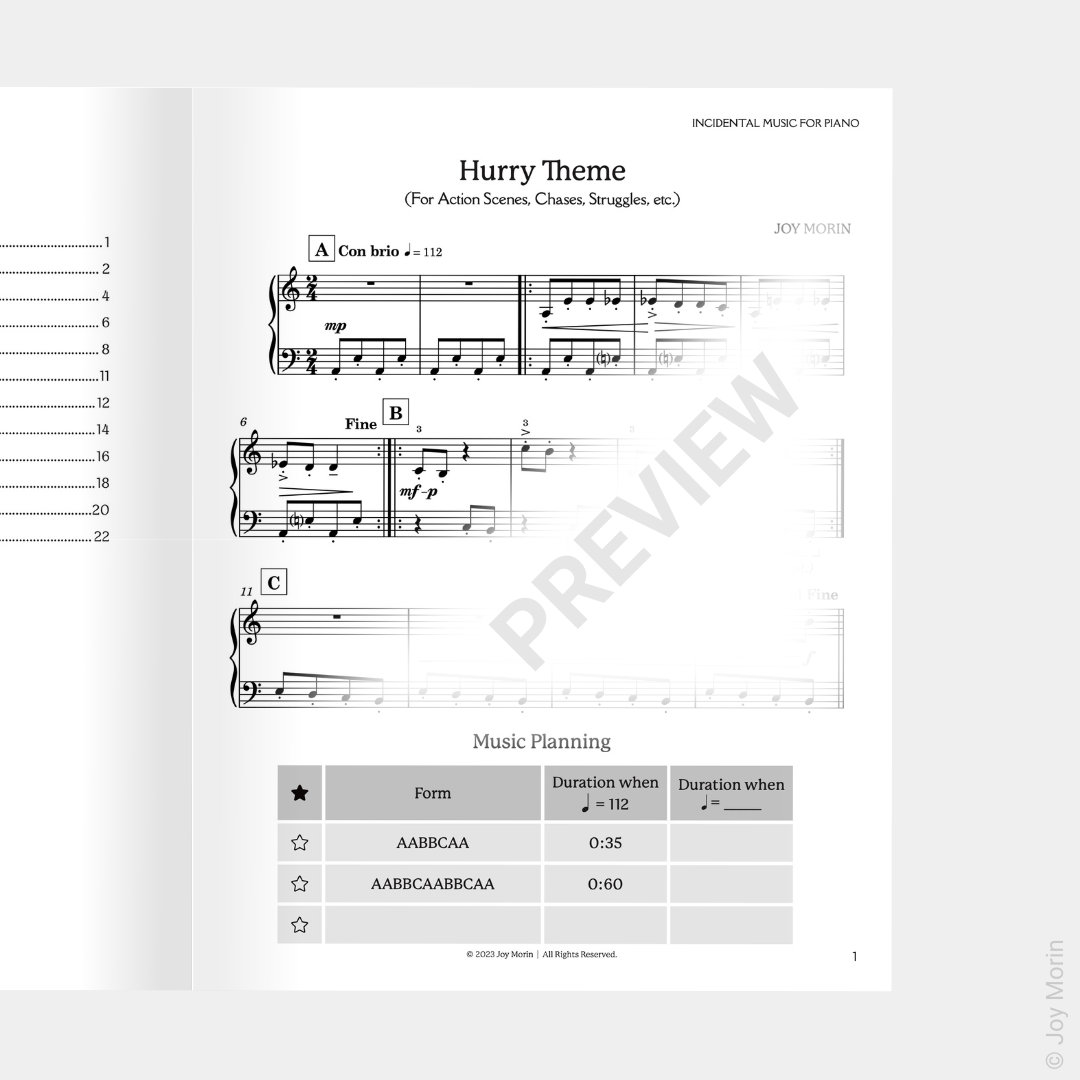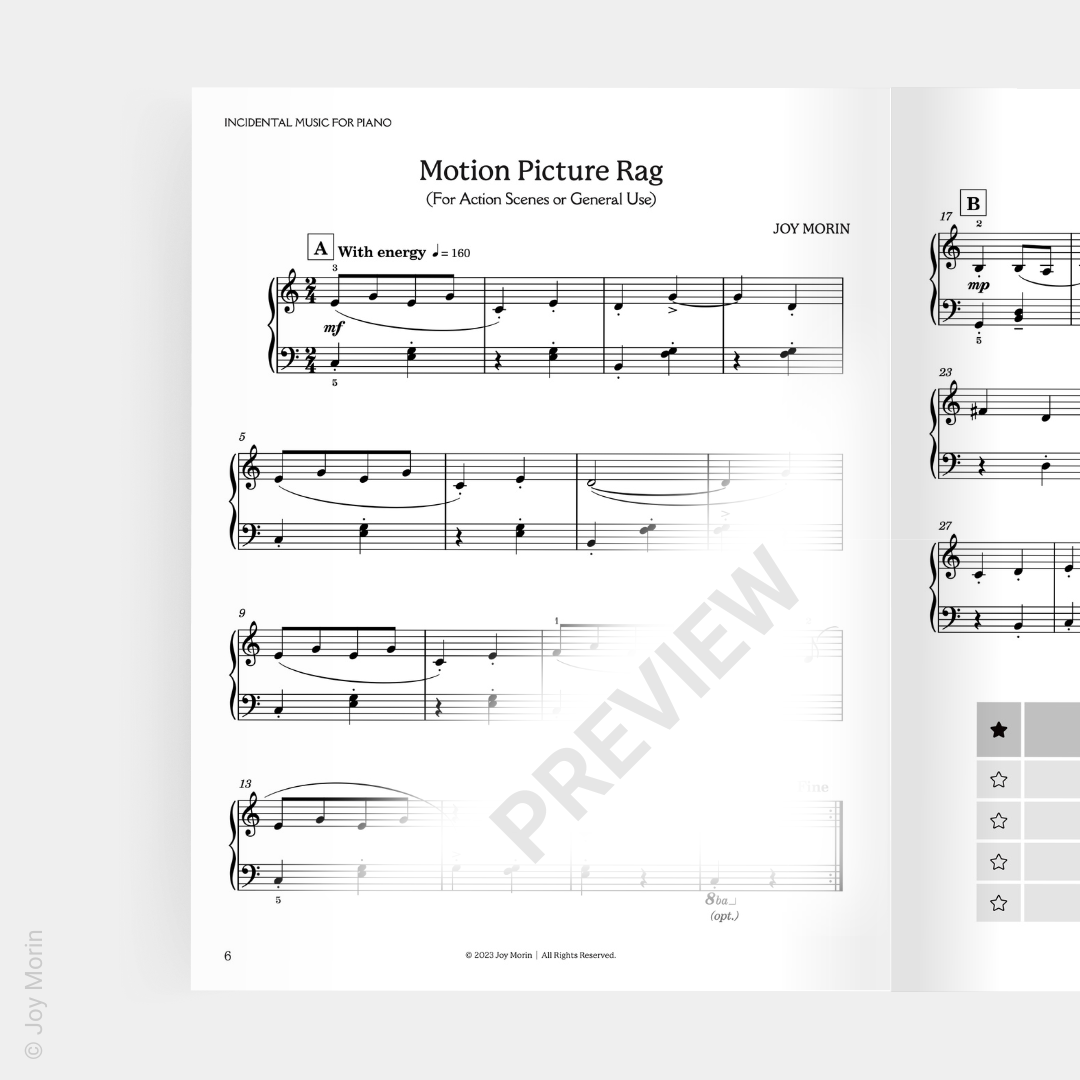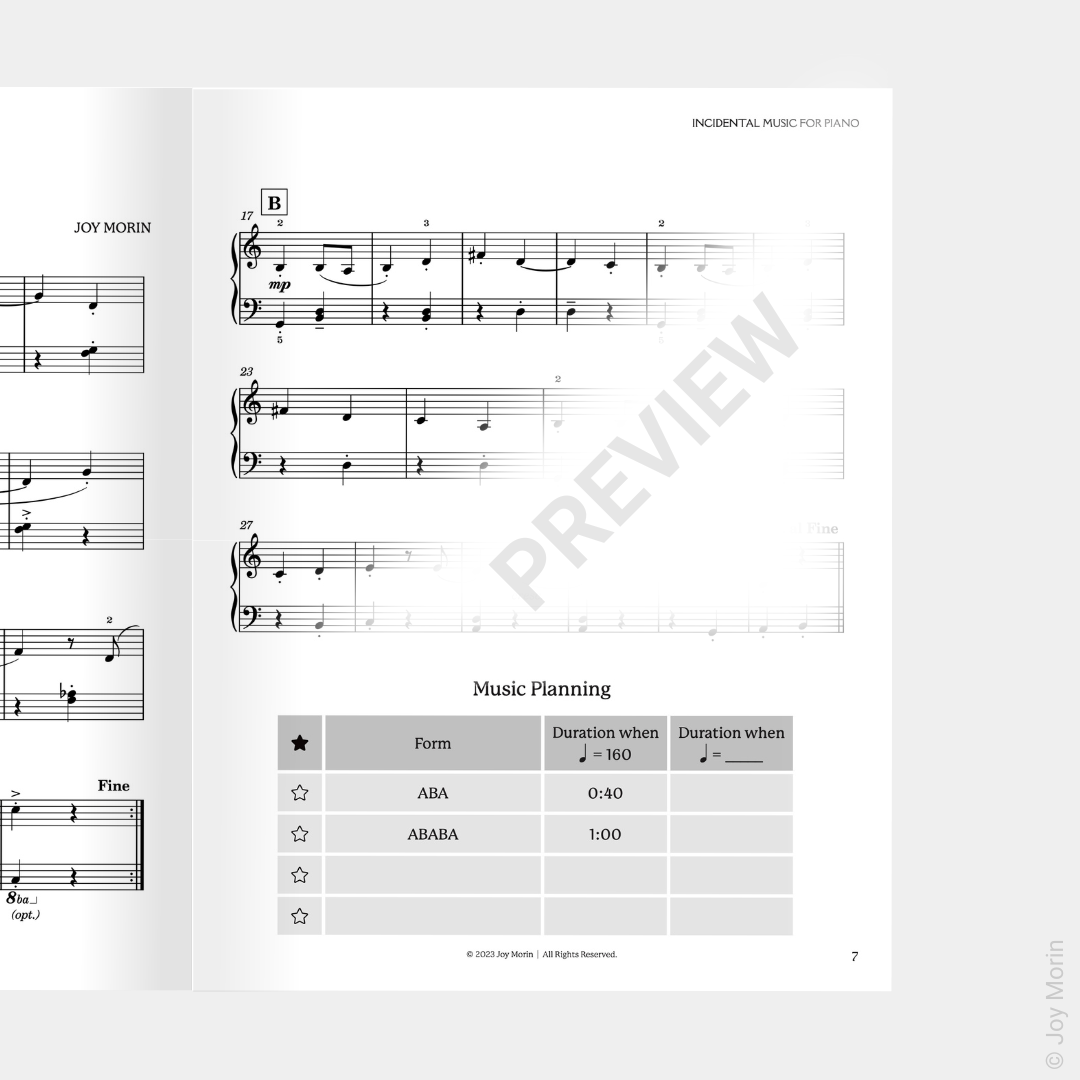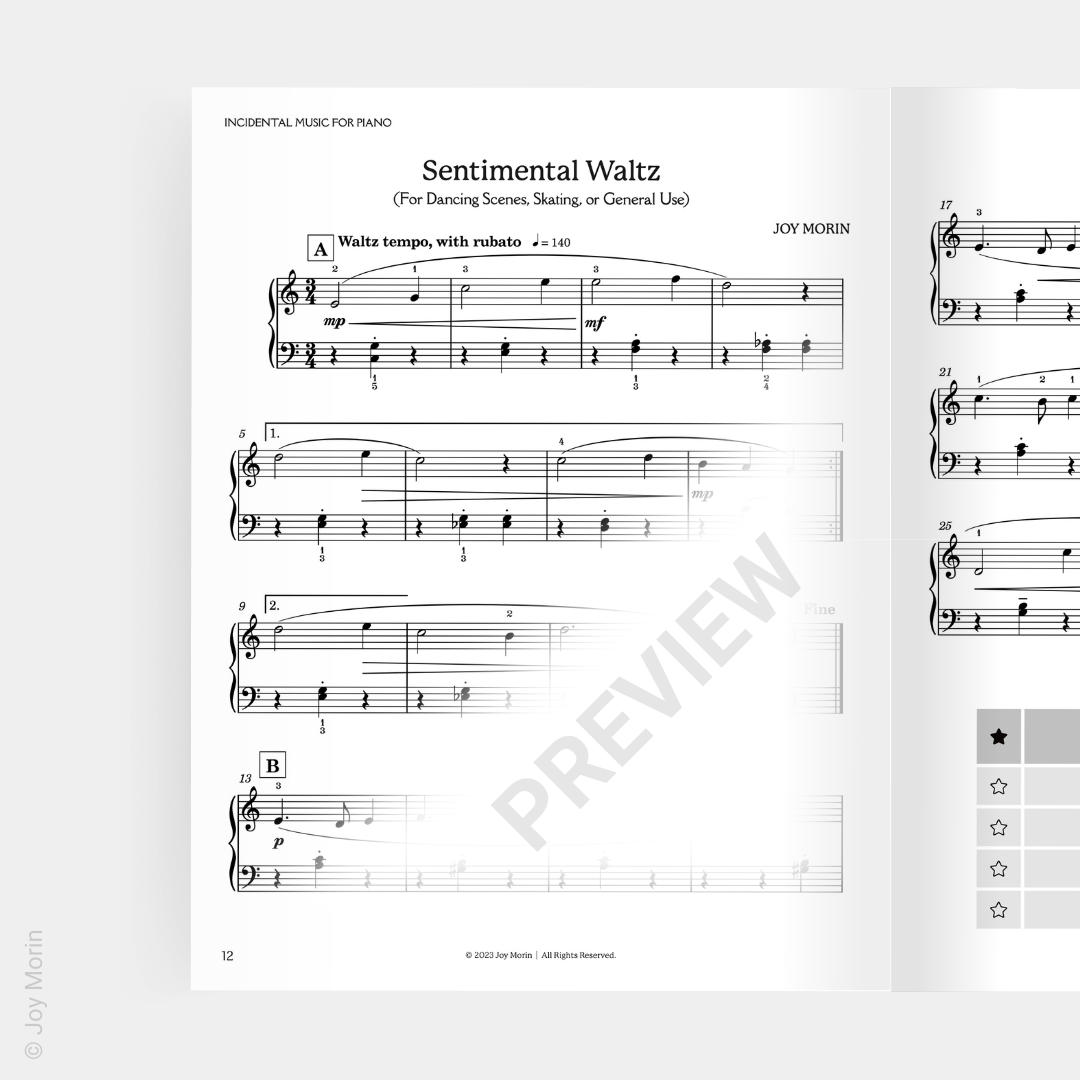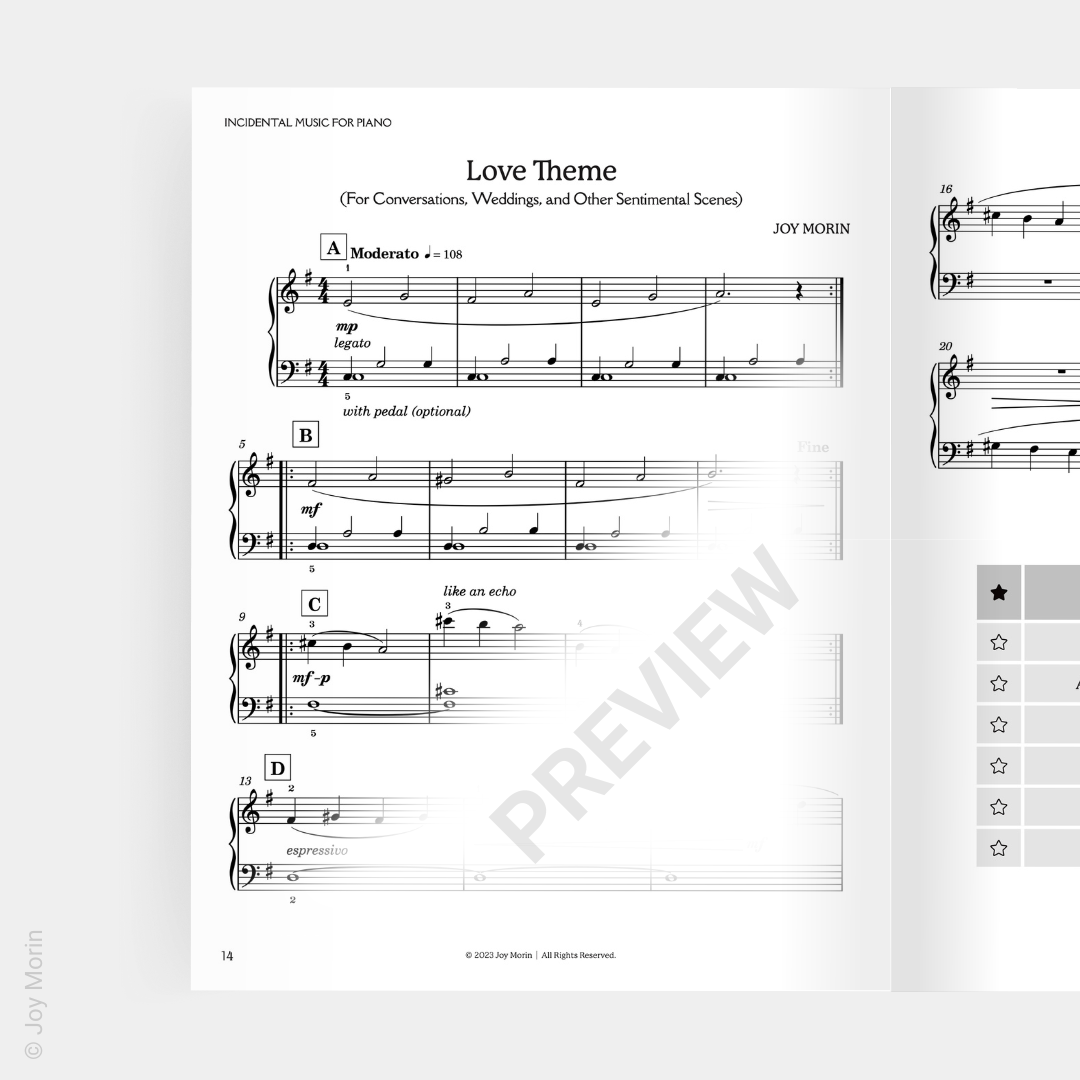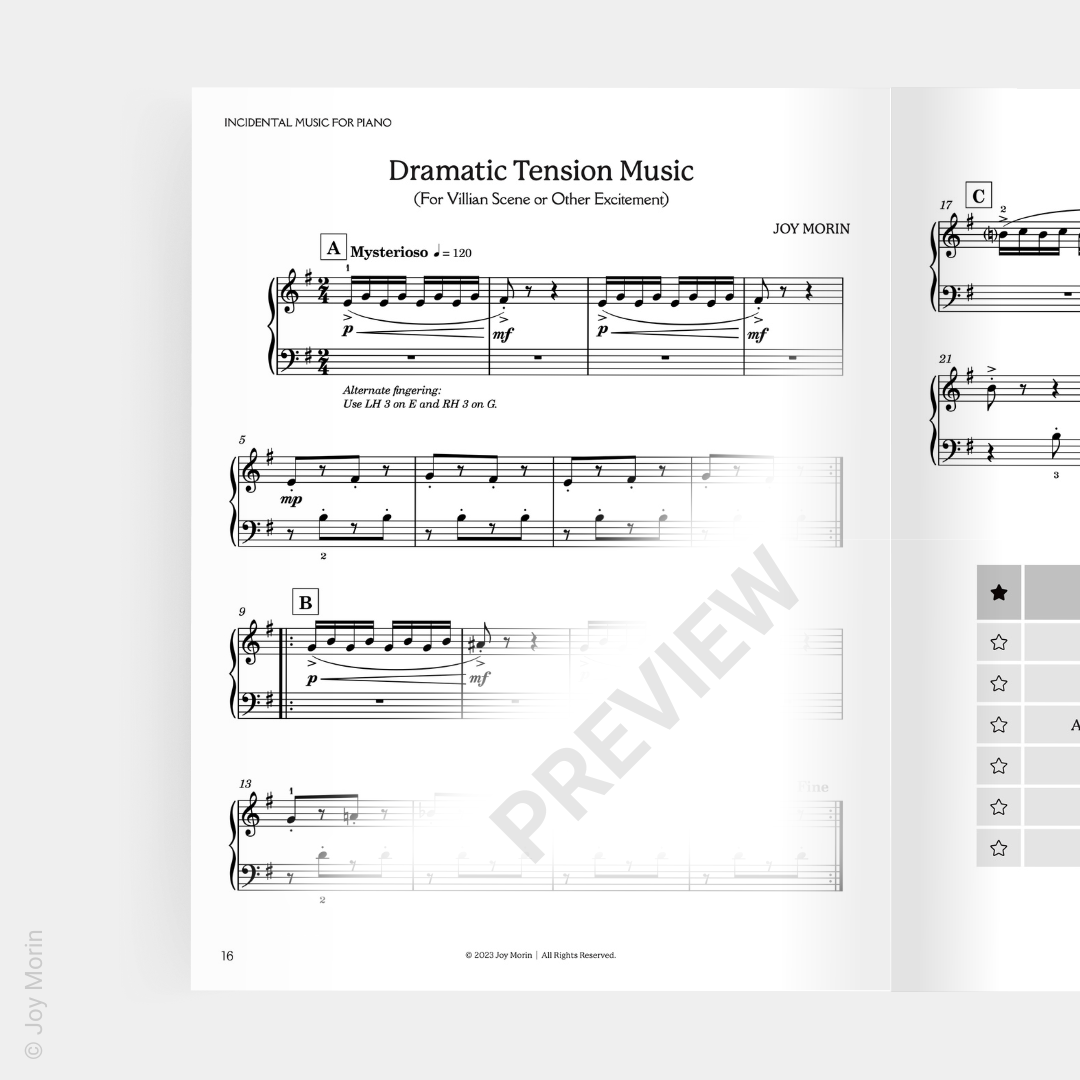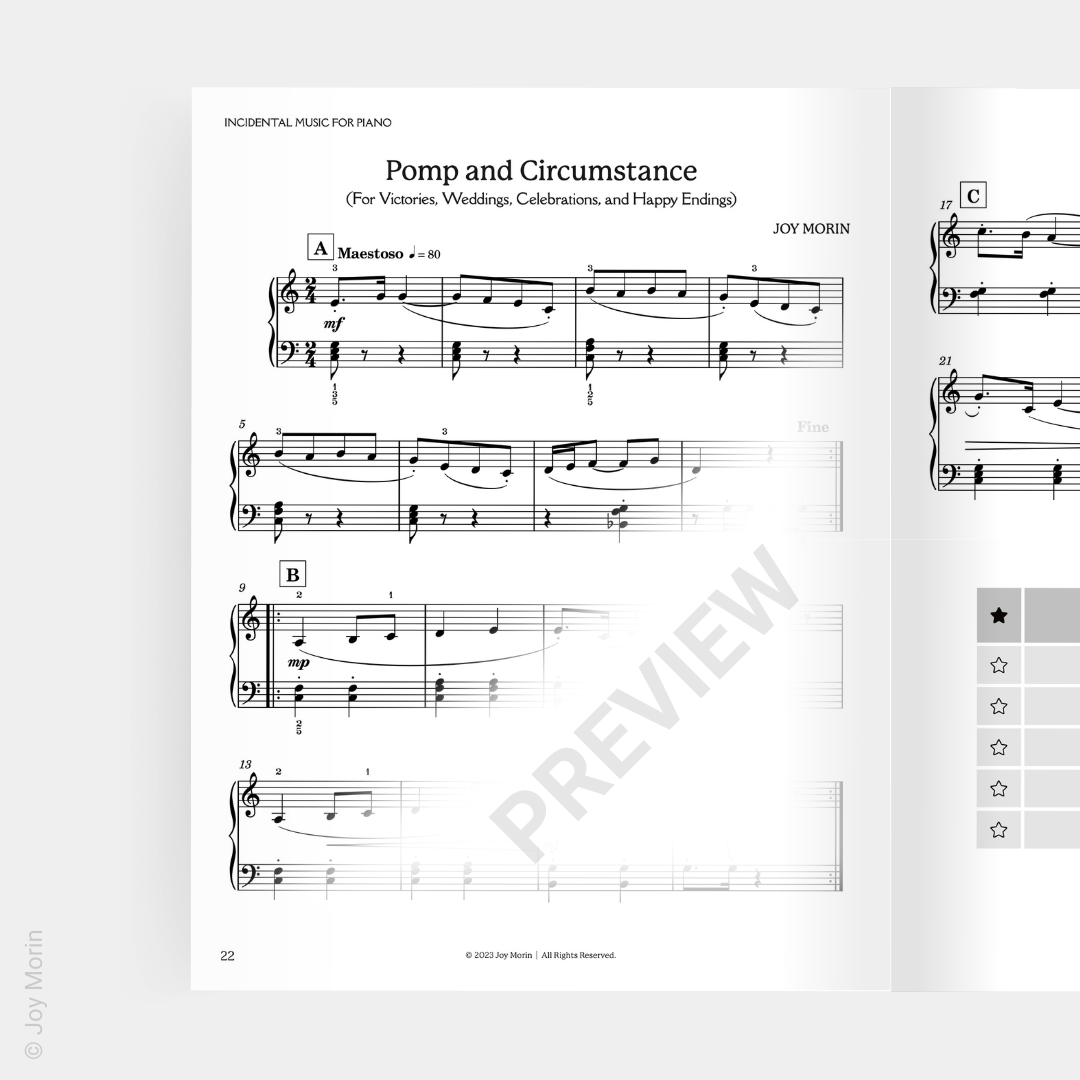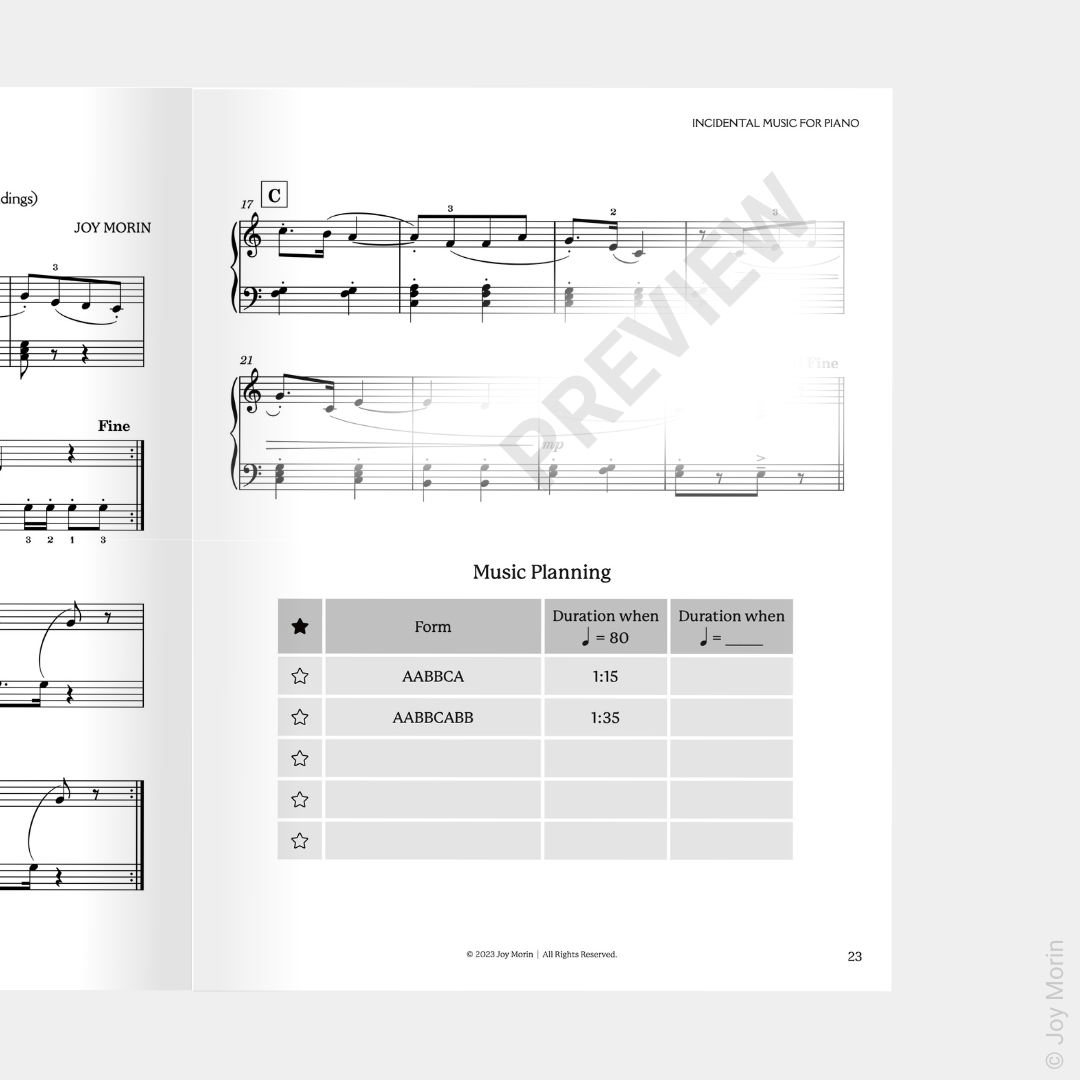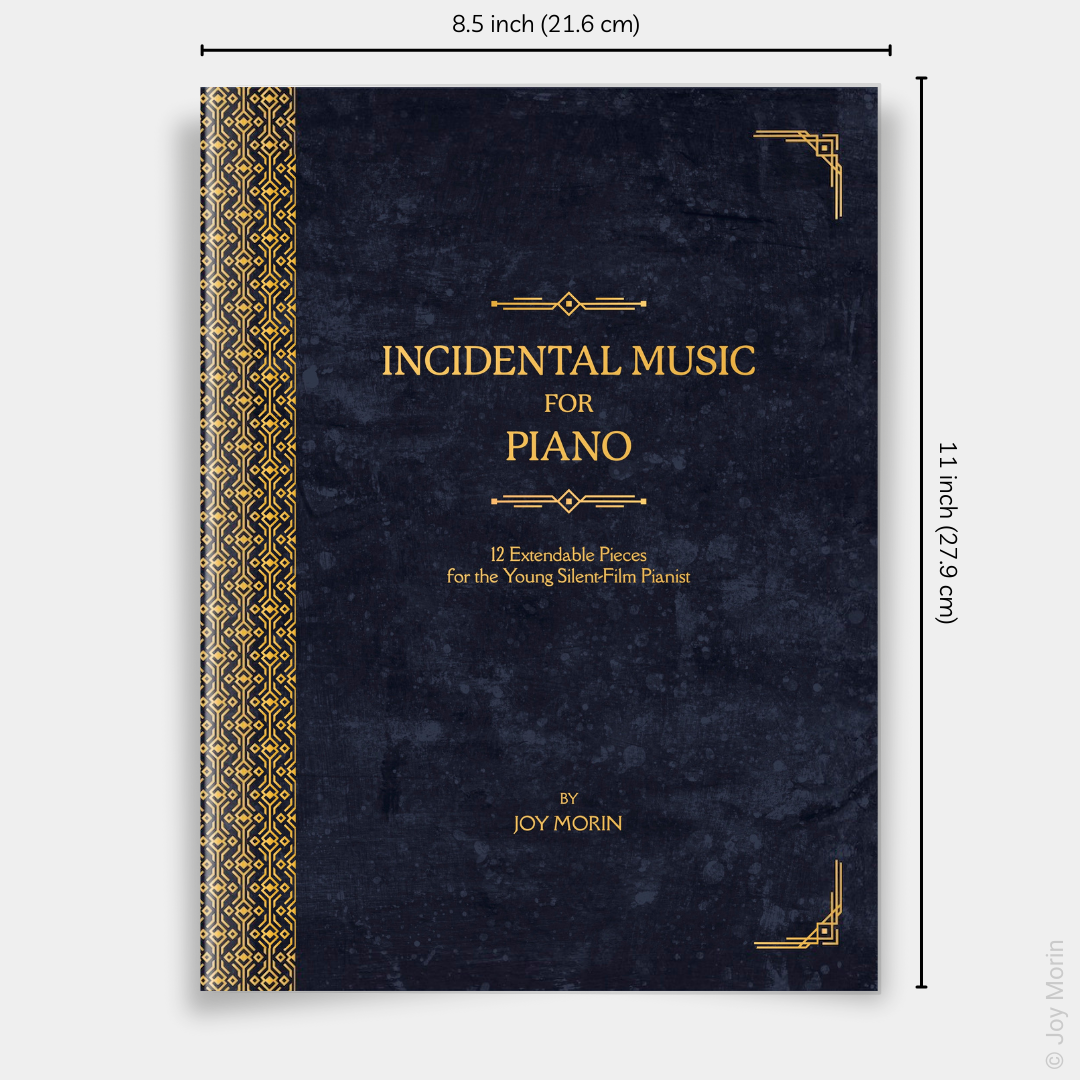 Incidental Music for Piano: 12 Extendable Pieces for the Young Silent-Film Pianist is an accessible collection of pieces for performance during showings of silent movies from the early 1900s. (For resources on putting on your own silent film recital, see Silent Film Celebration, a non-profit organization founded by Heather Smith, which offers silent film videos, sheet music, and other resources for piano teachers and students.)
While there are many extant volumes of incidental music for the advanced pianist (e.g., books here and here, plus public domain PDFs at sfsma.org or imslp.org), there are few collections available for the developing pianist. (Mine is the first, in fact, so far as I can tell!) The pieces in this collection are written for Late Elementary level students. If taught be rote, some of them are even be suitable for Early or Mid Elementary students.
The 12 pieces in this volume are titled by mood or character. When previewing a film, the action occurring in each film scene can be matched to an appropriate music selection.
Each piece is extendable, allowing it to be used flexibly to fill the time allotted for a given scene. Sections may repeated or not repeated as needed. The pianist is encouraged to create their own plan for the structure the piece using the provided Music Planning table. (If your students are like mine, they will enjoy having a say in how the piece goes!)
Table of Contents:
Hurry Theme (For Action Scenes, Chases, Struggles, etc.)
Hurry Music (For Chases Scenes, Struggles, etc.)
Action Music (For General Use)
Motion Picture Rag (For Action Scenes or General Use)
Joyful Theme (For General Use)
Quietude (For Calm, Peaceful Scenes involving Gazing, Thinking, Daydreaming, Wandering, etc.)
Sentimental Waltz (For Dancing Scenes, Skating, or General Use)
Love Theme (For Conversations, Weddings, and Other Sentimental Scenes)
Dramatic Tension Music (For Villian Scene or Other Excitement)
Uneasy Music (For Dramatic Tension, Sneaky Scenes, etc.)
Hero/Heroine Music (For Rescue Scenes, Successes, Weddings, etc.)
Pomp and Circumstance (For Victories, Weddings, Celebrations, and Happy Endings)
This is a studio-licensed product — meaning, the purchasing teacher is granted permission to print/copy from the PDF for educational purposes with your own students forever. The 8.5"x11" sized pages will print easily using a typical home/office printer. Your purchase also includes a set of audio recordings (MP3) for the pieces, so your students can listen to all twelve pieces.
Note: Interested in purchasing a HARDCOPY version of the book? Click here.
Level:
Late Intermediate
Pages:
2 pages
Format:
PDF and MP3s (email delivery)
Terms of Use:
Studio License
OR
Single Use License
STUDIO LICENSE
Permission is granted for the purchasing teacher to make unlimited printouts and use the digital files for the purpose of teaching their own students. Sharing printouts or the digital files beyond that purpose is not permitted. The purchaser is not permitted to resell the item(s), or alter, modify, or create derivative works.
"The compositions are very accessible, engaging, fun, and written specifically with a younger student in mind. Students and teachers will love the music!" –Heather Smith
"I would highly recommend Joy Morin's Silent Film collection. It's definitely worth it! I had students playing some of the pieces at our silent film event a couple weeks ago, and Joy's pieces were teacher AND student favorites!" –Valerie M.
Please note: This is a digital product, to be emailed after purchase.