[Click here to go back to Day 1, Day 2, Day 3, or Day 4.]
On Tuesday morning, Ruth, Christina, I spent some time in the exhibit hall, checking out more booths and shopping for music. 🙂 For example, we visited Eik at her Sproutbeat booth.
While in the exhibit hall, I bumped into Sam Holland and took the liberty of introducing myself. He and I have been corresponding recent via email, because I am serving on the conference planning committee for the next OhioMTA state conference (October 24-26-, 2019) and Sam is going to be our guest pedagogue!
11am The Ottline: Examining The Legacy Of Margaret Saunders Ott, by Nancy O'Neill Breth, Donald Manildi, and Greg Presley
The next session I attended was an interesting recounting of the legacy of nationally renowned teacher Margaret Ott, presented by three of her former students.
Ott, fondly known as "Margy May", was in great demand as a teacher in Spokane from the late 1940s to 2010. She held a masters degree from Julliard. She studied with and also served as personal assistant for the venerable Olga Samaroff. She taught at both the college and pre-college levels and actively served in MTNA-affiliated local and state chapter. In 2003, MTNA granted Ott the first-ever national Teacher of the Year Award. Here's a few interesting notes I took from this session:
Ott believed in always expanding the horizons of the student, and not just in piano. For example, she believed part of the reason we study piano is self-discipline — learning to control your body. She was a life coach to her students.
She loved to make students laugh, and she laughed a lot.
She liked to ask: "How does the music make you feel?"
Practicing should be very soft and very slow to build sensitivity and awareness, and also to allow the muscles to play without tension.
Practice long legato passages non-legato with pedal to create a beautiful line without relying on finger legato.
She encouraged her students to teach, play chamber music with others, research their pieces/composers, and read more to relate music to other professions, to world events, and to psychology.
For lunch, a group of us walked to a restaurant called The Onion. I ordered a delicious BBQ pulled pork sandwich with coleslaw and onion straws. We had fun in our cozy booth!
2:15pm The Curious Careers Of "Originals" And Independent Music Teachers, by Karen Thickstun
Karen Thickstun presented a session considering Adam Grant's book "Originals: How Non-Conformists Move the World" and examples of young teaching professionals today with non-linear, diversified career paths. I really enjoyed hearing about the insights Grant offers in his book regarding originals, and was also humbled to have been included among Karen's examples of young teaching professionals (my career is definitely diversified: I am first and foremost a piano teacher, but also am involved in speaking engagements, my blog's online shop, my online course for piano teachers, and my Piano Teacher Retreat). Here are some notes I took from Karen's session:
Grant suggests that "the hallmark of originality is rejecting the default and exploring whether a better option exists".
Originals and entrepreneurs often have a wealth of good ideas. The key is to be able to choose the right idea and follow through on it.
However, quantity of ideas is what leads to quality ideas.
Our peers/colleagues are better at predicting the success of our ideas than ourselves, our managers, or focus groups. I think this means we ought to seek and value input about our ideas from our closest friends.
That afternoon, I helped Paula once again at her Little Gems for Piano booth.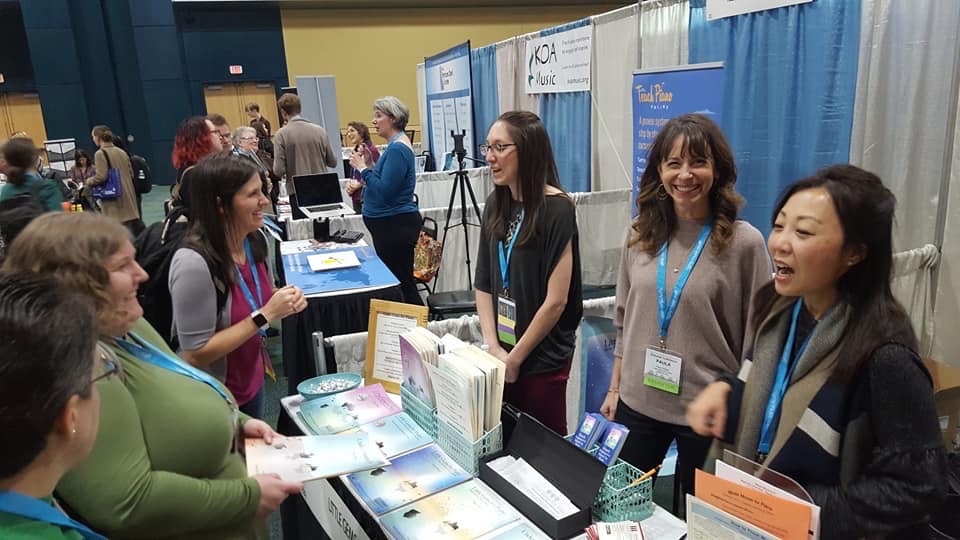 For dinner, Marilyn Lowe and I enjoyed a meal at Ruth Michaelis's home. We talked about all sorts of things, including music teaching of course. 🙂
Check out my notes from Day 6, the final conference day!