I just thought I'd share this idea my students and I are enjoying.
Some years back, I used to run an Etsy shop selling handcrafted items. Among the things I crafted, I used to make Christmas ornaments using Scrabble tiles. I still have a ton of tiles from games I purchased for $2 at the thrift store, now just waiting for a fun purpose.
Recently, I had the idea of putting out the tiles out in my studio. When students arrive early for their lessons or wait during a sibling's lesson, I invite them to add a musical term or composer name to our crossword. They are loving this!
It's fun to see how the crossword grows from week to week, and which music-related words they choose.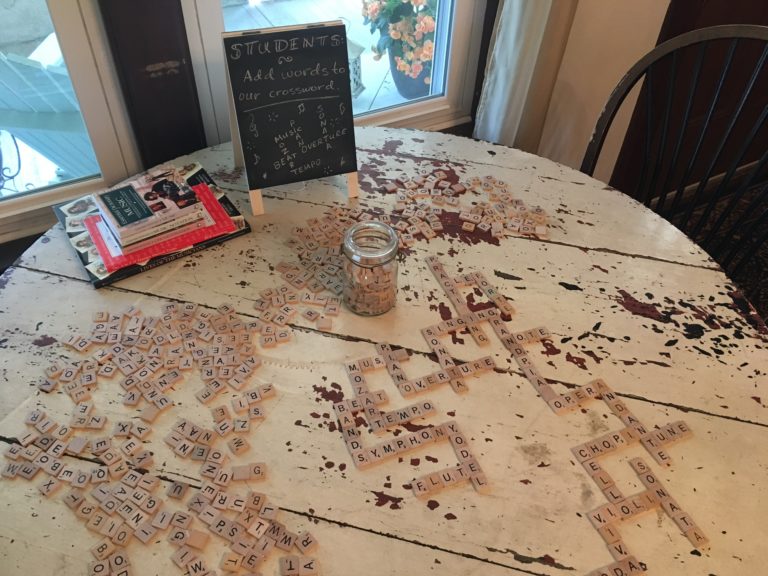 If you want to do this in your studio, all you need are a couple of Scrabble games (you can always sort out the tiles back out into separate games again afterwards) and some table space. I also put out a few music dictionaries, for word inspiration.
I'll probably leave this out for a month or two, and then set it out again next year.
What other fun activity ideas have you used for your studio waiting room area?
_________________
By the way, here's another use for Scrabble tiles in the studio:
In my game drawers, I also keep a black drawstring bag of Scrabble tiles containing only the letters of the musical alphabet. I use the tiles as a way for students to randomly choose a letter of the musical alphabet during games such as The Amazing Keyboard Race, or deciding which scale to play that day. Students can also sort the tiles onto the piano keys.
I hope you have a wonderful weekend!