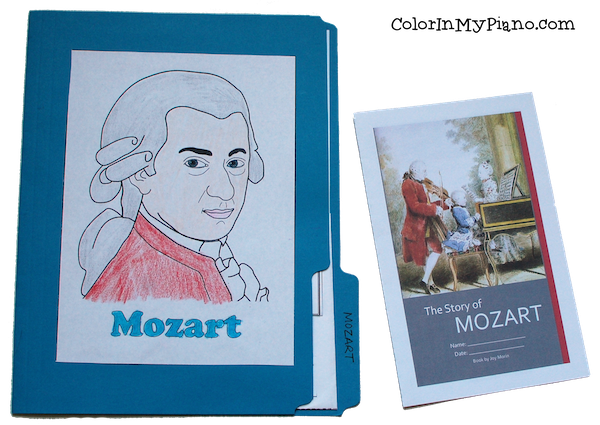 A reader recently sent me the kindest email telling me about how her recent "Mozart party" went with her students.  They used the Mozart Great Composers & Their Music lapbook that is available in my shop.  It was so fun to read about how Mary's Mozart lesson went!
Hi Joy,
The Mozart Party was a success!  We watched about 15-20 min. of a video Meet the Composers w/ Mozart, I played Rondo ala Turka, Mozart's Twinkle Variations, (just three of them) and the Overture to Figaro for them…made some posters/listening maps to go along w/ pieces., and then it was "Scrapbook" time.  I used the term "scrapbook" rather than "lapbook"  just for familiarity's sake.
There were 16 students, from Kindergarten through 7th grade!  They really enjoyed putting together their scrapbooks, and your suggestions were so helpful, especially "Pass out one page at a time."  The older kids were quite independent, using the model I made as a guide.  Little ones needed more direction, but no one was lost or frustrated…as far as I could tell.  It took anywhere from 45 min. to an hour, just as you suggested, for everyone to finish.
Thank you again for putting this together. The entire package was thoughtfully researched and composed, it used a nice variety of "crafting" techniques (accordian folds and such), and my students enjoyed both the process and the product. Parents were pleased also, and I even received feedback that some grandparents were impressed!
Wishing you the best,
Mary
If anyone has questions about using this lapbooking curriculum for a group class or camp, please feel free to ask.  I'd be happy to answer your questions!