Today I have a fun new printable to share!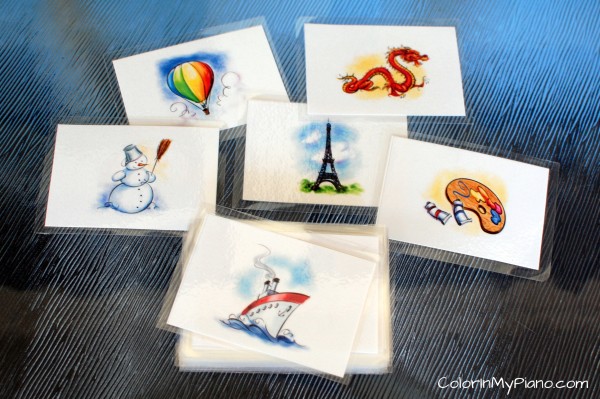 Students are sometimes at a loss for topics for improvising or composing, so I like to provide prompts — similar to the way Creative Writing classes often provide prompts.  🙂  Remember those Story Cubes?  That's one great way to provide prompts.  These flashcards are another.
This 12-page document contains 96 flashcards of colorful clipart (which I found on the Microsoft Word website).  At the end of a lesson, I'll give one to a student and base an improvisation on describing that topic.  Sometimes, I give the student three cards so they can choose which one they like best of the three.
There are plenty of flashcards in this set, so even when working in large groups (monthly studio classes or camps), it's possible to have plenty of variety.  In group sessions, these flashcard prompts can be used for duet improvisations with a partner, or for each student to write their own short composition.  Either way, I like making a game out of it and these flashcards help provide some fun and variety.
I'd love to hear what other ideas you might have for using these flashcards!  To download this printable, visit the Printables > Other Resources page and scroll down to the I's for "Improvisation & Composition Inspiration Cards."
Improvisation & Composition Inspiration Cards (4.8 MiB, 14,612 hits)