This week, I recently stumbled upon some great blogs about piano teaching to add to my blogroll.  Some are new, and other have been around for a while, but they all have wonderful things to share!
Jen's Piano Studio Blog – lots of game ideas and free resources.
The Teaching Studio – tips and discussions on piano teaching.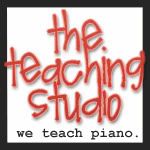 Heidi's Piano Studio – games ideas and other piano teaching tips.
Music for Tots – tips for parents and teachers about using music with children.
Notes of Joy – a blog about teaching piano lessons.  Visit now for a chance at receiving a free giveaway!
Music Teaching Success – tips and ideas for running a successful music studio.
Musician's Way – a blog for pianists and other musicians by Gerald Klickstein, author of The Musician's Way: A Guide to Practice, Performance, and Wellness (Oxford University Press).
I don't anticipate running out of reading material for a long time! 🙂
If you have your own links to share, post them in the comments below.  I'd love to see them!