This page contains FREE piano/theory worksheets, sheet music, lesson plans, and other resources for music teachers and students. Please enjoy using them for personal and educational uses only. I only ask that you do not redistribute the files on other websites and or alter the files in any way. Thank you!
Use the Printables navigation menu at the top to browse through the other categories of files.
Other Resources
Displaying 41 to 48 of 48 Other Resources files.

Signs for Beginner Piano
» 1.4 MiB - 27,403 hits - 10 September 2012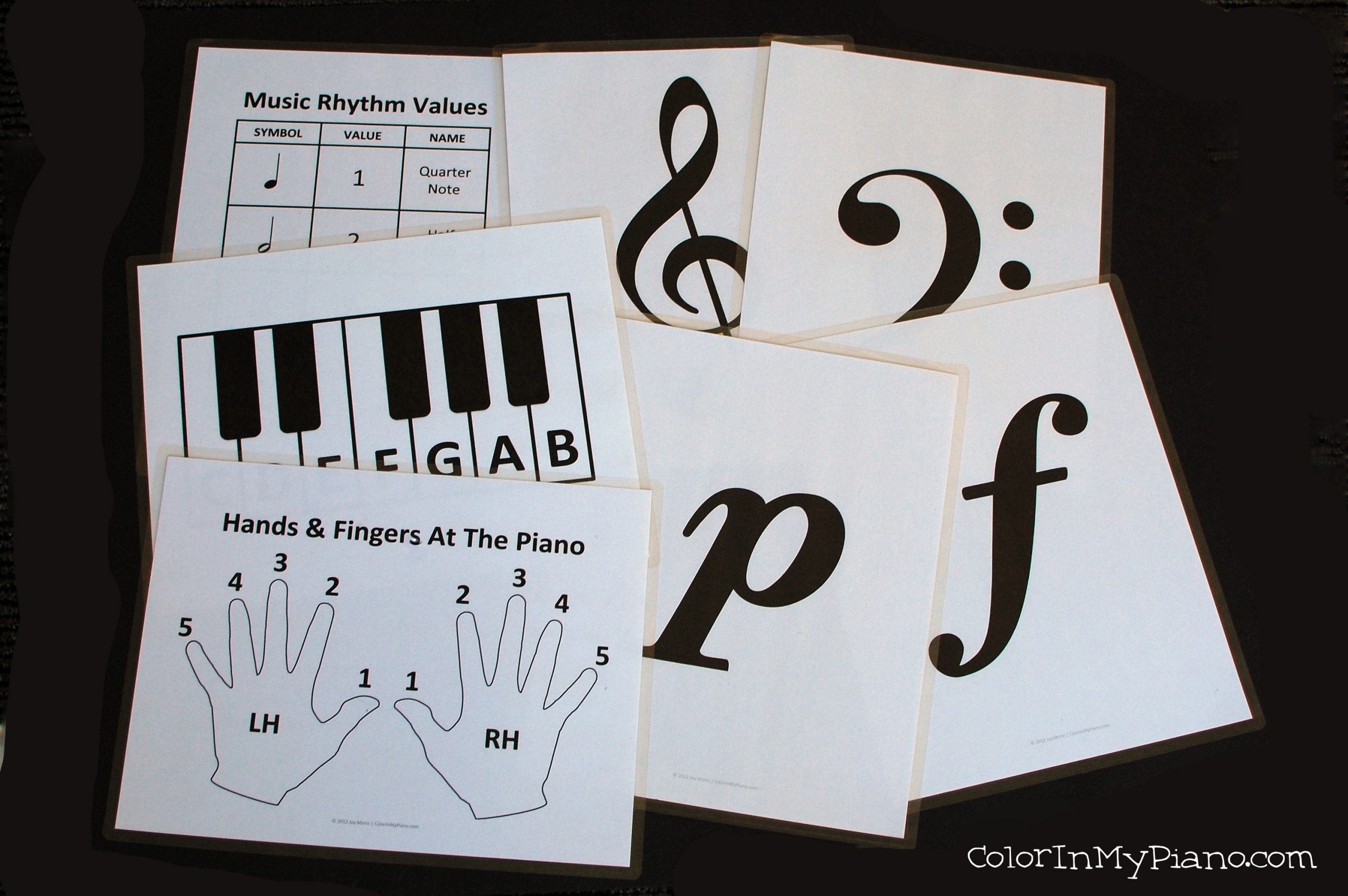 This 11-page pdf contains a collection of 8.5 x 11 inch signs to print for use with beginner students in class or private lesson settings. They can be held up while teaching a new concept, hung on the wall, or used for various games with your students. The signs illustrate the names of the white keys on the piano, piano fingering, a chart of rhythm values, treble/bass clef, line/space notes, and the dynamics. Read more here.

Staff Paper - A-J
» 180.5 KiB - 20,516 hits - 22 July 2012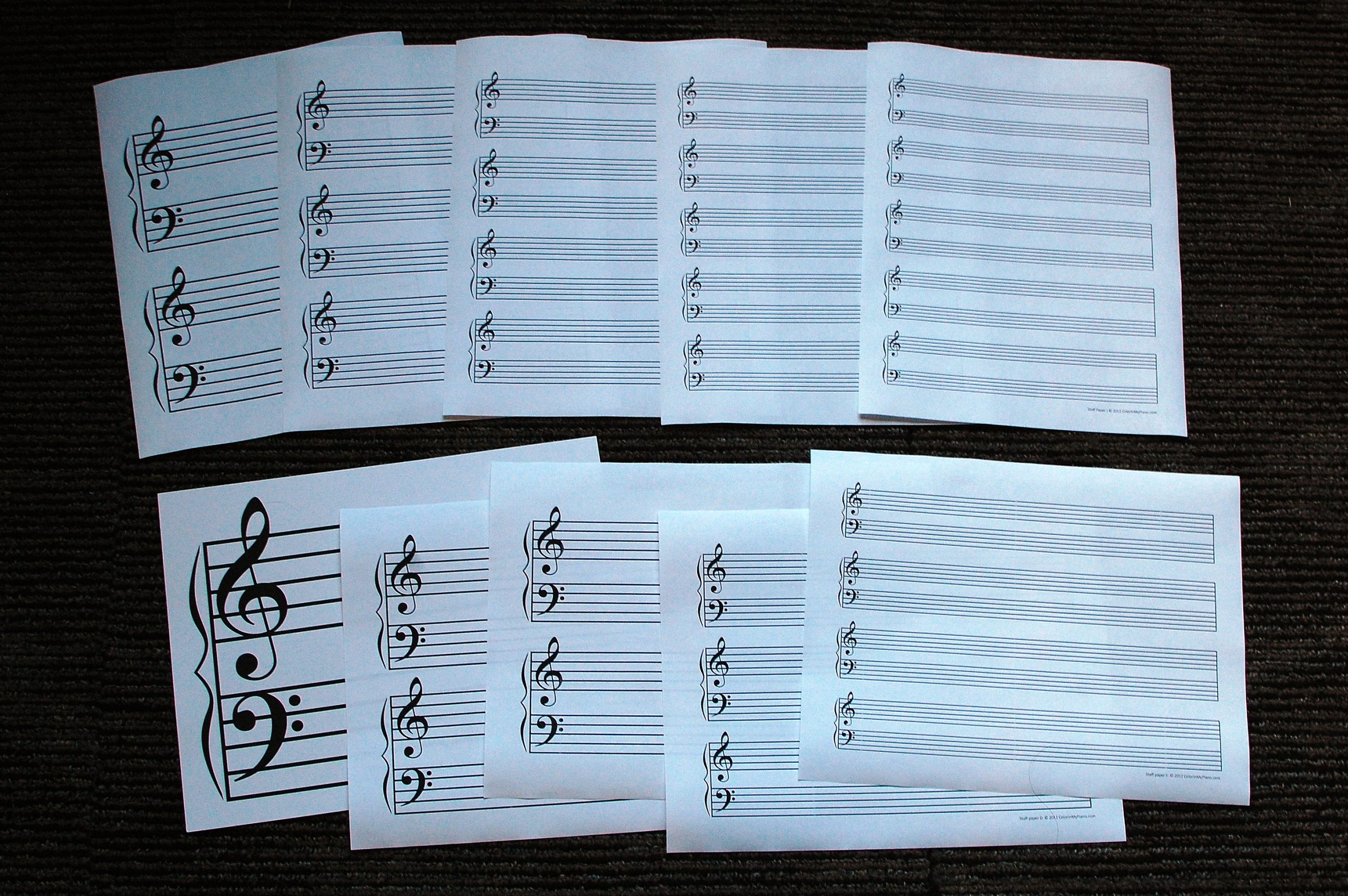 This pdf contains 10 different sizes of staff paper. The other sizes are suitable for students of various ages, for any type of composition or theory assignment. I laminated a few copies of the largest size of staff paper (A), and enjoy using it for theory games with group classes. We use colorful glass gems as the notes for the staff, or use a dry erase marker.

Staff Paper -- Large Staff for Simple Compositions
» 28.4 KiB - 10,602 hits - 4 November 2011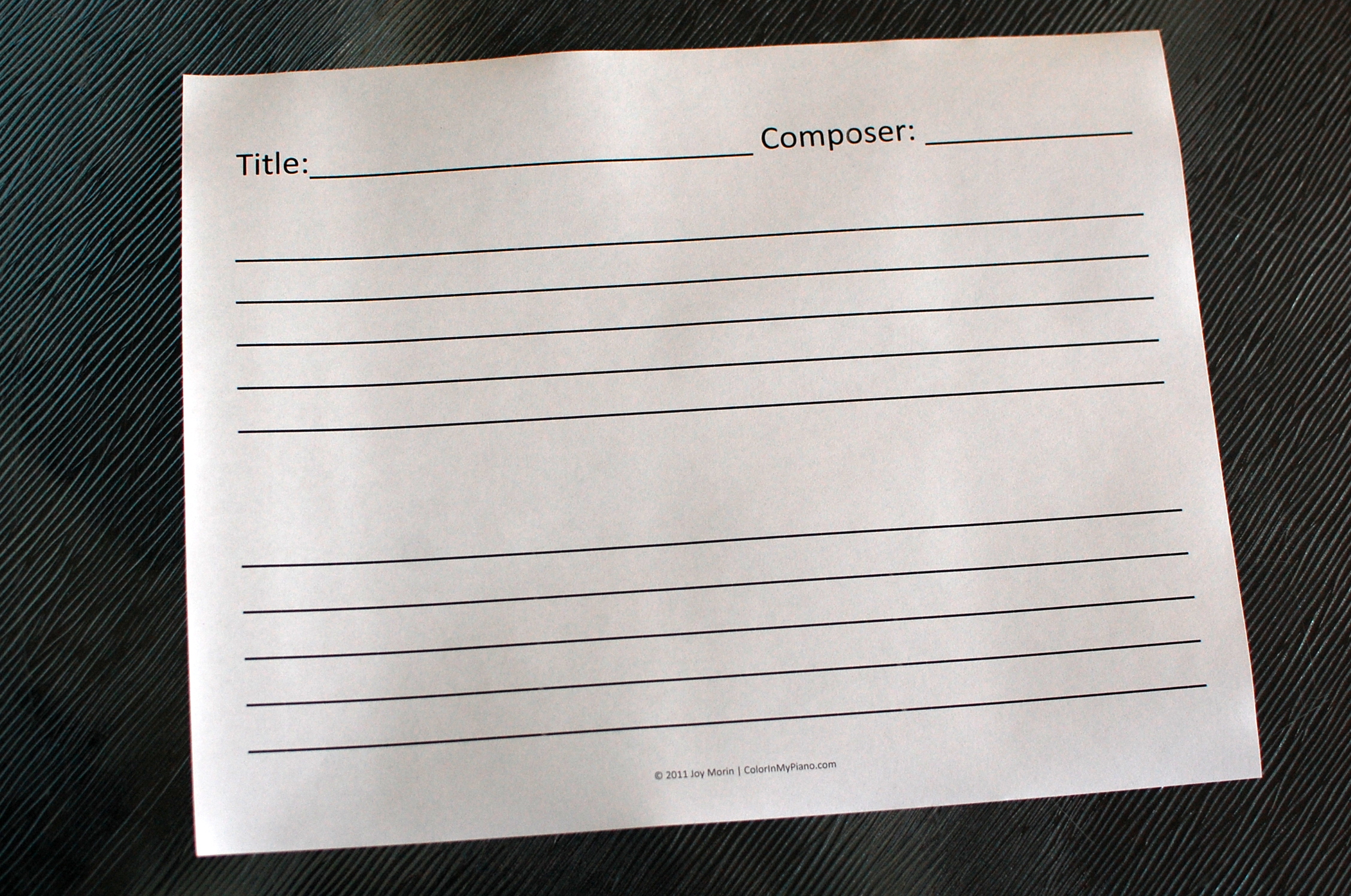 This large staff paper is appropriate for use with young students. I use this paper when teaching about reading staff notation for the first time. With students, together we notate a simple composition they create on-the-spot at the piano. After getting the notes down, we use colorful markers to label the notes (A, B, C, etc) and write in finger numbers, so they can continue playing their compositions at home. Students love the idea of being composers!
Click here
to view the original blog post about this printable.

Staff Paper for Composing with Stickers
» 93.0 KiB - 14,053 hits - 27 February 2012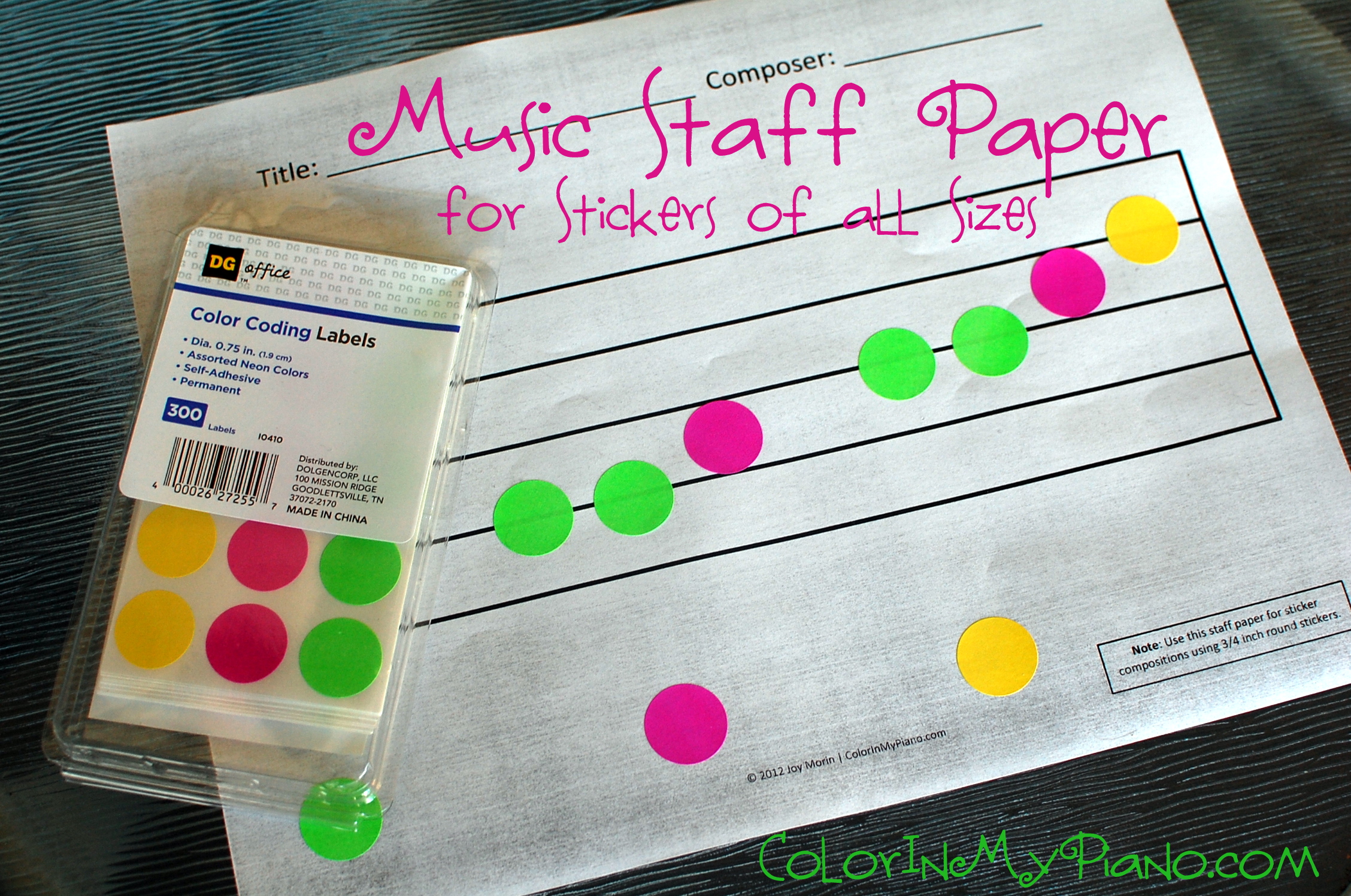 I love having my piano students compose their own music, even when they are young beginners. I try to make it easy and fun for them. The pdf contains a variety of various sizes of staff paper for use with any stickers you might find. On the bottom of each page in the pdf, it indicates what size stickers you'll need with each sheet of staff paper.
Click here
to view the original blog post about this printable.

Sticky Notes Template
» 44.2 KiB - 8,049 hits - 23 July 2018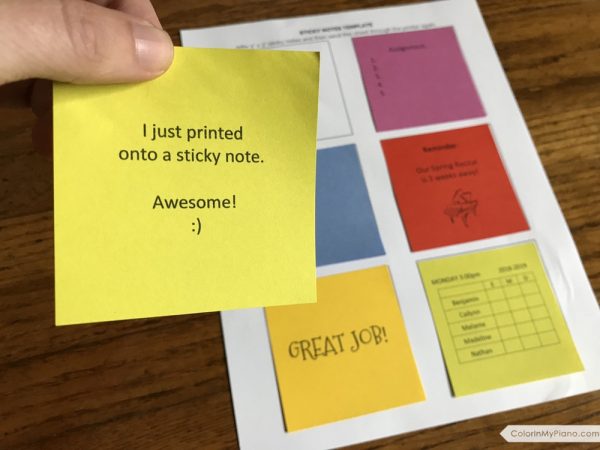 Did you know there is a way to safely send sticky notes through your inkjet printer? Here's a user-friendly Microsoft Word template that will allow you to print whatever you'd like on 3''x3'' sticky notes (I recommend using the "Super Sticky" Post-it notes instead of regular Post-its. Here's a link to a package of "Super Sticky" Post-it notes in my favorite color set. Just imagine all the cool things you could create by printing on sticky notes. 😀 Click here to view the original blog post about this printable. Also be sure to check out the "Notes To Self" wall art kit available in my shop -- a fun way to build positivity and camaraderie within your music studio.

Students Listed by Level
» 31.0 KiB - 1,872 hits - 27 January 2016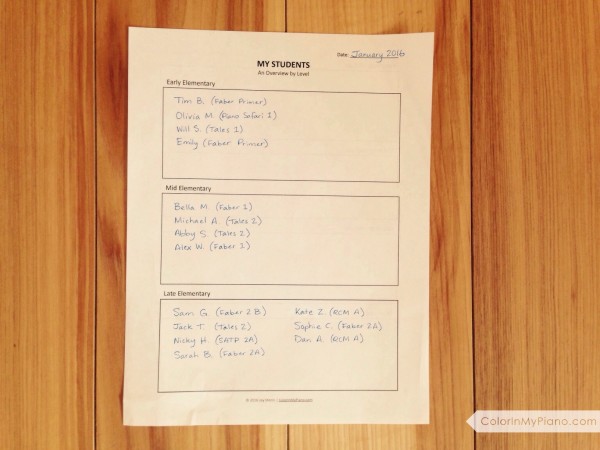 This handy PDF can help you create an overview of your current students' playing abilities, organized by level. This process can be helpful to the teacher not only when choosing recital repertoire for student performances, but it also for creating a benchmark to compare to previous and future years.
Click here
to read the original blog post about this and to learn more about "leveling."

Studio T-Shirt Design Idea Printable
» 229.8 KiB - 1,552 hits - 5 May 2017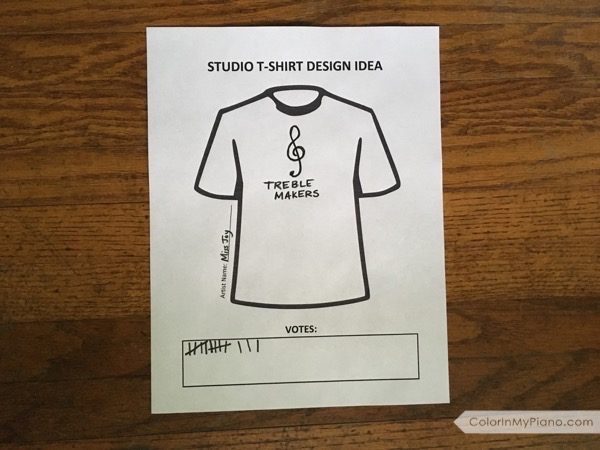 I use this printable for students to submit their design ideas for our studio T-shirt each year. They can draw their idea on the sheet and then other students can leave their votes in the box at the bottom.

To view the original blog post about this printable, click here.




Whiteboard Background - for 8.5x11'' Plexiglass Frame
» 20.7 KiB - 8,984 hits - 26 February 2013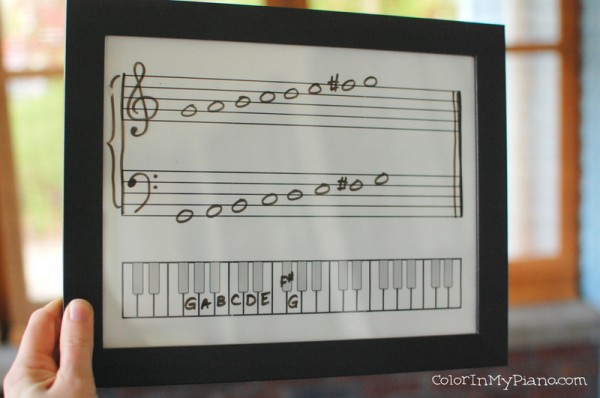 Music whiteboards cost a pretty penny in music catalogues, so I decided to make my own. I bought this 8.5x11'' frame from IKEA for under $3. I chose one that had plexiglass instead of glass, so that I won't have to worry about it breaking if it gets dropped. The frame is a sturdy plastic. On my computer, I designed the staff and keyboard pictures on a horizontal piece of paper, printed it, and inserted it into the frame. Easy! Click here to read more about how I use this frame when teaching.