This page contains FREE piano/theory worksheets, sheet music, lesson plans, and other resources for music teachers and students. Please enjoy using them for personal and educational uses only. I only ask that you do not redistribute the files on other websites and or alter the files in any way. Thank you!
Use the Printables navigation menu at the top to browse through the other categories of files.
Lesson Plans
Displaying 1 to 8 of 8 Lesson Plans files.

Analyzing & Composing in the Romantic Style - Lesson Plans & Worksheets
» 1.0 MiB - 33,531 hits - 1 November 2009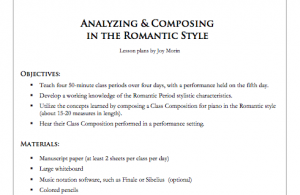 This lesson plan (four days + a performance) is designed to teach music students about Analyzing and Composing in the Romantic Style. Although originally created for a class sizes of 6-8 piano students ranging in age from 9-15, these plans may be easily adapted for other uses. Read more here.

History of Audio Formats - Lesson Plan
» 6.7 MiB - 7,845 hits - 13 April 2015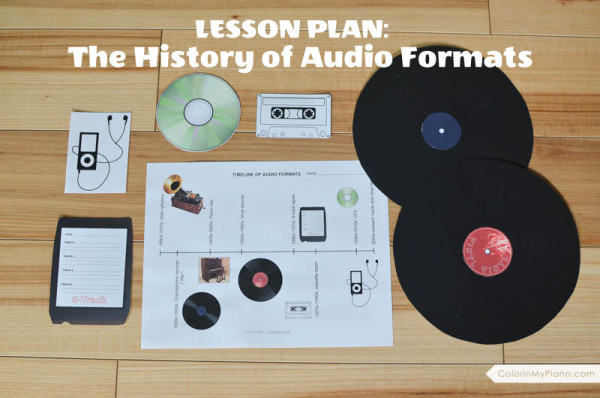 This PDF contains a lesson plan, timeline, craft activity, and slides for a group activity about the history of audio formats over the decades. The lesson begins with Thomas Edison's invention of the wax cylinder phonograph in 1877 and proceeds through mp3s, wavs, and other digital file formats of today. Learn more about this lesson plan by reading this blog post.

Mozart Biography Booklet
» 365.8 KiB - 9,838 hits - 14 September 2012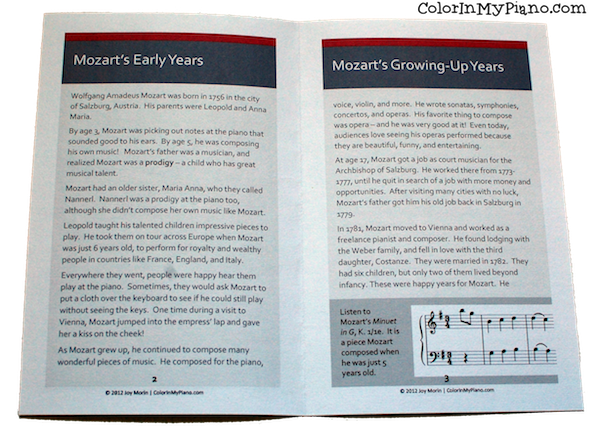 This pdf is a printable biography of Mozart's life that you can print for your students. The biography has been carefully researched to include all the important facts you would expect, yet is written in a way that is relevant and relatable for even your youngest students. This booklet is a preview of the Great Composers & Their Music set which is available in the Color In My Piano shop.
To read more details, click here.

Music History Camp Lesson Plans
» 66.0 KiB - 7,649 hits - 1 March 2013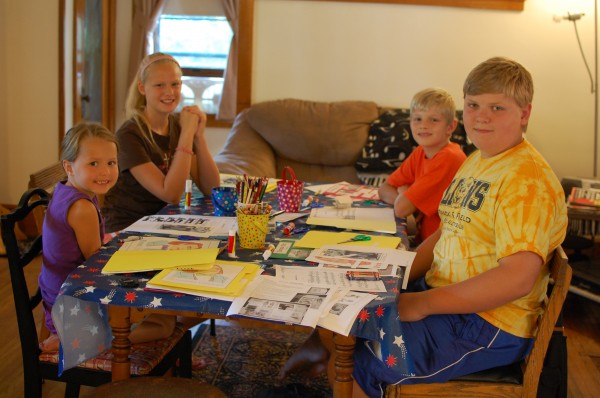 This pdf contains simple lesson plans describing how I held my Music History Blast From The Past camp in the summer of 2012. To teach this camp yourself, you will also need to choose four composer lapbook pdfs from the ColorInMyPiano shop, selecting one composer from each of the periods of Music History: Baroque, Classical, Romantic, and Modern. Read the blog post about this here.

Music History Periods Lapbook Study
» 4.2 MiB - 17,451 hits - 23 August 2012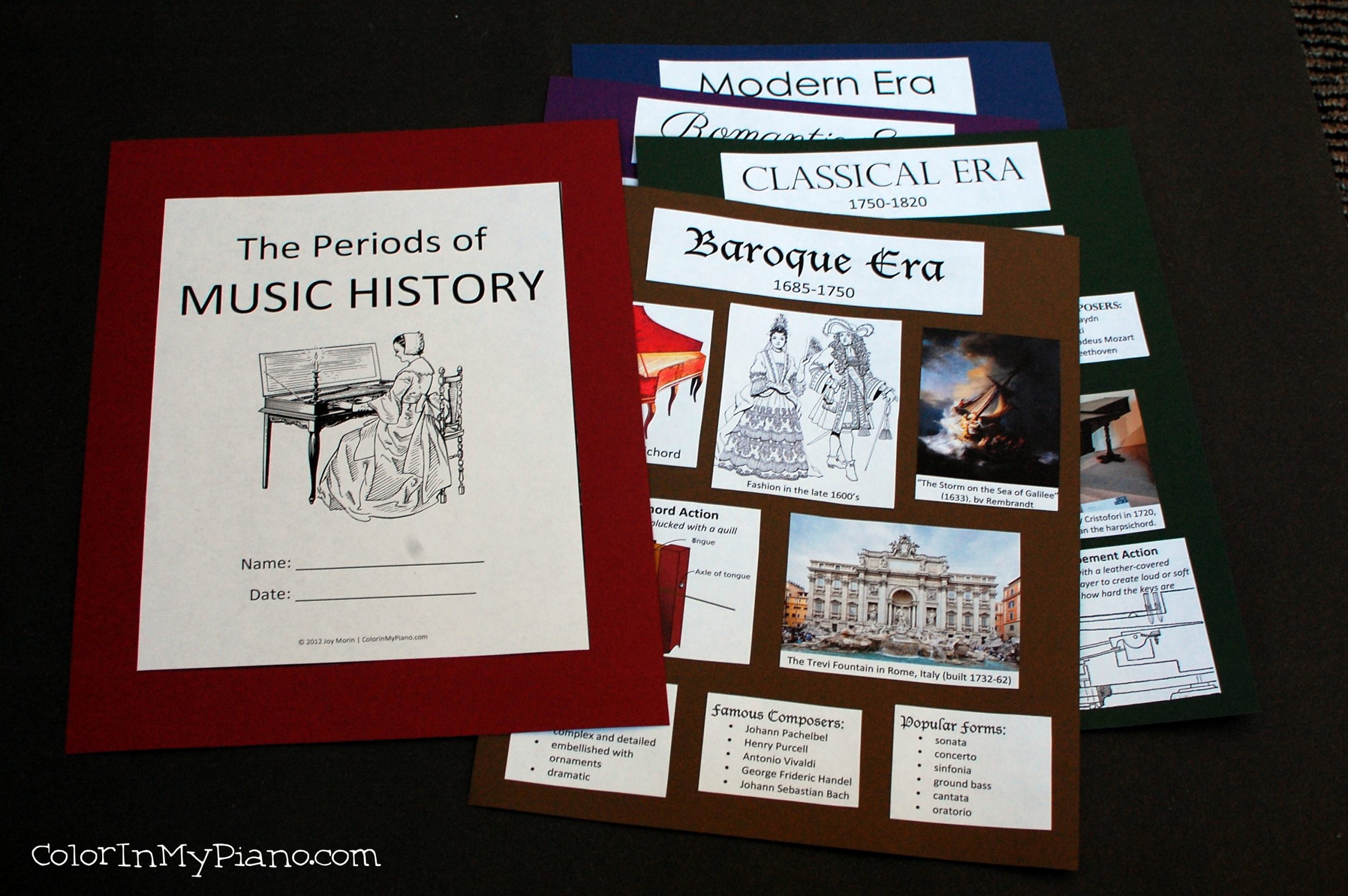 This 5-page pdf contains pictures and information about the four main periods in the history of Western classical music (Baroque, Classical, Romantic, and Modern). Students can glue the pieces onto a pieces of cardstock paper (to be stapled into a booklet) or into a colored file folder. These materials can be used during group lessons with your private students, a music history camp, homeschooling, etc.. Read this post for more details.

Musical Olympics Camp
» 6.4 MiB - 10,702 hits - 2 July 2012
This pdf includes the lesson plans and resources needed for holding your own Musical Olympics Camp! It is a very flexible plan that allows you to choose which days to play which games and to adjust the games as needed according to the level of your students. Check out the blog posts about the Musical Olympics Camp I held in the summer of 2012.

Musical Olympics Medal Inserts
» 9.2 MiB - 4,904 hits - 2 July 2012
This Microsoft Word document (docx) is editable to allow you to fill in your own award titles for creating medals to give your students on the last day of Musical Olympics Camp!
Check out
this post
to read more about the awards ceremony at my Musical Olympics Camp.

Rhythm Dictation Slides - Halloween Theme
» 4.1 MiB - 5,116 hits - 13 November 2014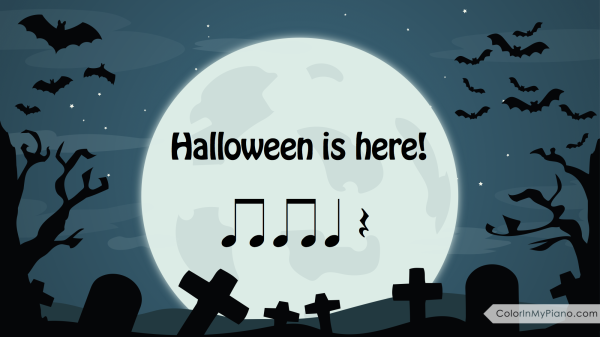 The slides are designed for use for rhythm dictation activities involving the Heartbeat Charts printable. Although the slides are not essential for the activity, they help make things fun and Halloween-y. I designed the slides to first show just the Halloween phrase, and then to show the rhythm correctly notated underneath. The slides help enable students to be able to self-correct their work during an activity. Read more here.