In this roundup, we will take a look at the music history related resources available on my blog. I've also included here some printables for learning the instruments of the orchestra. As you'll see, these are all useful resources particularly for group classes. Perhaps you'll see something you want to incorporate into your studio classes or a camp this summer!
I hope you'll discover — or re-discover — some great freebies or paid resources in the roundup below.
---
History of Audio Formats – Lesson Plan | When I was gifted a 1929 Victor Victrola gramophone some years ago, I was inspired to create a lesson plan for my students so we could learn more about the various methods used over the decades for recording audio. This free PDF contains a lesson plan, craft activity, and slides for students to learn about wax cylinders, records, 8-tracks, tape cassettes, CDs, and more! It's perfect for group classes or music camps. I hope your students will enjoy learning about the history of audio recording methods as much as my mine did! Learn more here. >>>
---
History of Audio Formats - Lesson Plan (6.7 MiB, 9,443 hits)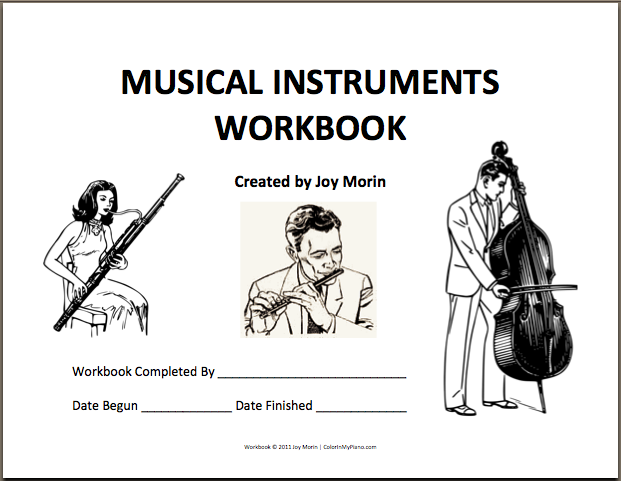 Musical Instruments Workbook | This free 29-page workbook contains coloring pages and room for handwritten notes when learning about the musical instruments and the instrument families. The worksheet could be completed in one or two long lessons (group classes or even a music camp), or the teacher can introduce an instrument or two each week over time. Learn more here. >>>
Musical Instruments Workbook (1.8 MiB, 24,541 hits)
---
Orchestra Stage Pieces | When I found this "stand-up symphony" printable from the St. Louis Symphony website, I knew this would be another great way to review the instruments — as well to as learn where the instrument sections of the orchestra sit onstage. I have used this activity for studio classes and a homeschool music class. Over the course of a couple of months, we cut out the figures, colored them, and then folded/taped them so they could stand. The stage is my own creation, designed to work with the figures. The pieces are glued onto posterboard to create a "stage." I stored all the orchestra members in a shoebox. For awhile, my homeschool music students began each class by sorting all the figures onto the stage in their appropriate sections. Download my free stage pieces and learn more here. >>>
Orchestra Stage Pieces (223.3 KiB, 17,005 hits)
---
Music History Periods Lapbook Study | This is a free resource I always integrate into my music history summer camp that I offer my students at least every two years. The cards and pictures function as prompts for discussing famous composers, compositional trends, and the evolution of the piano, as well as a little about the fashion, architecture, and art of the major style periods of Western classical music. The cards can be cut out and glued onto cardstock or a file folder. Even better, I like to glue four mailing envelopes onto a file folder and create a game out of sorting the cards into each style period. We always listen to lots of music examples of the music as we work, too. Learn more here. >>>
Music History Periods Lapbook Study (4.2 MiB, 18,791 hits)
---
Eras of Music History Kit | This kit from my shop is intended to make it easy and effective for piano teachers to incorporate music history into our students' musical education and help students gain a better understanding of the music from the main four eras of Western music history. I love these materials, and can't imagine teaching my music history camps without it! The four "era booklets" contain carefully written, student-friendly descriptions of the stylistic characteristics of the music, the evolution of the piano, composers and their major works, and more. Accompanying the booklets are a series of corresponding worksheets and historical timelines. Learn more here. >>>
---
Great Composers & Their Music | This lapbooking curriculum from my shop is designed to be an fun and effective way for teachers to incorporate the music history in their students' musical education. Each PDF download contains complete lesson plans and materials for studying the life and music of a famous composer. The lapbook is a creative and memorable way for students to learn and remember the facts from in the biography — and students will treasure it for years to come. The biography booklet contains a carefully-researched biography, written to include all the important facts you would expect while being relevant to and relatable for even your youngest students.
To teach the lesson plan, the teacher reads the biography booklet aloud to students, stopping to discuss and to play music excerpts (playlist provided). While listening to the biography and the music, students can color the picture of the composer and assemble the items for the lapbook. Read more here. >>>
Download a FREE sample of a biography booklet from the "Mozart" lapbook below. Enjoy!
Mozart Biography Booklet (365.8 KiB, 11,771 hits)
---
That concludes this roundup post! Thanks for reading, and I hope you enjoy a wonderful weekend!