Need inspiration for music-themed gifts for music students?  Below are photos submitted by piano teachers just like you!
From Liz Hurst from Tooele, Utah:
Here is my little ornament I did this year.  It is made with little wooden stars, vintage sheet music and modge podge.  Glitter glue if you want the initial and hot glued ribbon to make the loop.
From Lindsay Schoff from Denver, NC.  Lindsay found this cute idea on Pinterest.
From Heidi Neal from heidspianonotes.blogspot.com:
I thought it would be a fun gift to give students with a printable game enclosed to help them learn some music concepts. The piano keyboard decoration was added to the binder pouch using black electric tape and permanent marker.
Dana Wonch created these ornaments using 4-inch wooden letters purchased at JoAnn's and Christmas song wrapping paper purchased at T.J. Maxx.
Dana's instructions:
Drill hole in letter.  The ones I purchased were 3-4 inches high.
Place letter on desired space on paper, trace and cut out.
Paint back and sides of wooden letter with metallic gold paint.
Glue cut-out onto the paper.
Modpodge the front with 2 coats.
Paint edge with a thin strip of gold metallic paint.
Thread ribbon through drilled hole.
Write personal to and from message on back and date. I used fine point permanent marker.
Add the gold metallic thread and bells.
Natalie Weber from musicmattersblog.com created personalized music manuscript books one year.  You can buy her template and print your own for your students: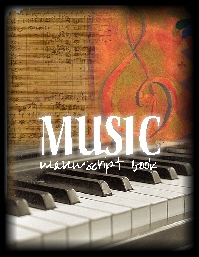 Sara Campbell from sarasmusicstudio.com has shared some cute music ornament ideas on her blog.
You'll find many more ideas submitted by readers on this Forum Q&A post from 2012: Christmas Gifts for Piano Students.  To submit your photo and student gift idea, please send Joy at email at admin[AT]colorinmypiano.com.  (Be sure to replace the "[AT]" with the actual @ symbol.)  Thanks!
---
For more inspiration, here is a list of some of the things I've done so far for student Christmas gifts: